Dreaming of visiting the "Happiest Place on Earth"?
While Disneyland and California Adventure were closed for almost all of 2020, the two parks have reopened…with some major modifications.
Until June 15th, the park is only allowing California residents. After that, it's opening up to everyone else!
Both parks will continue to operate at a limited capacity and a number of things are currently closed or are being refurbished.
As a heads up, shows and fireworks are not currently operating, and while they're doing their best to create that *Disney magic,* this does directly influence the reason ride lines are so long. It's pretty much all there is to do right now.
Wait times are also long because of social distancing in the queues and on the rides. Ordering food is also quite confusing, and there are a number of limitations to what's on offer.
Planning is key when it comes to making your Disney trip come true. So, if you're a spontaneous/go-with-the-flow type of person, you may want to wait on making a trip to Disney. Otherwise, you may end up seriously frustrated with how much planning the trip requires (especially on the day of your visit).
That said, if you've been counting down the days to get back to Disney, I'll give you the COMPLETE rundown!
Here's what you need to know when planning a trip to Disneyland and/or California Adventure with COVID-19 restrictions.

Things to Know Before You Go
Before I get into the super-specific details and strategy to help you plan your visit, I wanted to address some of the most frequently asked questions that I have been getting:
This is so confusing. Where do I start?
Admittedly, some of the fun was taken out of our experience because everything is so complicated and confusing. We made a lot of mistakes because there isn't clear information to make the best decision. I'll do my best to simplify and explain each step of planning and provide my personal opinion on the best way to visit!
How much does it cost?
This depends on which tier of ticket you get, how many days you're spending there, how many parks you want to visit, and all the added costs of food, and parking.
When we booked our tickets, the process was super confusing because you had to buy your ticket and make a reservation in separate steps. They've now simplified the booking process into one step, but there are still 5 different tiers of ticket prices on top of having 1-day and park hopper options. Plus, you can only book your ticket on days where there's an available reservation for the park you want to visit.
Confused yet? Don't worry! I will break this down step by step later in this post in its own section.
On the actual rides are you socially distanced? What kind of cleaning protocols are in place?
Every queue has tape markers so each guest party stands 6 feet apart. For rides like Pirates of the Caribbean and It's a Small World, you normally have 10+ people all in one boat and line times are usually short. But with the distancing measures, they were spacing guests out by at least three rows so only 1-2 parties (only 4 people at times) would be in a single boat.
This is why certain ride times are incredibly long.
For rides like the Toy Story Midway Mania where you're holding a laser gun, you get on as soon as the last person gets off.
There's nothing being sanitized or cleaned. Personally, a lot of the distancing precautions seem kind of unnecessary especially because things weren't being cleaned in between. There wasn't someone coming around to wipe down eating surfaces, every table we sat at was dirty and we wiped it ourselves with wet wipes.
All in all, social distancing is EXTREMELY in place, whereas cleaning seemed subpar/non-existent.
Were the wait times long?
For the most part, yes. Even though the park is operating at a reduced capacity, because folks are spaced out on the rides you won't get on faster. Also, because shows and meet-ups with characters aren't currently happening, everyone is pretty much there for the rides.
That said, I had some people message me who went in May and they said the wait times weren't bad at all and they practically walked on. It likely depends on what day you go as Disney is figuring things out as they go.
As a note, the park might actually look pretty crowded because the lines are redirected to be completely outdoors and everyone is standing 6ft apart.
We did find that no matter what the listed queue time was estimated, they never took quite as long.
Do you think if someone is visiting for the first time, they should wait until after COVID?
I would say definitely wait until after COVID once the park returns to normal. If you live locally or you've been to Disney quite a bit, then it may be fine for you. But, for a first-time experience, I would absolutely wait as so much of the Disney magic isn't back yet.
Are there fireworks right now?
At this time, firework shows are not happening. You can check this calendar to see what's on the schedule (at this writing of June 2021, no shows, no fireworks, no parades are on the calendar).
Are fast passes available?
Nope. I'll get into this below but you have to join line queues for rides and fast passes are not available right now, nor are single rider lines.
Where did you stay?
Because we live relatively close, we drove there and back in a day. If you're looking to stay in a hotel here are a few options:

Did the 1 pm Park Hopper Pass create a big surge of crowds at that time?
We were the first in line to move over to Disneyland from California Adventure. When we actually got to go in at 1 pm and there were maybe 100 people behind us. There were some slowly trickling in surges, but we didn't notice that Disneyland queue times went up after that. So it didn't seem bad at all.
How far in advance should I order quick meals and snacks?
I'll go into more detail about this below, but around an hour before you want to eat. Like I said earlier, it takes quite a bit of planning! If you want a guaranteed meal time, definitely make restaurant reservations.
How was parking?
Parking was okay — my only complaint was that we arrived a few minutes early (7:26 am) and they opened the parking line at 7:30 am on the dot — so they had us drive around the neighborhood to come back at 7:30 am. Not a huge deal; I realize they have practices in place to prevent car congestion.
The structures available are Mickey & Friends and the Pixar Pals Parking Structures. The tram isn't available to transport guests right now. Parking is $25.
If at all possible, I would recommend staying at a hotel the night before so you can walk to the park and avoid having to wait to park.
Do you need to provide vaccine proof to get in?
I did not need to provide vaccine proof for entry.
Do I need to provide a California ID?
They didn't check my ID and I don't think I had to enter my address when purchasing tickets, but I wouldn't take advantage of this (just in case).
When were you allowed to take your mask off?
You aren't allowed to take your mask off in the park unless you're snacking or in a designated eating area. And then the mask goes right back on. They are VERY strict about masks at the moment. You absolutely cannot take it off outside of designated areas. Not even to drink water while waiting in line. Important Dates to Consider Before Buying Tickets
A list of important dates that might impact your experience:
June 4, 2021: Avengers Campus opens
June 15, 2021: California set to fully reopen (this could mean that Disney may be able to increase to full capacity); people from outside of California will now be allowed into the Disney Parks
June 15, 2021: Disney's Paradise Pier Hotel planned to reopen with reduced capacity.
July 2, 2021: Disneyland Hotel planned to reopen with reduced capacity.
July 16, 2021: The Jungle Cruise is set to re-open
Note: Splash Mountain is set to close sometime this year to make refurbishments and transform it into a Princess and the Frog-themed ride, but no official dates have been released to the public.

How to Buy Tickets and Make a Reservation
The process is pretty simple once you understand how it works. They recently simplified the process where you can now buy your ticket and make your reservation in the same step.
Keep in mind that every day requires a different tier ticket (for example, weekends are tier 5 and midweek is tier 2-4) which means they are different prices.
Here's how to estimate the cost and availability of tickets:
Visit the Disneyland ticket calendar. You need to check which parks are available on a given day and which tier tickets you will need to visit on those days.
Select the number of tickets you want to buy, the number of days for your visit, and whether you want 1 or 2 parks per day. Then, you will need to browse the calendar for availability and pricing.
Toggle between the Parks and Pricing view to see which parks are available and the cost to visit each day.
For example, if you want to book a One-Day Disneyland ticket, Tuesday, July 13th is only available for California Adventure. July 14th is Tier 3 for $124 and July 17th is Tier 5 for $154.
If you wanted to do a Two-Day Park Hopper Ticket, you will need to check the calendar to see which parks are available as your "Starting Park."
TIP: I would highly recommend only visiting on days where you can start in Disneyland. If you're doing 2 days, it would be ok to start in a different park each day IF you want to ride the popular rides at California Adventure right when the park opens to avoid lines.
Which Tickets Should I Get?
First things first, I wouldn't recommend doing what we did, which was the One-Day Park Hopper Ticket starting at California Adventure. I'll explain why but do as I say and not as I do (read: learn from my mistakes!).
The type of ticket for the best possible experience right now would either be the Two-Day Park Hopper (starting in Disneyland), the Two-Day (Disneyland only), or One-Day Disneyland. Personally, I have never needed a full day at California Adventure. Even on our last visit, we finished with rides by 11 am and were waiting around to enter Disneyland for 2 hours.
Why wouldn't I recommend a One-Day Park Hopper starting in California Adventure?
For Southern California locals who are able to do what we did — which is to drive to Disneyland and back in a day, we opted for a Park Hopper Pass as we've been to both parks more times than we can count.
We know which rides we like riding and which ones we're fine with skipping. This seemed like the best option for us as we wouldn't mind starting our day at California Adventure and then spending the rest of the day at Disneyland. That's normally how I would plan for a day at the parks.
However, because of all the restrictions, we didn't get to have all the experiences we wanted to have.
Here's the deal — with the Park Hopper Pass you are only allowed into the second park (in our case, that was Disneyland) until 1 pm. And that's a hard 1 pm — there was no getting in earlier once we were done at California Adventure.
This isn't that big of a deal…unless you're trying to ride popular rides like Indiana Jones or Star Wars Rise of the Resistance. Why? Because you have to join a virtual queue for those rides.
By 1 pm, both rides were completely booked. We didn't even have a chance to join the queue. This might not be a deal-breaker for everyone, but if you are excited about the new Star Wars rides, you absolutely need to start your day in Disneyland.
(I'll dish more on virtual queues later on.)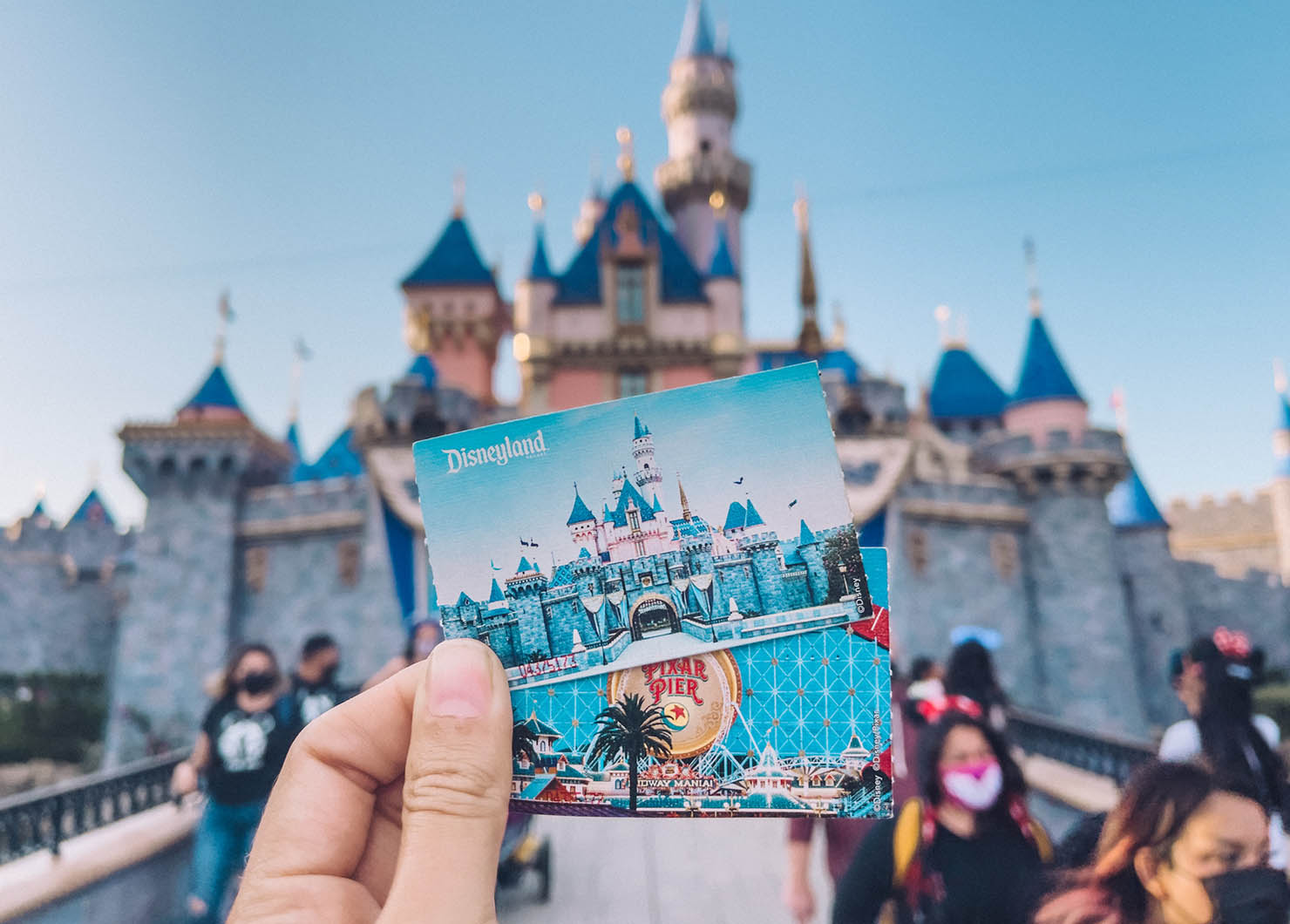 Is it Worth it for Disney's California Adventure?
That's up to you. We got into the park early (before the official opening time) and this was 30 minutes of pure bliss. We were basically able to walk onto rides…and then more people started arriving.
I normally LOVE California Adventure because there are food experiences, cool activities, and some of the best thrill rides. However, there aren't a TON of "big kid" rides so we were done with everything by 11 am and ready to move on.
The Cars ride will always have a ridiculously long wait. The entire day we were at the parks, the queue wait never dropped below 90 minutes.
California Adventure's queues were all 45-90 minute waits. In comparison, lines at Disneyland were 55 minutes at most, but many were 30 minutes or less.


The Disneyland App is Essential
Download the Disneyland App — create an account, get a ticket, and then you have a QR code for your ticket in your profile.
Everything you do for your visit will be in the app including queue times, joining virtual queues Star Wars Rise of the Resistance and Indiana Jones, ordering food, and checking into the parks. It's also quite handy for making restaurant reservations in advance.
Be prepared for restaurants to be fully booked and to rely on the app heavily throughout the day of your visit.

Pre-Planning for Your Visit
Download the Disneyland App and familiarize yourself with the layout.
I'm a big believer in trying to avoid waiting in lines as much as possible, so I'd recommend downloading the app at least the day before just to get an idea of times. Check queue times in the morning, mid-day, and in the evening to see which rides have the longest wait time.
You may want to prioritize the rides with longer lines in the morning and splice in shorter ones throughout the day.
If you've never been to either park before, this will also help you get a lay of the land so you can tick things off and not zigzag through the park.
Helpful Tip:
One huge "hack" is to arrive before the parks open. Right now (June 2021), the parks are open from 9 am until 9 pm, but to avoid crowding, if you arrive early, they may let you in before official park hours (as early as 8 am).

We got into the parking structure at 7:30 am and arrived at the park entrance by 8:15 am. We went straight into California Adventure. While you won't get to ride earlier than 9 am, you will be the first in line and can strategically beat the crowds to rides with the longest wait times.
Make Reservations for Restaurants
I highly recommend booking restaurants well in advance (we didn't and this was such a bummer).
It would have made the experience much better, in my opinion, because ordering food with the app took a lot of planning with a group of 4 with lots of dietary restrictions. In the app, you can filter by which park you'll be at and then filter by dining.
As a note, the Blue Bayou restaurant inside Pirates of the Caribbean is normally a really romantic and upscale restaurant. Part of the romance is that it's dark, but because of COVID, they have to leave the front doors wide open which pours bright light into the restaurant.
So it's not the normal vibe, and probably not worth it — unless you're going for the food experience.
Bringing Snacks
Because of COVID, Disneyland is currently allowing outside food and sealed drinks.
This hasn't been the case in the past, but because things are so limited right now, this is super helpful! If you don't want to carry things around with you, you can put in lockers food and drinks. Bring extra snacks and that sort of thing!

Lockers are to the left of the Disneyland Park Entrance (outside of the park).
About Parking and Lockers
The parking structure does not open until 7:30 am so it is somewhat beneficial right now to stay at a hotel nearby because if you walk to the park you save a lot of time. Plus, it's $25 to park.
We got there at 7:26 and they made us drive through the neighborhood and not come back until 7:30.
On the dot.
We then sat in the line of cars until about 7:45 when they accepted payments, then we drove in and parked. We didn't have strollers to deal with or kids to get out of the car, but if you do have little ones with you, I would account for at least another 10 minutes to get organized.
Following this, you go through a temperature check and bag checkpoint before you can start walking to the park along the path the shuttle would normally operate.
From our car to the park entrance, it was about 20-25 minutes.
A Note on Lockers and Bringing Snacks
There are no lockers inside the parks. Lockers are to the left of the Disneyland Park Entrance (outside of the park) and, regardless of COVID or not, I always take advantage of them!
There are also toilets at these lockers, as well as at the bottom of the parking structure when you first park, in case you had a long drive and needed a bathroom break before going inside.
Whenever we go to Disneyland, because we don't have kids or a stroller, we always get a large locker and share it with whoever we're going with (in this case my parents).
I usually bring a full change of clothes including socks and shoes (if I'm planning to ride water rides like Splash Mountain) or, at the very least, a jacket for later in the day when it starts to cool off.
There's a digital code and you can access and lock it as much as you want for the entire day. It's $10 for a large (and well worth it in my opinion!).

Tips for Rides and Ride Queue Times
I talked to people who went and they had a fine experience and ride times were normal. That was personally not my experience. There's no way to predict if it will be crowded or if line times will be long.
The best advice I can offer is to arrive before the park opens and beeline it for the thrill rides that have the longest wait times so you can be first in line.
For California Adventure: Cars, Soarin' over the World, and Guardians of the Galaxy.
For Disney: Space Mountain, Splash Mountain (if you're okay with getting wet, ride this first or last, most folks want to ride this in the heat/middle of the day), Pirates of the Caribbean, It's a Small World, and the Disneyland Railroad.
In the Disneyland App, you will see ride queue times and they update constantly, so you can decide what to ride next.
A few annoying things I wanted to mention:
Because queues are redirected to be completely outside, it can be REALLY hard to find the end of the line. Disney Cast Members are holding "Line Starts Here" signs to indicate where a queue begins.
However, you might not be used to getting in line for Pirates of the Caribbean all the way past Big Thunder Mountain. And, many of these "Line" signs are not branded for the ride they're for.
Keep in mind that you cannot take off your mask while in line for a ride. So, if you're about to wait 55 minutes to get on a ride, be sure to quench your thirst or eat your snacks before getting in line.
Helpful Tip:
Bring a battery charger for your phone, and be prepared to be on your phone for a lot of the day, which for me, kind of took the magic out of it.
About Virtual Queues
The two rides that require a virtual queue are Star Wars Rise of the Resistance and Indiana Jones. For those going to Disneyland first, you can join a virtual queue for both rides at 7 am and 12 pm. You may or may not get in at 7 am — if you don't, you can try again at the 12 pm queue opening.
However, if you're doing a Park Hopper Pass and start at California Adventure, you can't join the 7 am queue. You CAN join the 12 pm queue, but by that time, it's likely already filled by those who didn't make it on from 7 am.
Here's the real bummer: to join the Indiana Jones ride queue — which opens at 12pm — you have to physically be in Disneyland.
Which, let me remind you, we were able to enter the park at 1 pm. So by the time we got into Disneyland, the queue was fully booked.
Helpful Tip:
If you're wanting to ride Star Wars Rise of the Resistance or the Indiana Jones ride, start your day at Disneyland. I jumped on at exactly 12 pm and both rides were completely full for the day.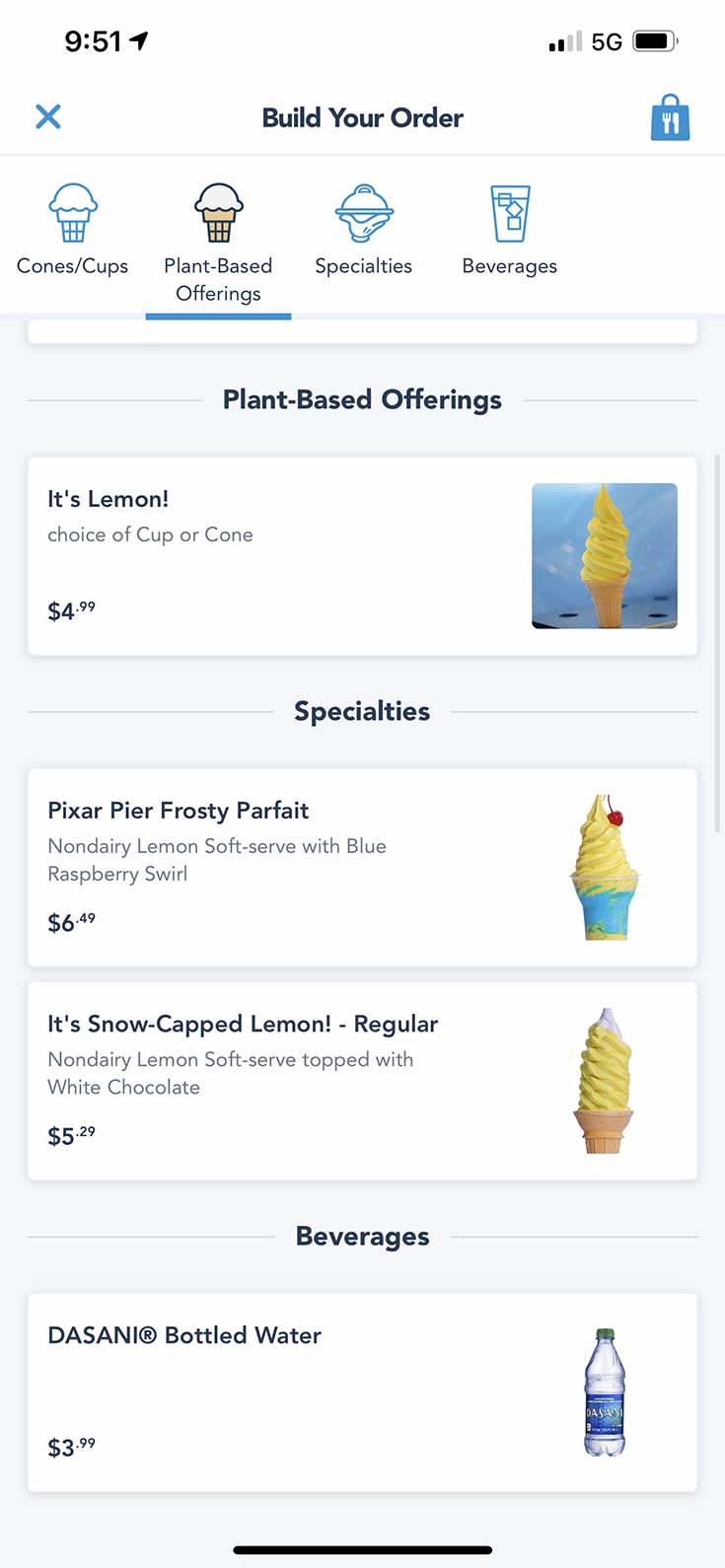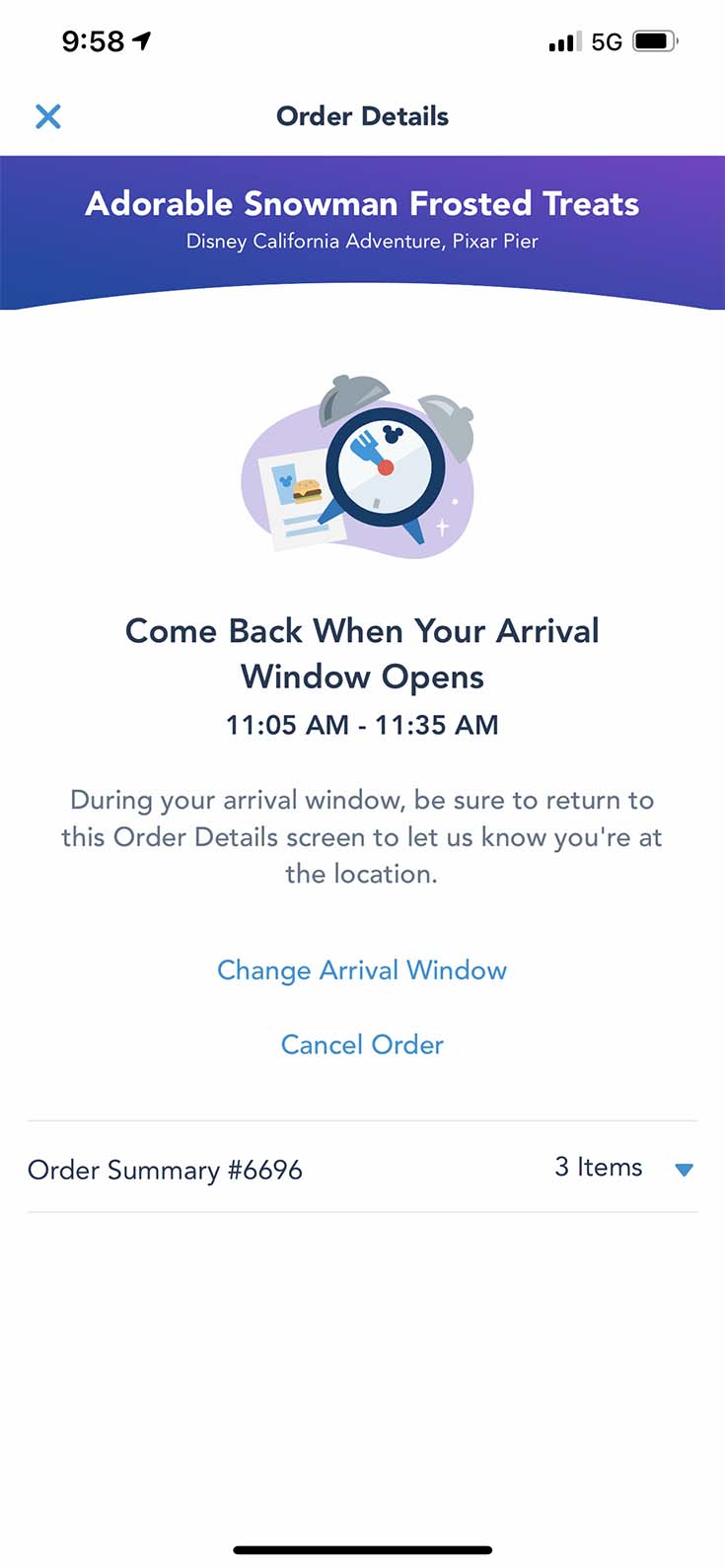 What Purchasing Food Is Like
For my spontaneous friends out there, this will not be your cup of tea.
You need to plan to order your food at least an hour in advance and pre-book the window of time in which you'll want to order.
You can view the menus way ahead of schedule, and perhaps this is my best advice. If you didn't make restaurant reservations, browse menus in the Disneyland app and choose where, what and when you want to eat the day of your visit.
Here's how it works:
Let's say you want a hamburger from Tomorrowland — if you go on the app at 11 am, you need to choose your pickup window, which might not be for an hour later.
Once you physically arrive at the restaurant within your pickup window, you use the app to select "I'm Here."
Then, you wait for them to prepare your food.
I can see how this would be really difficult with kids who get cranky when they're hungry. I'm a grown woman and I get cranky when I'm hungry lol.
I was mildly prepared for this because I heard it was a nightmare, but I didn't realize just how unnecessarily complicated it was. Once you place your order, that's it. If you forget to order something, you can't just add it to your order when you arrive.
So, be sure to double-check your order and there are no modifications.
The only things that do not require you to order through the app are popcorn and churro stands. For these, there will be socially distanced queues. We waited about 15 minutes in line for popcorn. And, they ran out of churros the day of our visit.

Helpful Tip:
On Main Street in Disneyland, the Candy Palace sells everything from caramel apples, bagged chocolates to sour sweets. If you like to indulge when visiting Disneyland, this was the quickest and easiest place to get a sweet fix as there's a quick line and lots of options. Other than churro stands around the park, you can get funnel cakes at the Stage Door Cafe — they're delicious but it took us an hour to get one.
Strategies for Visiting the Disneyland Parks
Use bathrooms, get a locker and go straight into whichever park you've purchased a ticket for. If you do choose to do California Adventure first, the only time we were able to get on anything was first thing in the morning as the park was opening.
Starting in California Adventure
Get to the park before opening and get to the Cars ride (the wait was around 90 minutes for the rest of the day).
As a note, there are no single rider lines right now! Don't believe 3rd party apps!
Then, book it over to Soarin' Over the World. Because of social distancing, it will take you at least an hour later in the day as they limit the number of people on each ride.
Then, go to the Guardians of the Galaxy ride (previously Tower of Terror).
Those three typically have the longest lines, followed by Toy Story Mania and the Incredicoaster. So, if you can get on those first, it will be worth it to have started in California Adventure.
We felt kind of "done" with California Adventure by 11 am but, unfortunately, our Park Hopper Pass wouldn't allow us into Disneyland until 1 pm. If you're hungry, this may be the prime time for a snack break as it takes forever to get food (I'll give more details on this in a bit).
Starting in Disneyland
If you're starting your day at Disneyland or spending your entire day there, join the queue for Star Wars Rise of the Resistance and Indiana Jones at 7 am — remember there's another 12 pm virtual queue if you miss the first round.
As mentioned, I highly recommend getting into the park before opening so you can be first in line for a ride.
If you are going to Disneyland with little kids: Head straight onto the Disneyland Railroad for a full loop around the park (if you plan to ride it at all). Then, head to It's a Small World. On the day of our visit, those two rides had a minimum 45-minute wait the entire day due to social distancing. Then, be prepared to wait 20-30 minutes for most of the kiddie rides.
If you're going with "big kids"/adults: Go straight to Pirates of the Caribbean or Space Mountain. Both of these rides consistently have long waits because of social distancing.

TBA  Takeaways
If you only have one day, I'd highly recommend only visiting one park right now (my vote is for Disneyland)
If it's your first time to Disneyland or CA Adventure, wait until COVID restrictions are no longer in place
Get a locker and bring snacks with you
Get to the park BEFORE the listed opening time so you can be the first in line on popular rides
Stay in a hotel overnight before your visit so you don't have to deal with parking
Make restaurant reservations well in advance
Bring a portable battery to charge your phone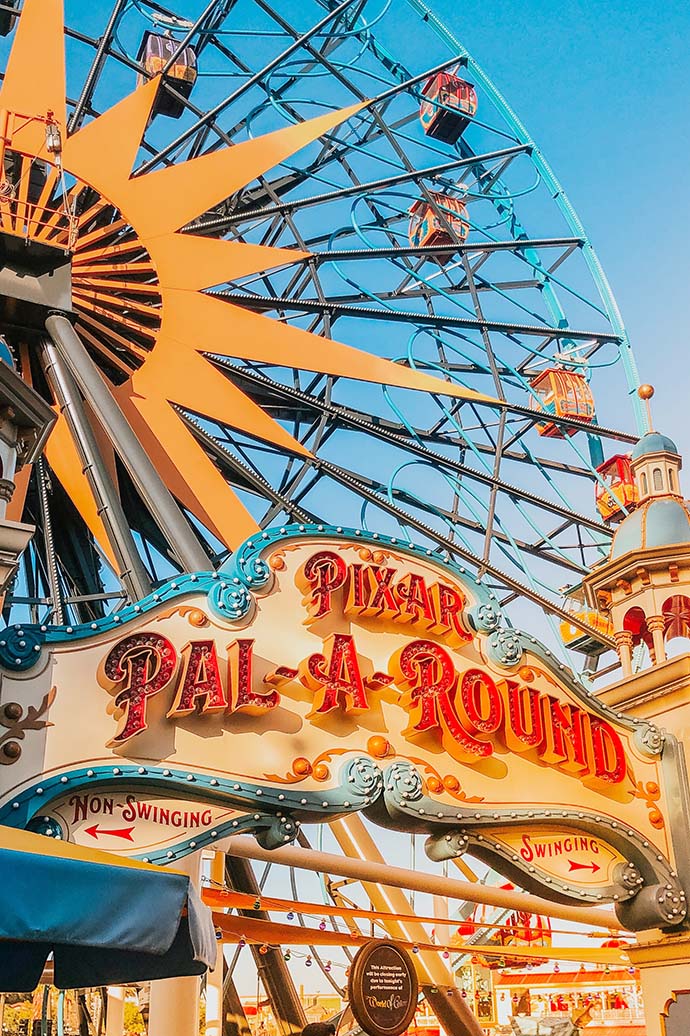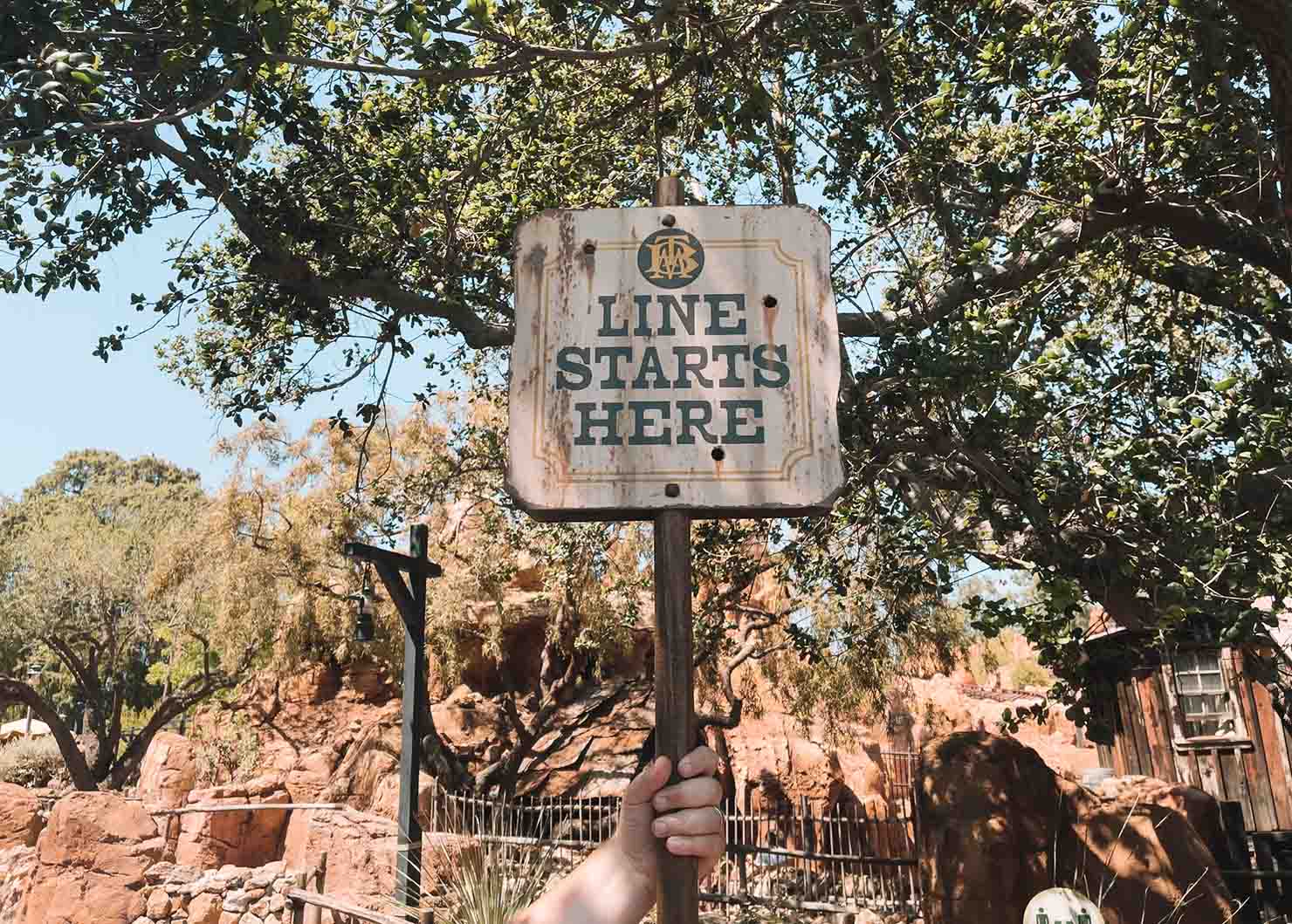 My Final Thoughts
Is It Worth Going to Disneyland Right Now?
If you've never been to Disneyland, wait until Covid restrictions are no longer in place.
I've been going since I was a kid and I can drive there in just an hour or two. It's a totally different mentality when you can easily brush it off and say I can go again anytime.
But, if you're out of state or live in another country and you've been saving for this dream trip to Disneyland and it's your first time going, I would say just wait. It's just not worth it to go right now. There are some big disappointments and without the normal character experiences and magical interactions, it's just not the same.
I will say that if you're willing to go (just for the rides) and understand that it won't be the same or the most normal "Happiest Place on Earth," then go for it.
Lower your expectations and understand that they're opening amidst a pandemic so things aren't going to be normal.
That said, with COVID restrictions, I really wouldn't do both parks. For spontaneous people, this is not the time to visit, you will be endlessly frustrated and spend so much time on your phone planning out your day. If you want a snack or food you have to plan an hour in advance.

If you've got any questions regarding your trip to Disneyland or California Adventure during COVID restrictions, please let me know in the comments below!