Looking for things to do in Blue Mountain Ontario? We've got you covered. Blue Mountain Resort is our old stomping grounds. Having previously lived up north, we bought the 5X7 Blue Mountain ski pass annually in the winter and camped on the shores of Georgian Bay every weekend in the summer.
Located just two hours northwest of Toronto, The Blue Mountains have everything you could want in a vacation destination. With great dining, excellent spas, and incredible adventure activities, a visit to the Blue Mountains is like going on vacation without having to leave the country! It is truly Ontario's playground, and if you are looking to get out of the city after COVID, here are all the things to do in Blue Mountain and Collingwood that will keep you busy all summer.
Best Things to do in Blue Mountain Ontario
Stay in Blue Mountain Village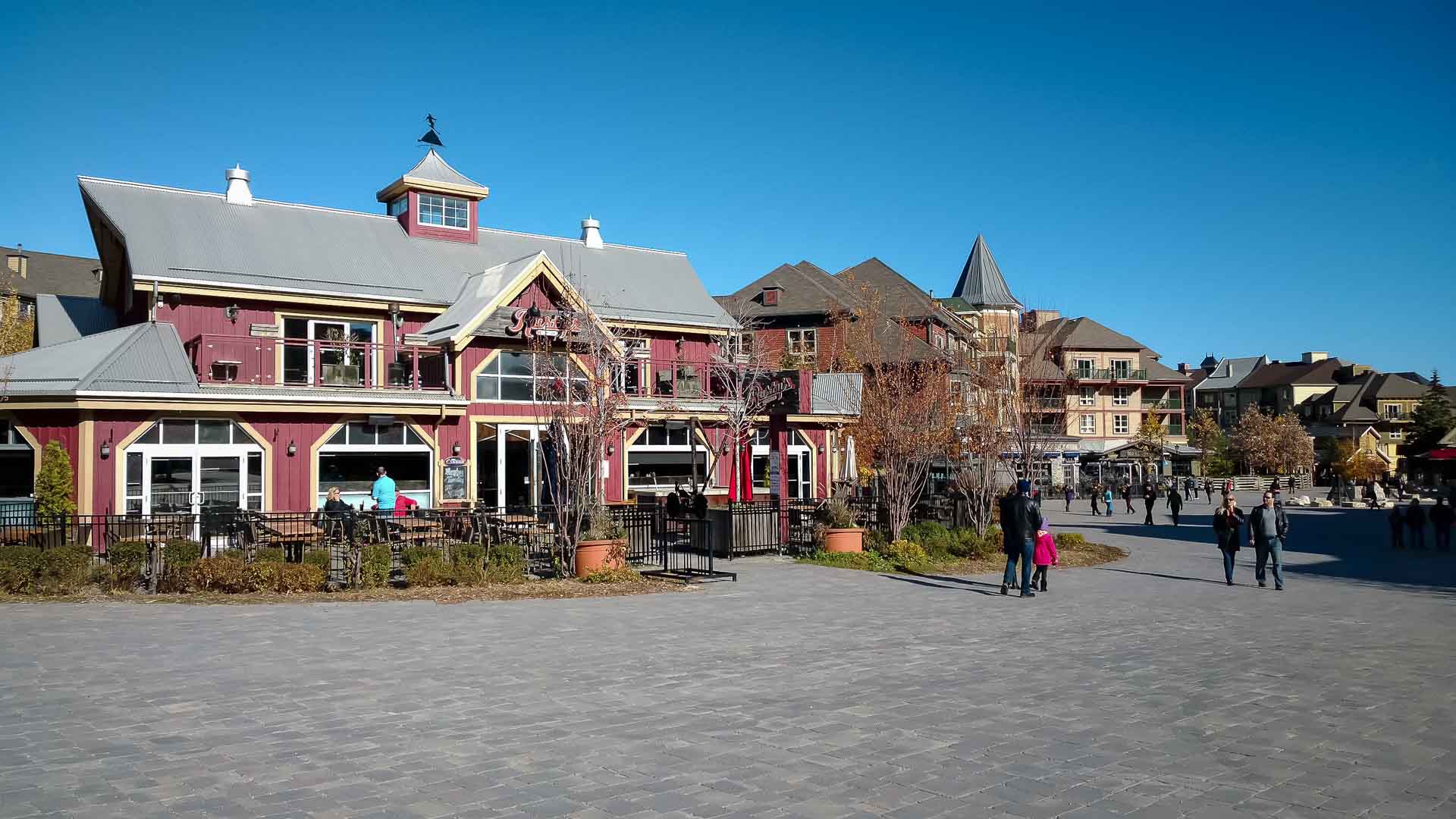 The village at the base of the Blue Mountains is our favorite place to stay. This pedestrian-only area is filled with dining, shopping, bars, and cafes. There are plenty of hotels to choose from. In the Winter, we love to stay at the Blue Mountain Inn Slopeside. It is located directly at our favourite black diamond runs.
In the summer our choices are the gorgeous Westin Trillium House, located at Millpond overlooking Blue Mountain Village it's set a little away from the crowds of the village. But we are also fans of the Moasic Boutique Suites smack dab in the centre of the village. It's year round heated outdoor pool is to die for.
Search for more Blue Mountain and Collingwood Hotels on TripAdvisor
Places to Eat at Blue Mountain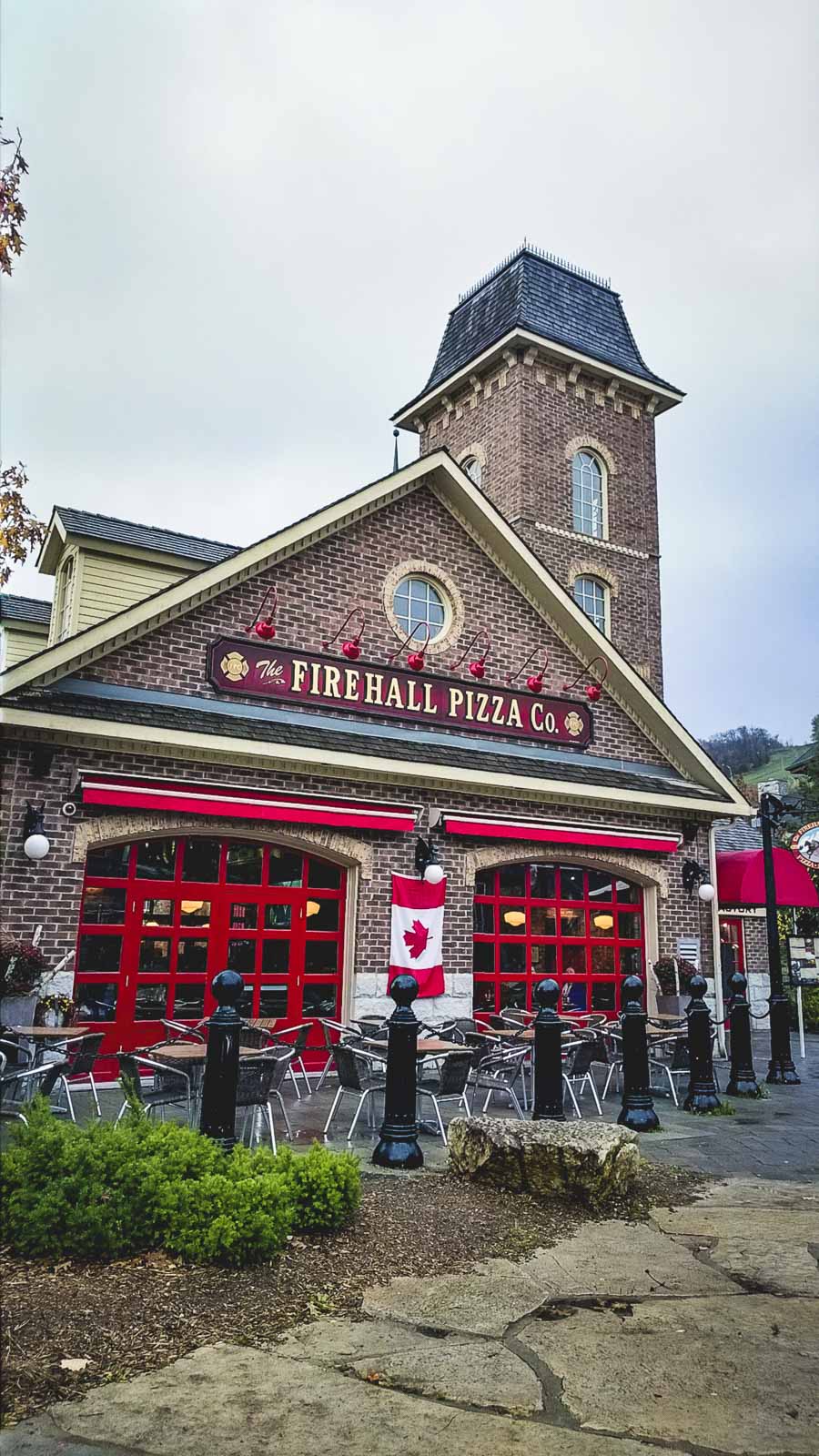 Firehall Pizza – Modelled after  an authentic firehall in downtown Toronto, you feel as if you are eating your meal in the middle of a fire station
Oliver & Bonacini – one of Canada's premier fine dining restaurant located in the Westin Trillium House
Copper Blues – We love the atmosphere in this bar and grill located at 156 Jozo Weider Blvd.
Collingwood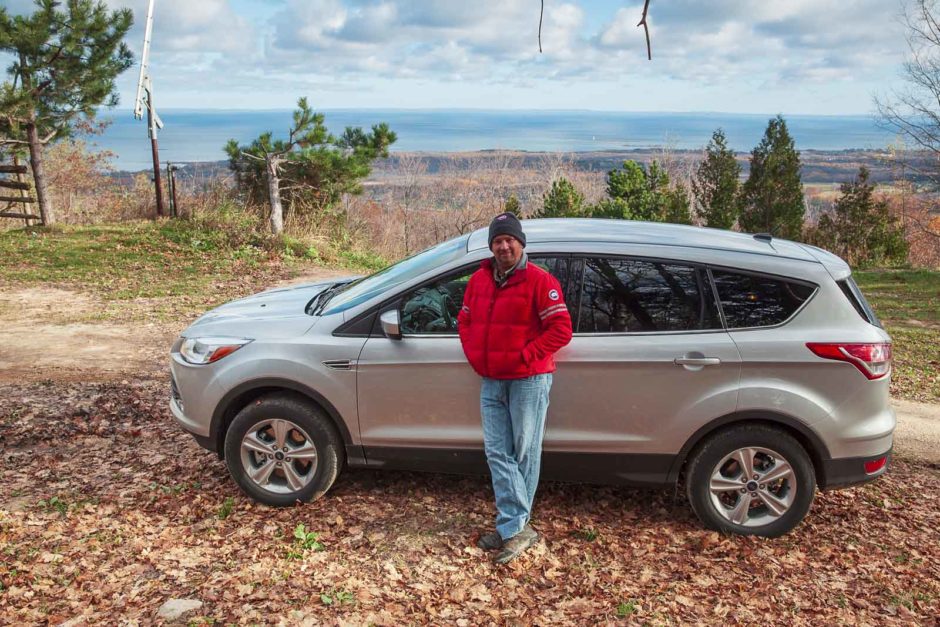 Collingwood is the main city in the area and it's the perfect place to make a home base as you travel to the neighbouring villages to explore all there is to do. Nestled between Georgian Bay and UNESCO biosphere reserve, the Niagara Escarpment, it offers plenty of opportunity for adventure travel. We always stop here to pick up beer and wine and some cheese and bread for snacks in our hotel room at Blue Mountain.
When in Collingwood, visit the South Georgian Bay Visitor's Centre and Collingwood Museum to find out what's going on in the area. Located in an 1873 train station, the two share a building, so you can explore the history and ship building culture of Collingwood, while finding out what events are happening today.
Scenic Caves Eco Adventure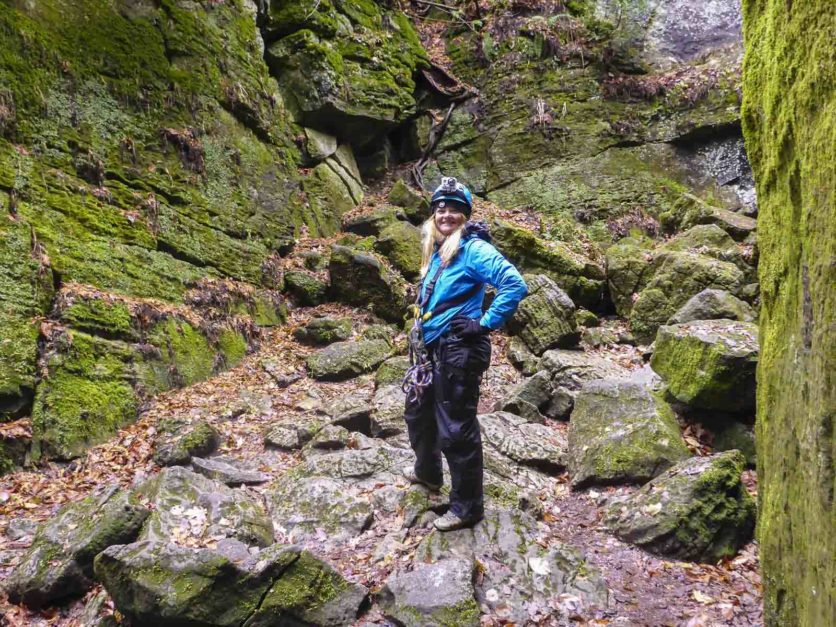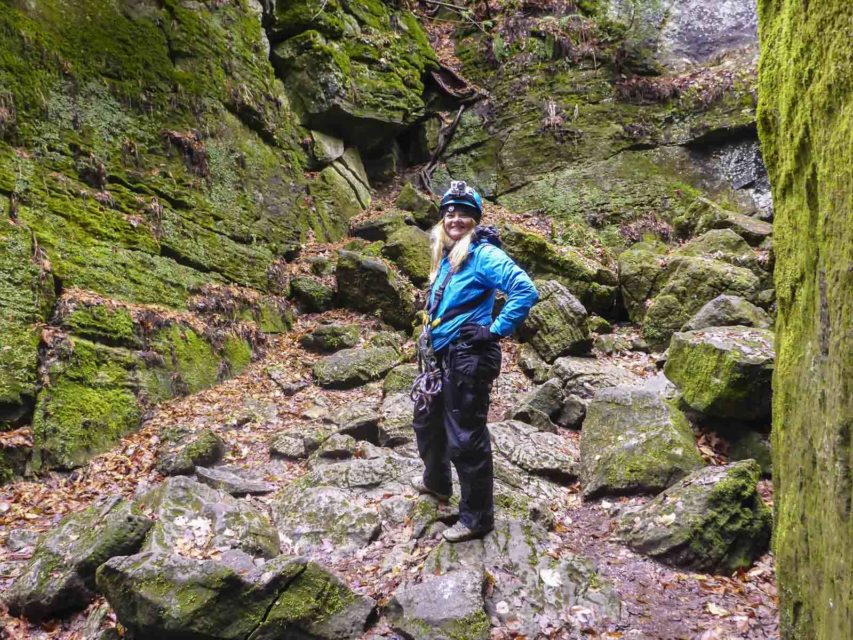 One of the coolest things to do in Blue Mountain is to take the Scenic Caves Eco Adventure. This tour starts off with a stunning walk over Southern Ontario's longest suspension bridge. It's a thrilling walk as you span 420 feet from high above Georgian Bay. It offers the best views around. It is then on to the high ropes where you narrow wooden planks set high above the treetops.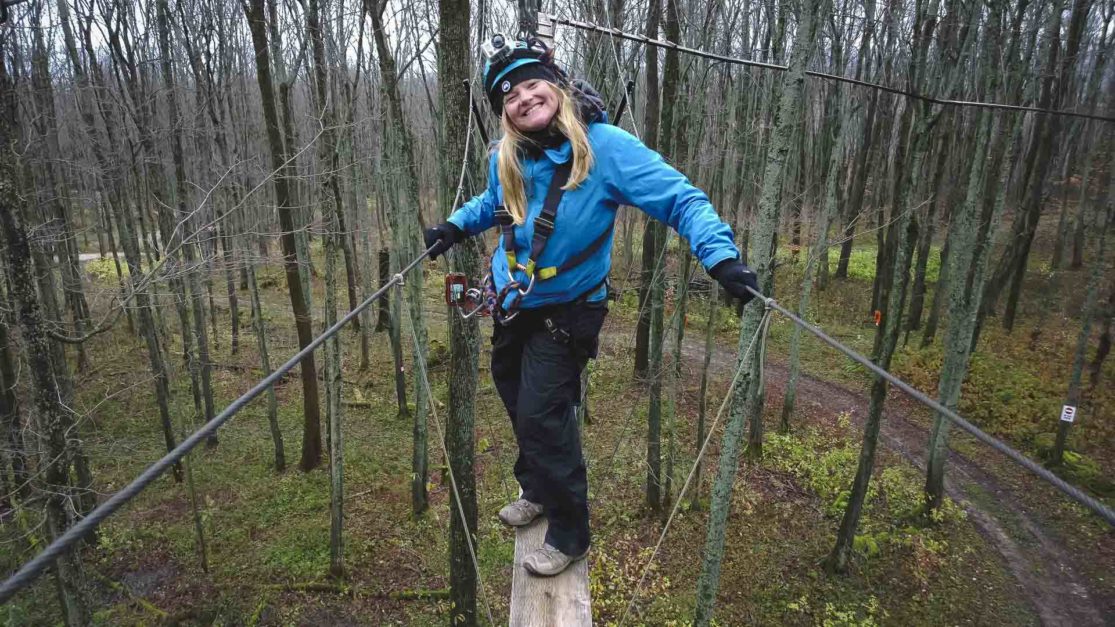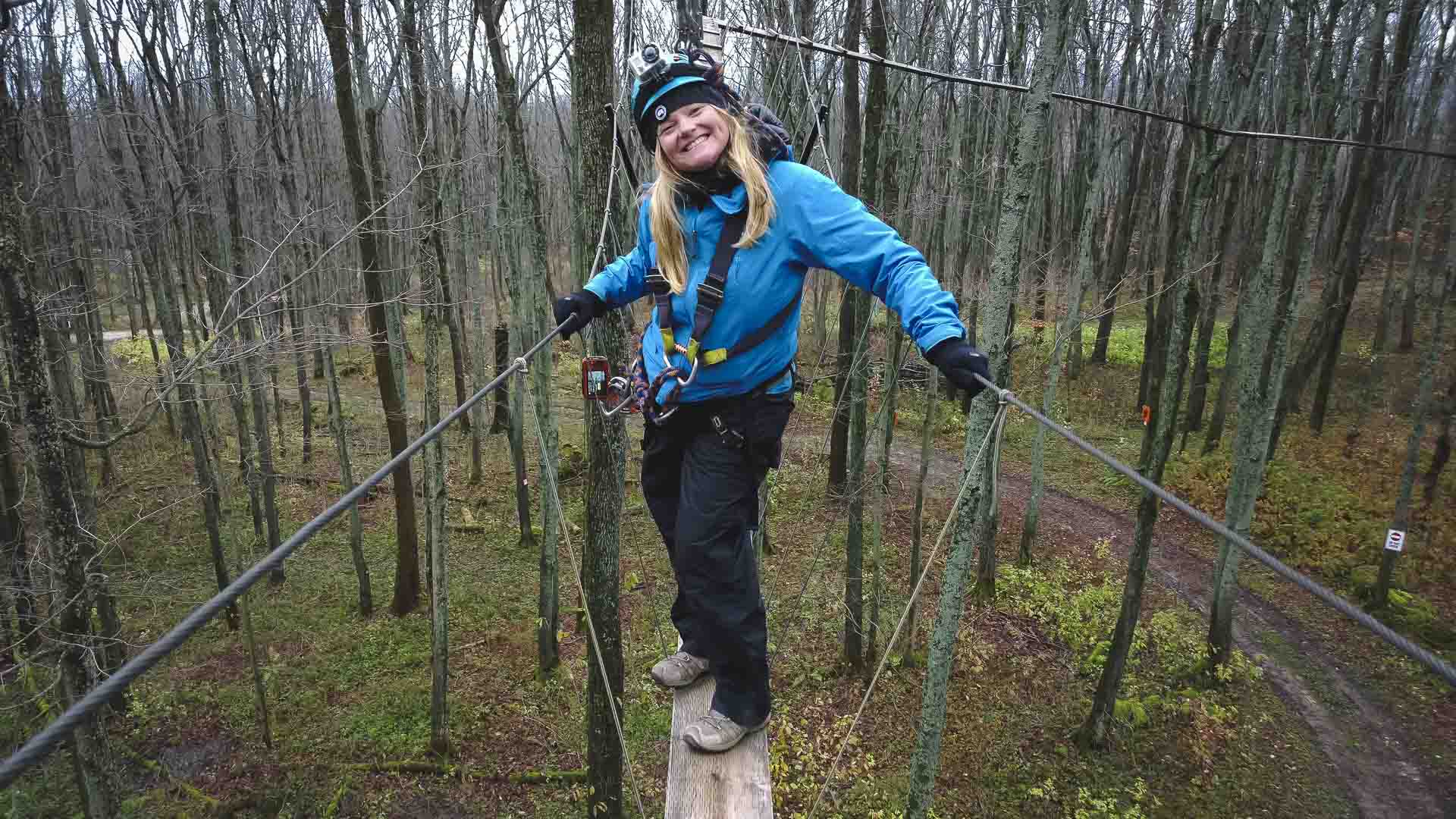 It's a thrill followed by a tour of the historic scenic caves. This natural wonder took millions of years to form and was an important historic village to the Petun First Nation's people. After hiking through these beautiful caves, it ends with a 1000 foot long zip line with a 150 meter drop.
Scandinave Spa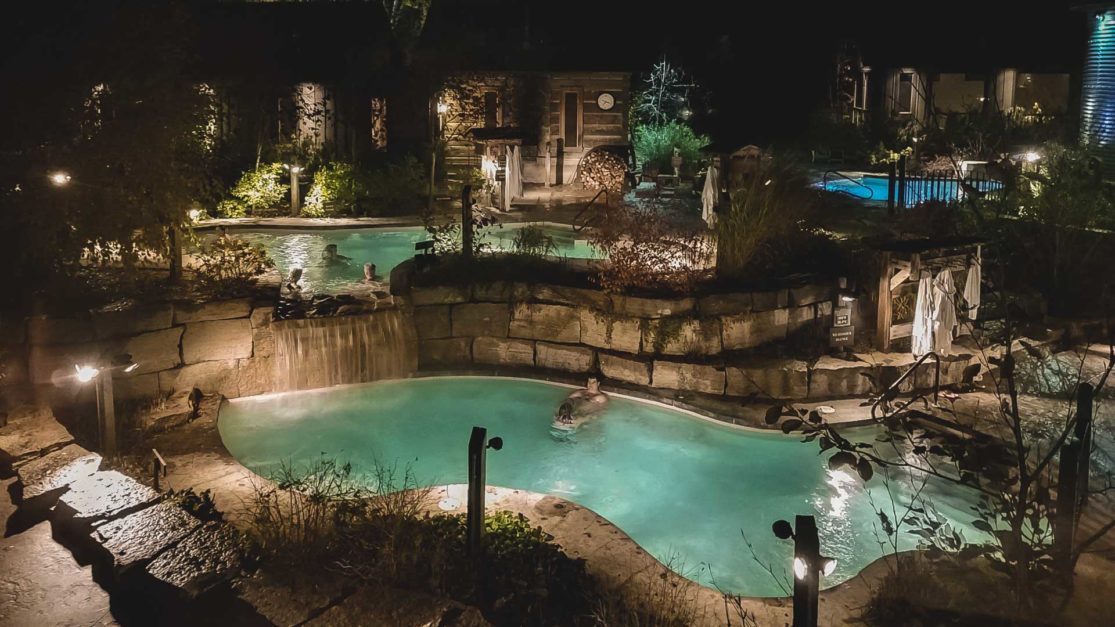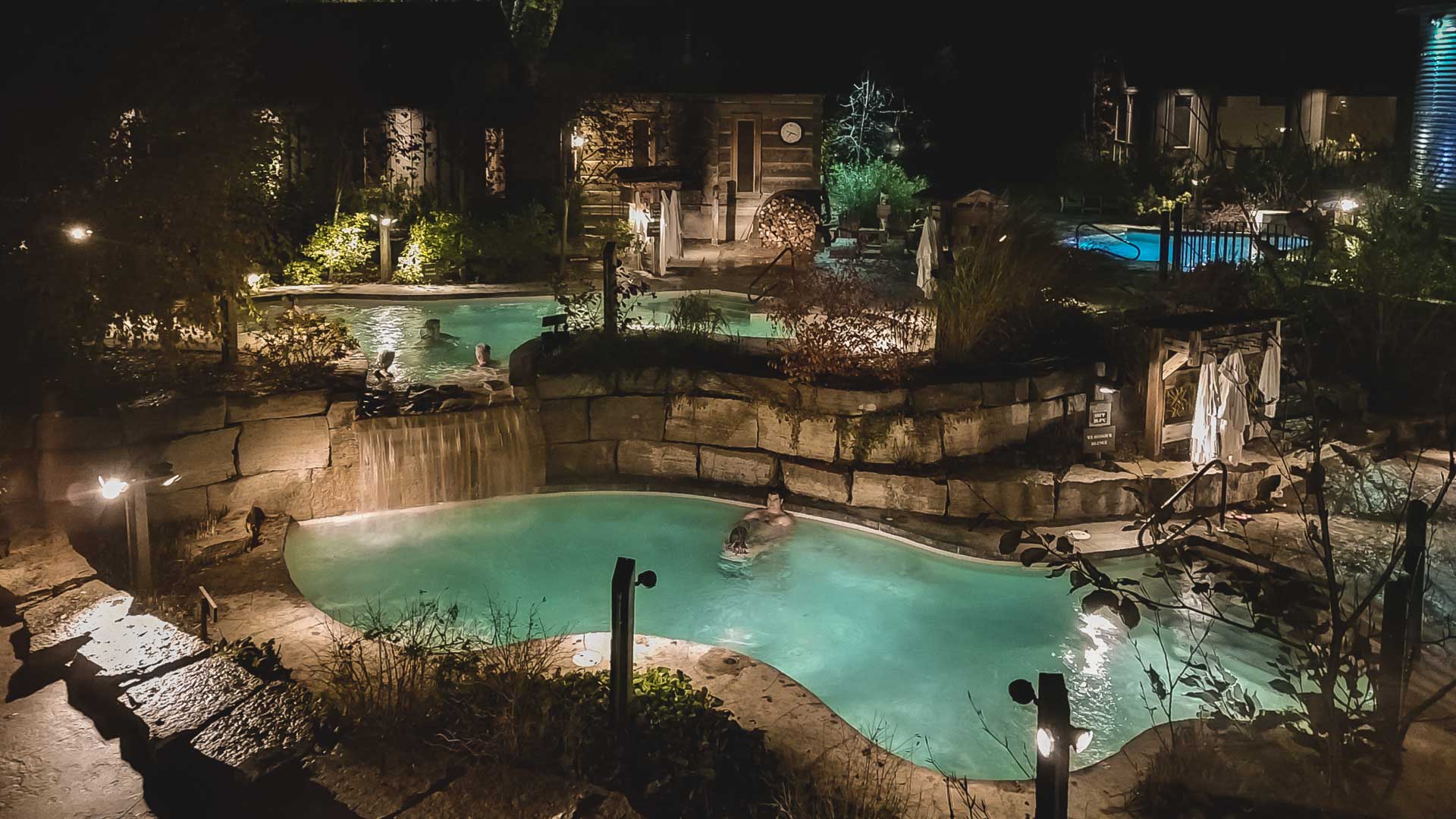 If you are looking for a more mellow spa experience, the Scandinave Spa, just a short drive out of town is a spectacular experience. Live life like a true Scandinavian and plunge into icy waters after soaking in heated tubs. The Scandinave Spa is an outdoor oasis of thermal baths, nordic waterfalls, and cold plunge pools with a Finnish Sauna, Eucalyptus Steam Room, and quiet sitting areas. It is a place to truly take your time to relax and enjoy after a full day of outdoor adventures.
Explore Blue Mountain Village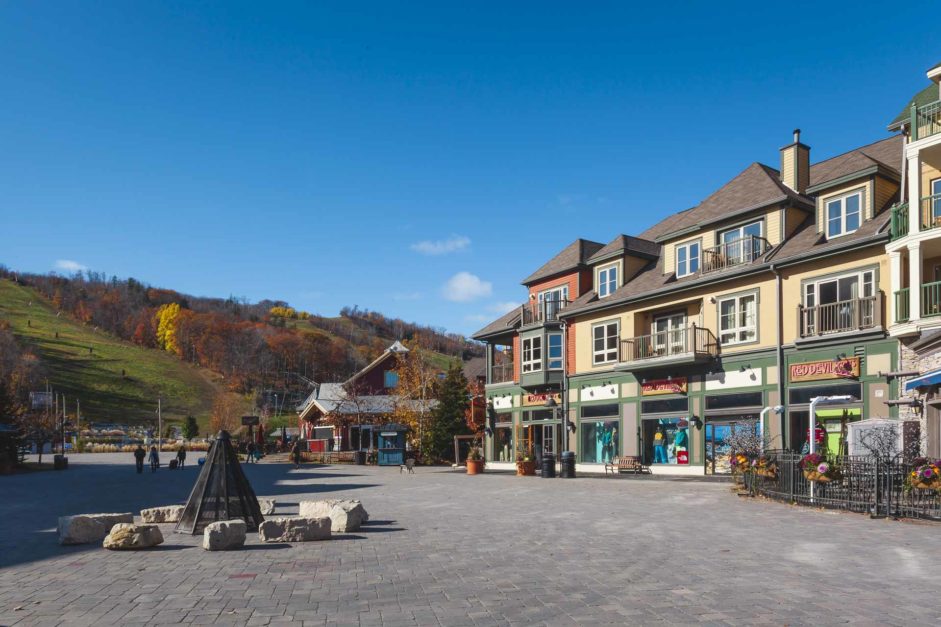 There is always something going on at Blue Mountain Village and chances are there are musicians performing (no matter what season). The shops are fantastic for grabbing your outdoor gear and there is plenty of places to eat.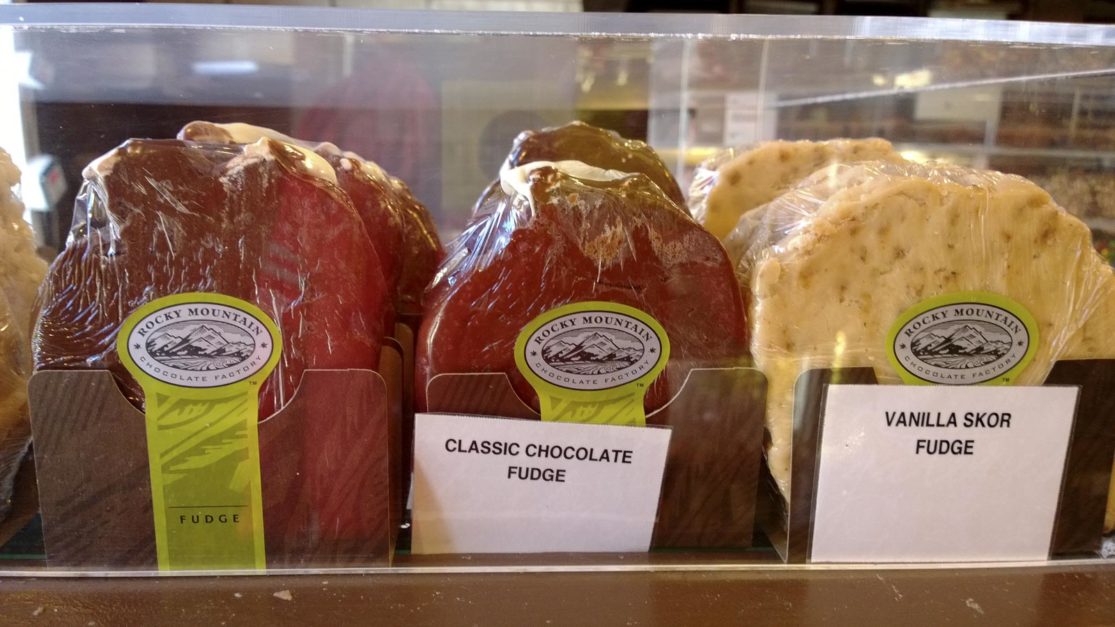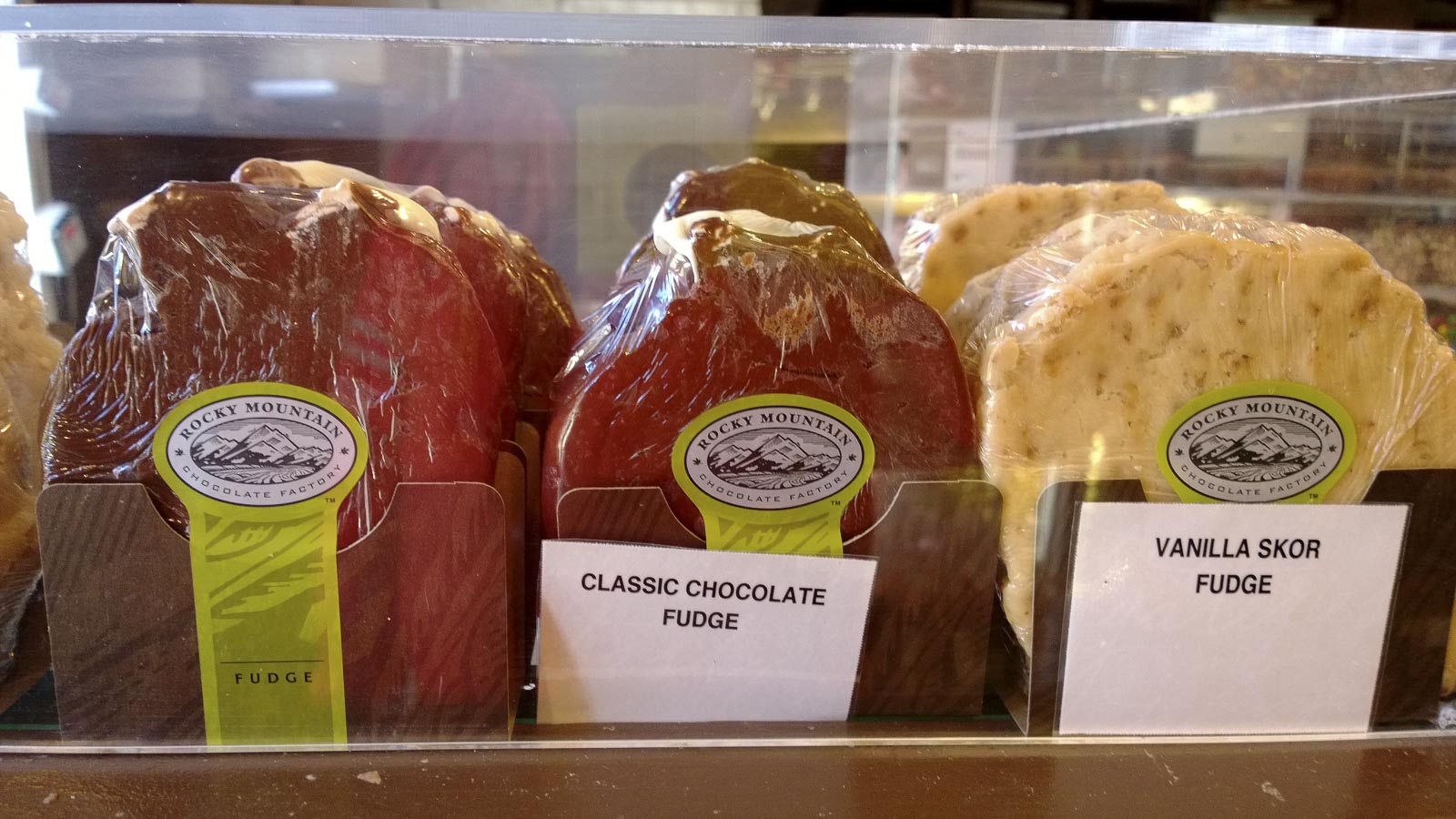 Whenever we go on vacation, we always have the need for fudge and the Rocky Mountain chocolate factory satisfied our craving indeed. For breakfast head over to the Sunset Grill for some apple cinnamon pancakes.
Hit the Apple Pie Trail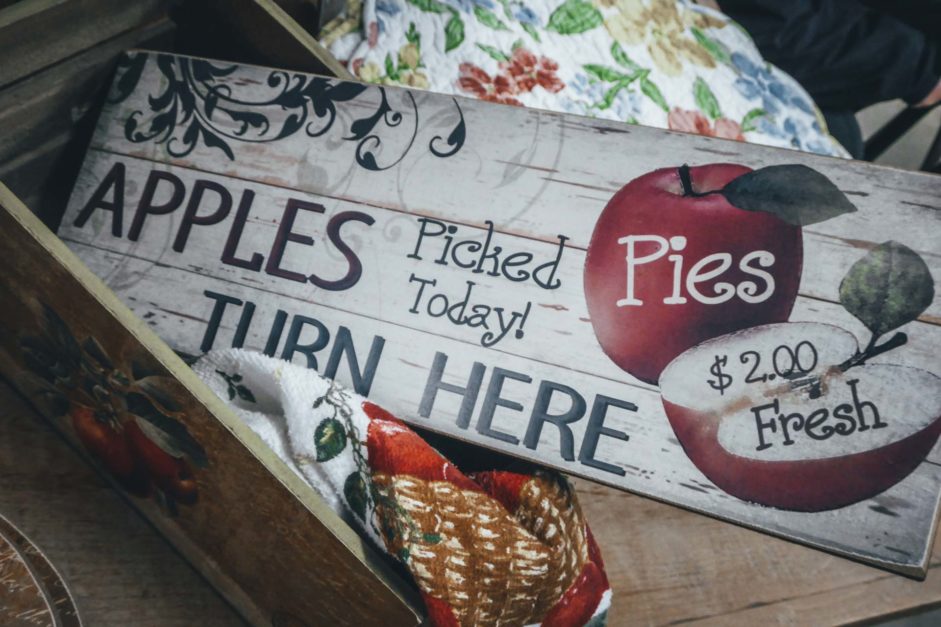 Speaking of apples, one of the best road trips in the area is hitting the Apple Pie Trail. The Apple Pie Trail is a driving route taking you through the charming towns and villages of Georgian Bay. The moderate effects of Georgian Bay make for perfect apple growing conditions and businesses in the area are happy to showcase their food and art designed around apple country.
Rock Climbing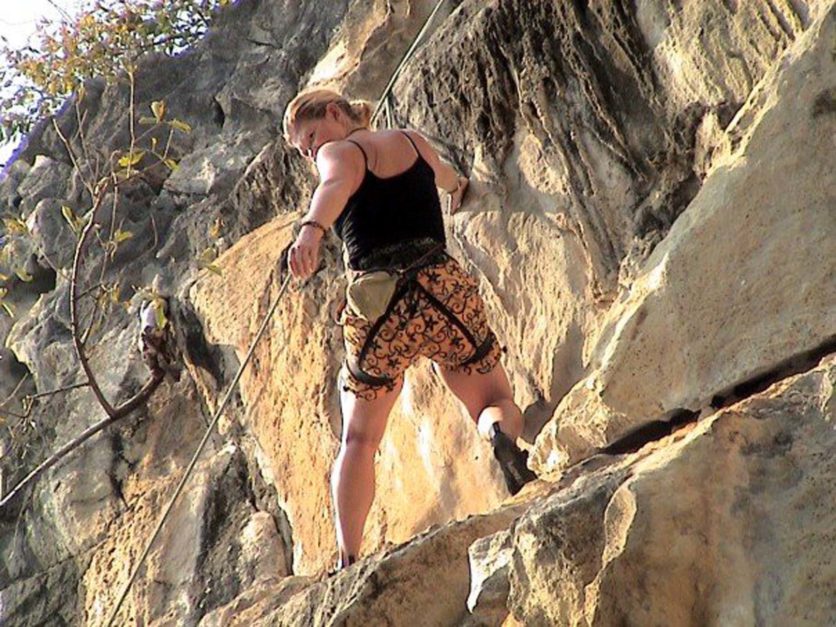 The Collingwood area has some of the best rock climbing in Ontario. Our go-to spot was Metcalf Rock just outside of Collingwood. We used to set up top ropes and do some sport climbing on this wall and loved spending the day in nature. But there are plenty of other climbing routes in the area like Old Baldy and Pinnacle Rock. If you don't have climbing experience, book a climbing tour with On The Rocks climbing They are a great introduction to outdoor rock climbing.
If you want to try your hand at indoor climbing, Climbers Corner in Collingwood has some climbing walls. Indoor climbing is so much fun!
Go Hiking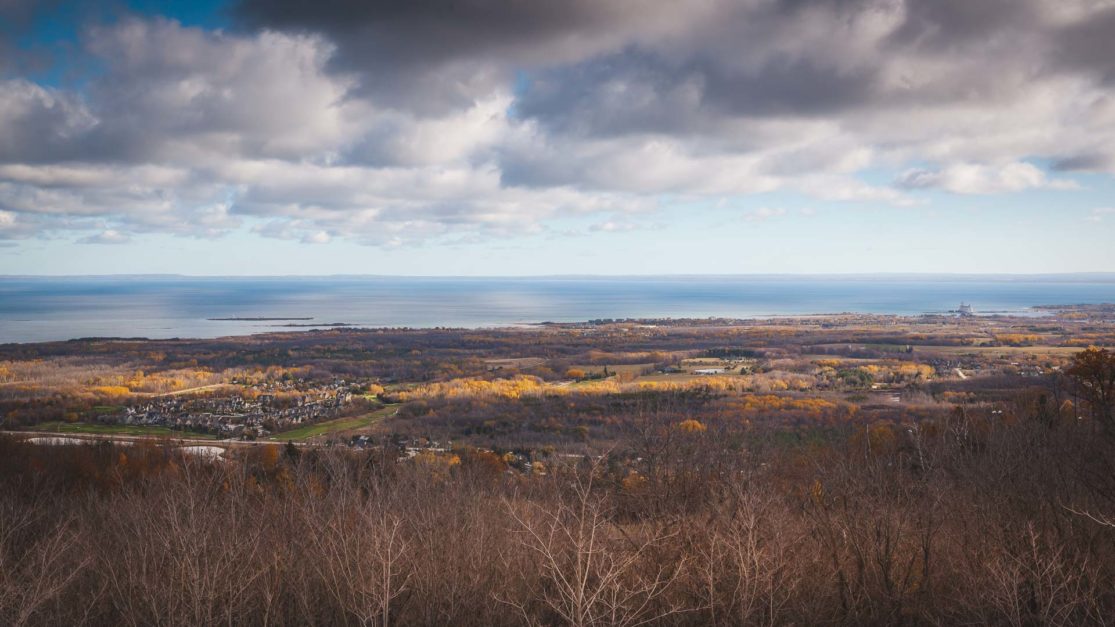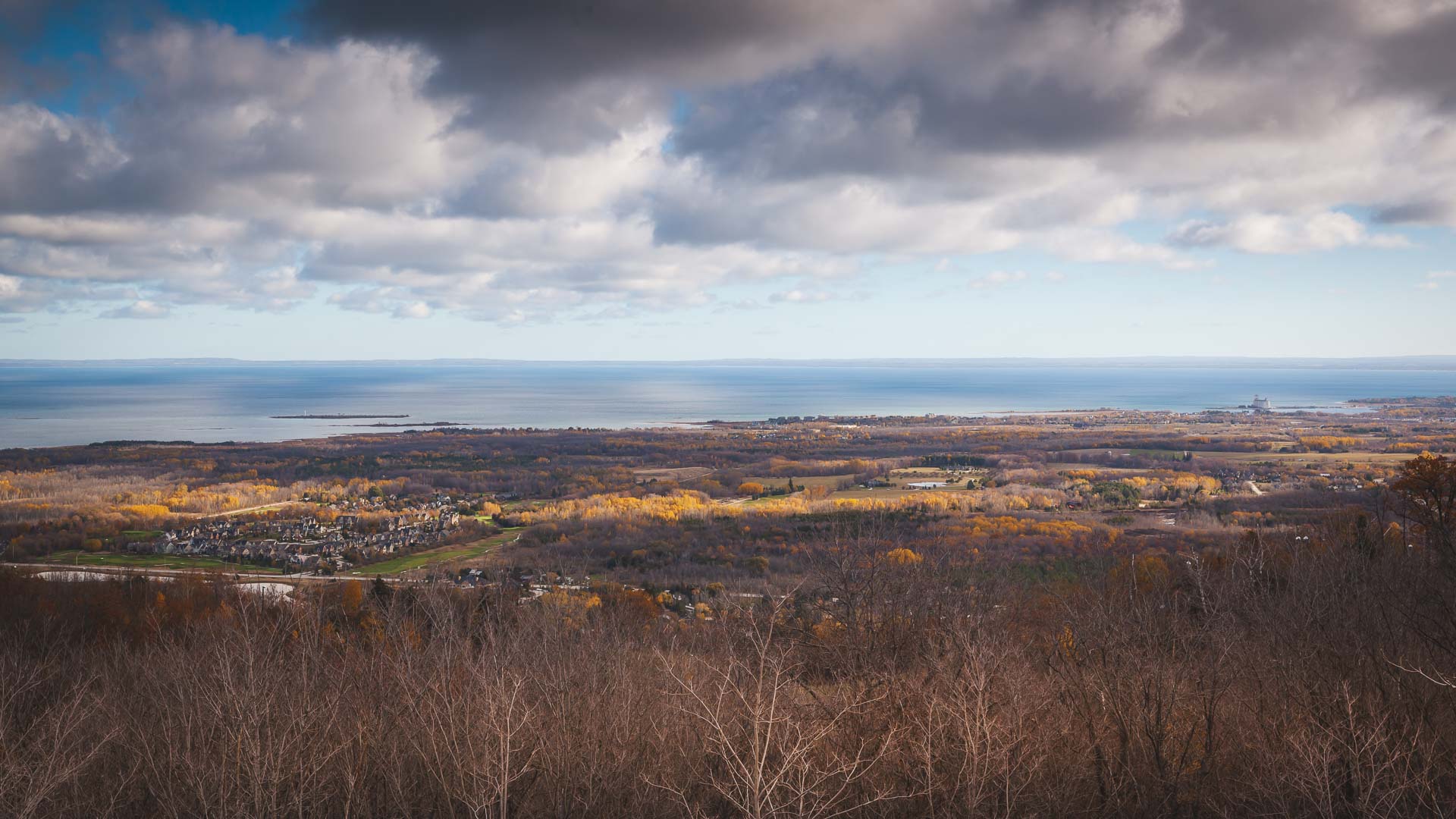 There are plenty of hiking trails in the Blue Mountain and Collingwood area. You don't even have to leave the village to go for a great hike. The slopes of Blue Mountain are filled with great nature hikes and you can leave directly from your hotel room.
But if you want to get out further, the Bruce Trail is nearby, with countless loops to get you outside.
The Loree Forest Loop is one of the more popular short routes that offer exceptional views. It's only 5.3km so it's great for beginners.
The Bruce Trail Beaver Valley Route is an excellent hike
The Georgian Trail is another top choice.
Mountain Biking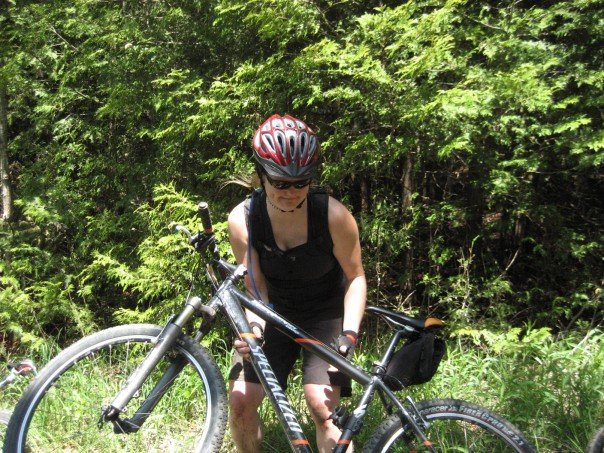 There are amazing trails around Blue Mountain and once again, you don't even have to leave the resort to hit the trails. There are great mountain bike trails at the resort that is one of the premier places for downhill mountain biking, but they have cross country as well.
Our favourite mountain biking trail near Blue Mountain is 3 Stage Mountain Bike Trail in Pretty River Valley Provincial Park. It has 2500 acres of cycling for all capabilities and levels.
I don't know the exact location anymore, but there was an incredible trail Dave and I used to ride between Wasaga Beach and Collingwood. We just looked for the pull off right off the highway.
Cycling Collingwood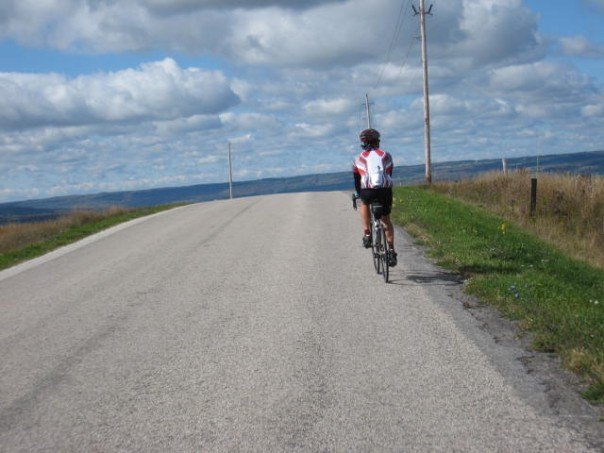 Colllingwood has some of the best cycling in Ontario, with challenging routes. When training for Africa, we went up here all the time. The Scenic Caves Route was the toughest. There's Dave in front of me, enjoying a great ride outside Collingwood.
There are loop routes ranging from 40 to 100 km. We loved riding out to Creemore where there's a great place for coffee or a beer. But there are plenty of routes to choose from. If you want a longer route, try the Collingwood to Kimberly route.
Cycle the Georgian Trail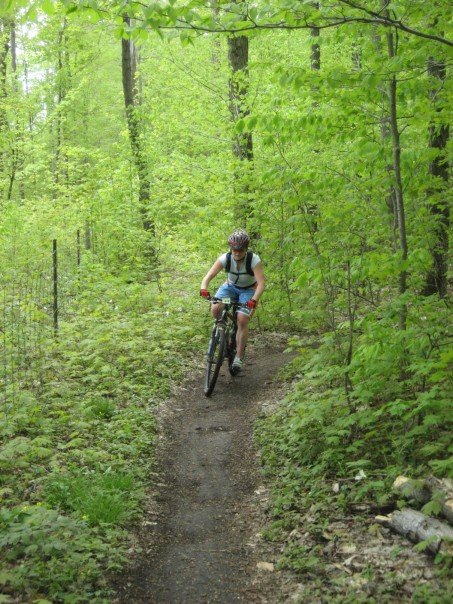 If road riding isn't your thing, The Georgian Trail is a 34 km coastal trail that runs from Collingwood to Meaford. Pack your bike and ride this trail. You don't have to ride it, this trail is good for walkers too. The once Northern Railway Line has been transformed into a recreational trail that passes through Craigleith Provincial Park and Thornbury with plenty of scenic lookouts and attractions.
Meaford Museum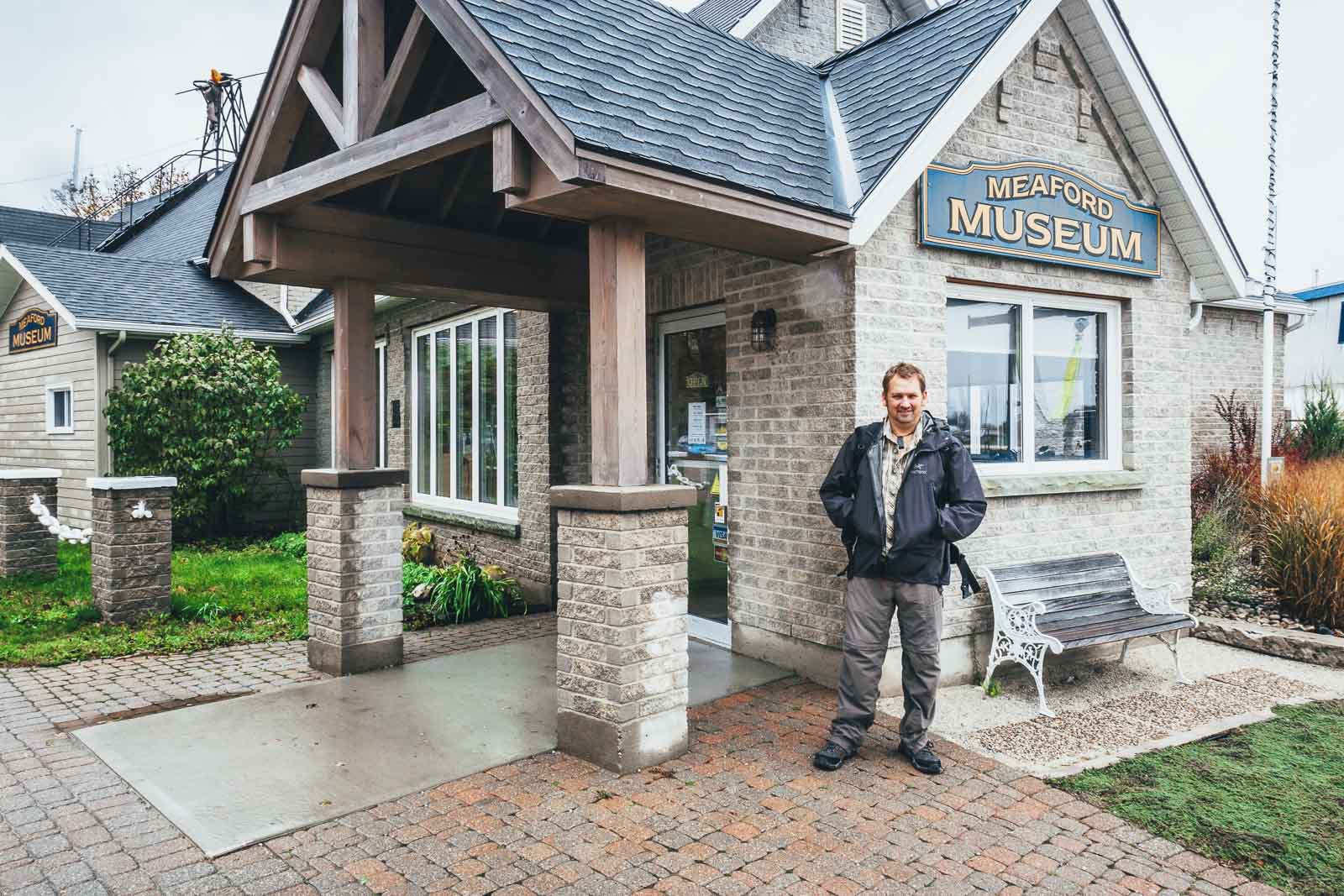 It gives you a history of the area where you can explore exhibits behind their walls, but then hit the road to see the actual locations where the items came from. It helped us to plan our route better and reminded us to slow down and enjoy the ride. As the curator of the museum said "People need to give themselves time to stop. Don't simply make a b-line from one place to another, the villages in between have some fascinating hidden gems." We agree!
The Plunge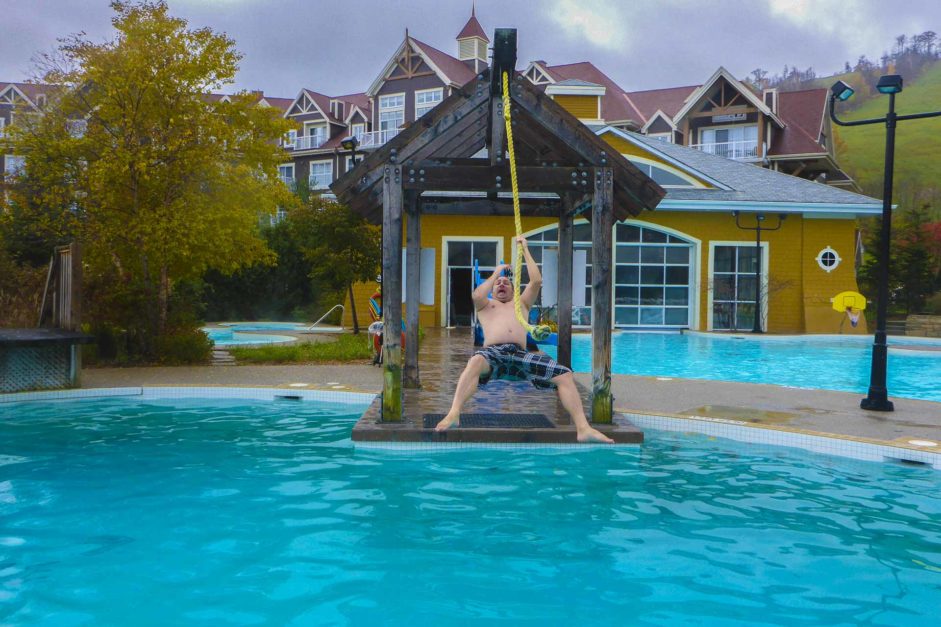 If you don't want to go to the Scandinave Spa, the Plunge Aquatic Centre is located right next door to the Trillium Westin House. With it's heated indoor outdoor swimming pool, you have the option to go outside and play or stay indoors and be toasty warm.
Other Blue Mountain Activities
Ridge Runner Mountain Coaster is fun for the whole family
Wind River Zipline is a fun short zipline
Monterra Golf Course
Craigleith Provincial Park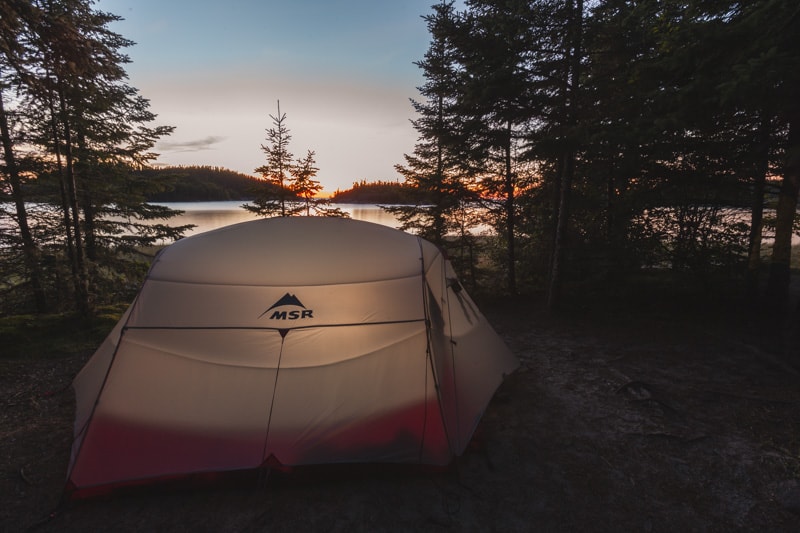 This is our favourite camping spot in near Collingwood. Located directly on Georgian Bay, it makes for a great base to explore the Blue Mountains for hiking and mountain biking. But it is also a destination unto itself. The gorgeous shale rock coastline is the perfect spot for outdoor activities like kayaking and SUP (stand up paddleboarding). The Georgian Trail cuts right through Craigleith so pack your bike and go cycling along Georgian Bay.
Wasaga Beach
Located 40 minutes from Blue Mountain and just 20 minutes from Collingwood, Wasaga Beach is not to be missed. It's the world's longest freshwater beach. Its long sandy shore on Georgian Bay is perfect for swimming, relaxing and enjoying beach activities. When you get a day pass to Craigleigh Provincial Park, your vehicle permit is good for Wasaga Beach.
There's a lot more to do than just chill on the beach, there are plenty of hiking trails, you can head over to the Nancy Island historic Site or you can do some bird watching at its protected wildlife habitat.
Heading up north to cottage country is a Canadian tradition. For as long as we can remember, we'd load up the cars at the start of the weekend and head to the wilderness to enjoy our many lakes, forests and hiking trails. 
Read more Ontario Travel: