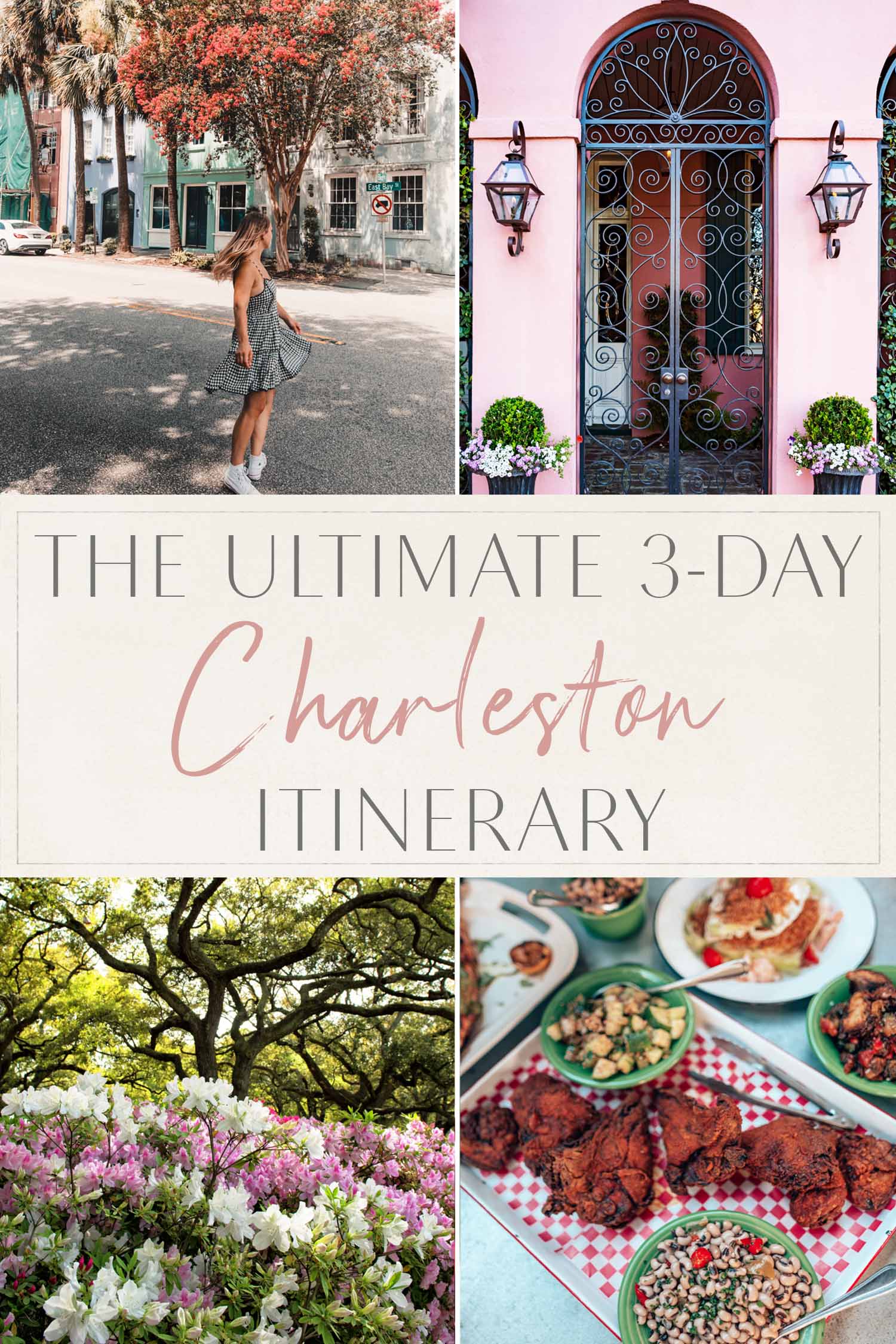 Hey everyone, my name is Lauren and I'm the creator of the travel resource and blog NY to Anywhere.
During my recent East Coast Road Trip, I made a 3-day stop in Charleston with my husband and two friends and absolutely loved it!
Charleston is a destination of true Southern class and charm. I don't know if I've experienced a more polished city in the U.S. The people of Charleston definitely have a certain style about them and they sure do know their food!
Here's the ultimate 3-day Charleston Itinerary for the perfect balance of things to do and places to eat and drink.

The Best  Time to Visit
The best seasons to visit Charleston are the fall and spring when the temperatures are milder, though keep in mind that any time around Easter will be peak travel times and prices will be higher.
I'd say it's best to avoid the summer months as it gets extremely hot and humid. It will be difficult to be outside without getting covered in sweat! You don't want to waste your time in Charleston hiding out inside with air conditioning when there is so much to see.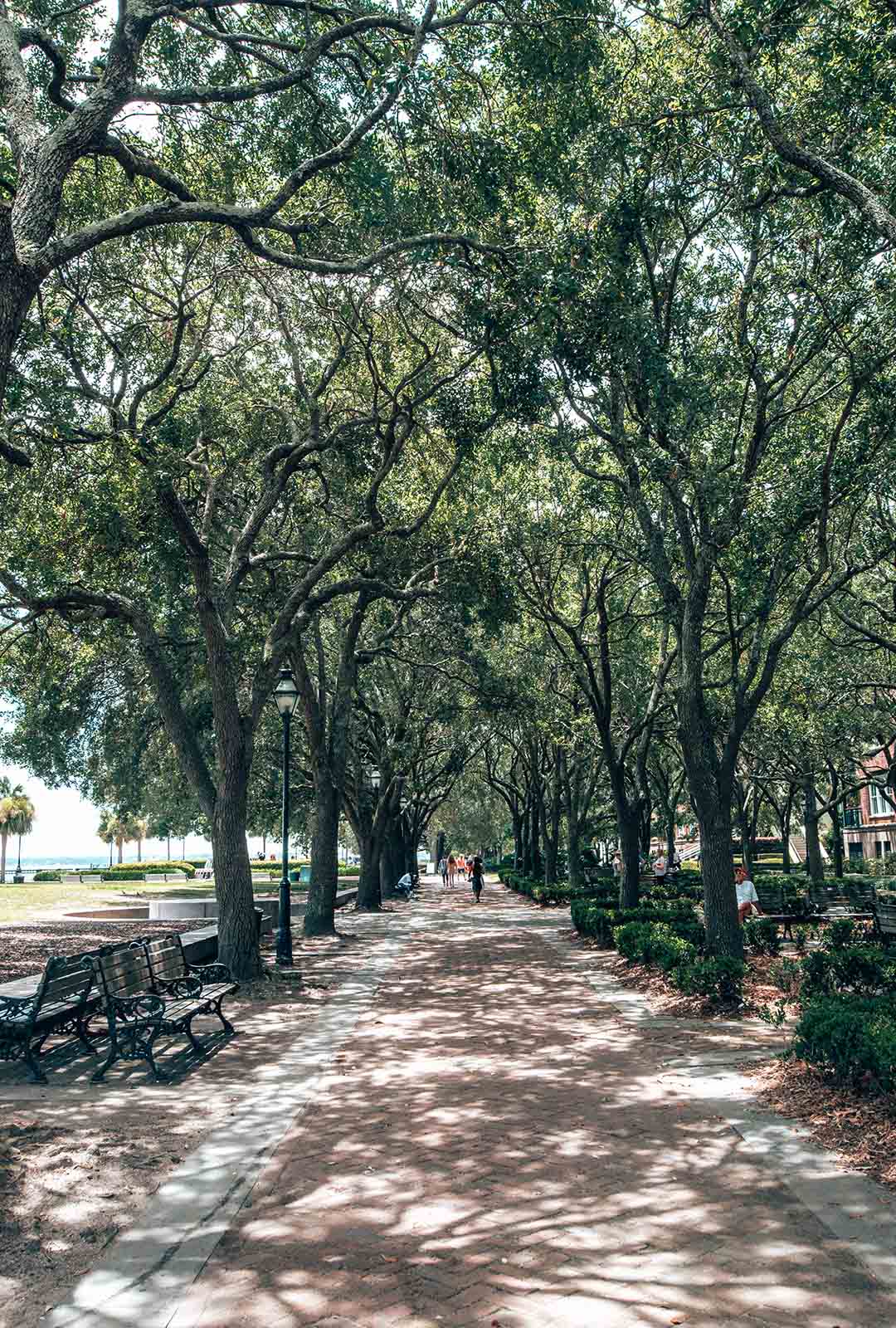 Waterfront Park and is where tourists and locals alike come to cool off.
Getting Around
If you stay in the downtown Charleston area it will be very easy to get around by biking or walking. However, to get to the beaches, you'll need to take a car, Uber or bus.

Francis Marion Hotel
Where to Stay
I highly recommend staying in the downtown area, that way you have easy access to all the sights, restaurants, and shops.
Some top hotels to note are the Market Pavilion Hotel, The Spectator Hotel, and the Wentworth Mansion. These properties are quite historic and the charm is undeniable, but they can be a little on the pricier side.
If you're interested in more of a budget option have a look at the Hampton Inn Downtown or Francis Marion Hotel for an option in the middle.

Itinerary for Day 1
Oyster Brunch
Start your time in Charleston off with brunch at the Darling Oyster Bar. It's one of the most Instagrammable restaurants in the city and serves seafood dishes like crab cake benedict and shrimp & grits. Of course, you'll want to try some oysters too!
Helpful Tip:
Charleston is one of the most popular foodie destinations in the country, be sure to take advantage of all the wonderful places to eat and drink in this city.

Some classic foods to try here include hush puppies, fried chicken, oysters, and BBQ, as well as just about any soul food you can get your hands on.
Bike Around Town
After a tasty brunch, rent bikes from Holy Spokes and see what you find! There are adorable corners throughout the city and it's a nice way to get your bearings.
Make sure to stop at both Rainbow Row and at the Pineapple Fountain. Rainbow Row is a stretch of 13 historic homes in a variety of pastel colors. Another great photo spot in Charleston!
The Pineapple Fountain is in the middle of Charleston Waterfront Park and is where tourists and locals alike come to cool off, honestly so refreshing on those hot days in The South. The pineapple is actually a symbol of hospitality in Lowcountry.
Eat Local + Drink on the Roof
Eat dinner at Husk for dishes with ingredients that only come from The South, crafted with a modern touch. One of the absolute best restaurants in Charleston it was started by Sean Brock who featured on Netflix's Chef's Table (though he is no longer involved with the operation).
Try and make it for sunset drinks at the Pavilion Bar on the roof of the Market Pavilion Hotel. It's an upscale bar in one of the city's most luxurious hotels.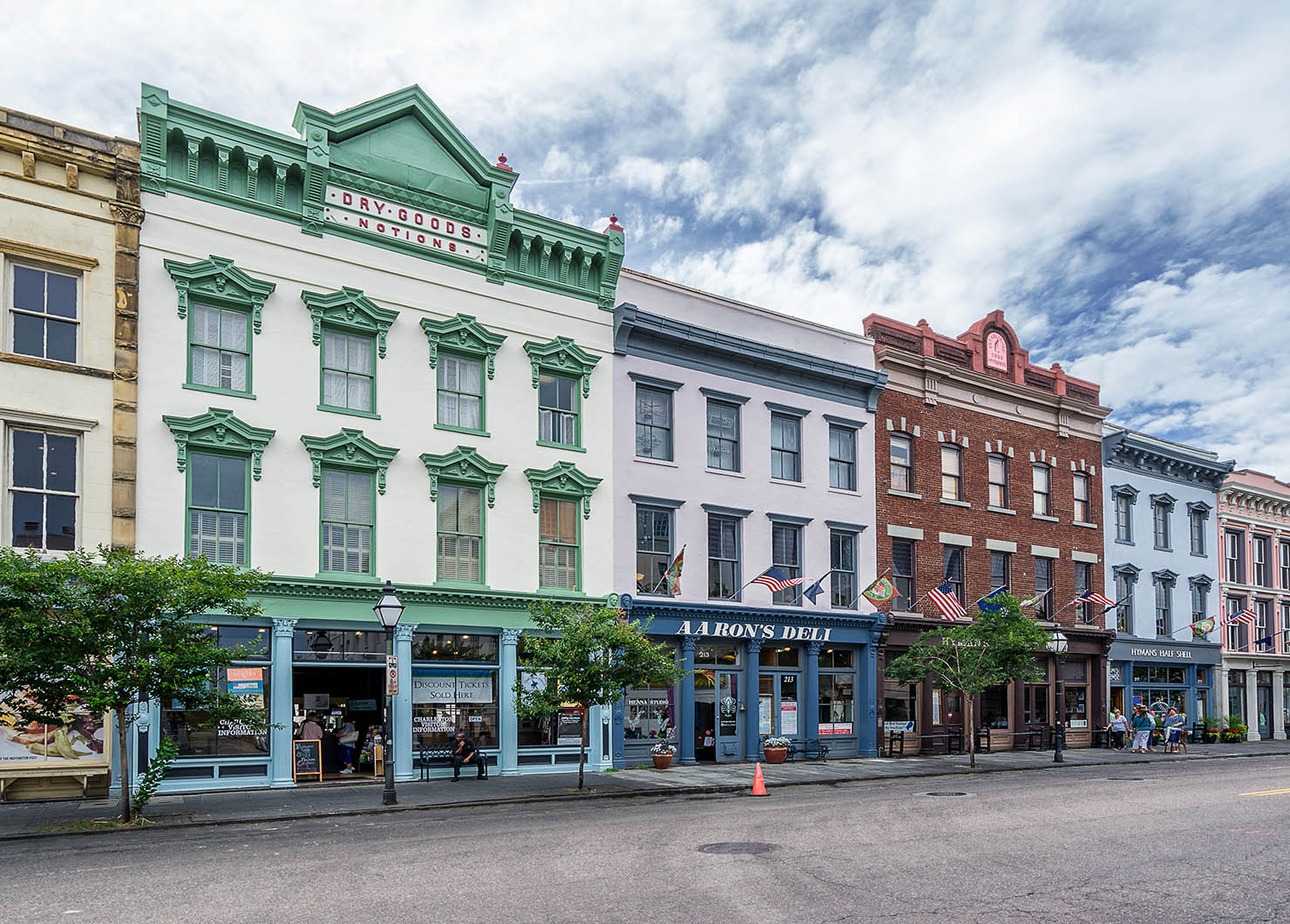 Itinerary for Day 2
Biscuits for Breakfast
Grab breakfast biscuits from Callie's Hot Little Biscuit. Choose from sandwich fillings and biscuit toppings like sausage, bacon, egg, pimento cheese, and thyme butter.
Visit Fort Sumter
After a quick bite visit Fort Sumter which is accessible only by boat.  You can take the ferry tour over from Liberty Square for $24 per adult. You'll learn all about the Civil War from the location of the very first shots fired.
Go Shopping
In the afternoon go shopping on King Street to find all the high street shops as well as fun boutiques. Then visit the historic, City Market for artisan, unique and local finds! Oysters and Live Music
Have dinner at Leon's Oyster Shop. This fine poultry and oyster spot is set in an old garage and serves fried chicken, frozen drinks, and whole fish. My favorite was definitely the fried chicken – we order the whole chicken along with plenty of sides.
Their frozen G&T's are refreshing after a hot day!
End the evening with drinks at Henry's. There's something for everyone at this multi-level and multi-themed bar with live music. The themes change on each level but keep a classy element throughout all the way up to the open-air rooftop with relaxed seating areas.

Folly Beach
Itinerary for Day 3 (Beach Day)
Save the last day for the beach! I like to do the busy days at the start of a trip and have the final day be more relaxed.
Getting to Folly Beach
There are a few different beaches close to Charleston, with Folly Beach being one of the most popular. It's a short drive from downtown Charleston, but you should leave early to avoid traffic.
There is public beach parking at many of the beach access points, but park near the Folly Beach Fishing Pier for close proximity to the bars and restaurants.
If you prefer public transportation or are looking for a budget option, there is a bus that leaves from Calhoun. You will have to transfer once at Sol Legare Rd.
Early Bird Breakfast
When you get to Folly Beach stop in for breakfast at the Lost Dog Cafe which opens early – 6:30 am! Have a fresh bagel or muffin or try something heartier like their breakfast burrito or shrimp & grits.
Folly Beach Activities
If you decide you're up for more than just sunbathing at Folly Beach, you can walk to the Lighthouse Inlet Heritage Preserve for a view of the Morris Island Lighthouse, take a surf lesson, go kayaking or go on a SUP tour!
Casual Lunch (and drinks) at the Beach
When you're ready for lunch grab tacos at Chico Feo or buckets of seafood at the Crab Shack. 
If you're in the mood for an afternoon drink check out Loggerhead's or Snapper Jack's where you'll find a big rooftop deck boasting sea views!
End Your Stay with BBQ + Cocktails
Hopefully you're hungry again by the time you're making your way back downtown because you must stop in at Lewis BBQ for dinner. It's some of the best BBQ I've EVER had and believe me, I've tried plenty!
If you manage to swing by on a Saturday be sure to order the special beef rib, it was delicious!
When you're back in Charleston go for drinks at The Cocktail Club. This bar, made almost completely out of exposed wood, is stunning and there's usually laid-back live music – we saw a great cover jazz musician.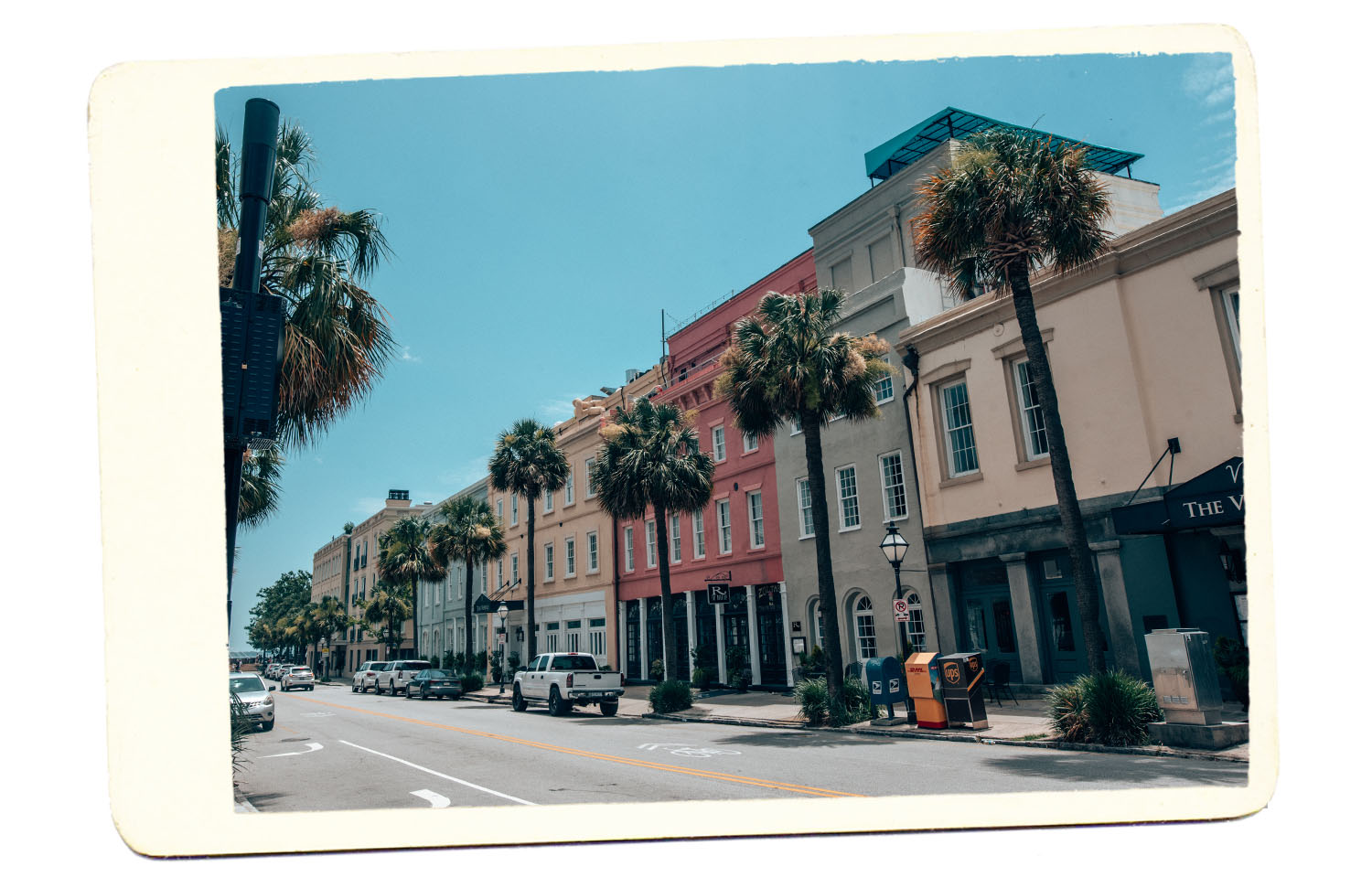 Helpful Tips
Don't underestimate the heat and humidity, make sure you stay hydrated and wear sunscreen!
I highly recommend making dinner and brunch reservations before you arrive. The popular spots can book up pretty fast on the weekends.
Charleston felt a little more upscale and fashionable than some other cities I've visited in the U.S. Make sure to pack a few dressier options.
I visited Charleston with my husband and two of our friends which was great because we were able to split costs and try more food! I highly recommend Charleston for a weekend with friends or even a couples getaway.