If there is one place in North America that truly feels like a little slice of Europe, it is Quebec City. French explorer Samuel De Champlain established the first European settlement in Old Québec in the 17th Century and it has held onto its strong French traditions and heritage making it one of the best places to visit in Canada. From experiencing its French culture to marveling at its historic architecture, there are plenty of things to do in Quebec City to keep you occupied for days.
Things to do in Québec City, Canada
Be it winter or summer that are many things to do in Quebec City to enchant and delight any travel lover. This city is rich with history and culture, adventure, and fun. We have taken many a trip to Quebec City dating all the way back to our high school French class trips to later in life where we could truly appreciate exploring the winding cobblestone streets of Old Québec to dining at chic French cafes with fine wine.
From our past experiences and help from our team, we've put together ideas for the best things to do in Quebec City to help you plan your trip.
Get acquainted with Quebec City on this Quebec City Tour. This 2-hour tour. takes you to the Plains of Abraham, ramparts, the Château Frontenac, Place Royale, and much more as you learn of the history, and culture of Quebec City. Easy cancellation within 24 hours in advance of the tour.
1. Walk Around Old Québec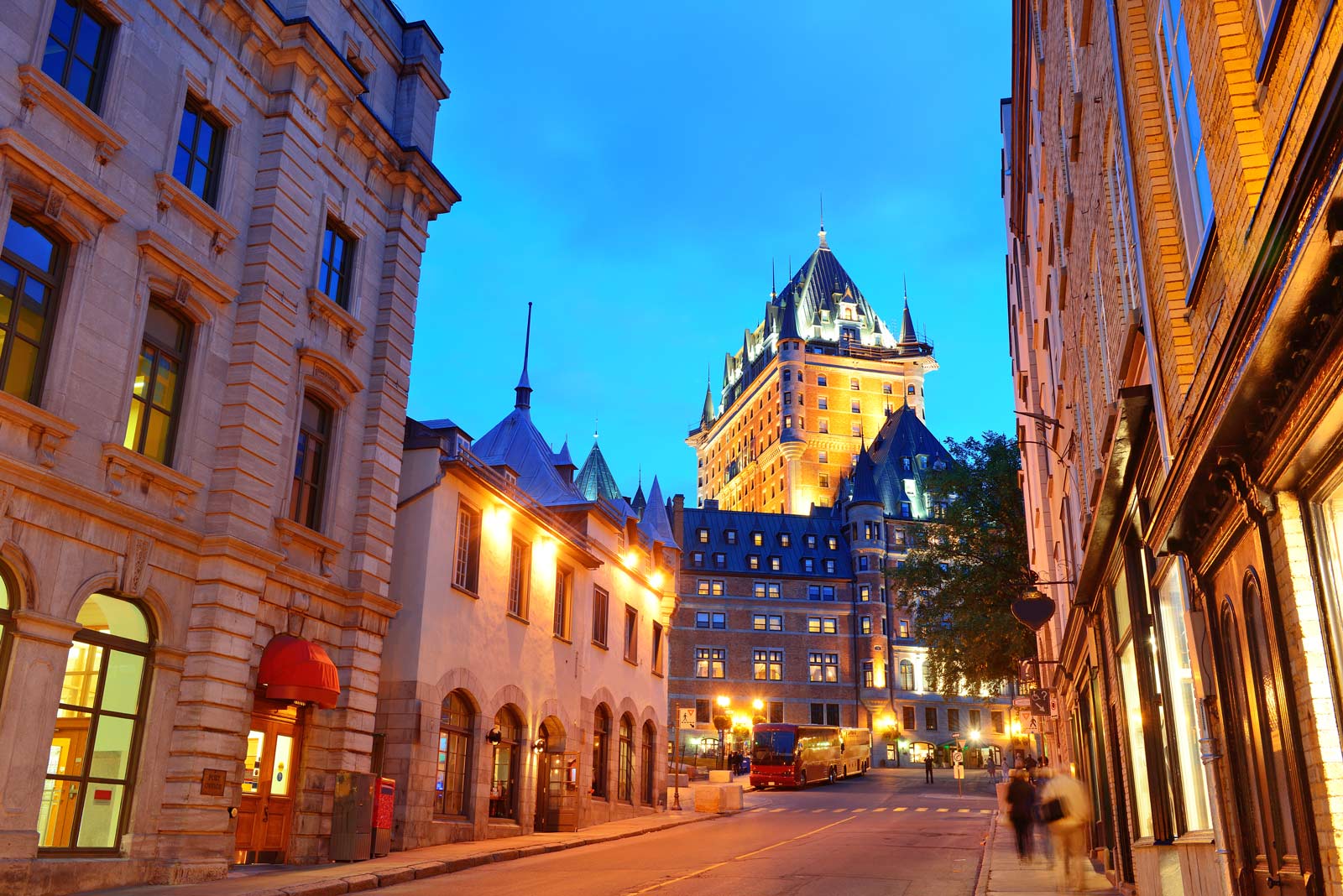 Once the capital of New France, Old Québec has 400 years of history sitting inside its city walls and is a must-see when visiting Quebec City. A UNESCO World Heritage Site, Quebec is the only walled city north of Mexico.
From medieval-style walls that encircle the historic buildings to its charming European vibe, a visit to the first permanent French settlement in Canada is like a step back in time. Many of the historic attractions in Quebec City sit within these two areas and tell a story of not just the city's history but also Canadian history.
2. le château frontenac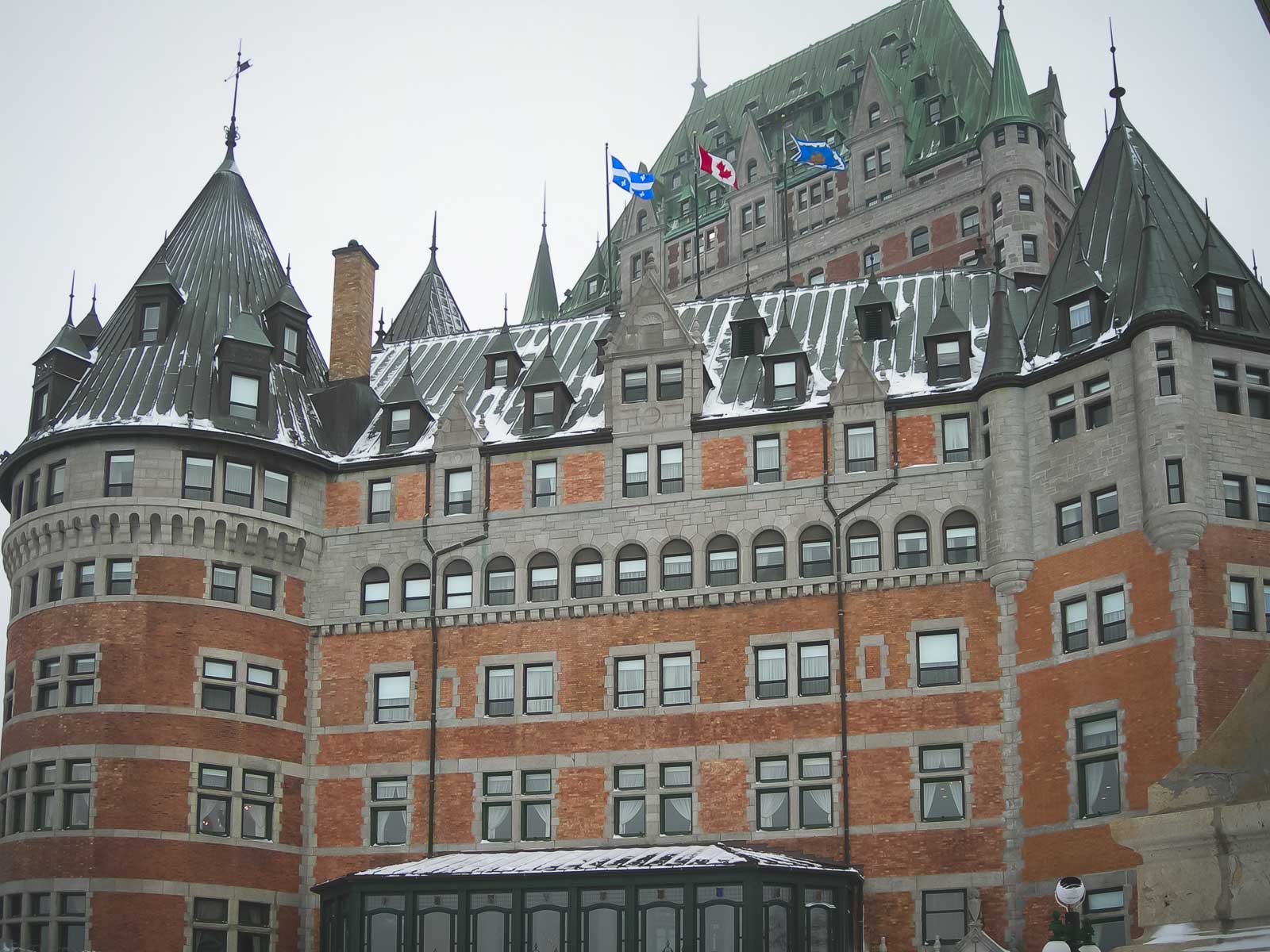 Some say Château Frontenac is the most photographed hotel in the world and for good reason. The giant Fairmont Hotel Chateau Frontenac was built by the Canadian National Railway in 1893 to encourage luxury travel on its trains and its design took inspiration from old French castles. Le Château Frontenac sits inside the walls. City and overlooks the Saint Lawrence River.
The Château Frontenac has 18 floors and 611 rooms as well as an indoor pool and stunning terrace. Although it has modern conveniences, old-world glamour can be found at every turn with period pieces against a mahogany backdrop. If you are not staying at the Chateau Frontenac, take a tour to walk the walls of Canada's most historic hotel. Learn of the famous people that have graced its halls and learn about its history. More details here.
4. Notre Dame de Québec basilica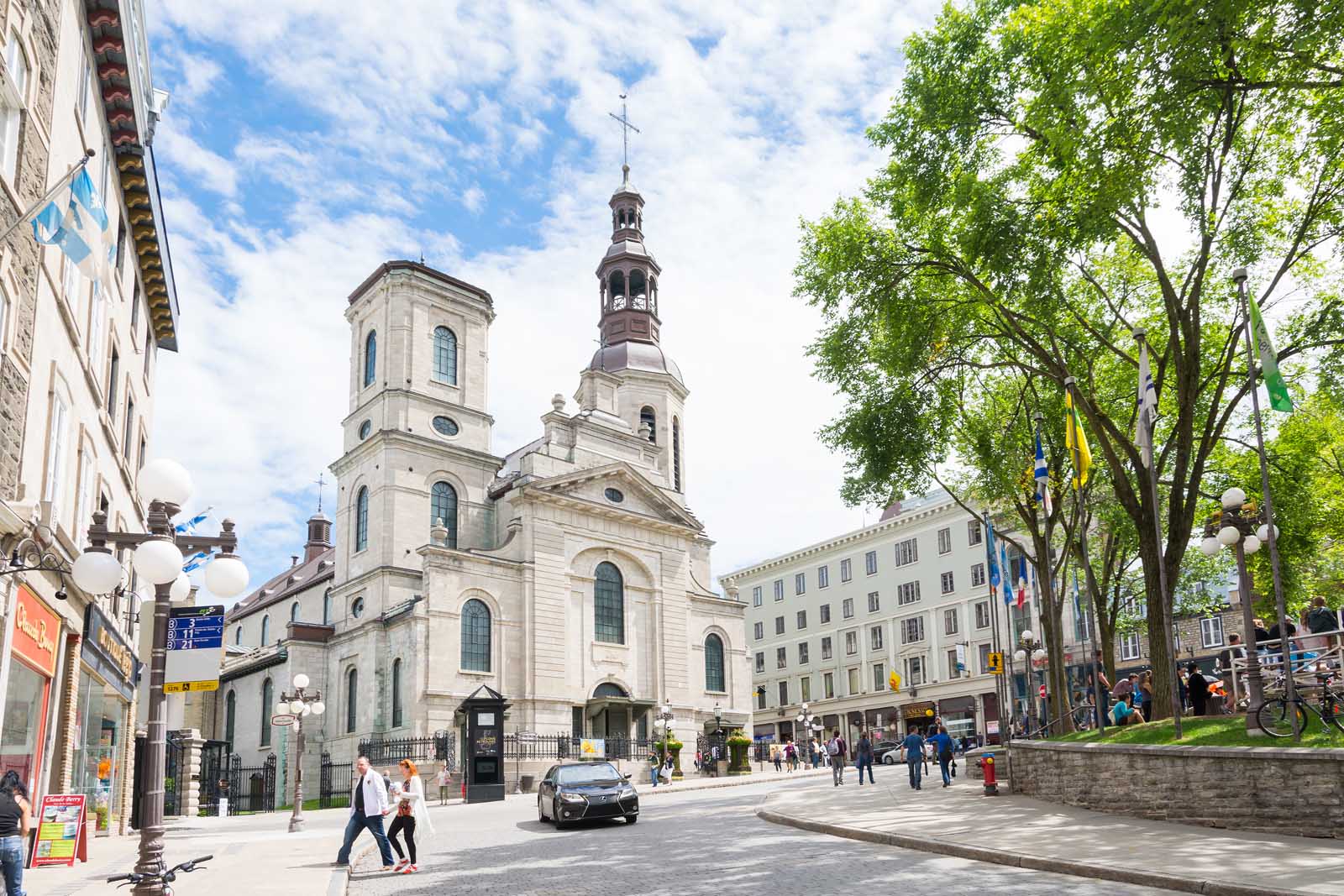 First built in 1647, the Notre Dame de Québec Basilica-Cathedral is one of Quebec City's most popular landmarks. It's history is long and storied with it being destroyed and rebuilt twice in the 1700s and again in 1922. In 1923 a crypt was added for its bishops, archbishops and cardinals.
This Basilica houses one of seven holy doors in the entire world and it is the only holy door outside of Europe. The door was inaugurated at the time of its 350th anniversary. A Holy Door is kept sealed and only opened during holy years. The next opening is set for December 8, 2023.
5. Old City Walls and Fortifications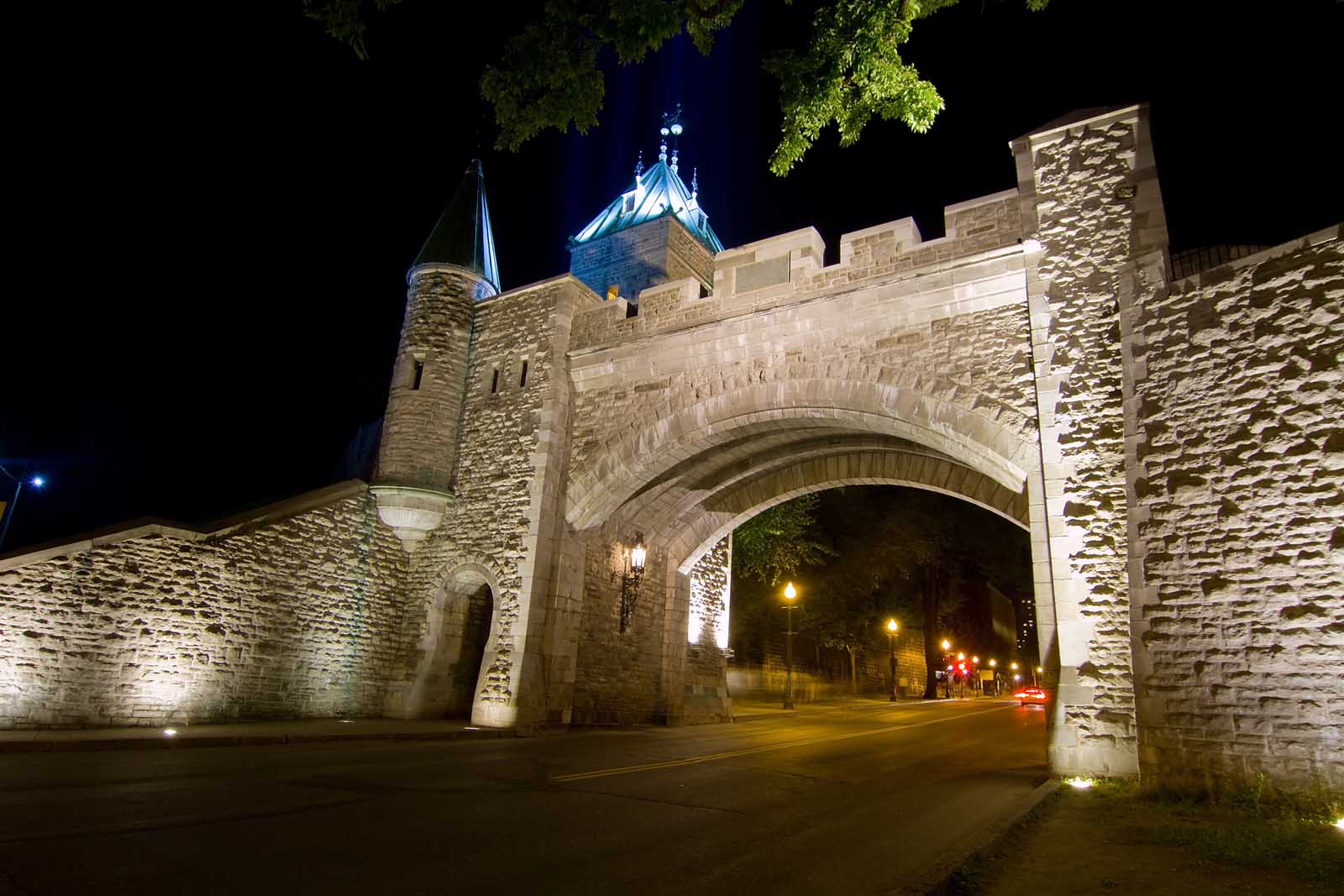 To get an up-close-and-personal look at the Historic buildings, visit the  Fortifications de Quebec National Historic Site. The site is made up of Dufferin Terrace, Dauphine Redoubt, Montmorency Park, and the Governor's Garden. Vieux-Québec is one of the most historic places in North America with many of its structures dating back to the 17th century. The fortifications are 4.6 kilometers (2.8 miles) in length and you can wander on the ramparts themselves.
From here you get a view of the picturesque lower town and the busy harbor below. The gates of the fortification are located at St. Louis Gate, Kent Gate, and Saint John Gate. You can book a guided tour through Parks Canada that will let you enter places that the general public can't see.
6. Dauphin Redoubt
If you want more military history, head to the Dauphin Redoubt. The guided parks Canada tour stops here at this heritage building for an insider's look at military living, you can visit It is one of the oldest military buildings in North America dating back to 1712. Inside you'll get a chance to see how the soldiers lived by touring through the building and visiting their quarters, chambers, kitchen, and mess hall. 
7. Notre Dame des Victoires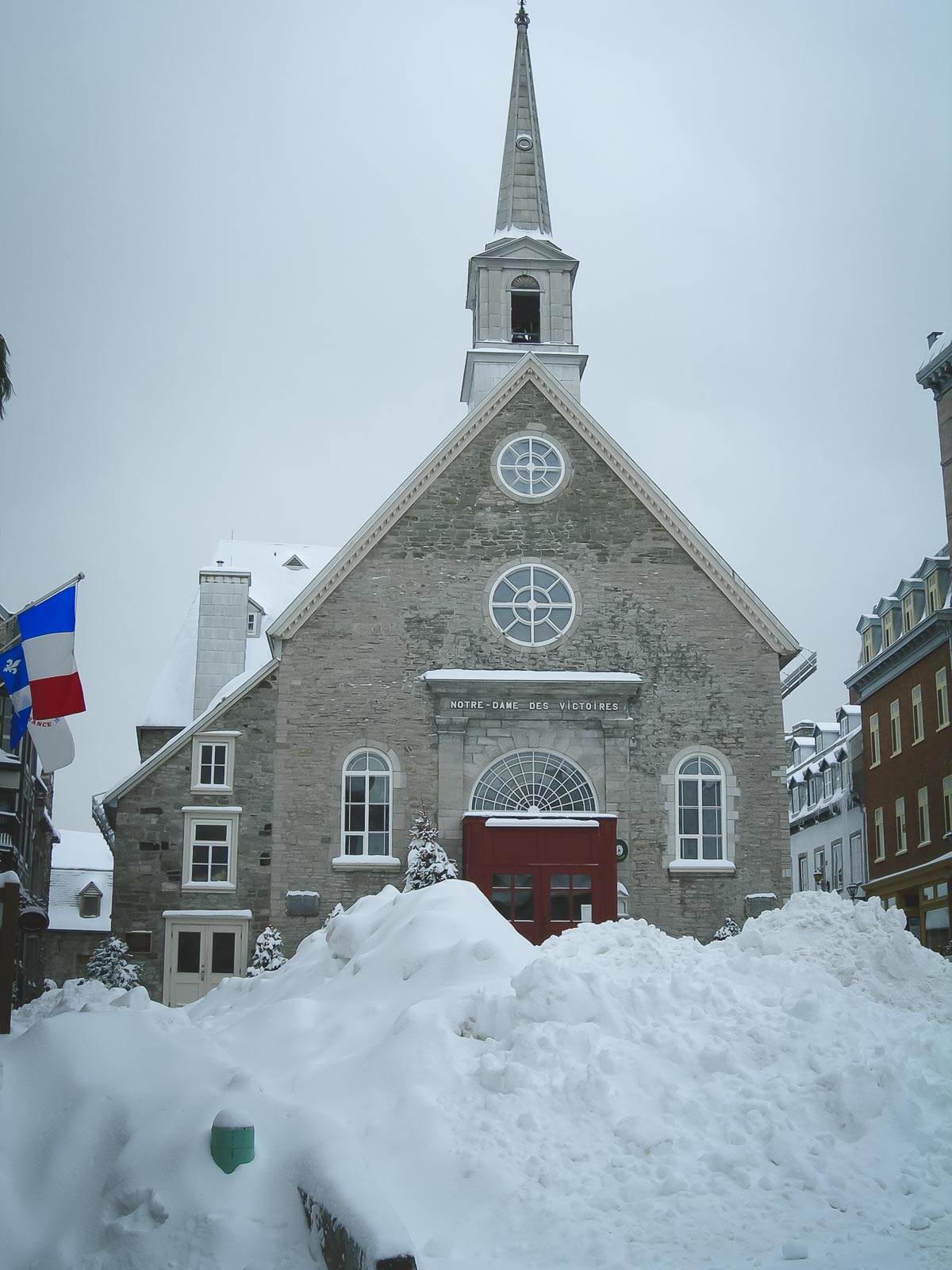 While strolling around Old Town, make sure to visit Notre-Dame-des-Victoires. This small Roman Catholic stone church was constructed in 1687 on the site of Champlain's home. It was completed in 1723 and is one of the oldest stone churches in North America. It's very picturesque and worth popping into.
8. Plains of Abraham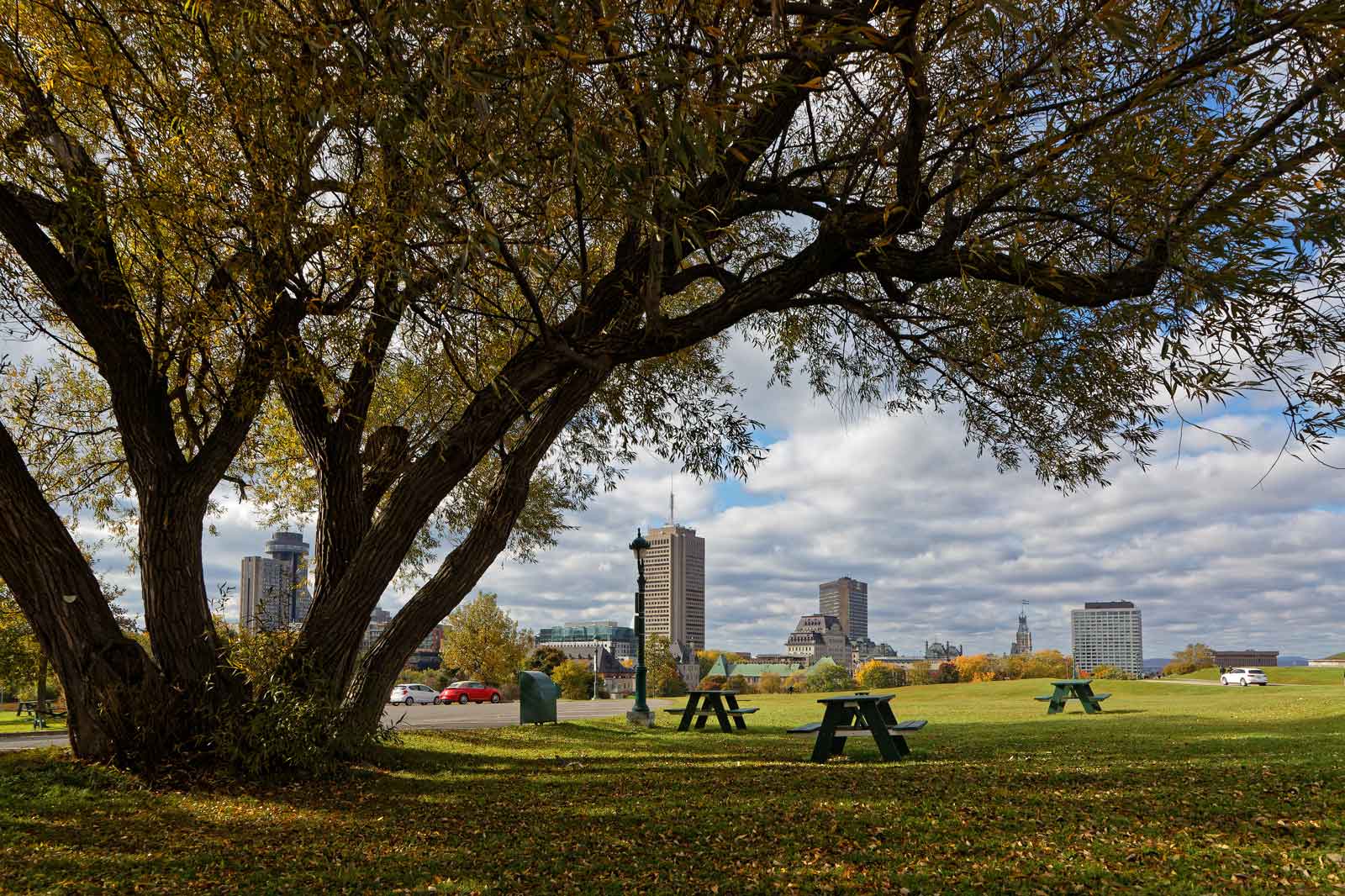 When you visit Québec City, you must also go to the Plains of Abraham Museum. It is the gateway to the historic destination offering exhibits from the Seige of Quebec from 1759-1760. After visiting the museum, visit Battlefields Park to see the Plains of Abraham. Located on the Saint Lawrence River, this area was where The British Army and Royal Navy fought against the French Army. The park itself spans 242 acres with walking trails, monuments, a Martello Tower, and an on site museum. This is a great place to stroll and learn about Quebec and Canada's history.
Book this Old City Walking Tour – This two-hour grand walking tour of Old Town to see all of the top attractions including Notre Dame de Victoires Church, Place Royale, City Hall, Notre Dame Basilica and much more.
9. Musée national des beaux-arts du Québec
Located in the Plains of Abraham, the Musée national des beaux-arts du Québec is a complex that displays the history of Quebec art from the 17th century to modern-day. There are four pavilions to visit housing different collections from contemporary art, Inuit Art, design and decorative arts.
10. Musée de la Civilisation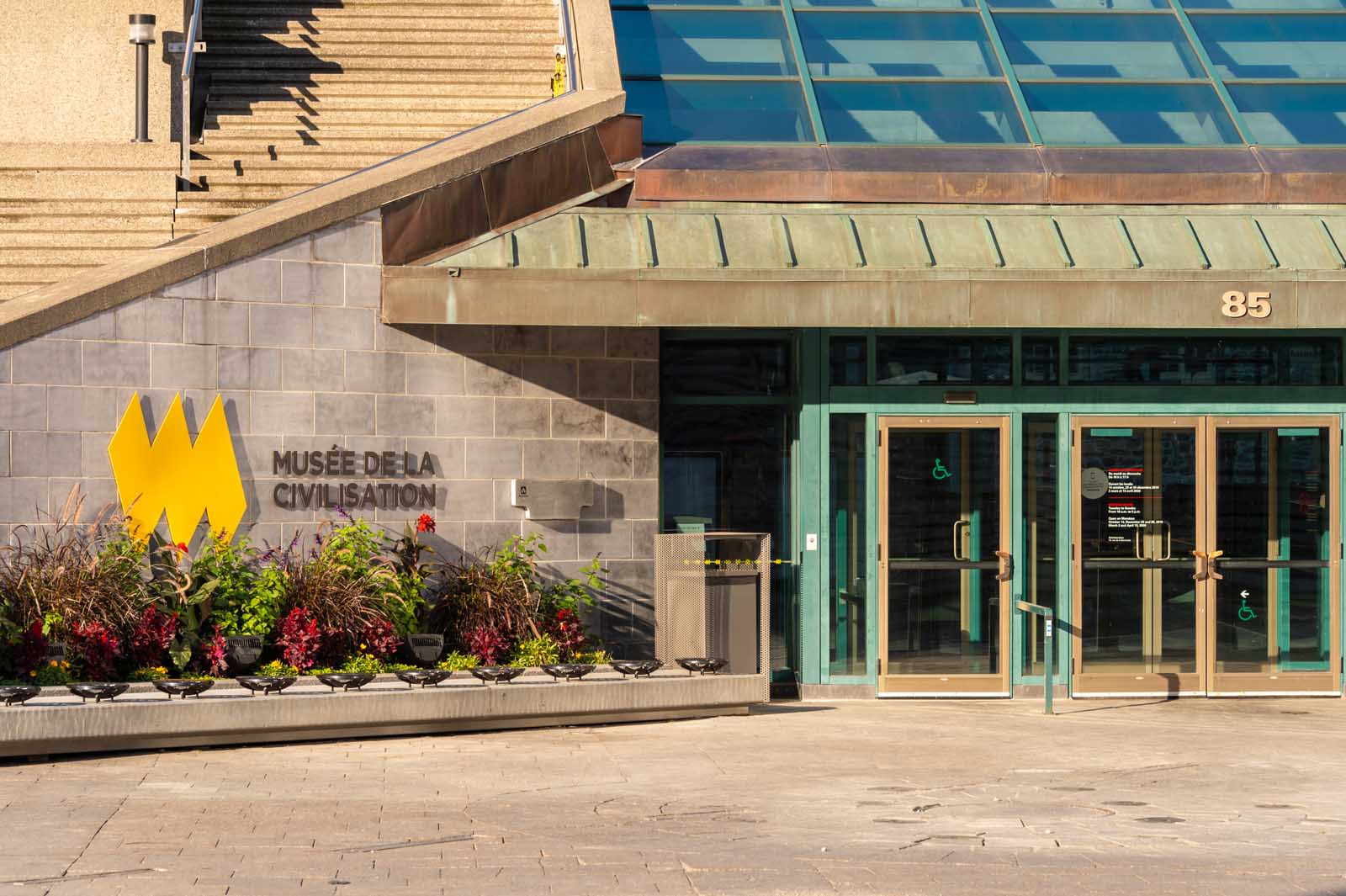 The Musée de la Civilisation sits in the old town near the St. Lawrence. It was established in the 1960s and hosts numerous exhibitions dedicated to the human condition. You can visit exhibitions dedicated to the Maya as well as Canada's ancient fishing heritage. A special exhibition is also dedicated to Canada's indigenous cultures, which provides a true glimpse of Canada's pre-colonial times. These exhibitions take you on a tour of ancient customs and art that make up the fabric of what it means to be Canadian. 
11. Observatoire de la Capitale
Are you looking for the best view in Québec City? Observatoire de la Capitale is located on the 31st floor of Marie-Guyart building. It offers panoramic views of the entire city, The St. Lawrence, Ile d'Orleans and the Plains of Abraham. It may only be 31 stories high, but Quebec City is a UNESCO World heritage Site, so there are height limits for buildings, making this the highest viewpoint in the City.
12. Funiculaire du Vieux-Québec
You can take the funicular system from near the gorgeous little plaza at Place Royale in the Lower Town all the way up the top of Cap Diamant. Alternatively, you can take the stairs between the upper and lower parts. Today, Place Royale is a medieval-looking square that houses numerous restaurants and cafes. The funicular takes you up and down the cliff at a 45 degree angle where you can ride to the upper level to Dufferin Terrace to visit the Fairmont Le Château Frontenac
13. Saint Lawrence River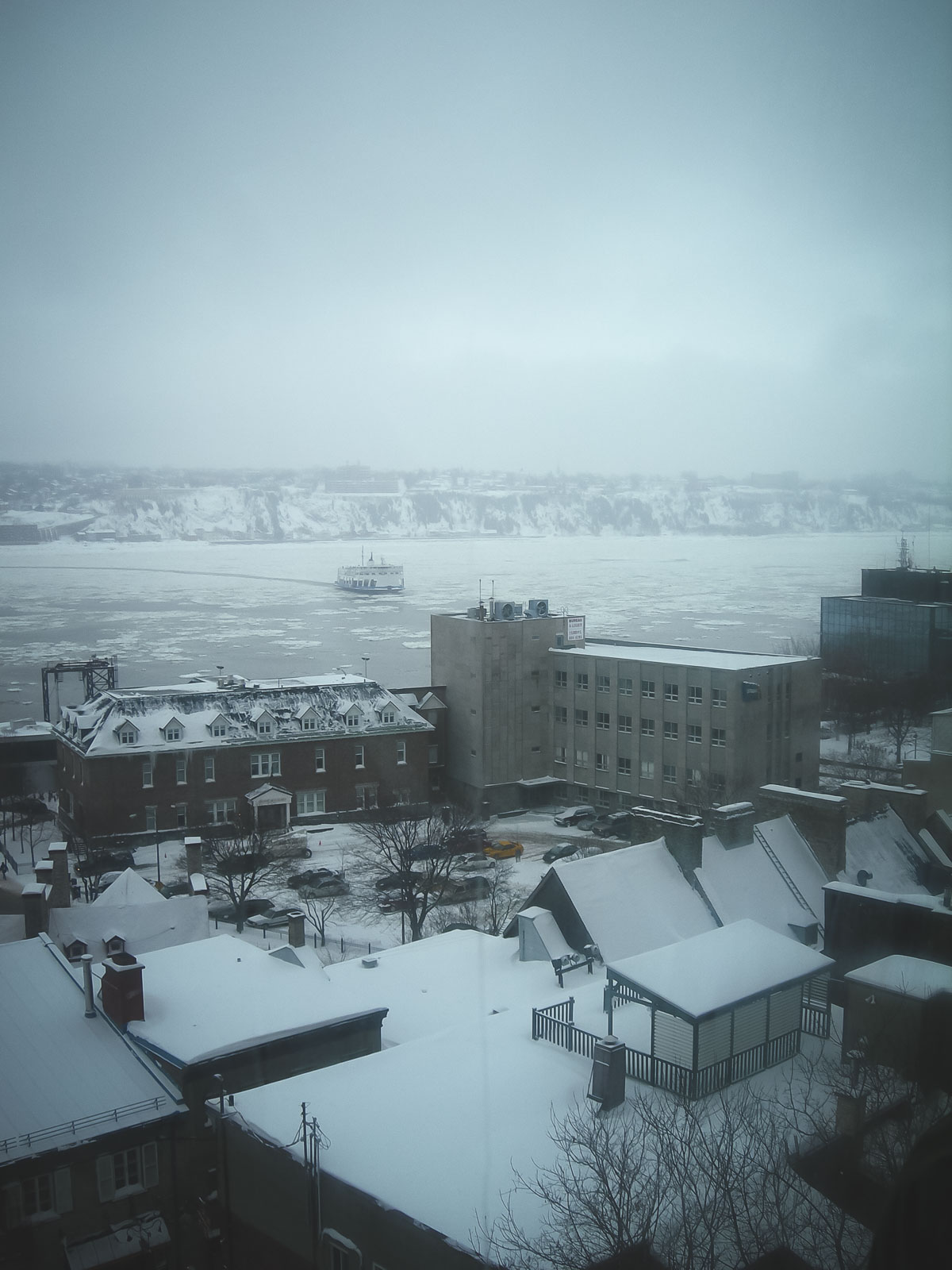 The Saint Lawrence River is part of the fabric of Quebec City and is the gateway for importing and exporting of goods into North America. The Saint Lawrence connects Lake Ontario to the Atlantic Ocean so you'll see all kinds of boat traffic on it during the warmer months where you can take a sunset evening cruise or hop on the ferry from Old Québec over to Levi.
If you want to go swimming or take part in some water sports, you can head to Beauport Bay. The bay is just minutes by car from the old town. You can paddleboard, windsurf or just laze around on the river if you want. There are play areas for kids as well as a biking trail nearby.  (We've even been scuba diving in the St. Lawrence River.)
14. Take a Food Tour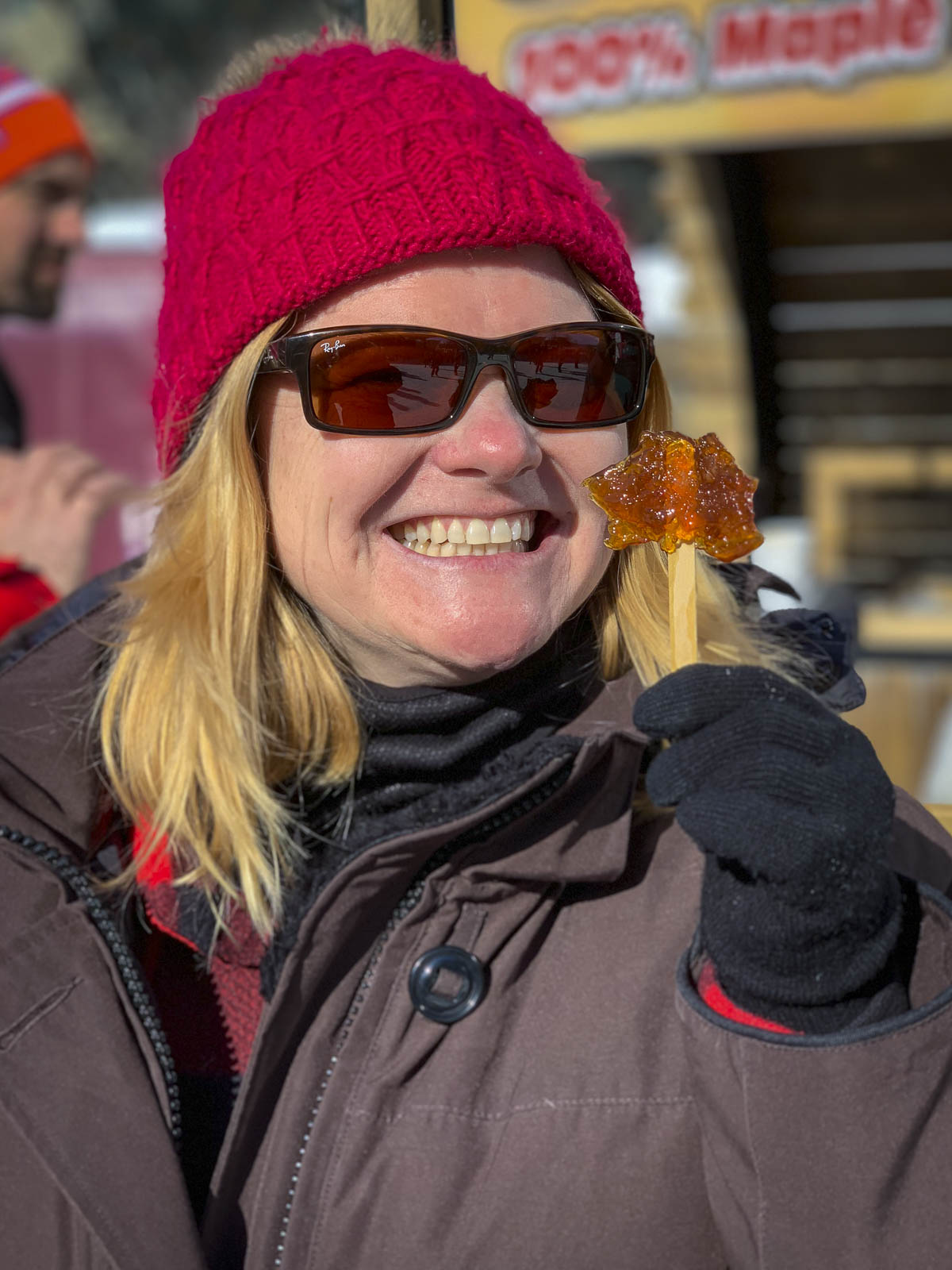 You cannot go to Quebec City without getting a taste of delicious French Canadian food. There is usually no better way to get to know a city's culture than by understanding its food. If Quebec is known for one thing, it's got to be for poutine. This quintessential Quebec treat is made of crispy french fries topped with gravy and cheese curds and you can find it all over the city. This Old Quebec City Food Tour lets you sample local cuisines at five different venues
Another famous French Canadian dish is sugar pie. Tarte Au Sucre (Sugar pie) is a pie crust filled with a combination of maple syrup, butter, and cream. Aux Anciens Canadiens in old Québec City has a yummy version, but most self-respecting Quebec City versions will have a good one too. Head to Quartier Petit Champlain if you want to taste some of Quebec's finer fare.
15. Downtown Quebec City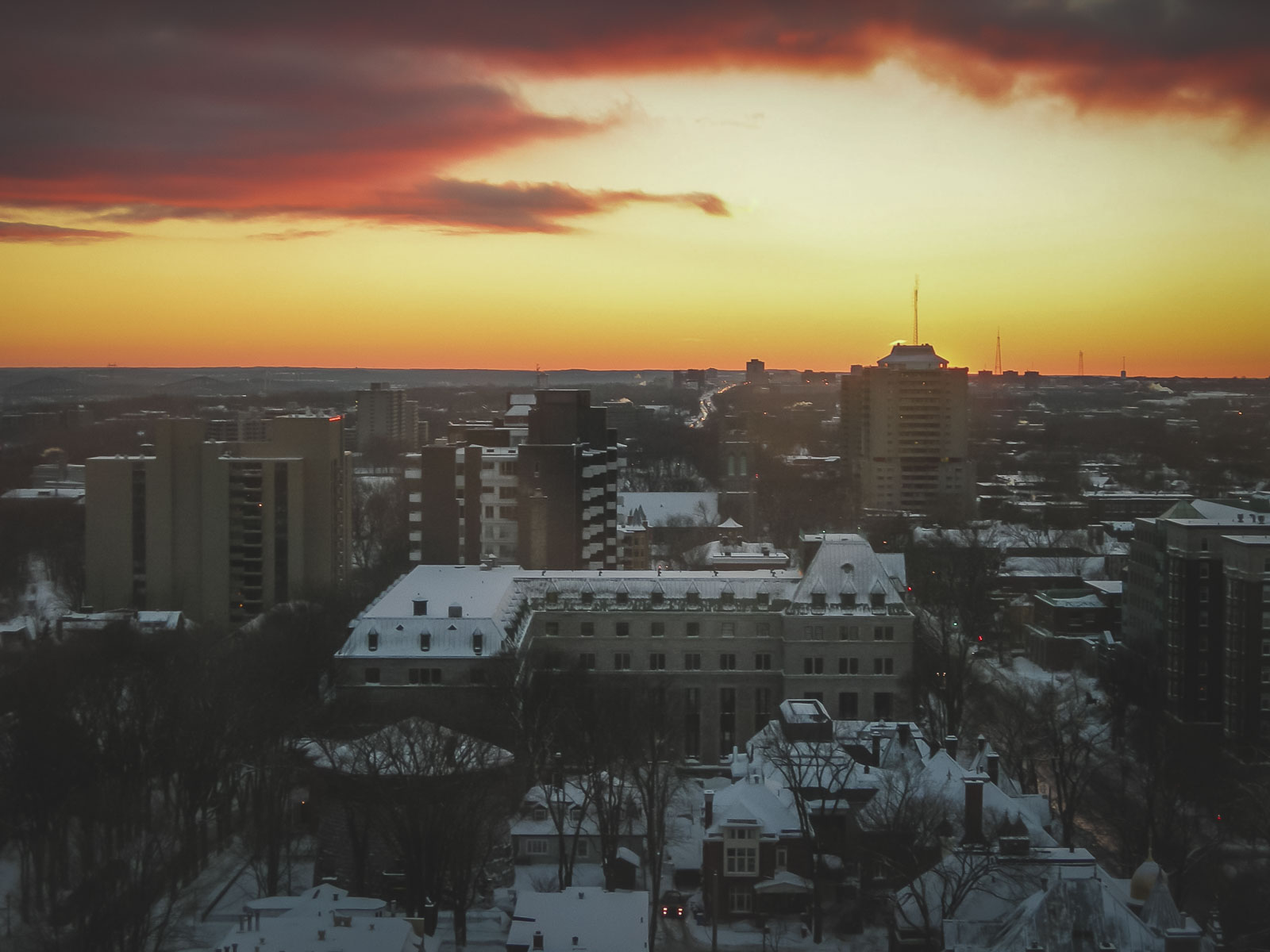 Downtown Québec City is filled with restaurants, museums, markets, and shops. Although there are no absolute defining boundaries, you'll discover that the downtown of Quebec City sits partly in Old Town within the walls and partly outside of it in the neighborhood of Saint  Jean Baptiste.
First off, you're going to absolutely fall in love with the aesthetics as it's a hilly area filled with cute little houses in all colors of the rainbow. And right smack dab in the middle of it all is Québec City's main shopping street. Rue Saint-Jean.
16. Rue Saint-Jean
From exquisite chocolates to bakeries and fresh grocers, the street is filled with shoppers all day. When the sun goes down, this is the place to be for dinner and drinks after. The area has high-end restaurants where you can get oysters on ice. Or if you're looking for something more relaxed, you can head to a local microbrewery. And if you're looking for Parisian vibes, you'll find many a cafe for that in this area.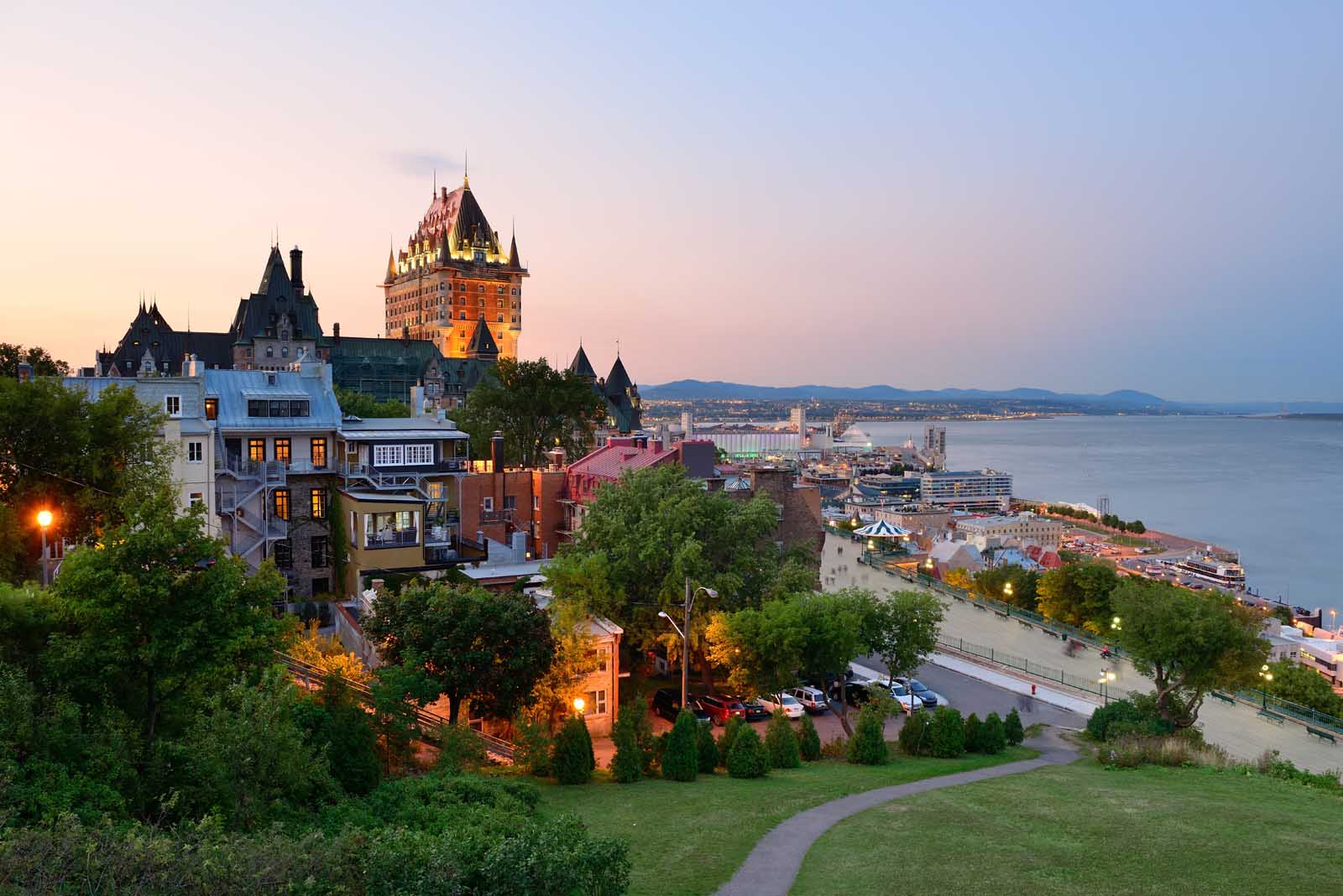 The official language of Quebec City is French, but you do not need to speak French to visit Quebec City. You will be able to get by without it however, the Quebecois do appreciate you trying, so at least try to learn some basics. Old Quebec is divided into The Upper Town and Lower Town (Haute Ville and Basse-Ville)
17. Quartier Petit Champlain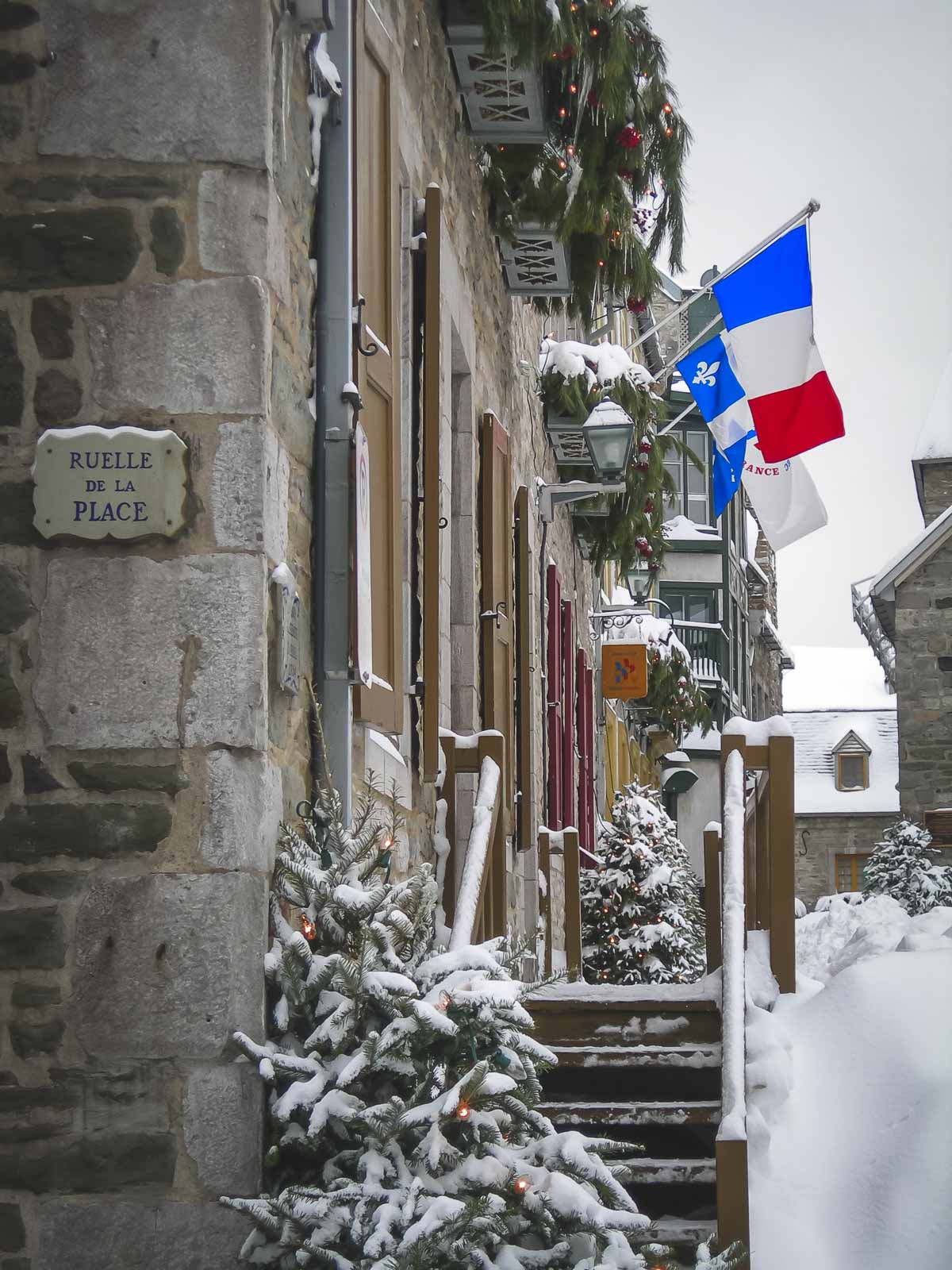 In Quartier Petit Champlain sits Rue Petit Champlain, which is the oldest commercial street in North America. On that street are some of the region's finest restaurants and cafes. There you will be served French specialties like rabbit, duck, and lamb cooked in the traditional French way.
A great way to get a real flavor of French Canadian food is by taking a walking tour dedicated to food. These food tours will take you to distinct food regions of Quebec City. Spending an afternoon tasting craft brews, ice wine, fancy cheeses, locally-cured meats is definitely one of the best things to do in Quebec City. Read more: Best Canadian Food to Try in Canada
Winter Trip to Quebec City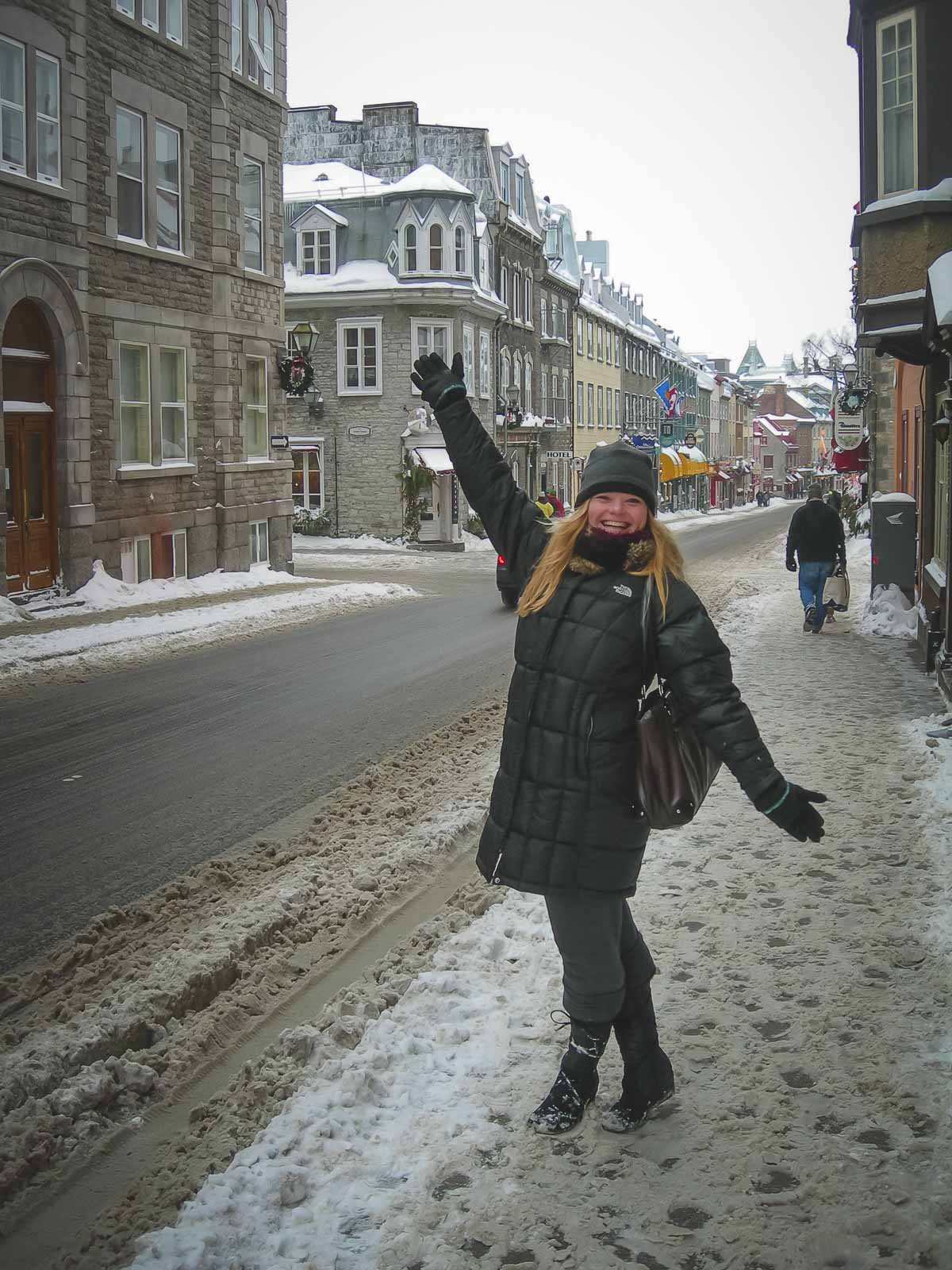 Some of the best things to do in Quebec happen in the winter months. From tobogganing to Carnivale a visit to Quebec City is a trip you'll never forget. So let's look into some of the best things to do in Quebec City when visiting in Winter.
18. Tobogganing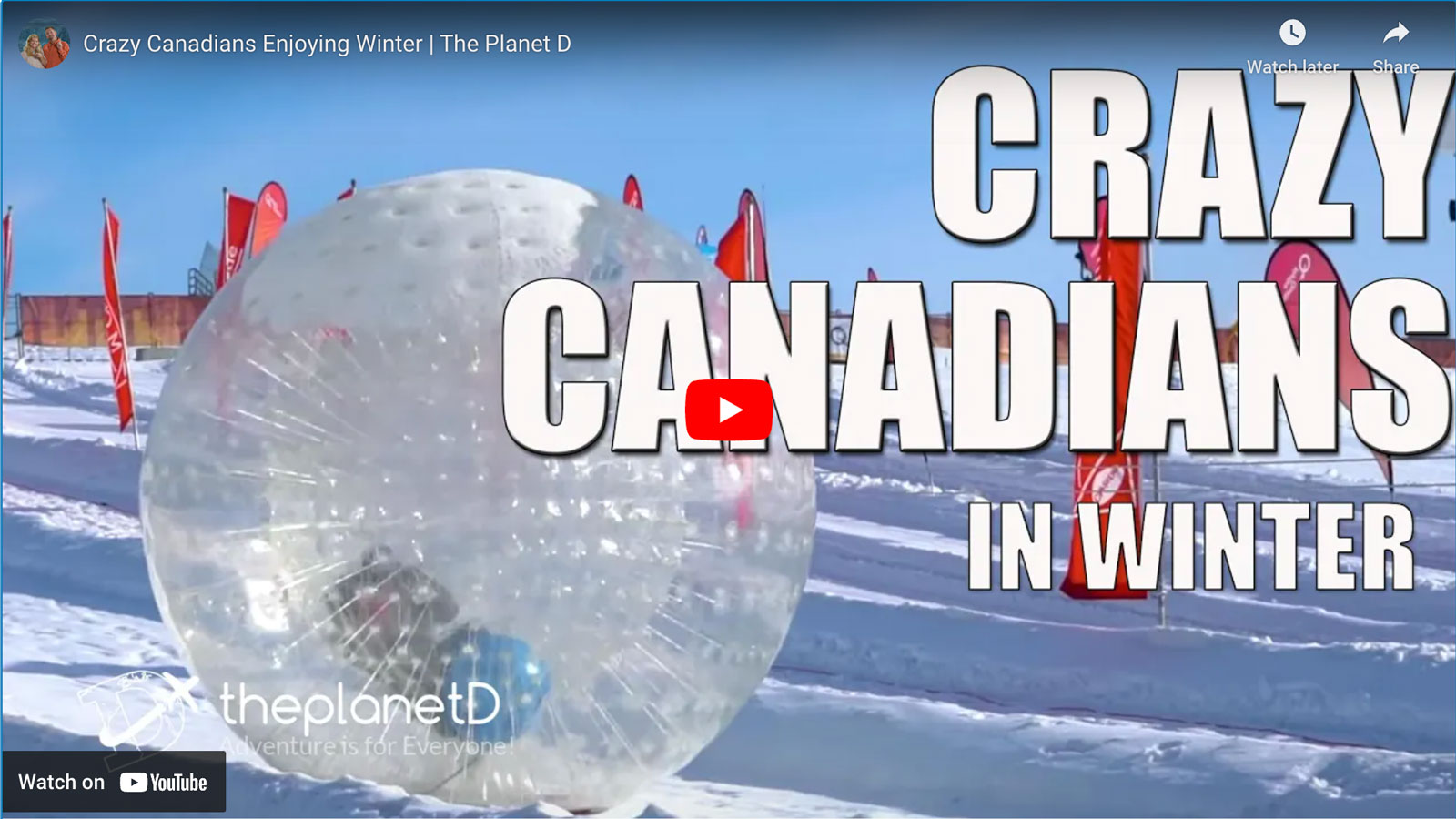 Tobogganing in Quebec is one of the top things to do in the city in Winter. Now, this isn't your average tobogganing adventure. This is tobogganing down Cap Diamant at up to 70 kilometers an hour. 
The wooden toboggan slide was built in 1894 on Dufferin Terrace. There are side-by-side tracks that make for some fun competition while you're out there. And you also get beautiful views of the river.
19. Bonhomme Carnival Winter Carnival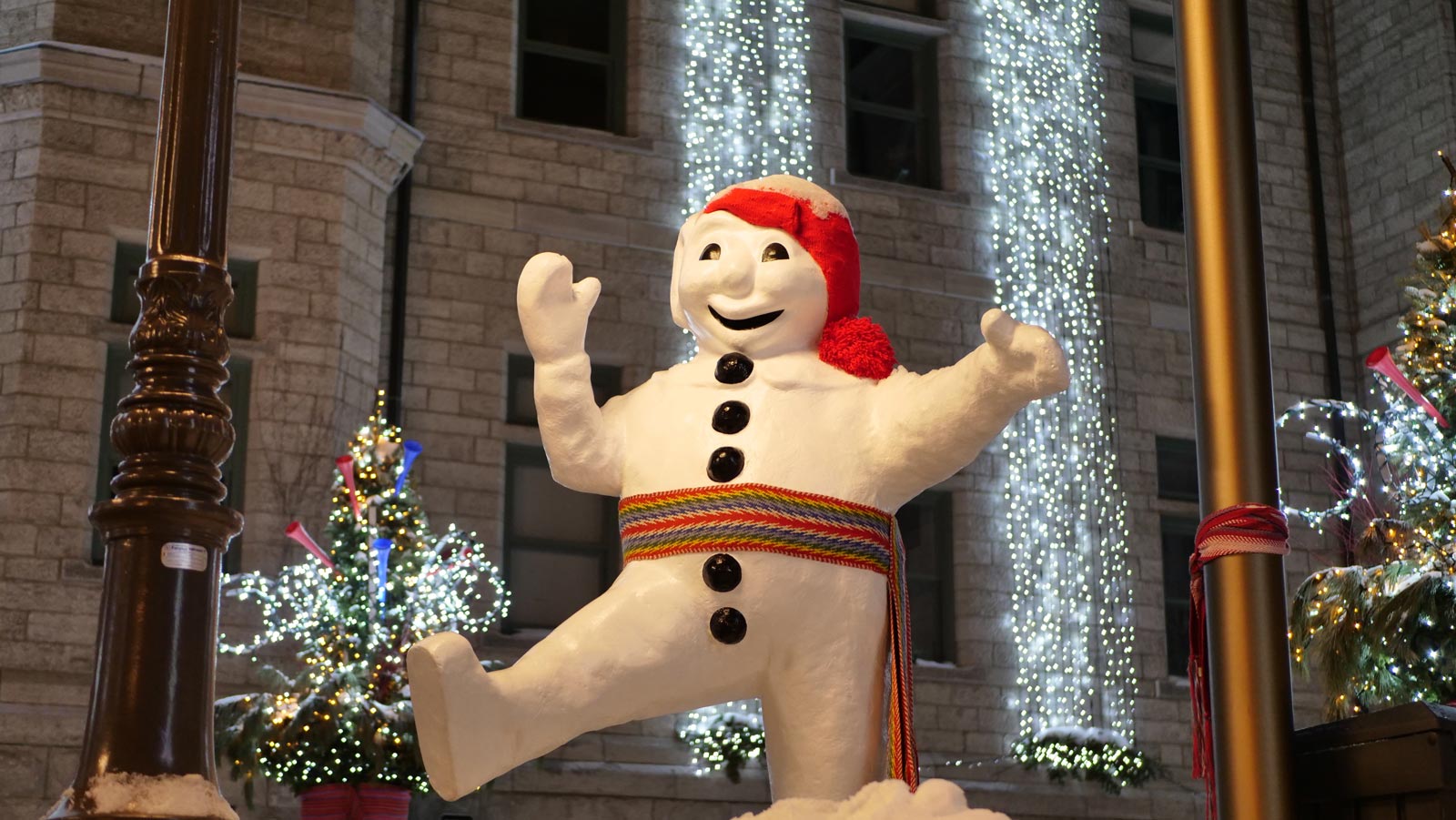 It is the largest winter carnival in the world and brings in thousands of visitors from around the world every year. That's because Quebec City knows how to truly celebrate the existence of ice and snow. There are a ton of things to see and do at the carnival but one of the best ways to start off is to visit Bonhomme at his ice palace.
Bonhomme is the famous seven-foot snowman that is the mascot of the winter carnival and every year an ice palace is built for him. Here you can meet Bonhomme, tour the palace, and marvel at the detail of the fully furnished ice structure.
Other things to do include watching the canoe races on the frozen St. Lawrence and checking out the massive snow sculptures that sit around the city. Every night there is a parade complete with music, lights, floats, and fun characters. The festival takes place everywhere in February.
20. Sample Maple Taffy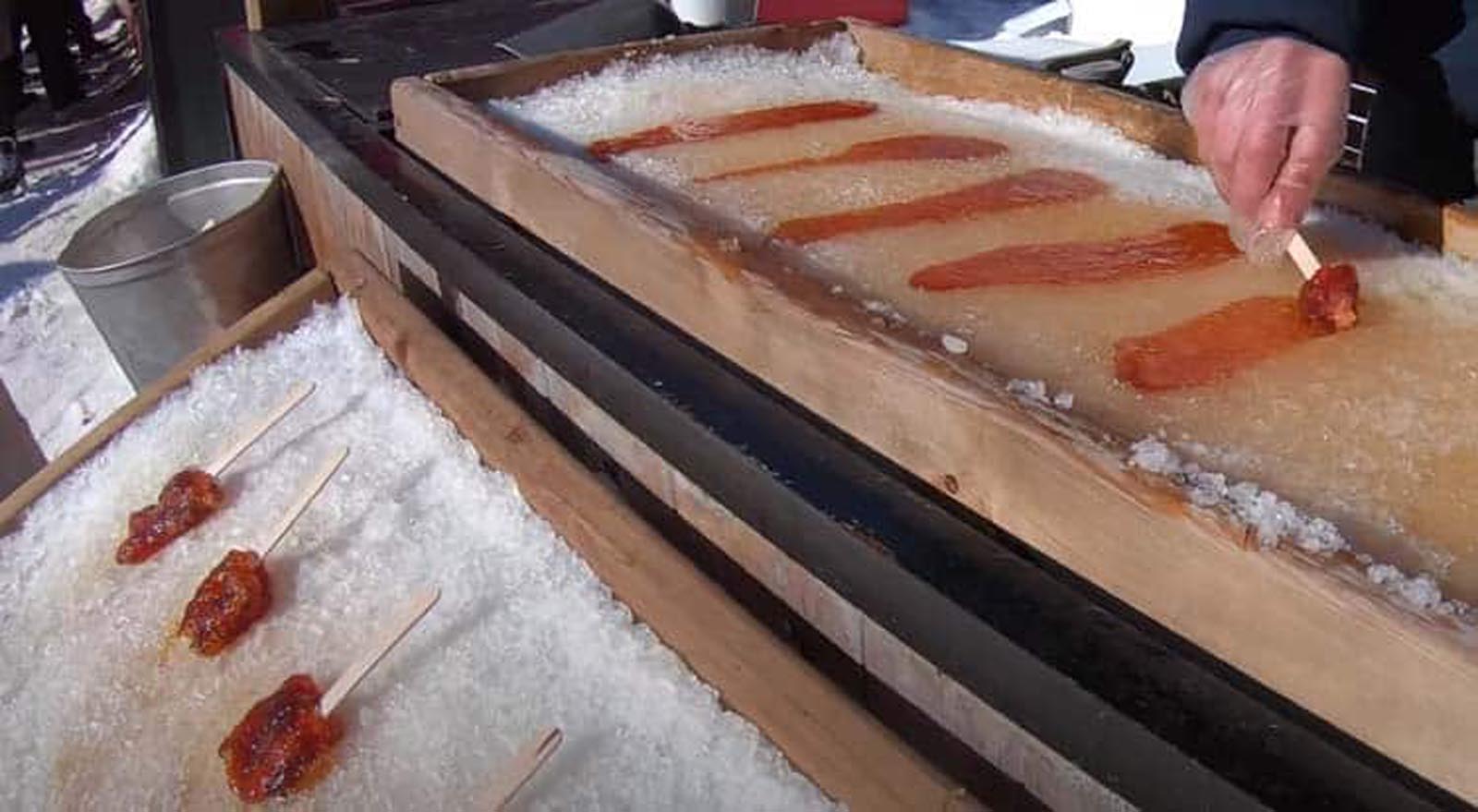 You might want to follow your winter fun up by making your own maple taffy. All you'll need is snow and maple syrup to do it. 
You can visit any one of the maple sugar shacks that pop up around the city in the winter months to do this activity. Other activities include snow rafting and skiing at one of the local ski resort areas like the famous Mont-Sainte-Anne. One of the other things you can only enjoy in the winter in Quebec City is the Bonhomme Winter Carnival, which we'll get into next.  
21. Ice Skating
Ice Skating is a rite of passage in Canada and everyone (okay I'm generalizing here) but we like to think that everyone can strap on a pair of skates and get on the ice. There are plenty of ice skating rinks in Quebec City but there are some that make skating in Quebec more enchanting than other places in Canada.
Place D'Youville skating rink is located in Old Quebec making you feel as if you are skating in a Norman Rockwell painting with the ramparts of the city wall as its backdrop.
22. Scandinavian Spa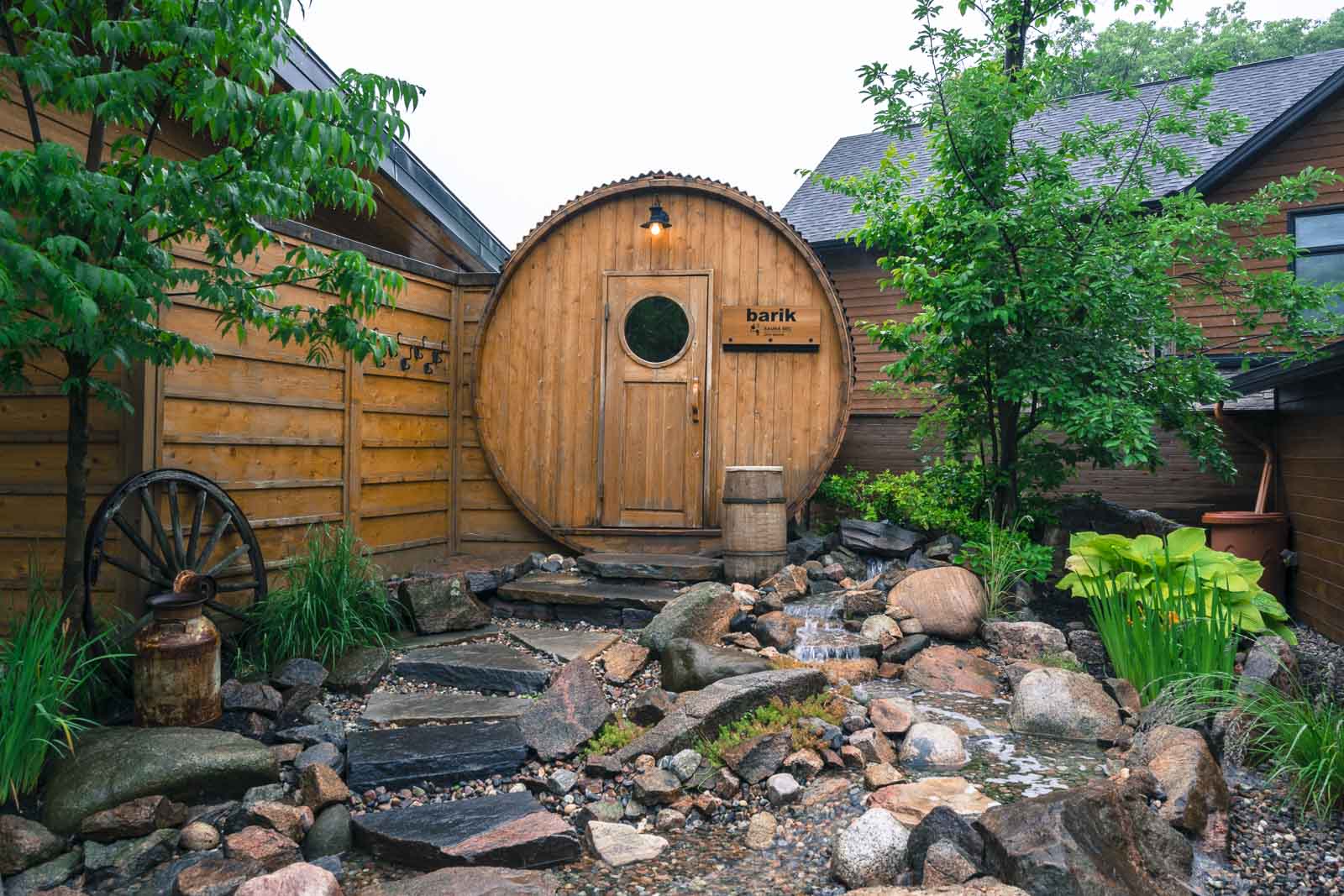 You can visit Quebec's spas any time of year, but to get the Scandinavian spa experience, you have to visit in winter. Inside you'll be treated to eucalyptus-infused steam rooms, sweltering hot saunas and then you're expected to head outside and jump into frigid cold pools. It definitely sounds crazy, but you'll find spas like this everywhere in countries like Finland and Norway. It is believed they increase circulation and help your body get rid of toxins.
You can book your entry ticket in advance to this picturesque spa overlooking the St. Lawrence River. Easy cancellation for full refund if booked within 24 hours advance of experience. Also, easy upgrade to the luxurious premium thermal experience.
23. Hotel De Glace – Ice Hotel
Most people expect a lot of ice and snow when they visit Canada but they aren't usually expecting ice hotels. If you visit Quebec City between January and March, you should expect to see (and maybe even stay) at the city's only ice hotel. The hotel is made of pure ice and snow and in turn, that means that your room will be too. 
Besides the suites of ice, there is also a chapel of ice and slides made of ice you can get childish with. For a little social hour while freezing in low temperatures you can visit the Hotel de Glace ice bar and get some super unique Canadian cocktails to thaw you out. 
You don't have to stay at the ice hotel to experience it, you can purchase a day pass to visit. There are ice skating trails, an ice slide, and even a snow tubing package you can add to your day trip.
24. Montmorency Falls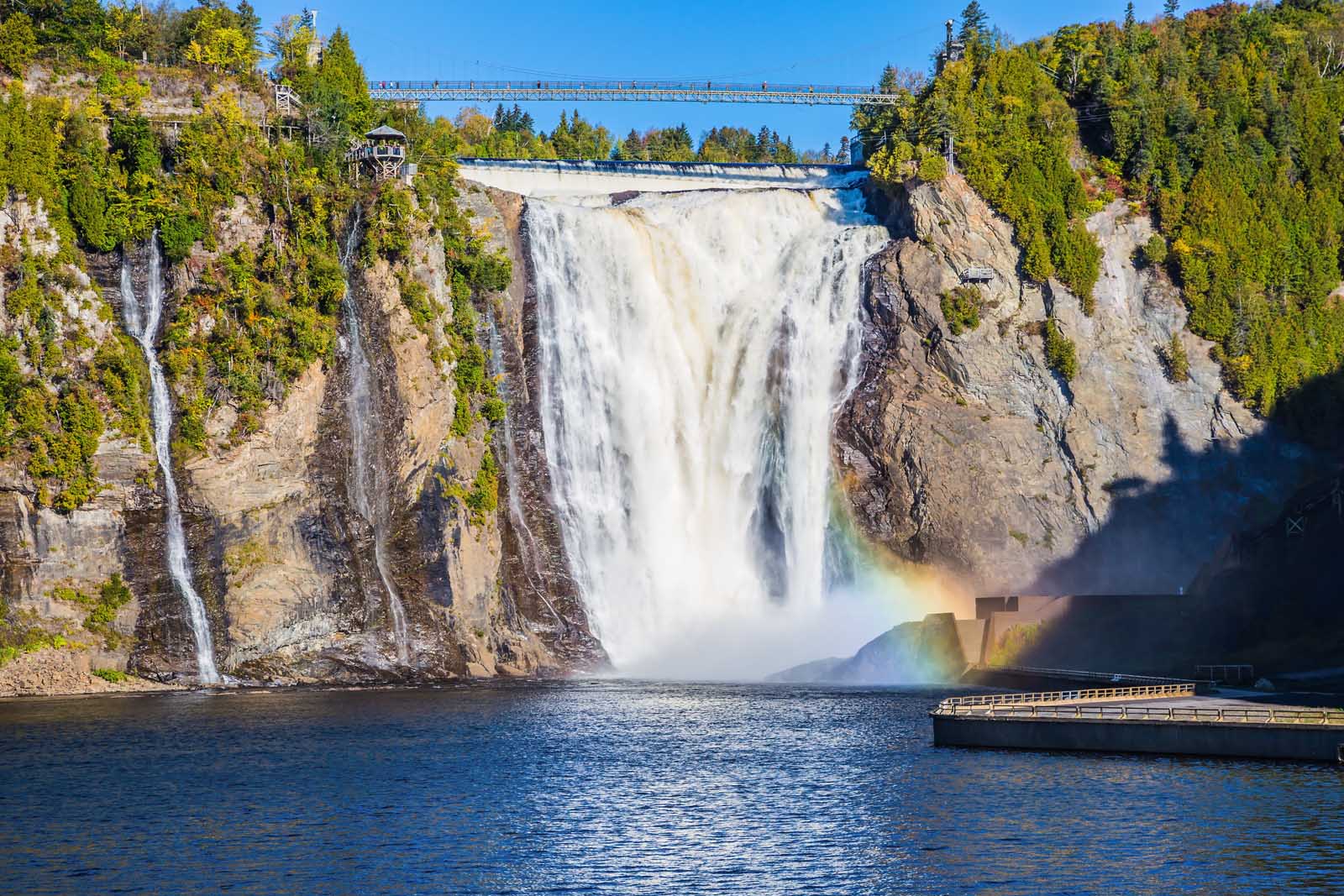 It's 30 meters taller than Niagara Falls but gets less than half the visitors, Montmorency Falls is a bit of a local secret. It sits just a few minute's drive outside of Quebec City near Beauport. They are part of the Montmorency Falls Park system and you can access them via steps from a number of entrances.
There is also a suspension bridge that gets you very close to the falls and lets you move from one side of the park to the other. Although people think it's one falls, Montmorency Falls is actually made up of three separate falls.
25. Île D'Orléans
A visit to Île D'Orleans takes you to some of the most picturesque villages in Quebec. This large island makes for a great day trip from Québec City where you can enjoy the rural landscape. Artisans have set up shop here with plenty of things to see scattered throughout the island. Visit a vineyard or microbrewery and enjoy fine French cheese or a stop at a chocolate factory. Make sure to stop to take in the view of the lavender fields of the Grand Jardins.
26. Basílica Sainte Anne de Beaupré
Located 20 minutes outside the city centre is the historic pilgrimage site of Basílica Sainte Anne de Beaupré. Millions of visitors arrive annually to visit the shring oof Sainte Anne de Beaupré. Even if you aren't visiting to see the shrine of the Grandmother of Jesus, it is worth visiting to see its stained glass windows, mosaics and works of art.
This highly rated tour takes you to Montmorency Falls, the Basilica of Sainte-Anne-de-Beaupré, and a tour of the Island of Orleans where you'll discover rural Quebec with an experienced guide that also includes stops at an art studio, chocolate shop
Where to Stay in Old Québec
Fairmont Chateau Frontenac – An iconic Canadian hotel that is a must visit when in Old Quebec. It is the most recognizable city in Quebec and one of Canada's grandest historic hotels.
Hotel du Vieux – This historic boutique hotel is located in the heart of Old Quebec and is a favourite amongst visitors to Quebec City. Check for Prices and Availability
We have also stayed at the Hotel le Concorde overlooking Quebec City, the Plains, and the river. It was a great central location.
How to Get to Quebec City
The airport for Quebec City is the Jean Lesage international Airport located 16 km from downtown Quebec. Airport Code YQB. There are direct flights from major Canadian and US Cities cities to Quebec.
You can take a taxi or bus to downtown. The Bus is operated by RTC Quebec.
We have taken the train to Québec City and a great way to travel between Canadian cities. VIA Rail Canada has daily service between Toronto, Ottawa, Montréal, and Québec City.
And these are the best things to do in Quebec City. Have you been to North America's most European City? What did we miss and what should we do the next time we visit?
Read more about Quebec and Canada Travel