If you've ever been to a Christmas market — you may be familiar with Glühwein, or mulled wine. It's a delicious, wine-based drink brimming with spices and citrus flavors. If you've never had it before, it's very similar to sangria, though served warm and with a few other additions.
The name "glühwein," literally translates to mean 'glowing wine,' which is a pretty apt name, if you ask me. This delicious concoction warms you up when the weather chills and does leave you feeling rather glowy.
If you dream of visiting Christmas markets one day or you want to imbibe some of that holiday cheer — I'm sharing this delicious recipe on the blog today!
The best part about this recipe is it is extremely easy to make, you can customize it to your liking, and many of the ingredients are ones you might already have on hand!
Here's the recipe for how to make glühwein, or German mulled wine at home!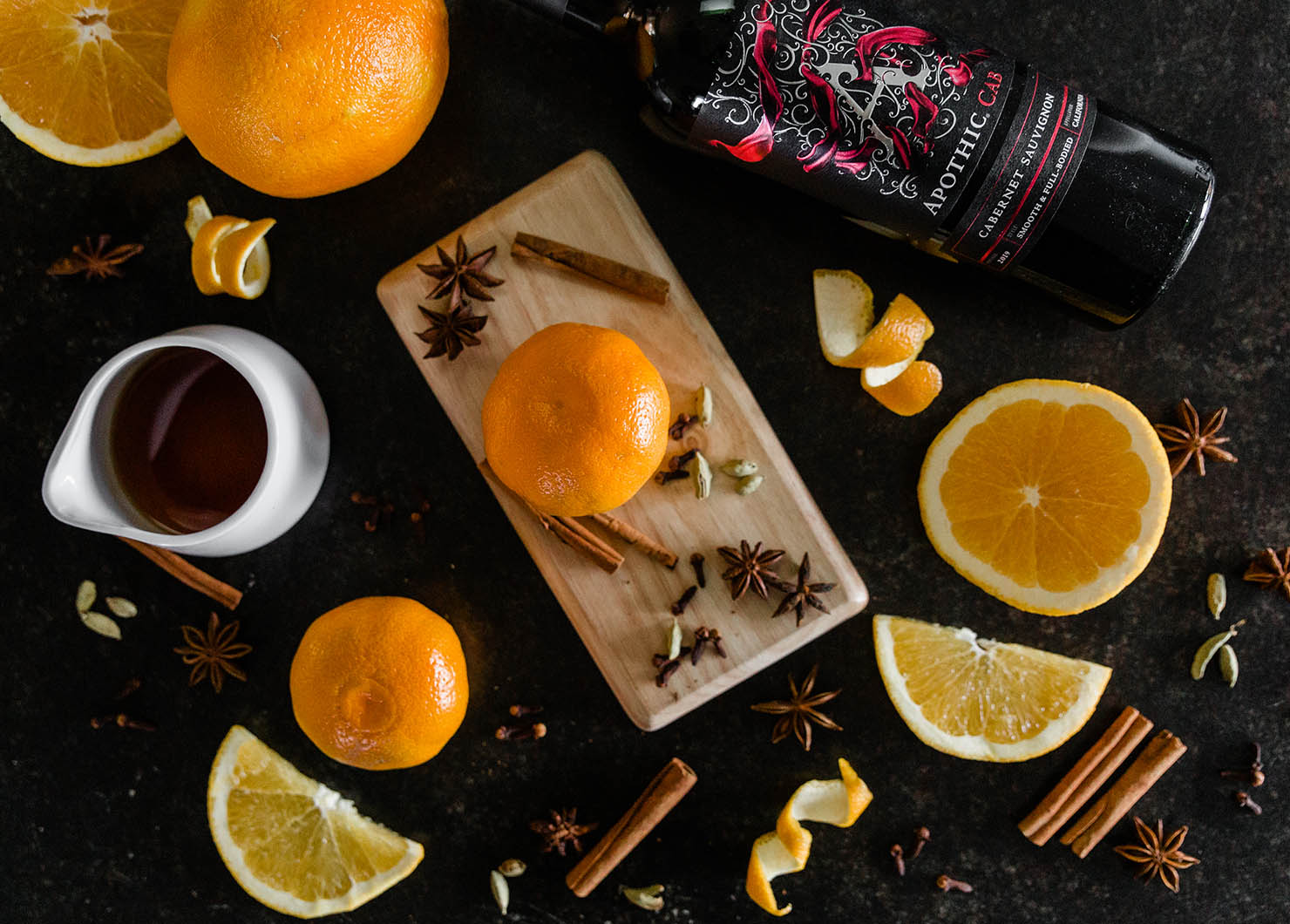 Ingredients
1 bottle of dry red wine (think Cabernet Sauvignon, Syrah, Tempranillo, or Pinot Noir — something that is "dry" has less sweetness; there is no need to use an expensive wine here because you'll be adding other flavors to it. So if you're picking something up from the store, stick to the $10-$15 range)
4-5 star anise
4-5 cinnamon sticks
8-10 whole cloves
3-4 cardamom pods
2 oranges, cut into quarters
2 cups apple cider (Martinelli's Sparkling Cider is quite lovely!)
1/4 maple syrup (or 1/4 cup of honey; brown sugar could also work but you'll need to dissolve it in water/make a simple syrup)
Optional
For a bit more warmth and alcohol, before serving the wine, add 1 shot of brandy per cup! (I've heard things like amaretto or bourbon make lovely additions, too!)
I've seen other recipes include vanilla bean pods or a splash of vanilla extract.
Please use this recipe as a base and you're welcome to add more or fewer spices, depending on what you have on hand.

Recipe + Preparation
You'll find many variations for mulled wine and different ways to prepare it—some folks like to make a simple syrup out of the spices, sugar, and water, and let that condense down before putting it in the wine.
I imagine this method is good for preserving the alcohol content in the wine, but as long as you don't leave the wine simmering for too long (as not to burn out the alcohol), I prefer this method below. In my opinion, it's easy (read: great for the lazy chef!), but you still get all the delicious flavor.
Gather all your ingredients. Slice up the orange into quarters. Place all the spices in a large pot. Then add the maple syrup (or honey), apple cider, and wine.
Turn the heat to medium. Stir the ingredients together and bring the mixture up to a low simmer (don't let it get to boiling — this is when the alcohol will begin to cook out and your mixture will slowly begin to reduce).
Once it's at a simmer, turn down the heat to low and let it sit for 15-20 minutes.
You're welcome to let it sit longer to soak up more of the flavors or drink right away!
Strain before serving so that no cloves or cardamom pods end up in your cup (they're quite bitter by themselves).
Optional: Add a shot of brandy to each glass before serving.

Notes
While I made this recipe on the stove, I've heard of others making it in a crockpot. Definitely do a bit of research if you're going this route!
Garnish the glühwein with an orange slice and cinnamon stick.

Final  Thoughts
There are so many different variations you could make, so feel free to use this recipe as a base, and switch up proportions.
If you're making mulled wine at home or if you've made it before — I'd love to hear what you used and how it turned out! Let me know in the comments below!
Want to find other delicious foods from around the world to make? Check out these recipes!