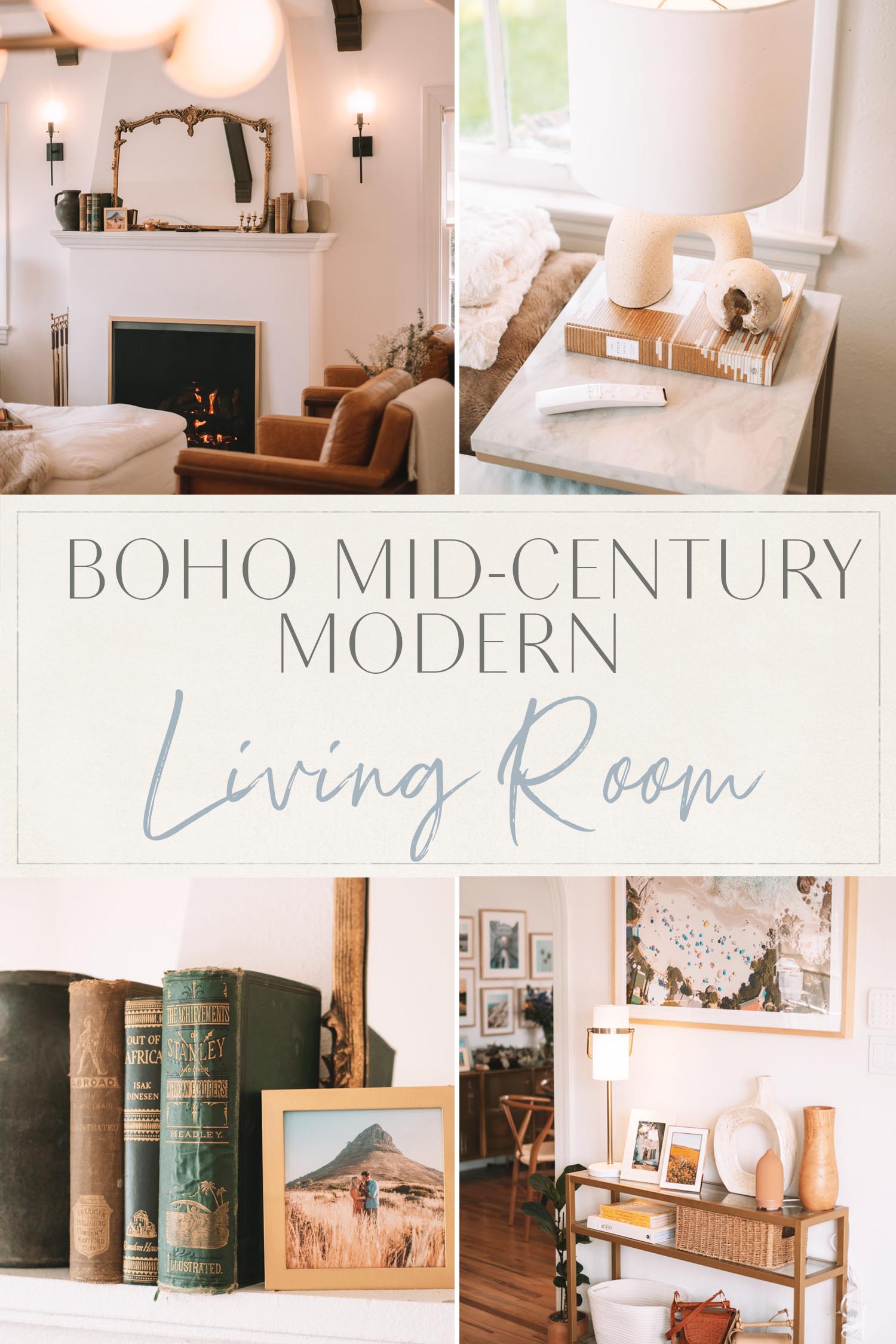 When we moved from Cape Town, South Africa, into our historic home in San Diego last year, we had to start completely from scratch. We came to the US with nothing but a couple of pieces of luggage and our dog, Bailey.
In many ways, it was a HUGE amount of work. But, I loved being able to work with a blank canvas and buy each piece with intention.
It's been a long process but in choosing each and every item, we have been able to create organizational systems, minimize clutter and focus on bringing things into our home that we really truly love.
I love a neutral palette.
Bright white walls and warm decor make a space feel so warm, cozy, and inviting. While working with limited colors and trying to stick to warm tones, we brought in lots of texture, mixed materials, and brought in color very specifically — focusing on those "pops" of color to be through art and fresh florals.
This is one of my favorite spaces in our home, but with squishy soft seating and lots of fluffy blankets, a space can start to feel quite feminine. Adding in touches of wood, leather, and brass added some masculinity and variety in the finishes.
Whether you're moving to a new place, looking to bring new life into a room, or simply love home tours — we're sharing it all!
Starting with the living room, here's how we've furnished our home in a bohemian meets mid-century modern style!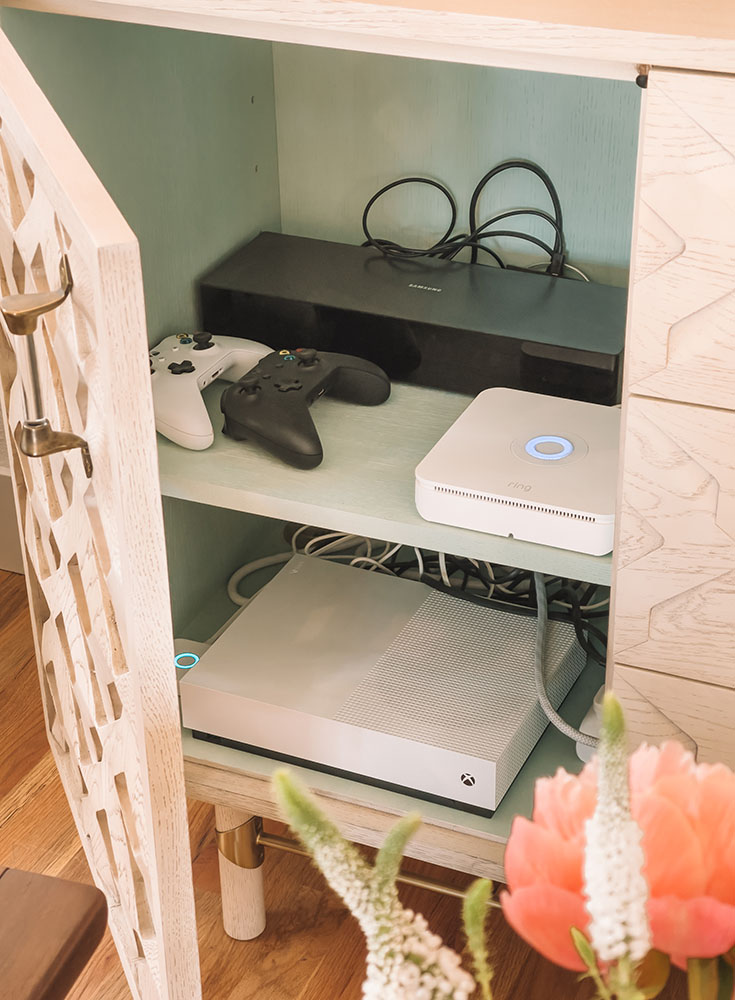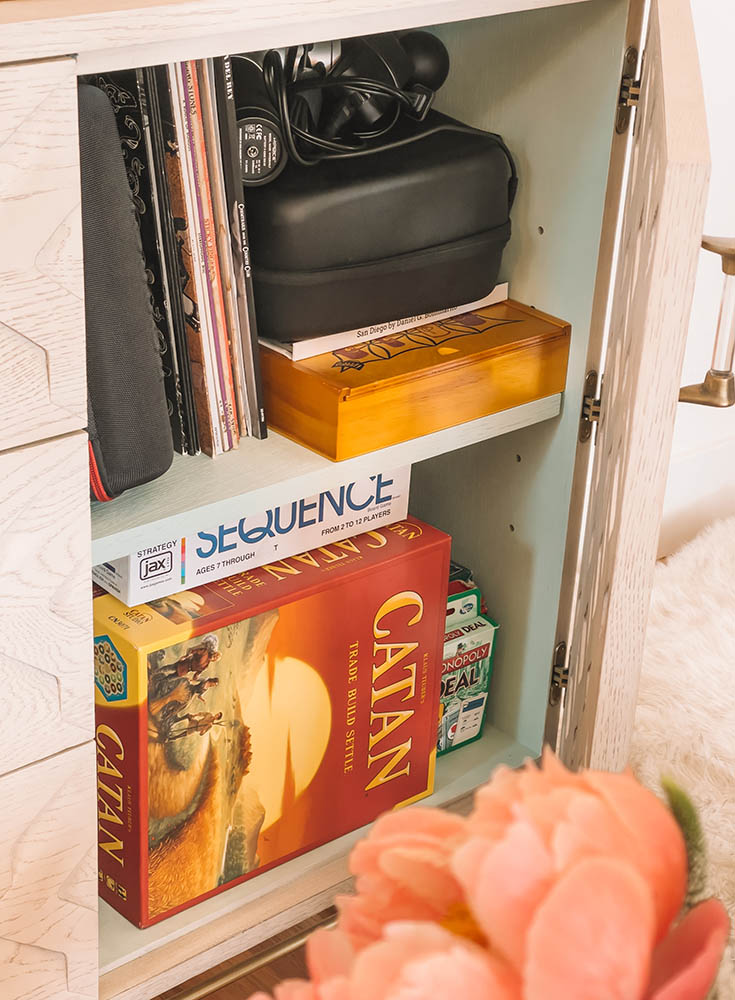 TV + Console
This console was one of the first things I purchased for our home. I love that it's a neutral color, but the doors have a beautifully intricate carving so you have lots of interest and a little pop of the mint inside.
The Samsung Frame TV is also one of our favorite things we bought for the home. I'll share a bit more in the next section about it!
Heads up, there is a huge empty planter to the left of the console. This will eventually have an Olive Tree to fill the void — but we haven't found the right one yet! 😉

Our Samsung Frame TV
I am obsessed with our 65″ Samsung Frame TV! I loved it when we got it and I still love it a year later. What's special about the Frame is that you it is a TV that literally has a frame (like a piece of art) and it sleeps in an art mode so it doesn't look like a TV.
We're always switching up the art and, for the holidays, we are able to make it festive when we swap out our decor. It truly looks like a work of art, especially since we paired it with the light wood frame.
It's so satisfying to not have a huge black plastic screen on the wall.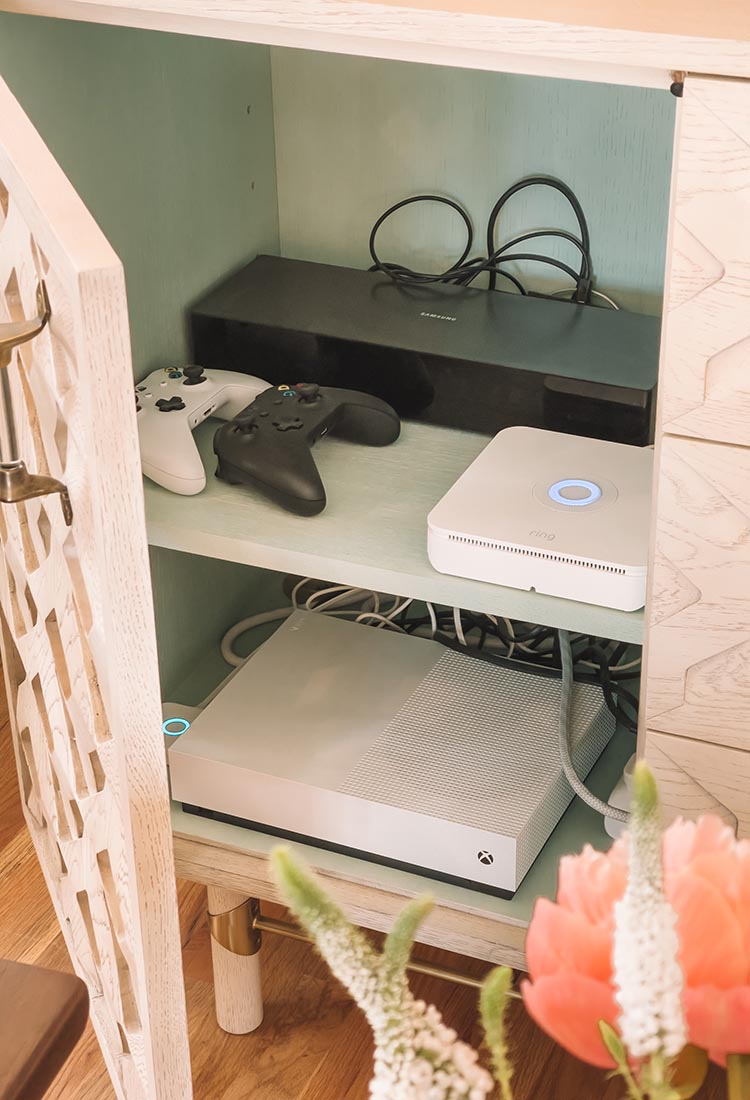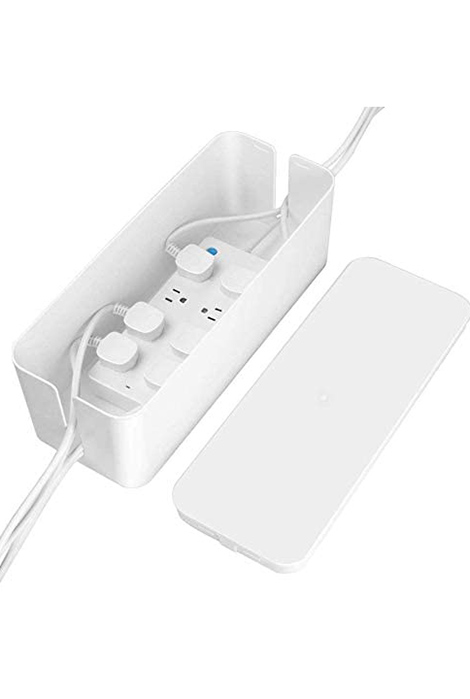 NAME:

Cable Organizer Boxes

Tip on Decluttering Cords
I like to feed an extension cord with multiple plug-ins into the unit, rather than running all of my cords out of the unit, and that way you don't see any cords. We also use these cable organizer boxes to hide extension cord multi-plugs.
We hired a local company, HD Hookups, to hang and run the wires for the TV into the wall. I thought this would be too much of a pain to do myself and was nervous about creating unnecessary damage to the wall in the process. So, for me, hiring them was the right way to go and it was relatively affordable!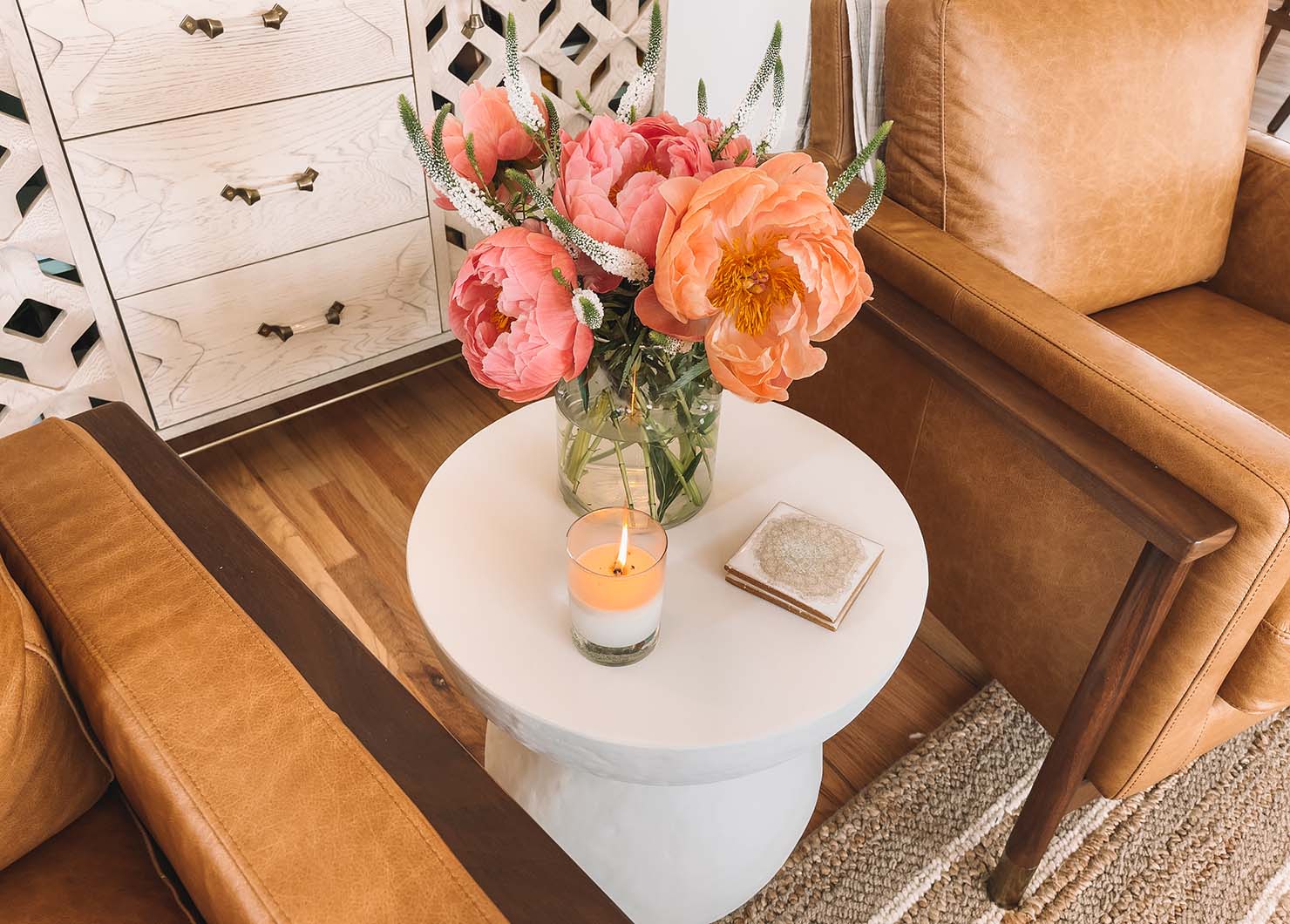 Fresh Florals
I absolutely love having fresh florals in the house. You'll see the dried hydrangeas on the media console — and those tend to move around the room. They're wonderful as they last forever. But, I also like to bring in fresh florals for a pop of color!
As you'll notice, I'm big on creamy neutral tones throughout most of our décor, and I find adding in seasonal florals is a wonderful way to add some freshness and life into the room.
While fresh florals aren't always the most economical, I've found a way to keep it pretty economical. Plus, they bring me a lot of happiness, so adding a little wiggle room to our monthly budget is worth it to me.
My tip for finding fresh florals on a budget: Trader Joe's!
I like to keep a short vase of fresh hydrangeas next to the couch year-round. You can buy a 3-stem pack from Trader Joe's for $4.99, and they usually last about 10 days!
I usually run to TJ's for weekly groceries, and I'll pick up whatever is in season. They've got a great deal on florals where I'm able to get a good amount of blooms for under $10 — above are peonies and veronicas!
Per month, I spend less than $50 on fresh florals. Again, it's not a necessary expense, but I love them and what they bring to the room!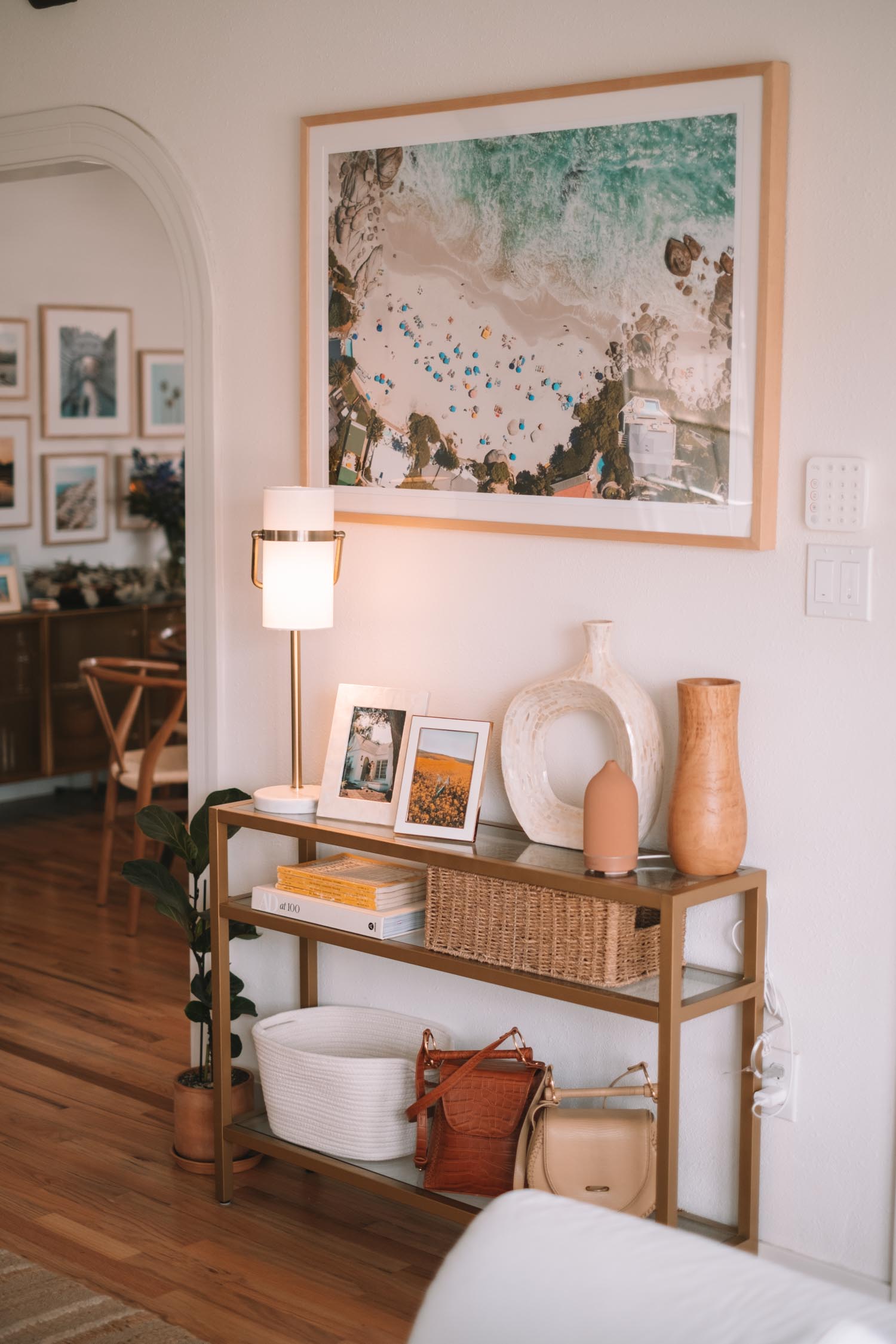 Entry Table + Print
I'm not fully done decorating this spot and I'm fiddling around with options to remove the cords, but it's a work in progress! I do love that the console table has 3 shelves — great for adding different levels and creating interest when decorating.
Use Baskets to Hide Clutter
While the best tip would to be remove the clutter — that's not always doable. For things like sunglasses, masks, keys, and the go-to things that we grab before heading out the door, we place them in the wicker basket on the lower shelf of the above table.
It helps keeps everything neat and tidy!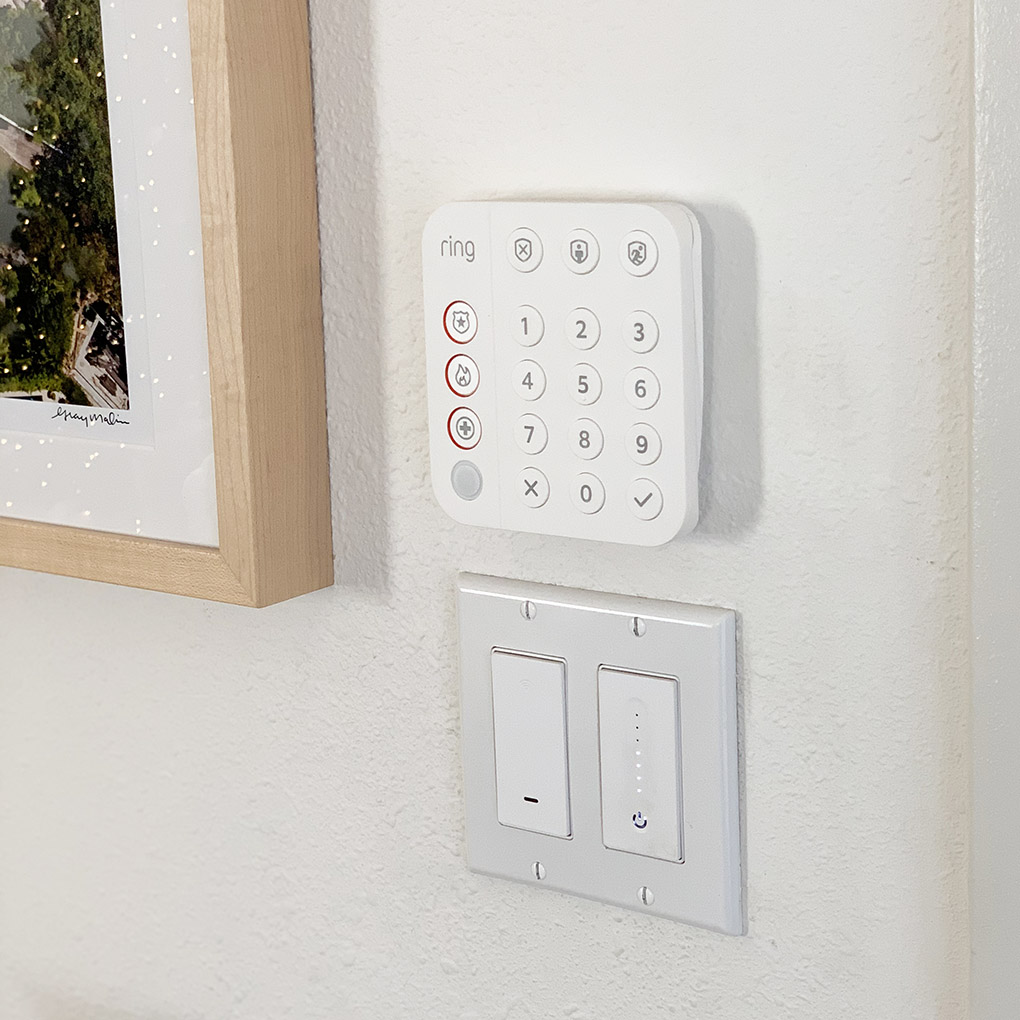 Ring Home Alarm Security System
Our house is "Ringed" out — read all about our security systems and the super cool front door locking system we have thanks to Ring.
Above is the Ring Home Security System. I love that we were able to stick the keypads up with Command strips and they're wireless (no unsightly cords or having to drill holes into your walls!).
There are three settings — off, "at home" (for when you're home but sleeping), and away. You can customize each setting so that certain cameras and sensors are activated or de-activated. It comes with these really cool sensors you can put up to be notified when something is opened, like doors or windows.
Using Alexa to Control our Lights
We upgraded all of our light switches to smart, dimmable toggle switches and couldn't recommend them enough. So many of our things are Alexa-enabled, like our lights and we have a lot of routines put in place to automate and optimize.
One of my favorite Alexa routines that I use all the time is "Alexa, movie night." This turns all lights in the house off, sets living room lights to 8%, and closes the living room shades.
Head to the Smart Home Tech post for more info, tips for using Alexa settings, and more!
From home security to automating the blinds to controlling the lights (and even my favorite heated toilet seat) — I'm sharing my honest review of the best smart home technology out there!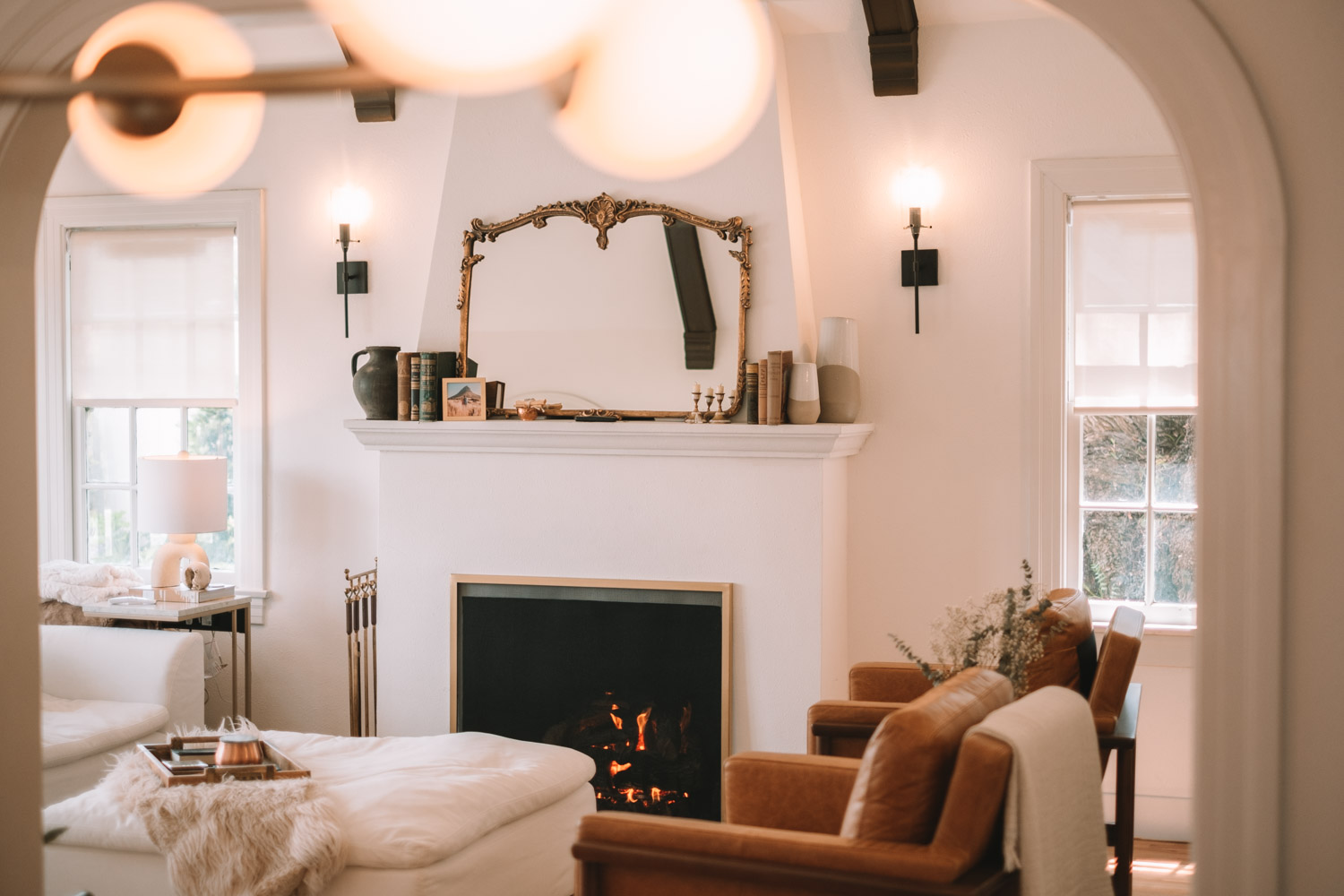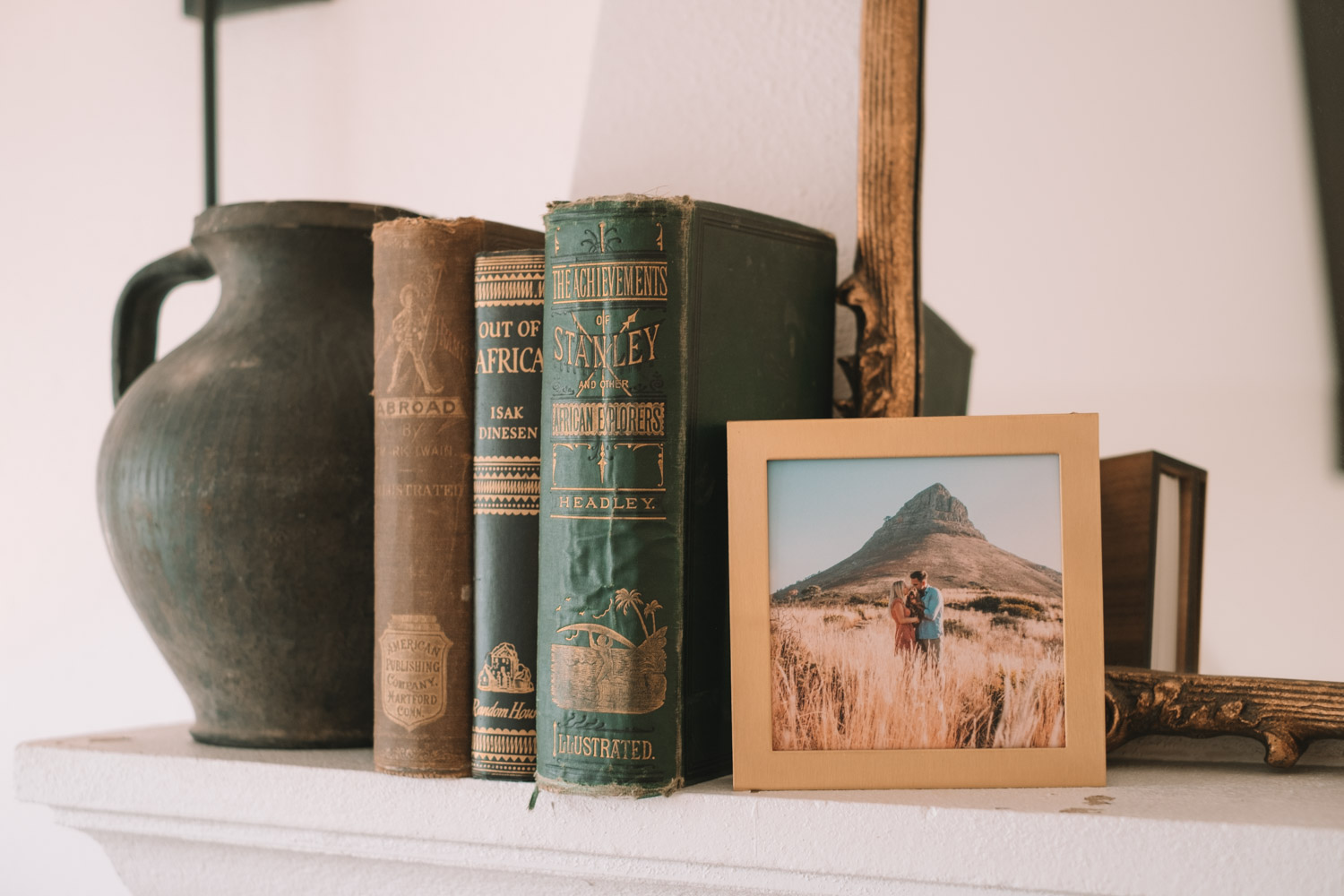 Fireplace

A Note About the Gas Logs
I did a ton of research on finding the best gas log set and Real Fyre is where it's at. This is essentially the Rolls-Royce of gas log sets — it looks super real, even without a fireplace screen on.
Typically with a gas fireplace, it's more for ambiance than for actually heating a room. However, this particular log set is powerful enough to heat the room while looking super real.
It even comes with an ember material and it has a remote, so I can adjust the height of the flame.
Pro Tip for Those with a Lot of Photos
I love using Artifact Uprising to print my many photos and have them around the house. This particular set allowed us to print a number of photos, and the frame makes them easy to switch in and out so we can always rotate them!


Couch, Chairs + Tables

About Our Arm Chairs
As perfect as these are for our room, it took forever to get these chairs. I totally understand that because of Covid, everything that is custom-made is taking an incredibly long time. However, for the price — and having to wait 6 months — I'm not sure I would choose to do that again.
That said, because we have a vaulted ceiling and our couch is low-sitting, I wanted to have higher armchairs. BUT, because it is a narrow room, we needed them to be smaller in width.
What was really cool about the armchair company, Interior Define, is they create petite versions of all of their furniture, which is ideal for smaller rooms.
Plus, they are extremely comfortable! If you're okay with a seriously long wait, then I would absolute recommend these chairs. If you're impatient — I would suggest finding another option.

A Note About Our Smart Blinds
The shades themselves were custom from Blinds.com, so that I could get mostly sheer shade. I love the room to be nice and bright, but I don't want direct sunlight coming in through the windows and frying our furniture.
We got the Tilt Smart Roller Shades and it's a sort of love-hate relationship. They've had some annoying problems; 3 out of the 5 motors had to be replaced, and while their customer service team was quick and helpful, the shades themselves are a pain.
They work on a schedule or you can close them from your App. The downside of the App is I'm able to access it on my phone, but Meyer can't log in from his — so it's not a super feasible option for a family.
The shades are supposed to work with Alexa, but they stopped working, and I haven't been able to get them to work since.
That said, the programmed schedules seem to work well! I have them set to open halfway at sunrise, and then lower in the afternoon.
Once I figured out how the sun moved around our house, I was able to create schedules and only have to adjust them for different times of the year.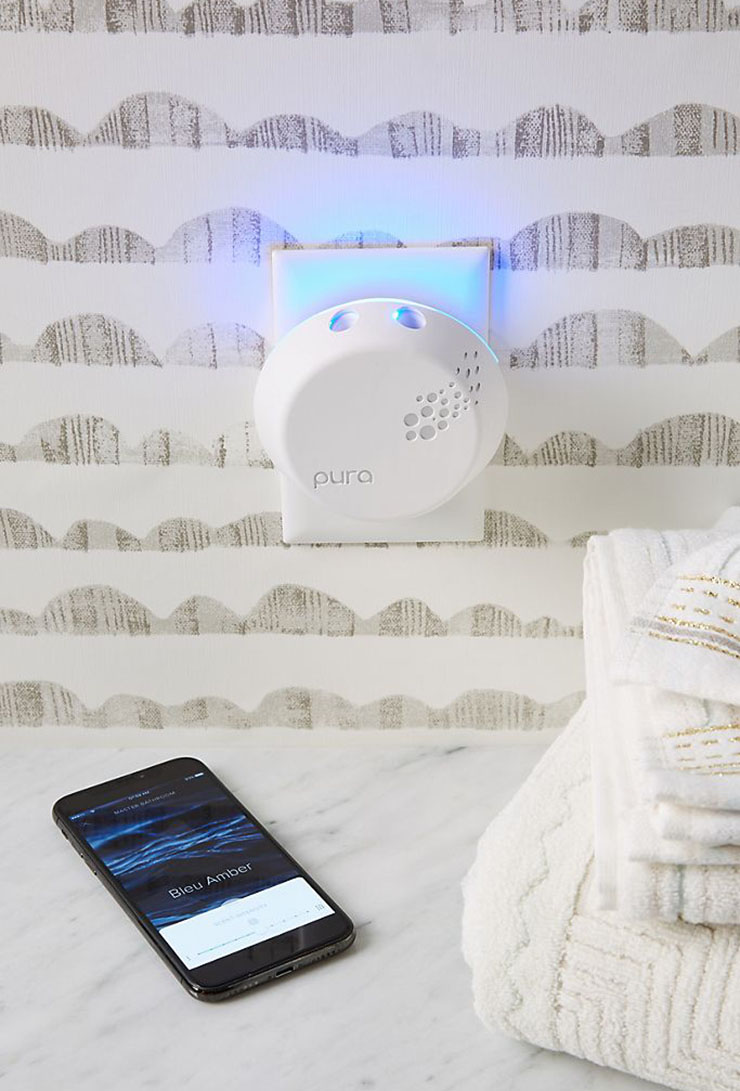 Smart Home Tip for Making the Room Smell Lovely
I have a Pura wall diffuser hidden behind the couch and it's so wonderful! I can create a schedule for when I want it to go off and it works off the Wi-Fi. So I can control it from my phone and choose which scent (of the two) I would like.

Want to see what our home looks like during the holidays?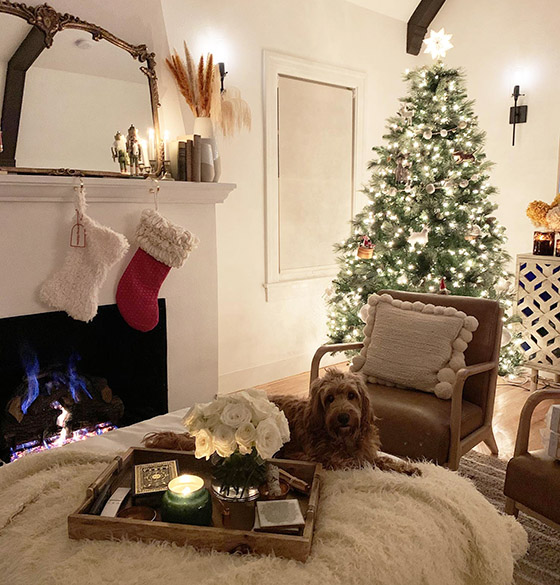 Are you also decorating for the first time or wanting some beginner tips for holiday decor?