After traveling to 115 countries and living out of a suitcase for nearly 10 years we have learned that the key to smart packing lies in being organized. Using the right travel organizers can mean the difference between a great trip and just a mediocre one.
If you are not using travel organizer bags in your packing then you are missing out. They simplify the process and help you keep your sanity when you are looking for a piece of clothing at the bottom of your suitcase. No more digging through the whole bag.
There are a lot of travel organizers on the market today and we have tried a lot of them. Below we have listed the best travel organizers for everything from electronics and jewelry to toiletries and clothes.
The Top 10 Travel Organizers
Best Travel Packing Organizers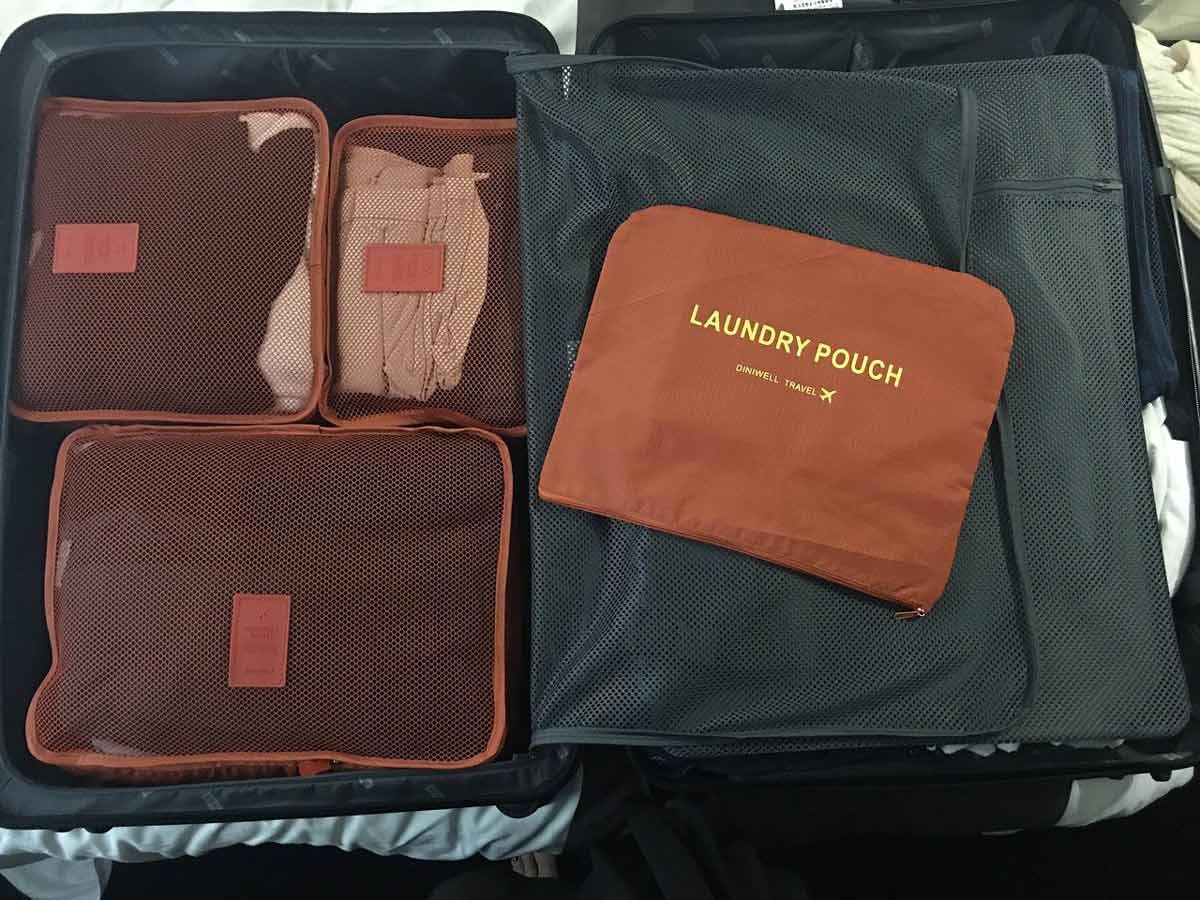 Packing Cubes have become our go-to recommendation for travel organizers. It doesn't matter whether you use a suitcase or a backpack, packing cubes are guaranteed to keep your clothes organized.
These nylon sacs come in different sizes and hold every piece of travel clothing we've got. Shirts in one bag, shorts in another, and skirts and blouses have their own space. So when we arrive at our destination our clothes are where we actually put them and not all over the place.
If there is one thing you need in your luggage it is a set of packing cubes.
Recommended Packing Cubes

Eagle Creek Pack-It Specter Cubes
The Eagle Creek compression packing cubes are the ones that we have used for years. They are made with Ultra-lightweight "silnylon" ripstop, which is light and allows you to quickly see what's inside. They also come with a handle and heavy-duty zipper and compress down to save you as much space as possible. Definitely our favorite piece of travel gear.

Osprey Ultralight Packing Cube Set
If you travel with a backpack you may want to consider Osprey's packing cubes. They are a bit more economical than the ones above but are still good quality. They are still made of rip-stop nylon, heavy-duty zippers and they have a silicone coating so they slip in and out of your backpack nice and easy.
---
Travel Organizers for Toiletries
We have tried to find the best toiletry organizer over the years that is not to heavy, is durable and can fit everything we need into it. After trying a few different ones these are the toiletry bags that we recommend.

Eagle Creek Pack-It Wallaby Toiletry Bag
Another Eagle Creek product that we have taken around the world with us. It is hard to find one toiletry bag for 2 people but this one works. It is good quality, it has a removable clear pouch for the TSA security check, a stowable hook to hang on doors and it has a shatterproof mirror.

Bago Hanging Toiletry Kit for Men and Women
Although a little smaller than the one above, this toiletry travel organizer is laid out well for both men and women. It is made of durable Rip-Stop Honeycomb waterproof fabric, has lots of compartments, and two easy-access side pockets.
---
Travel Organizer Bags for Shoes
Shoes are a pain to pack. They are big, heavy, and often dirty. These are the reasons we started using shoe bags. It keeps shoes together for easy packing and stops them from getting other things in your bag all dirty.

YAMIU Travel Shoe Bags Set of 4
We recommend these because they are the most versatile. They are big enough for mens shoes up to size 14, they are waterproof and really durable. These travel shoe bags fit 1 pair of shoes each so if you are looking for a seperate shoe bag for each shoe you might want to consider the ones below.

Earthwise Shoe Storage Bags Set of 4
These are more of you basic shoe bags. They are made of 100% cotton and close via a drawstring. They are big enough for large footwear and are very durable. They also allow you space out your shoes when packing up your suitcase. These are perfect for dress shoes or women's heels.
---
Underwear Organizers
This is for the ladies out there. If you want to keep your underwear and bras organized and in shape then an underwear organizer is something you will want to consider. Sure, you could throw it all in a packing cube, but this tends to destroy bras and we all know a good bra is not cheap.

Wowlife Fashion Portable Multi-Functional Travel Organizer
This underwear and bra organizer is set up perfectly to carry 3 to 5 bras, and 4-6 panties. The bras fit in the bottom and keep their shape while the panties slide into pockets under the top. This is a little on the small side so make sure your bras will fit before buying.

Freegrace Travel Organizer Underwear Bag
This is the larger of the two underwear organizers and could actually be used as your toiletry bag as well. It has 2 compartments and numerous pockets so you will never run out of space. Built for high quality materials it is also quite durable.
---
Packing Pouches
These are similar to packing cubes but are usually smaller and we use them for packing smaller miscellaneous items extra toiletries, hair products, camera accessories, and more. These packing pouches are one of our favorite travel accessories.
---
Travel Organizers Electronics
One of the most frustrating things about packing for travel is organizing all those plugs and charging cords for all of your electronics. There is nothing worse than reaching into a ziplock bag full of tangled cords and trying to find the right one. To avoid that hassle make sure to pick up one of these best travel cord organizers.

BAGSMART Electronic Organizer Travel
This is the top-rated electronics organizer on the market and you can see why. It is economical, well laid out, durable and the perfect size for traveling. What I like about its multiple elastic loops for all our cords and it has a holder for SD cards as well. They have thought of everything.

BUBM Double Layer Electronic Accessories Organizer
This is also popular but it is a little bigger and a little more expensive. It still has all the features you want in a cord organizer plus it has a pouch for your iPad. The build quality is great and waterproof. You can't go wrong with any of these choices.
---
Best Travel Laundry Bags
We used to just throw our dirty laundry in a plastic bag in the top of our backpack and hope for the best. But that all changed once we started using a suitcase. Now we have a dedicated laundry bag that allows us to keep our dirty laundry separated from the clean stuff in a breathable bag.

Miamica laundry bag is the perfect laundry bag in my opinion. It folds into itself so it doesn't take up any room in your bag, folds out to a full size laundry bag and it is tear and moisture resistant. Everything you want in a travel laundry bag

Another lightweight laundry bag solution that folds up so small you hardly know it is there. It is not as durable as I would like but it is not expensive and perfect if you are on a budget.
---
Travel Wallet and Document Organizers
Keeping all of your documents in order and safe is a priority when you are traveling. Having a well-organized travel document holder can really relieve a lot of stress. By keeping your passport, itineraries, money credit cards, etc. in one place you can access everything easily instead of digging around for it.

Pacsafe RFIDsafe V150 Anti-Theft RFID Blocking Travel Organizer
We have been using this for years and love the PacSafe brand. This travel organizer holds our passports, money, tons of credit cards and travel cards, driver's licenses and even a pen. Plus it has RFID protection and it looks great too.

BAGSMART Passport Holder and Document Organizer
A little smaller than the Pacsafe without a couple of the bells and whistles, but it will definitely get the job done in style. It has RFID protection as well as 6 pocket slots, a mesh pocket for change and it is big enough to hold you passports and boarding passes.
---
---
Pill Organizers
One of the best ways to save space and weight when you are packing is to eliminate all those pill bottles. The best way to do this is to use a pill organizer. Regardless of whether it is pain pills, medication, vitamins, or supplements, one of these will help you keep them organized all in one place.

LeanTravel 7 Day / 28 Day Travel Premium Pill Case Organizer 
This is like the Cadillac of pill organizers. Perfect to take on the plane with you as it doubles as a Passport and travel documents wallet as well. It holds up to 28 days of vitamins and pills and is made from premium quality polyester. It not only keep your pills organized it is extremely stylish as well.

Lewis N. Clark AM/PM Folding Pill Organizer
If you have pills that you have to take at a certain time of the day then this is the best pill organizer for you.  It is lightweight, cost effective and has sixteen clear pouches, which can be individually taken out as needed. They are also labeled with red tabs and blue tabs as well as numbers so it is easy to keep track.
---
Best Make-up Travel Organizers
In order to keep your make-up from spilling on your clothes or getting broken, you should invest in a good make-up organizer. You will want to look for one that is durable and lightweight, has padded dividers and compartments. It should have a place for your brushes and be at least water-resistant. Check out the best travel cosmetic organizers below.

Relavel Cosmetics Case Organizer
This is the best makeup travel organizer on the market. It has a lot adjustable compartments and can hold just about anything you throw at it. It measures 10.3″ x 9″ x 3.6″, so it is not too big and it is waterproof and shockproof. If you have an extensive makeup kit or want to use this to do double duty (toiletry storage) the Relavel Cosmetic Case Organizer has you covered.

Roughly the same size (10.2 x 9.4 x 3.7 Inches) as the Relavel, this travel cosmetic organizer is a little more stylish and a little more expensive. The outside is made of PU leather which is water resistant and is just more appealing to the eye. It also had adjustable compartments, brush holder and is shock resistant.
---
Being organized while you travel will help relieve stress and just make unpacking all that more enjoyable. Since we started using these travel organizers we have been able to pack more efficiantly and orderly.
I guarantee that adding any of these travel organizers to your packing routine will do the same for you. You don't have to be a neat freak or an A-Type personality to benefit from these items. You can be like us, just sick of opening your bag and seeing chaos.
---
If you enjoyed this post why not Pin it?
---
Eager for more packing tips?
If you enjoyed our list of the best travel organizers, why not check out som of our other travel packing tips to help you get the most out of your next vacation.
You May Also Like These Helpful Travel Planners
---
Are there any travel organizers that you would add to the list? If so, leave them in the comments so we can try them out too!
---
Disclosure: There are some affiliate links in the post above, but these are all products we highly recommend. We won't put anything on this page that we haven't verified and/or personally used.