Thailand kicked off our travels 20 years ago and as our plans are still up in the air for 2021, we find ourselves dreaming of the Land of Smiles. As we dream of warm places on this cold winter's day, I am feeling nostalgic as I make this list of the best beaches in Thailand.
I have been scouring our scrapbooks, reading old journals and as I relive old memories, my wanderlust has been ignited.
Thailand has come through the pandemic quite well over this past year, and once we can travel again, I have a feeling that this country will be one of the first to open up and welcome visitors. So let's start dreaming again and get ready to be blown away by the beauty of Thailand.
Best Beaches in Thailand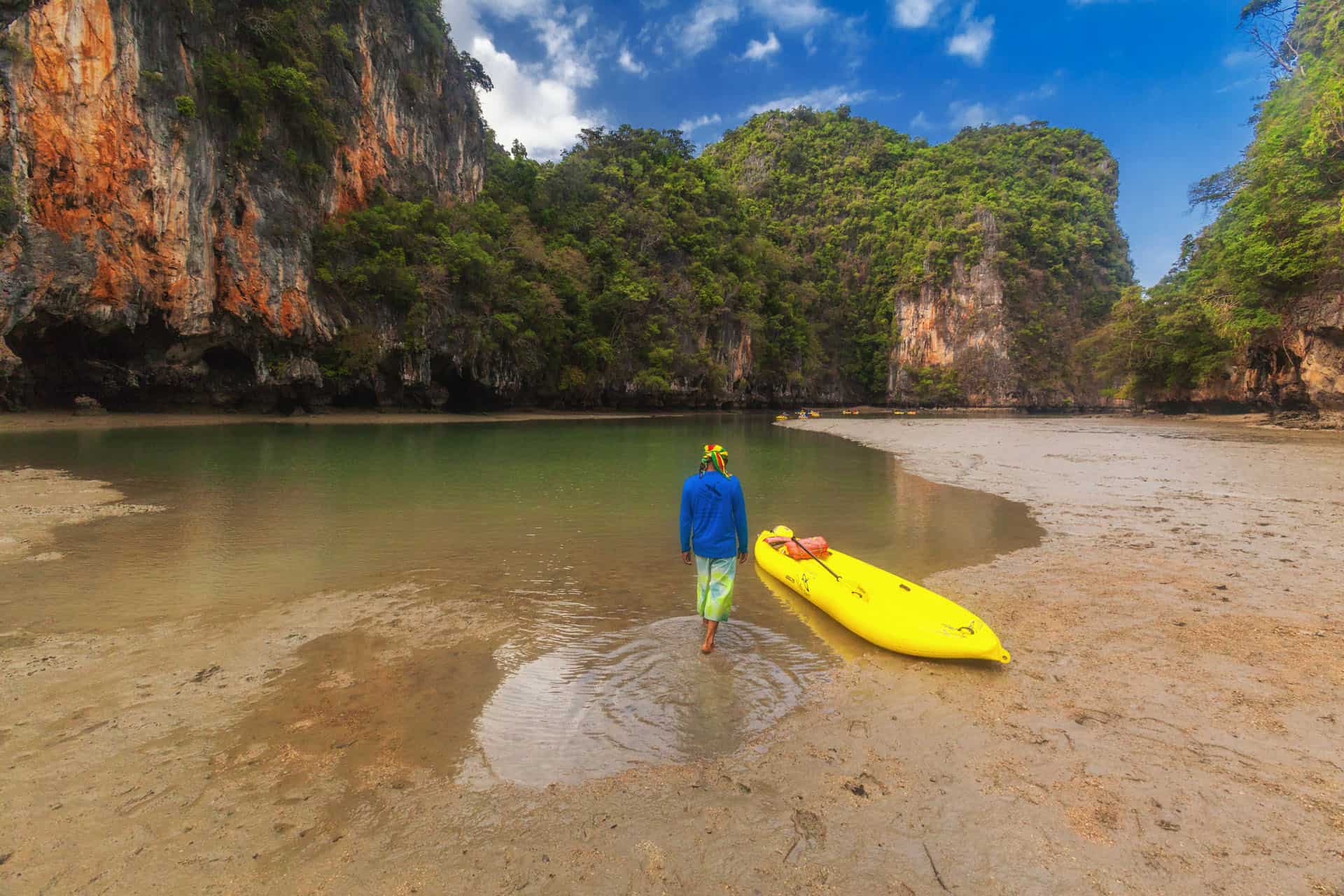 Thailand has the most beautiful islands in the world. There are countless islands scattered throughout the South of the country in the Andaman Sea and the Gulf of Thailand. With white sand beaches and crystal clear waters, surrounded by limestone sea cliffs nothing can compare to a Thai beach holiday. These are the best Thailand beaches to add to your bucket list now!
Railay Beach – Krabi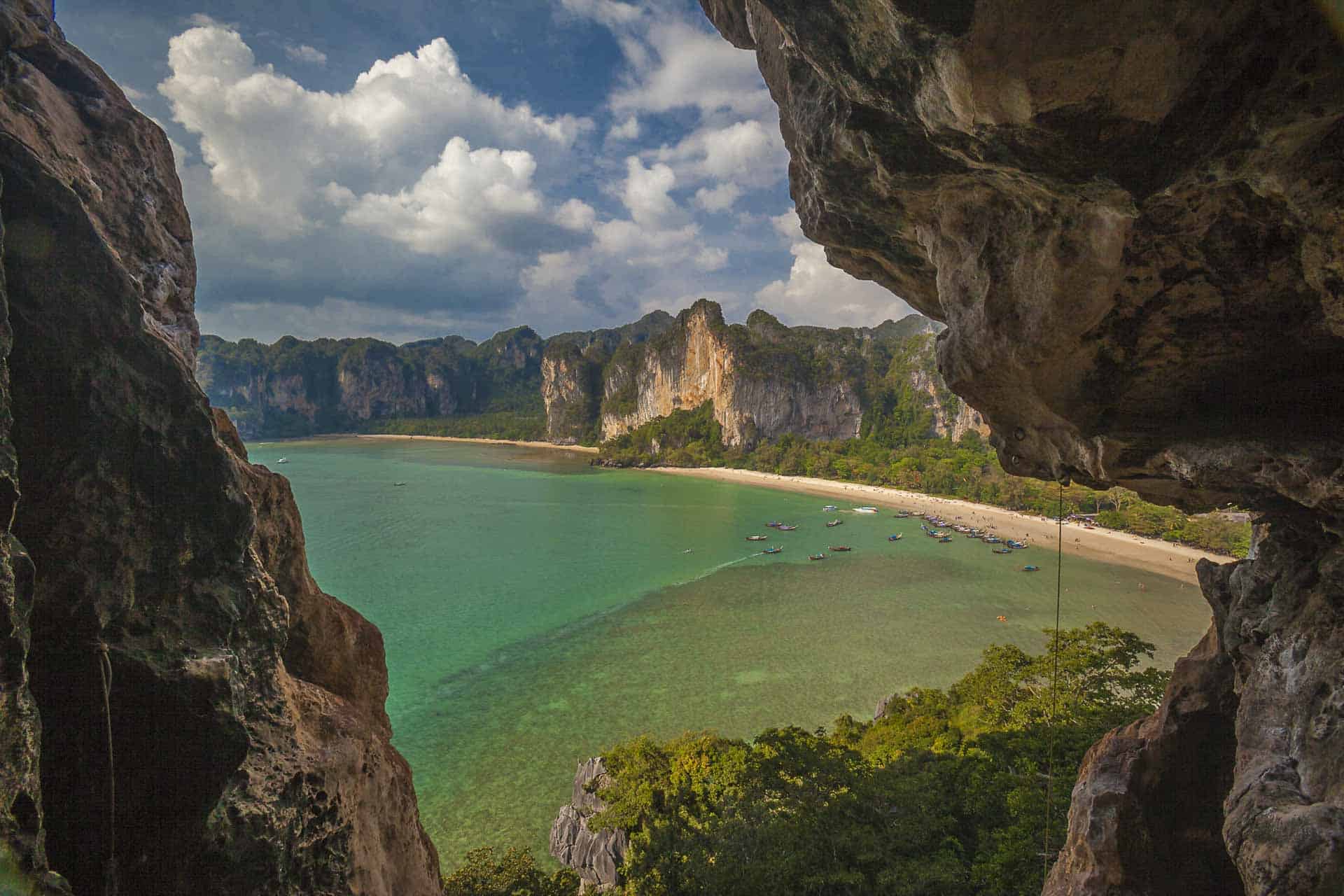 Railay is our favorite of all the beach destinations in the country. It is where we first went rock climbing in 2000. The limestone cliffs drew us there, but the beach is what keeps us coming back again and again. Railay's gorgeous stretch of sand framed by enormous seacliffs is picture-perfect. Railay Beach is not located on an island, but it can only be reached by long tail boat. We first caught a boat from Krabi Town, but you can also take short jaunts from Ao Nang.
Railay itself has four beaches to explore including the above-mentioned Railay Beach and Phra Nang Cave Beach plus Ton Sai Beach which is popular with rock climbers and Railay East which has great beginner rock climbing routes. At low tide, all of them can be reached through paths in the jungle.
Phra Nang Beach – Krabi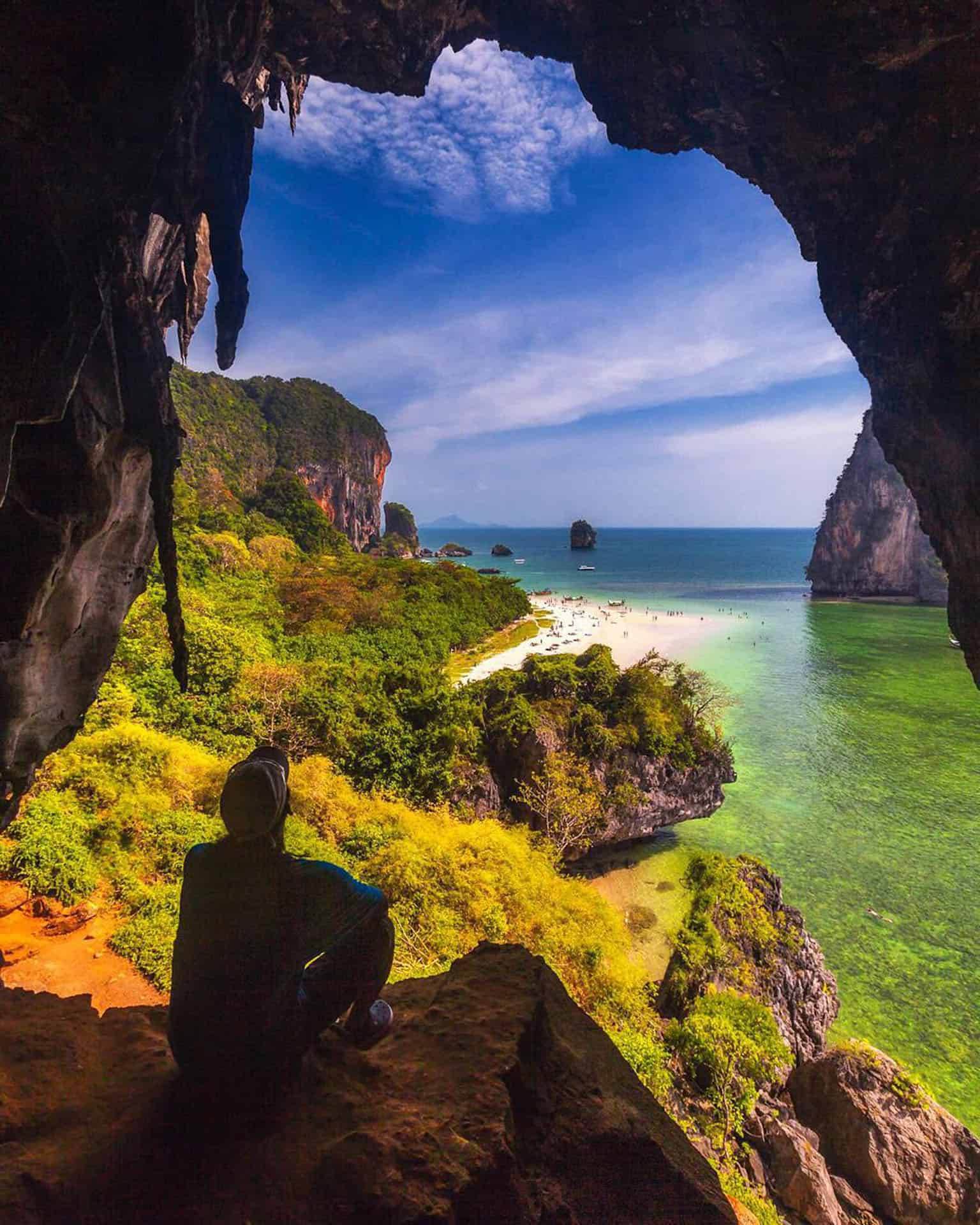 I'll never forget walking through Railay's jungle path for the first time. As monkeys played overhead as we walked through limestones overhangs from Railay to Phra Nang Cave Beach. Phra Nang Beach is often voted as one of the most beautiful beaches in the world. With sea caves, karst islands, and perfect white sand it really needs to be seen with your own eyes.
Long tail boats line the beach filled with daytrippers from Ao Nang and Krabi Town, but to truly appreciate it, you must stay on Railay. When we first visited 20 years ago, it was deserted. Today it is overrun tourists during the day but if you say in the area, you will have it all to yourself at sunrise.
Where to Stay in Railay
Getting to Krabi from Bangkok
There are daily flights from Bangkok to Krabi Airport. From Krabi, you can take a long tail boat to Railay and a bus to Ao Nang.
Koh Phi Phi Islands – Krabi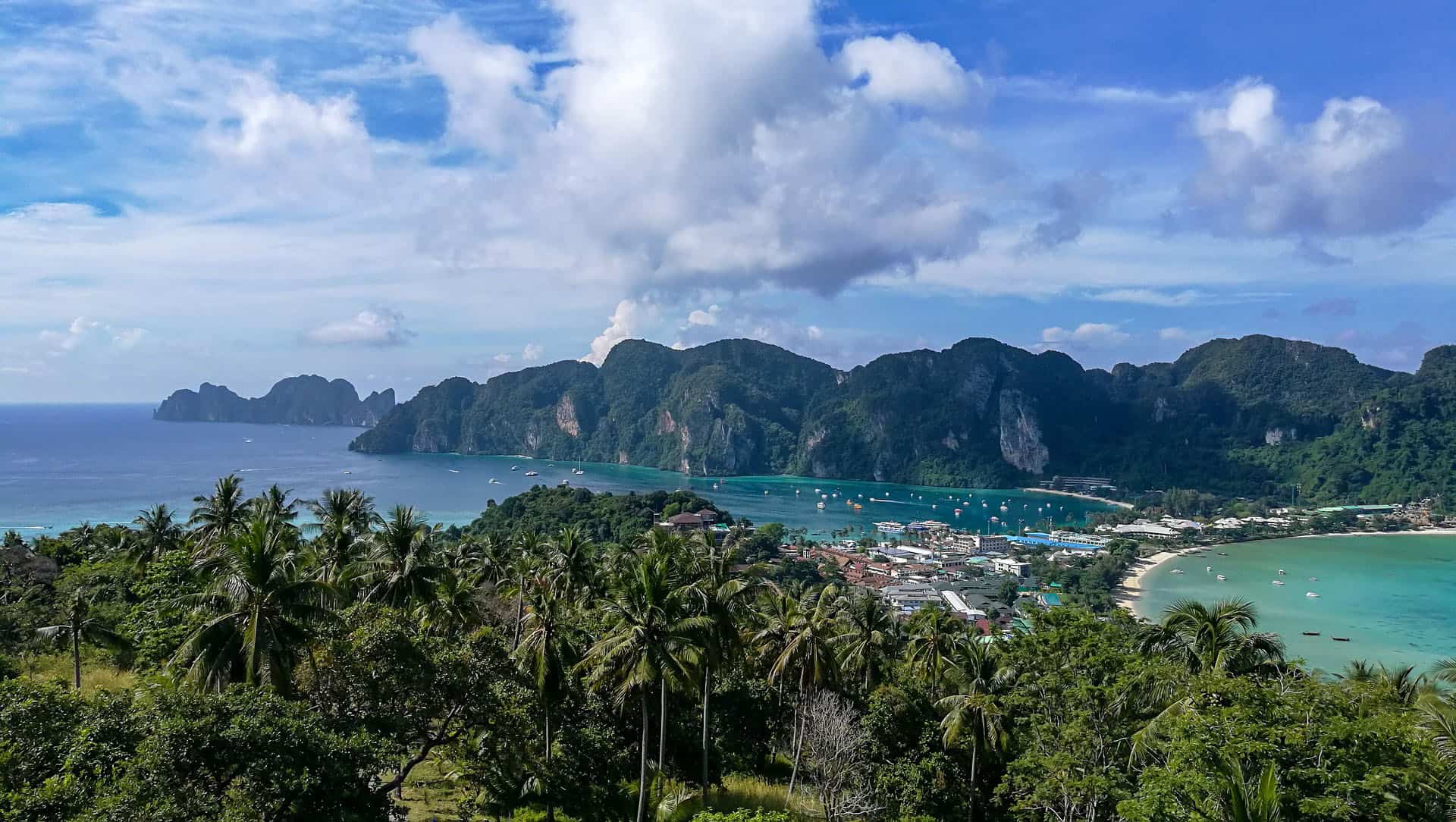 I think Koh Phi Phi was the first beach in Thailand to really attract the international community's attention. And with good reason. Leading up to the perfect horseshoe beach took our breath away. I recall the purest white sand beach I have ever seen lining a perfect horseshoe bay. It is a crowded beach escape, but it is beautiful.
Laem Thong Beach – Krabi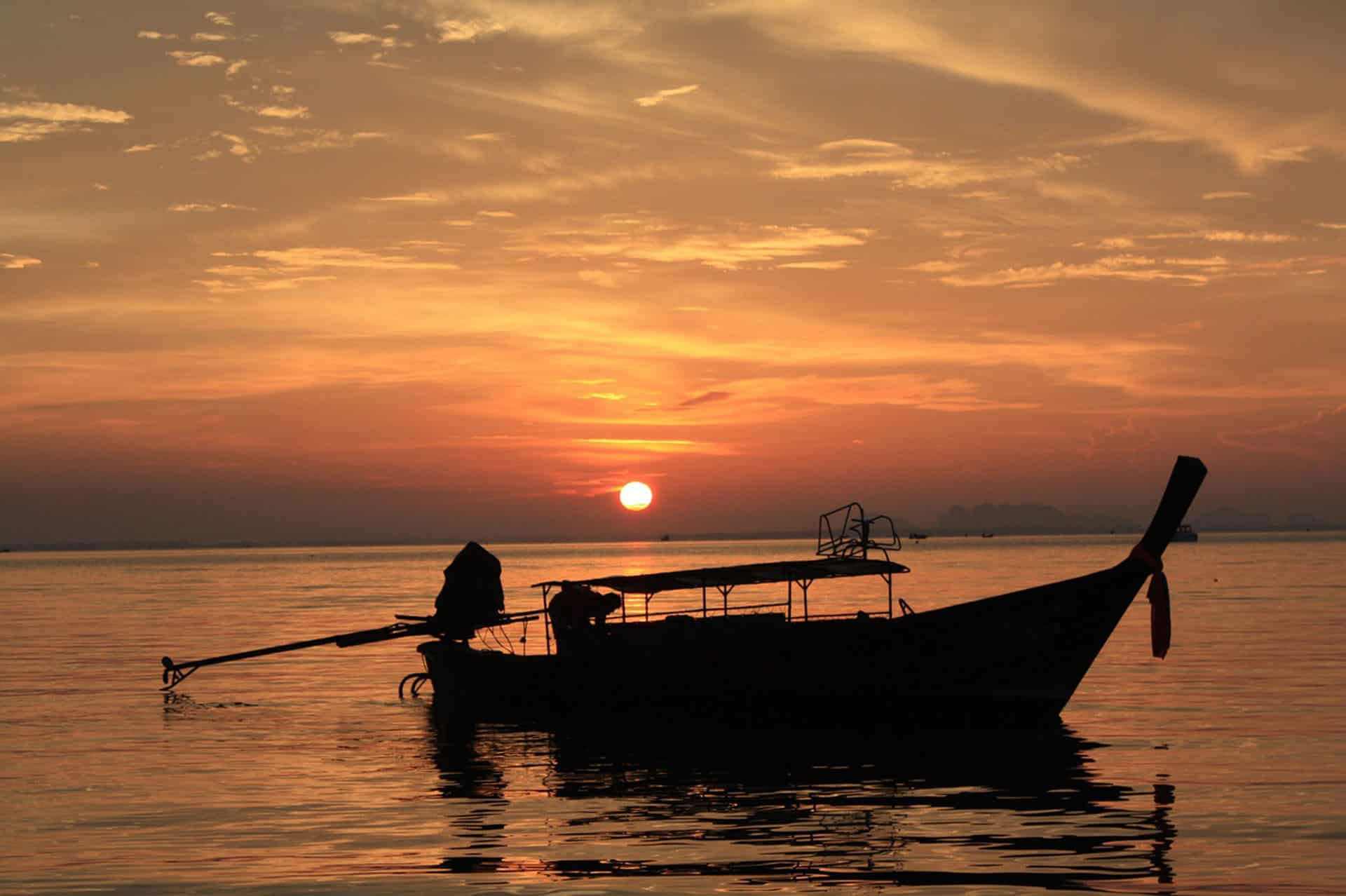 A secluded white sand beach on Koh Phi Phi Don, Laem Thong Beach is a serene beach with clear waters that are perfect for snorkeling, scuba diving and kayaking. You can take a day trip to see the nearby Mosquito and Bamboo islands.
Maya Bay Koh Phi Phi Leh – Krabi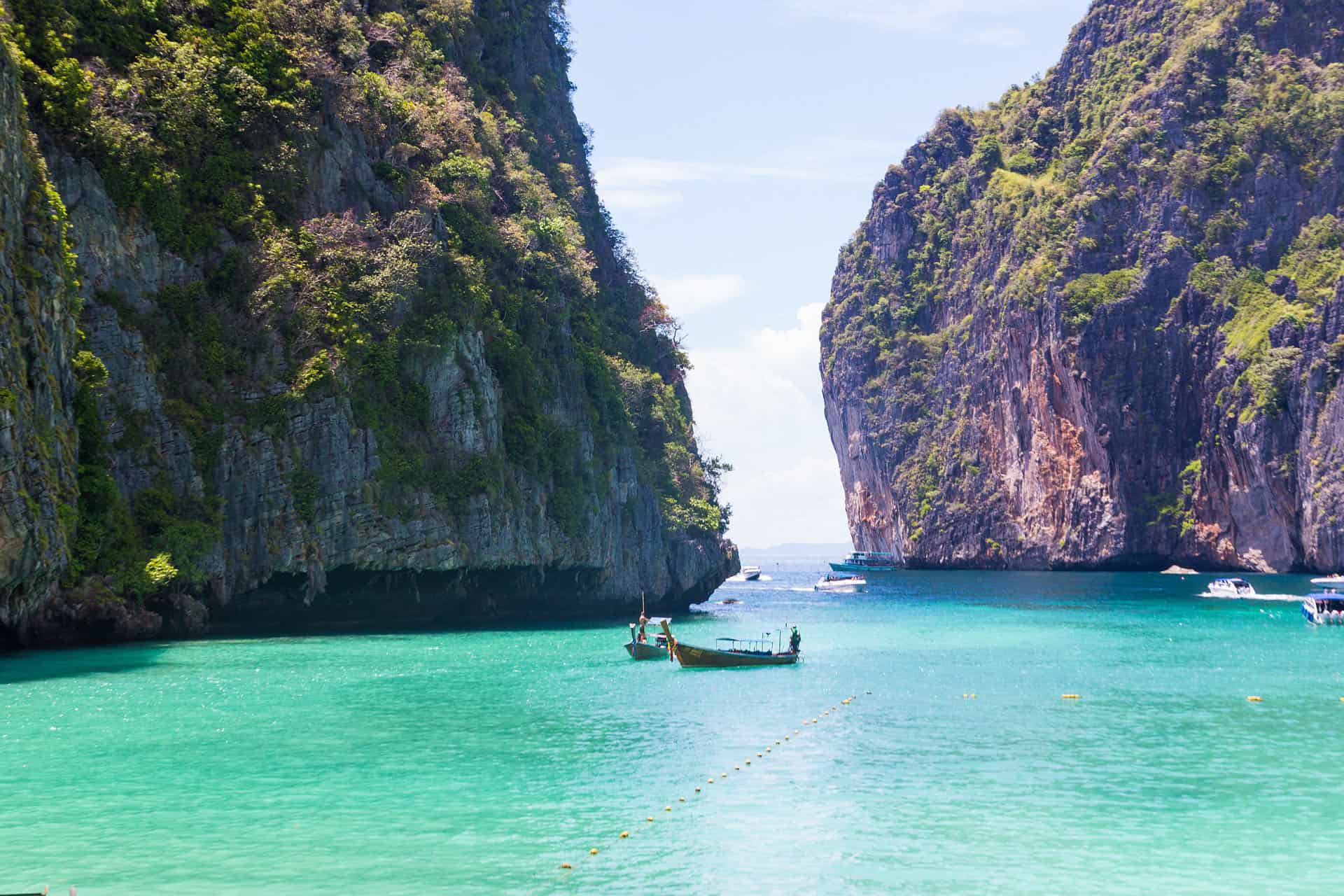 Take a day trip out to Koh Phi Phi Leh to explore the National Park and the beautiful Maya Bay. We had the good fortune of visiting Maya Bay before it was closed to tourists. It is considered one of the most beautiful beaches in Thailand with pristine white sands, crystal clear waters, and palm trees lining the shore. It's no wonder the Beach with Leonardo DiCaprio was filmed there. It is located within the National Park and when it does reopen, tourism will be limited and there will be a national park entrance fee.
Where to Stay in Phi Phi
How to Get to Koh Phi Phi from Bangkok
To get to Koh Phi from Bangkok you can fly to Phuket and then catch a ferry to Phi Phi. You can also fly into Krabi and take a ferry from there.
Sunset Beach – Koh Lipe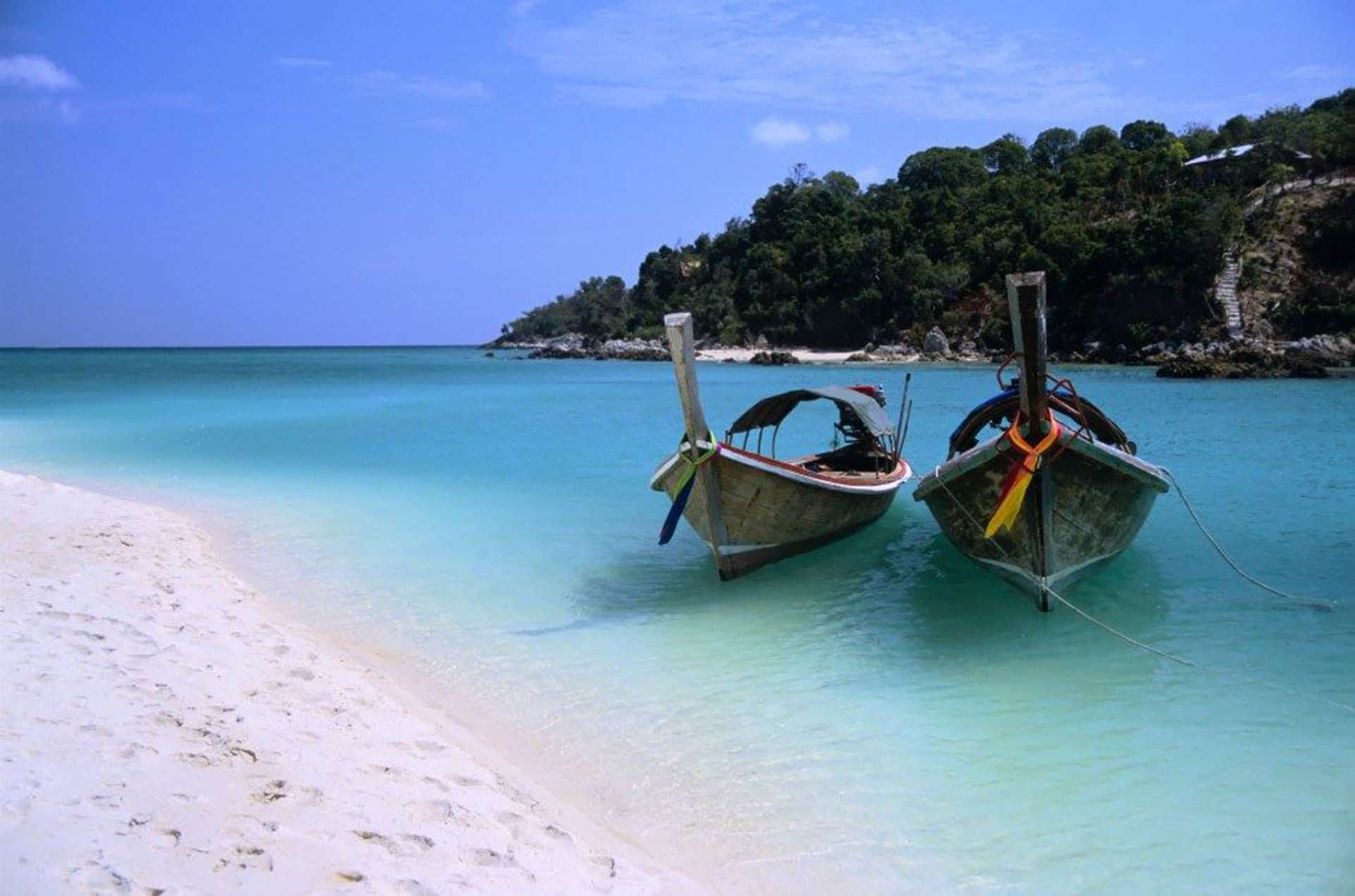 Koh Lipe has one of our favorite beaches (in our humble opinion.) Being the southernmost island it is less touristy than Krabi. Lipe is a fantastic chill spot to hang out for a few days with a few beaches to relax on. Sunset Beach is on the opposite side of the island from Sunrise beach and far away from the busy Pattaya Beach where you'll come in from. Sunset Beach is the place to watch the sunset and it is the quietest spot on the island.
How to Get to Koh Lipe from Bangkok
To get to Koh Lipe, you will need to fly into Hat Yai and then take a ferry from Pakbara Pier in Satun.
Kata Beach – Phuket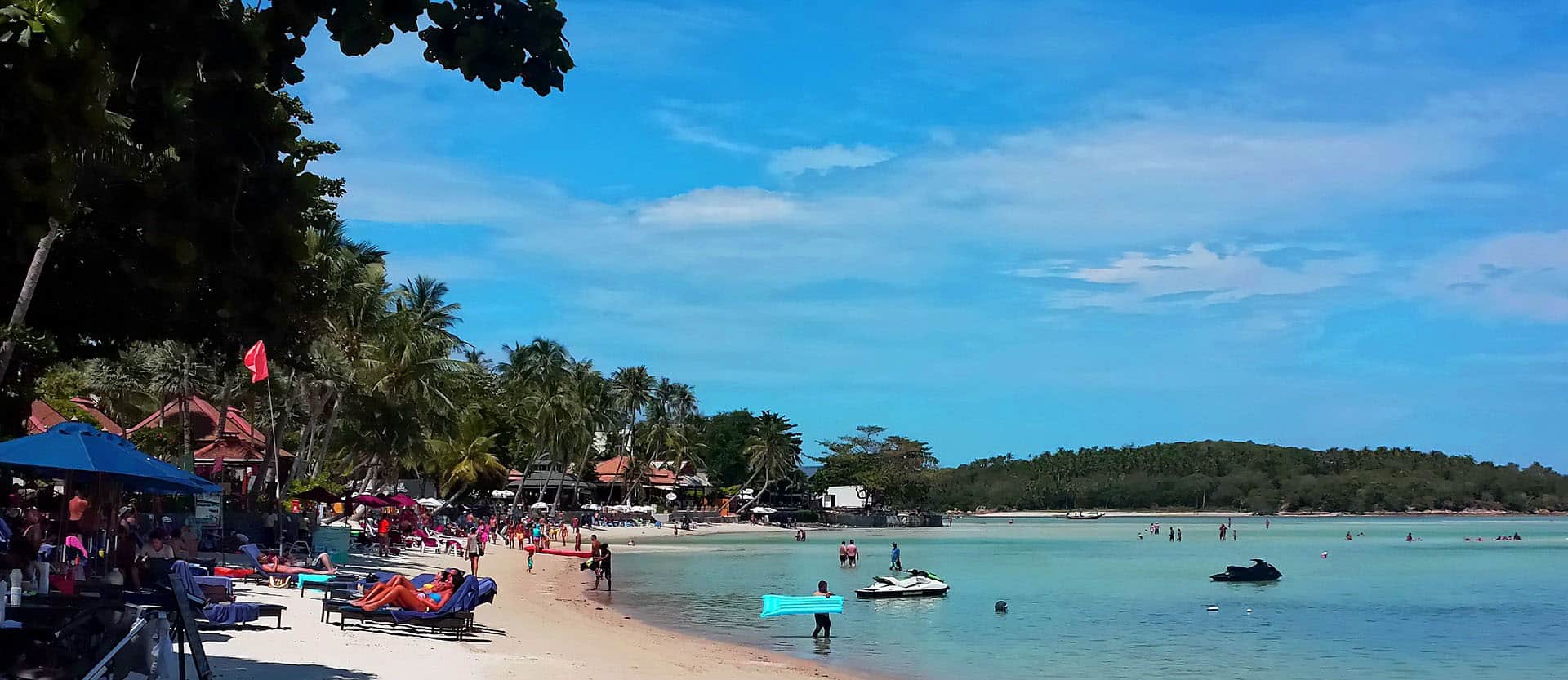 When we first visited we didn't love Phuket. But after taking a Muay Thai Kickboxing course there, we fell in love with Thailand's largest island. It is filled with beautiful beaches and if you hire a tuk tuk or rent a motorcycle you can spend time beach hopping to see them all.
Patong is the main town of Phuket and there is a long busy beach here as well. But we suggest getting out of Patong and going to Kata Beach. It has lovely long and beaches and calm waters.
Kata Noi Beach – Phuket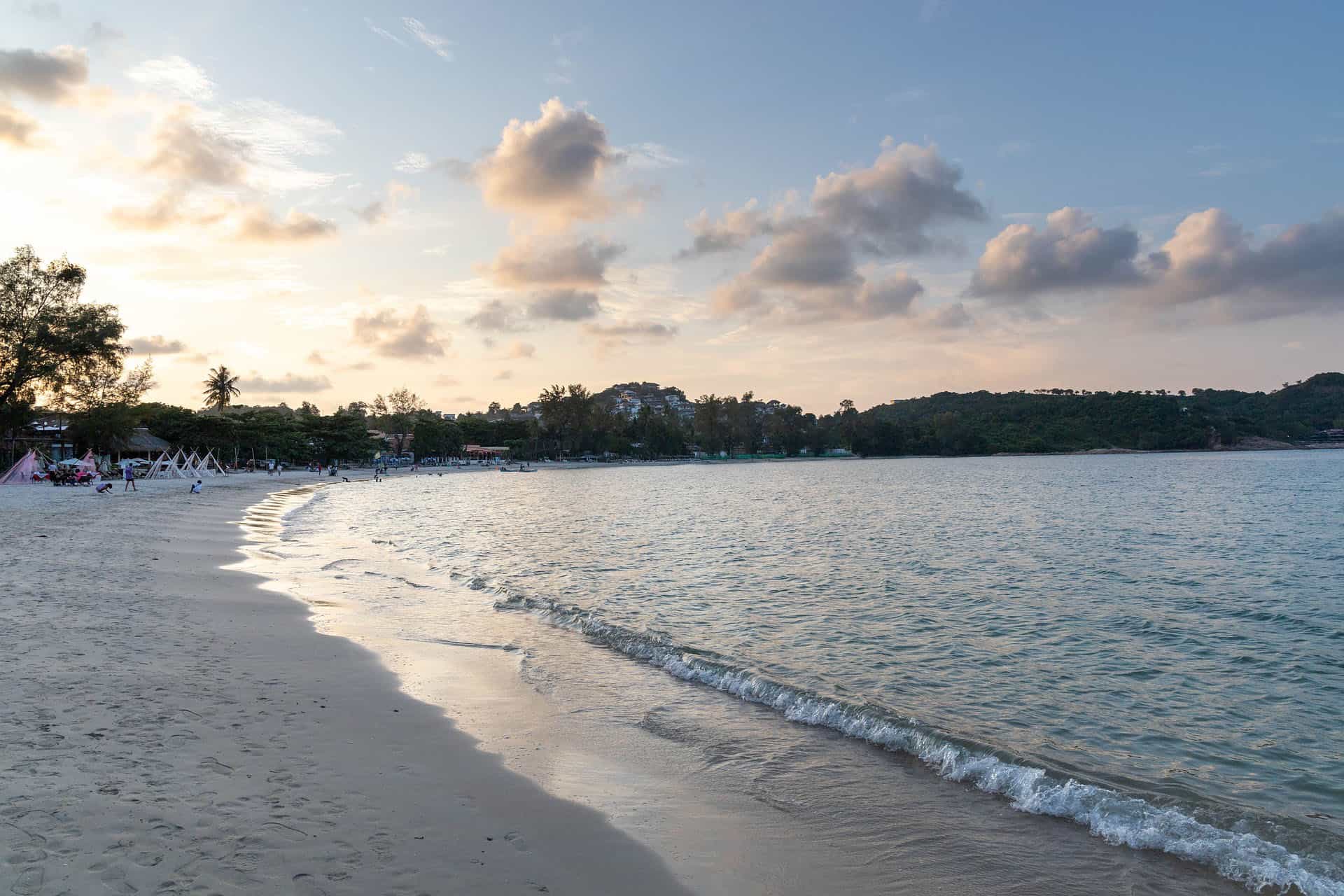 Just a little farther south is the even more relaxed Kata Noi Beach. Known as Little Kata Beach, it's a great day trip to take in Phuket as well.
Karon Beach – Phuket
Karon Beach in Phuket is a massive 5 km long white sand beach in Phuket. Located just north of Kata Beach, it is the quieter of the two. It attracts windsurfers to the island and it is also known for its turtle hatching. There are plenty of places to stay on this beach as well.
Where to Stay in Phuket
Browse the interactive map for where to stay in Phuket
How to Get to Phuket from Bangkok
There are daily flights from Bangkok to Phuket Airport.
Long Beach – Koh Lanta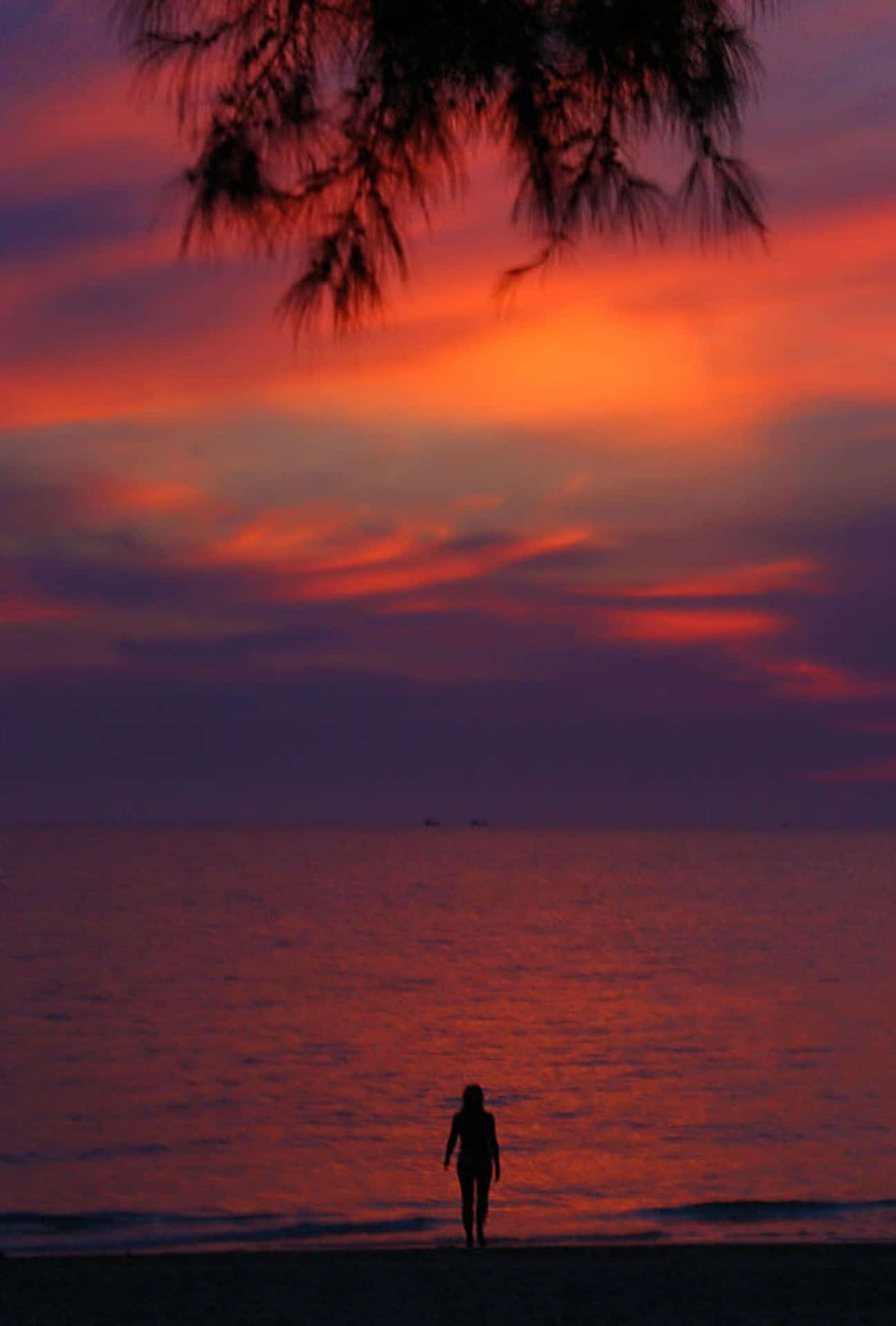 We spent a good chunk of time chilling out on the beaches of Koh Lanta during one of our many trips. Long Beach is just that; The longest beach in Koh Lanta. At 4km long (2.4 miles) it was perfect for our morning walks. Long Beach connects to Klong Dao Beach, another beautiful Thailand beach that has a good choice of backpacker hangouts, places to sip Singha Beer and to enjoy the stars.
Kantiang Beach – Koh Lanta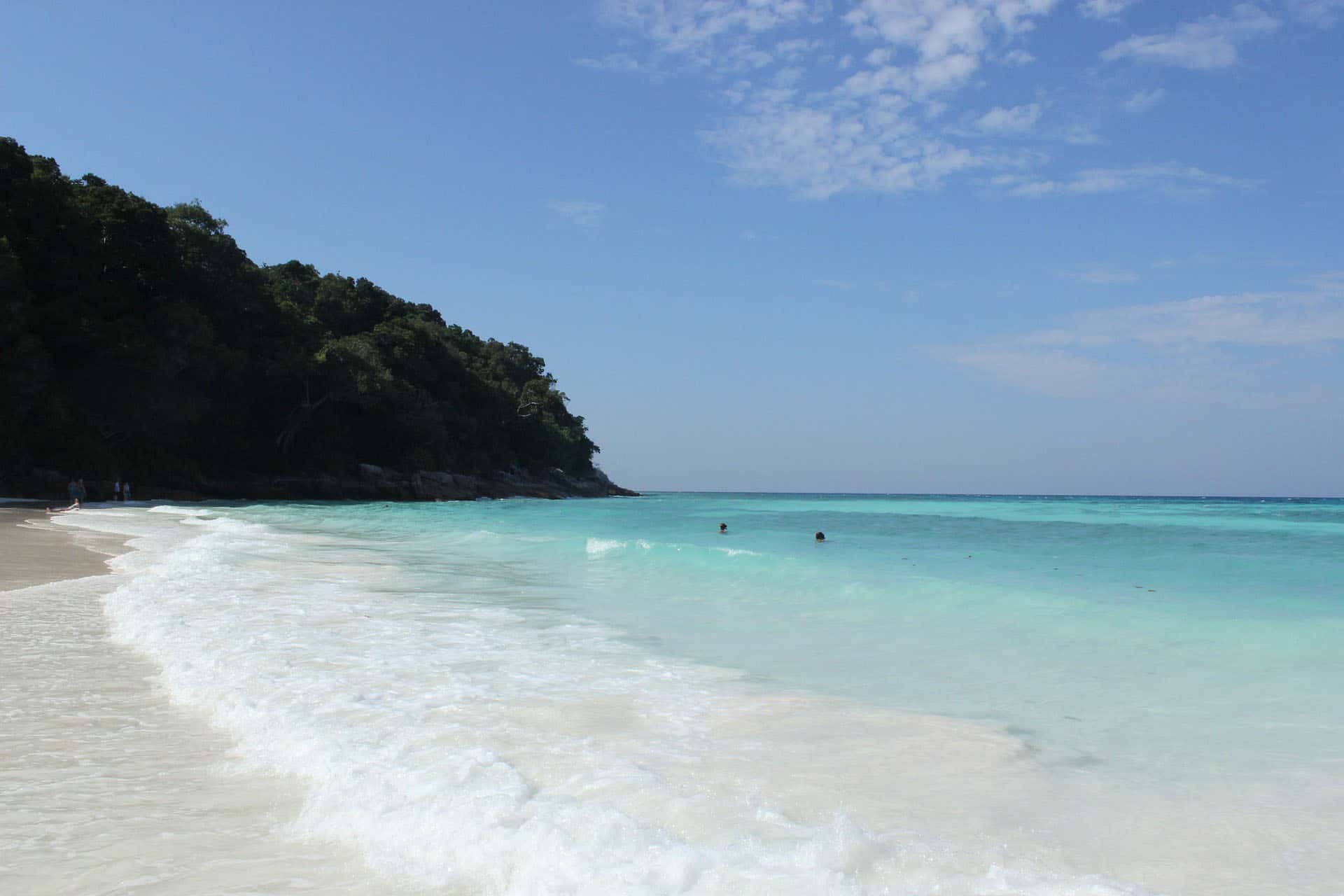 Located on the southern tip of Koh Lanta, Kantiang Beach has a kilometer of white sands situated between rainforest and clear blue waters. Located far from the hustle and bustle, this is a great place to chill out with a Chang Beer or have a traditional Thai massage under swaying palm trees. There are yoga classes on offer and with 2km of silky sand, it's a great place for a morning walk.
Sai Kaew Beach – Koh Samet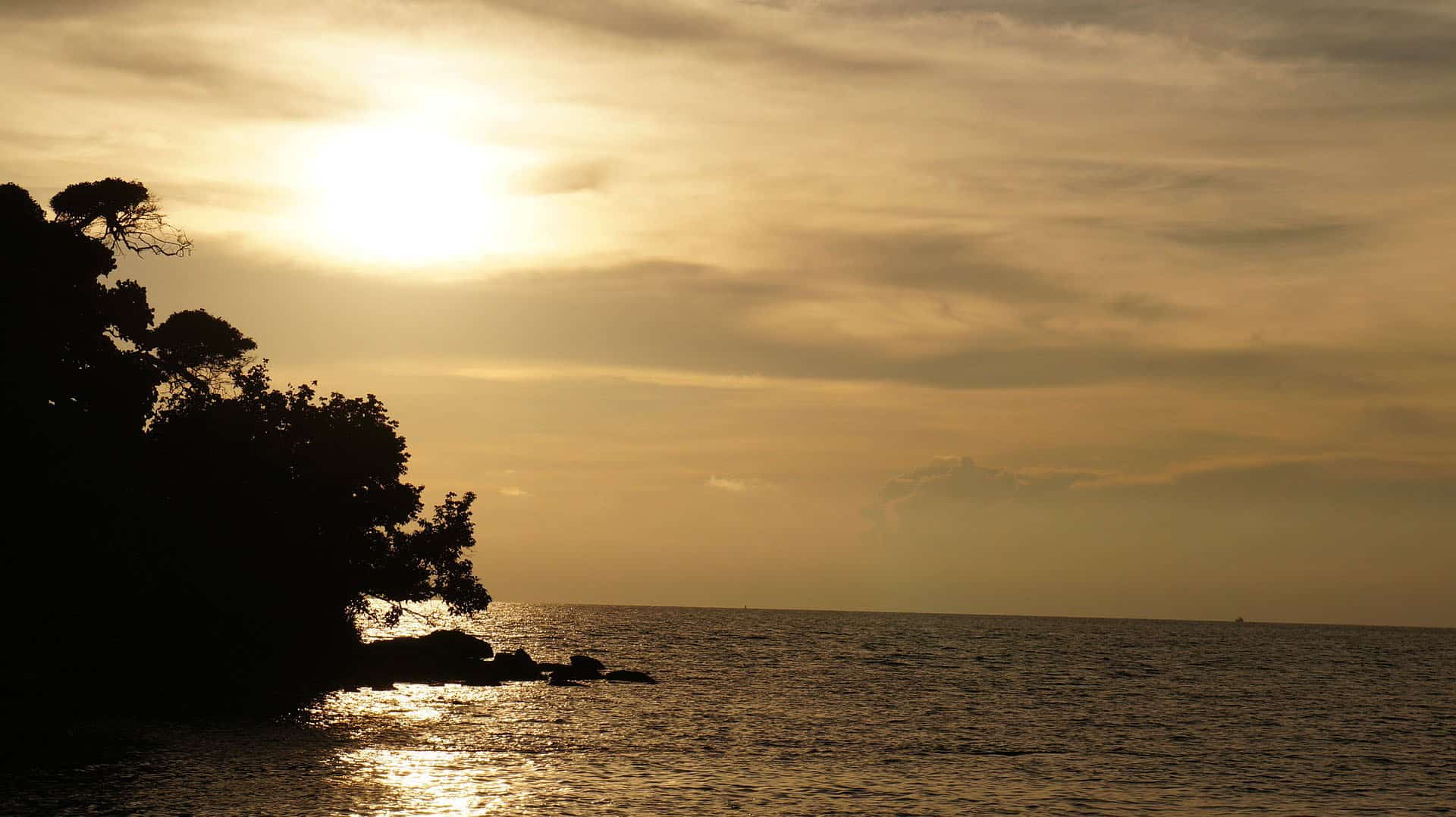 Known as White Sand Beach, Hat Sai Kaew Beach is the largest beach area in Koh Samet. It's not far from the ferry when you arrive in Koh Samet, so you will be right in the heart of all the action if you stay here. It's 1km long with and nice and wide.
Klong Kloi Beach – Koh Chang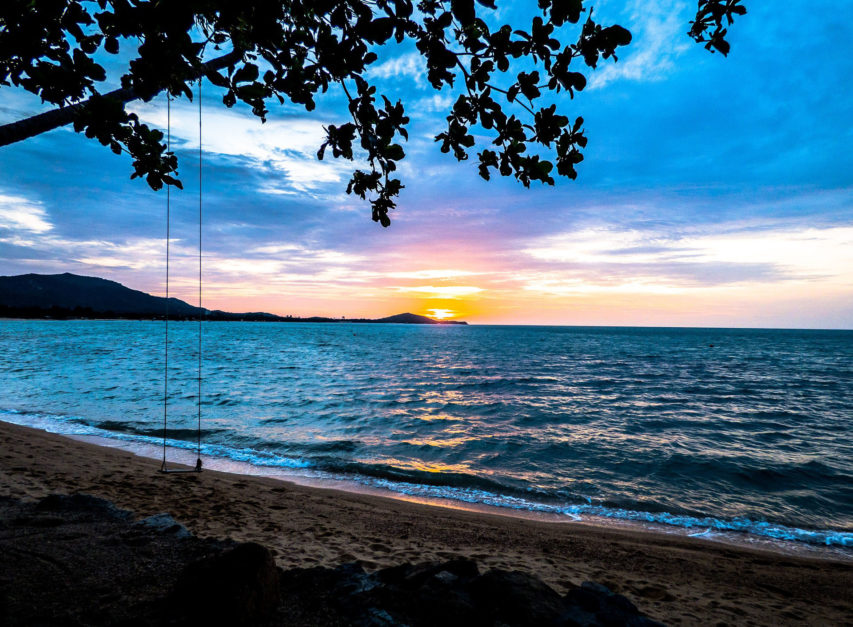 Also known as Bangbao Beach, Klong Kloi Beach in Koh Chang is located just a 1 hour flight from Bangkok. There are several beaches on the island with some being busier than others.
Chaweng Beach – Koh Samui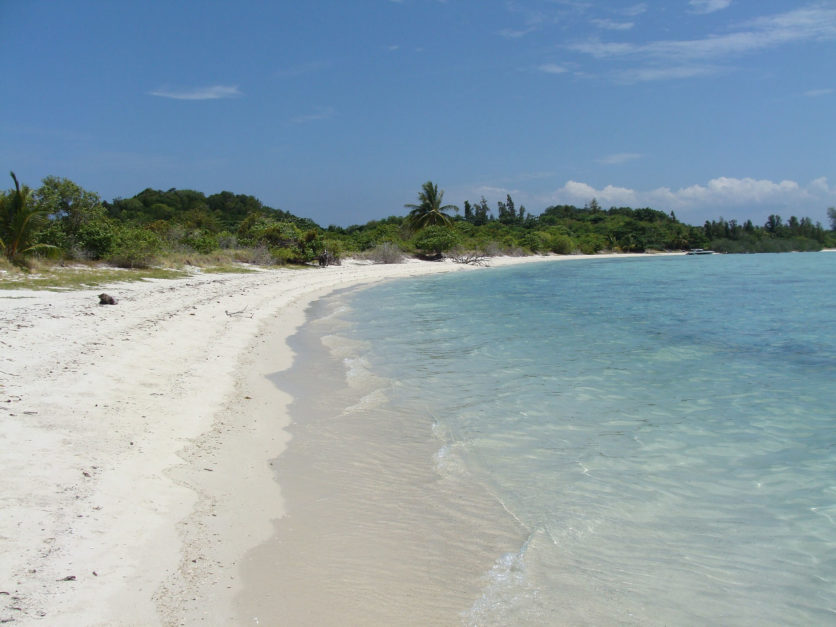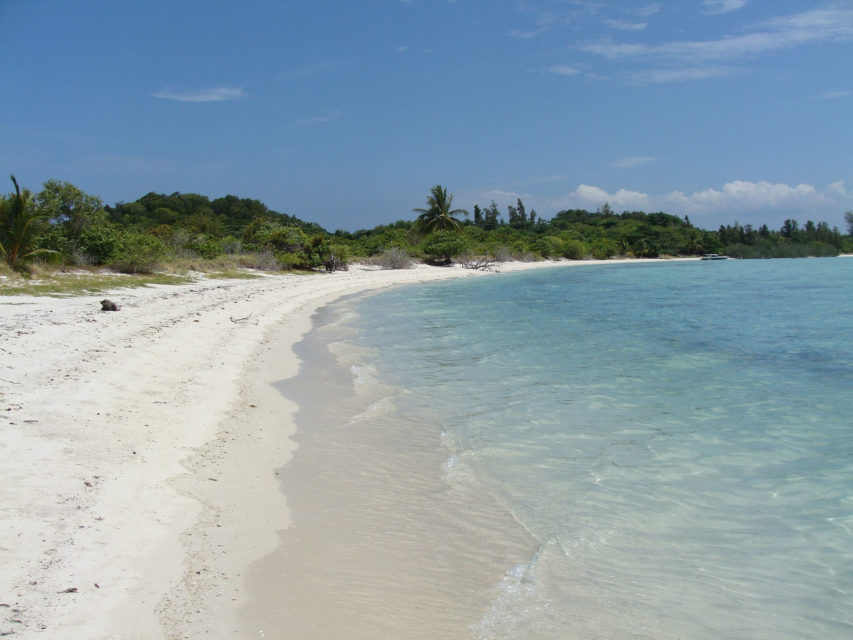 Koh Samui was one of the first islands to receive an influx of tourists on the gulf coast of Thailand and it is the largest of the gulf islands with plenty of beaches to explore.
Chaweng Beach is Koh Samui's most popular beach and with good reason. It is one very large stretch of white sand. In fact, it is so large it is broken into four parts, North, Central, South and Little. (Chaweng Noi). If you want to be in the heart of the action, this is the place to stay.
Thongtakian Beach – Koh Samui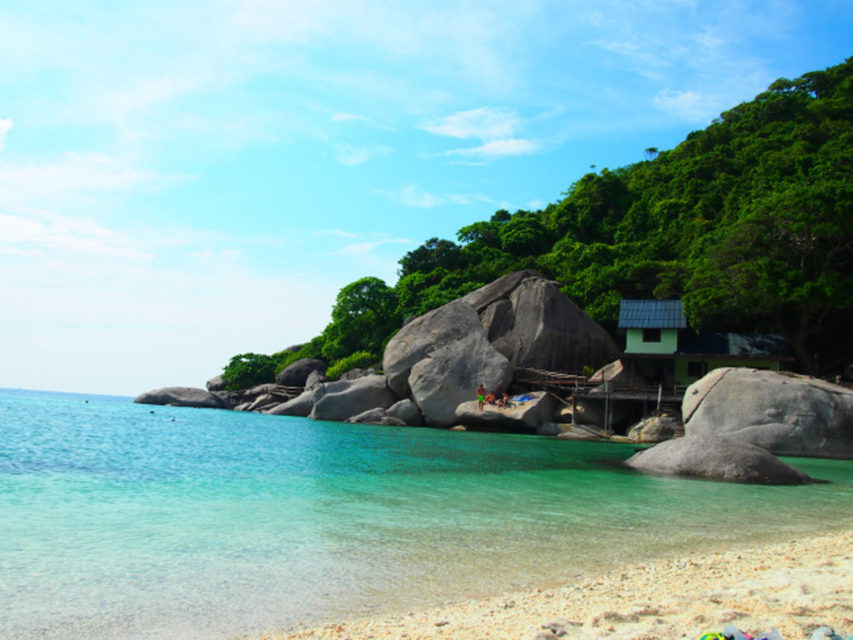 Thongtakian Beach on Koh Samui is one of the most picturesque beaches on the island. With boulders scattered along the beach, it makes for great photography options. The waters are calm and clear.
Lamai Beach – Koh Samui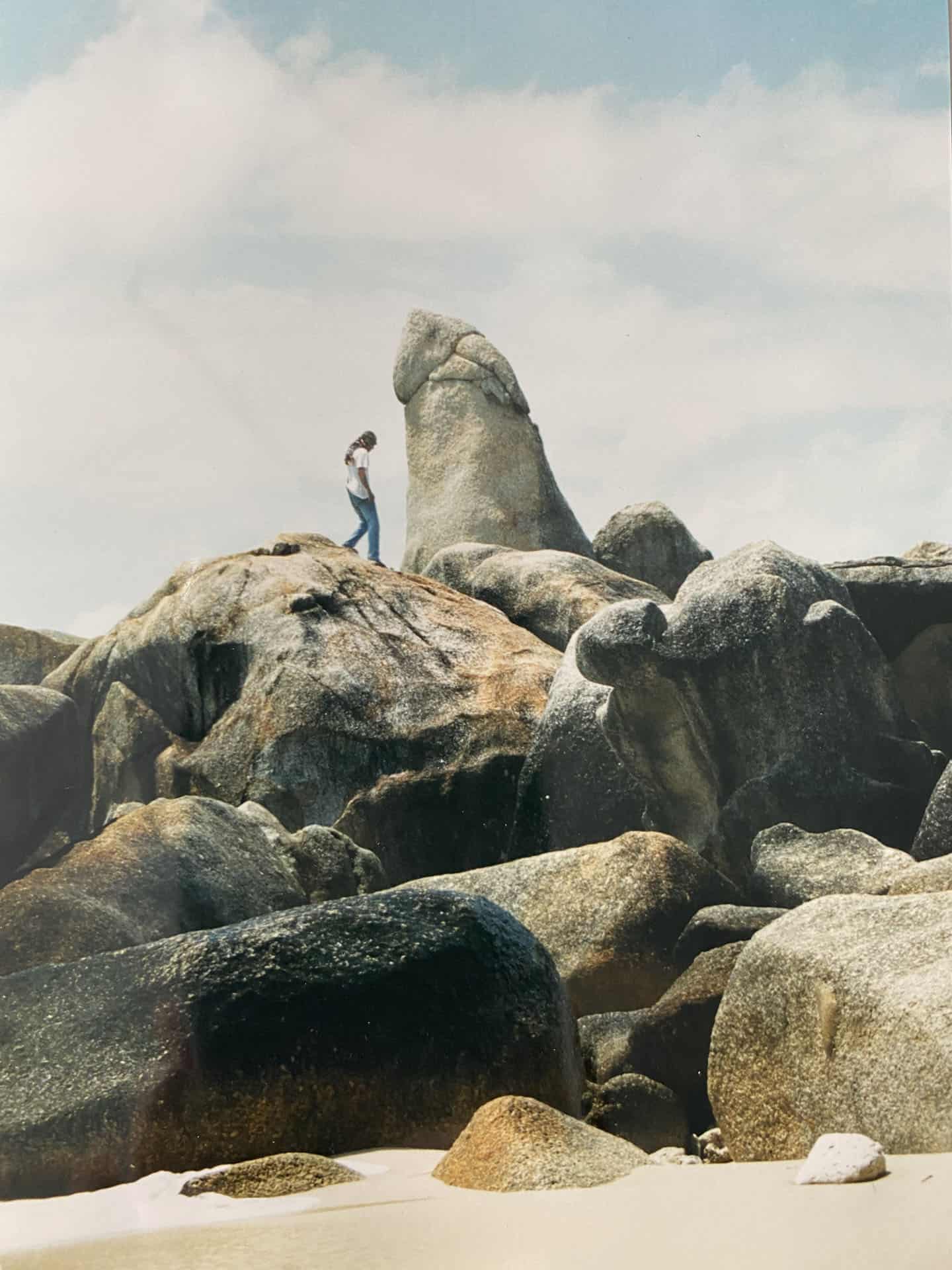 Lamai Beach is second to Chaweng Beach and is definitely quieter. These days it is more our speed as it is attracts a bit older and more laid back crowd than Chaweng Beach (which we totally loved back in the day). For some higher end accommodation, Lamai Beach is the place to stay.
Check out more things to do in Koh Samui
Where to Stay on Koh Samui
How to Get to Koh Samui from Bangkok
There are direct flights to Koh Samui island from Bangkok.
Bottle Beach – Koh Phangan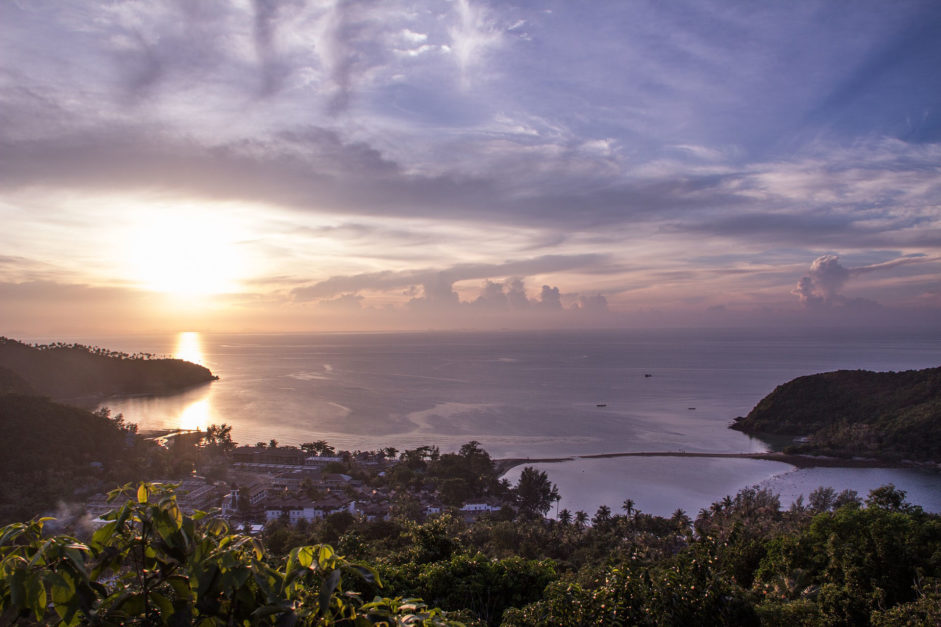 Koh Phangan is famous for its full moon party that takes place each month on Haad Rin Beach. While the full moon parties create huge crowds, Bottle Beach is far away from the hustle and bustle. Like Phra Nang Beach in Krabi, it attracts day-trippers, but if you stay on this beautiful beach, you'll have it all to yourself in the morning.
Haad Rin – Koh Phangan
If you are looking for the party beach in Thailand, Haad Rin is the place. Divided into two sections, Hat Rin Nai (Sunset Beach) and (Hat Rin Nok) Sunrise Beach. Sunrise beach is the more beautiful beach of the two and it is the beach where the full moon party takes place each month.
Believe it or not, in 2000 we visited Haad Rin to escape the crowds of Koh Samui in 2000. It is now one of the busiest beaches in the country thanks to the full moon parties, but it has since calmed down due to the pandemic. It might now be the time to visit once travel restrictions are lifted.
Thong Nai Pan Noi – Koh Phangan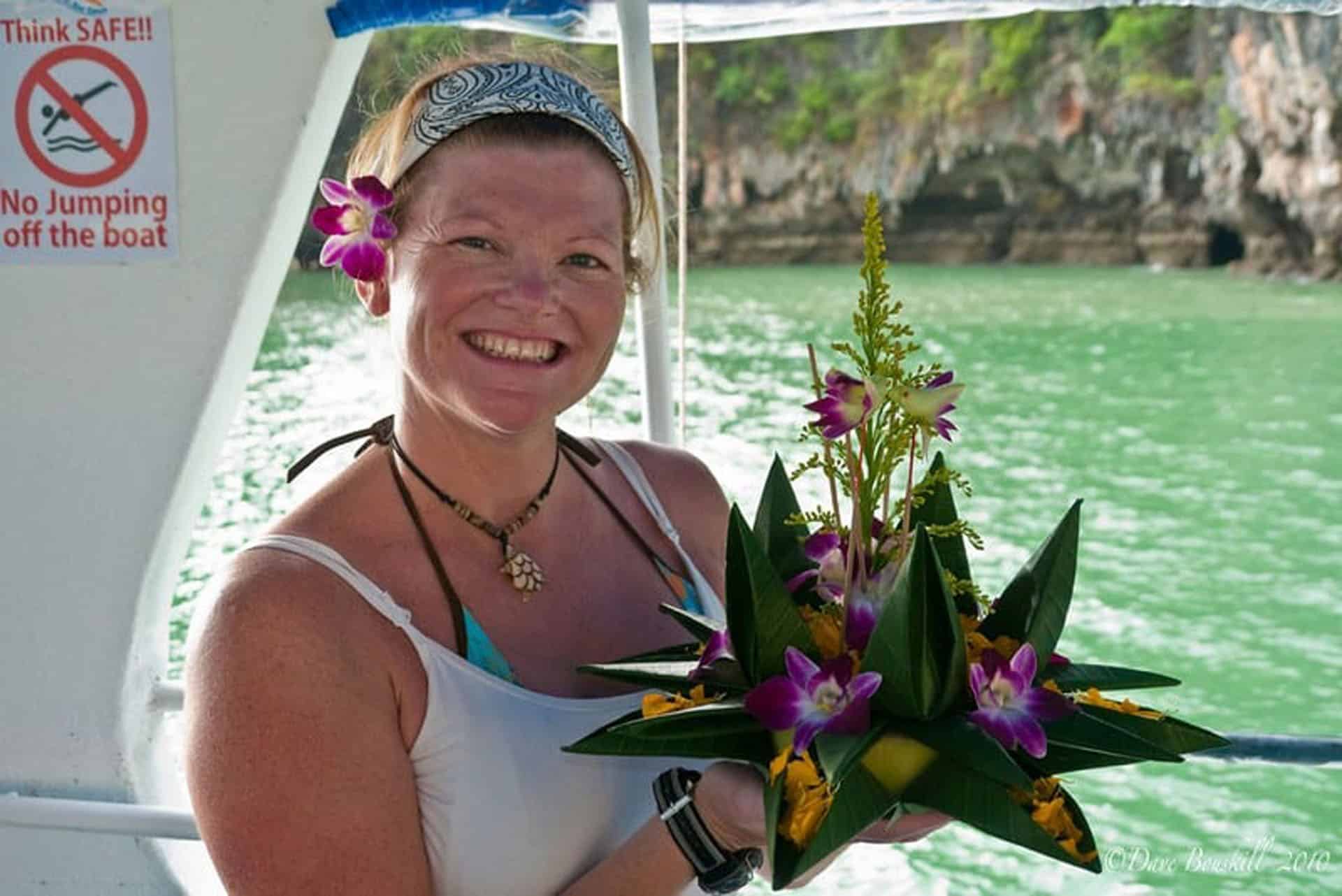 If you are looking for a quieter option on Koh Phangan, the beach destinations of Thong Nai Pan Noi and Thong Nai Pan Yai are a good option. The beautiful white sands of this long curved beach make it a good escape with a chilled out hippy vibe.
Haad Salad Beach – Koh Phangan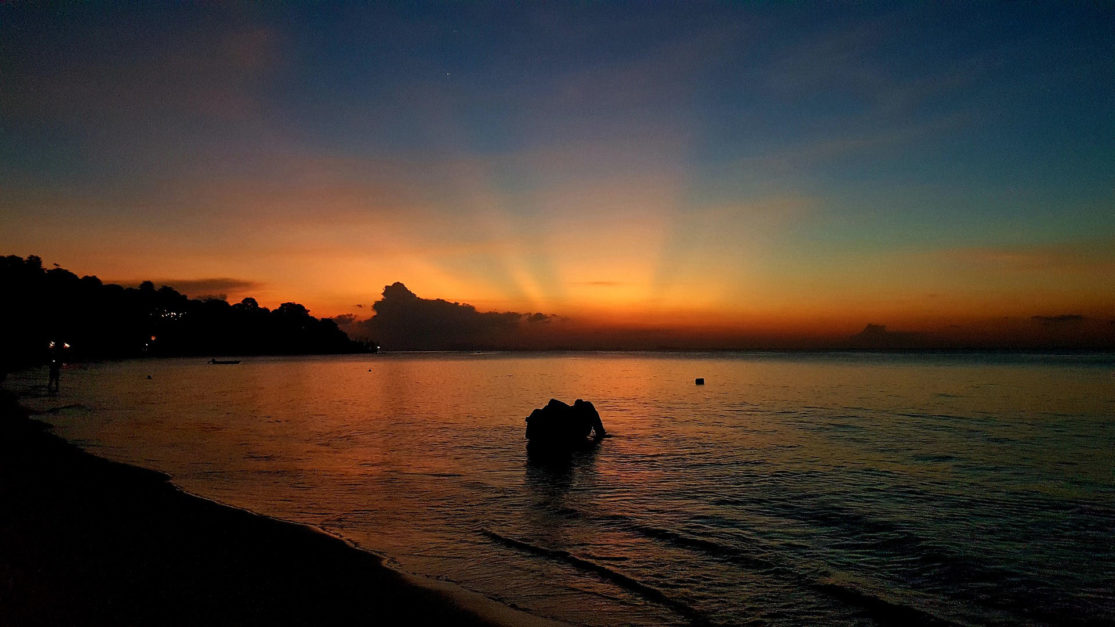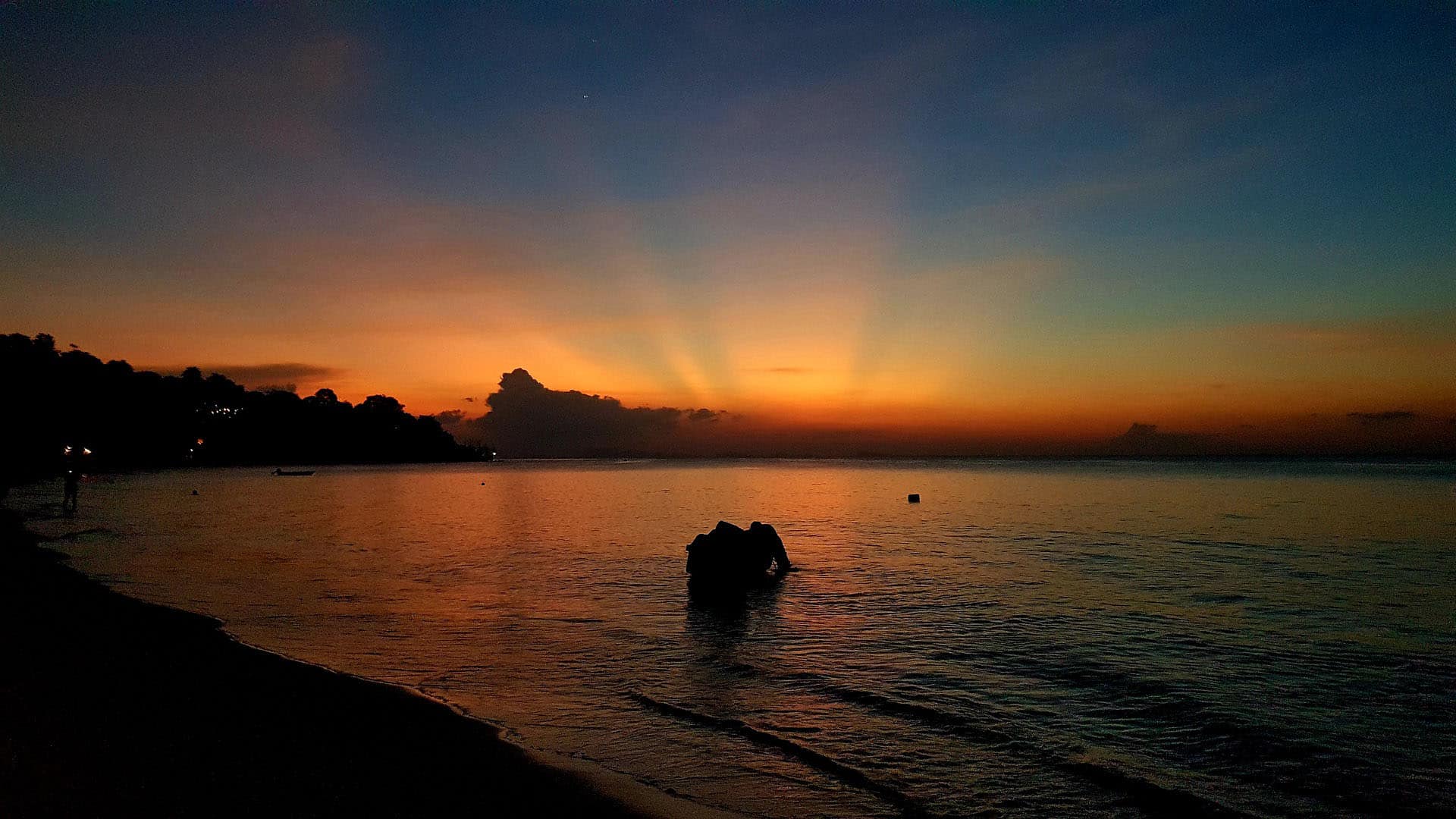 Haad Salad Beach is located on the north end of the island as far away from the party scene of Haad Rin as you can get. With a coral reef just 80 meters off the coast, it's a great place for diving and snorkeling.
Where to Stay in Koh Phangan
How to Get to Koh Phangan
There are direct flights form Bangkok to Suriat Thani or Koh Samui. From both Surat Thani and Koh Samui you then take a ferry to Koh Phangan.
Sairee Beach – Koh Tao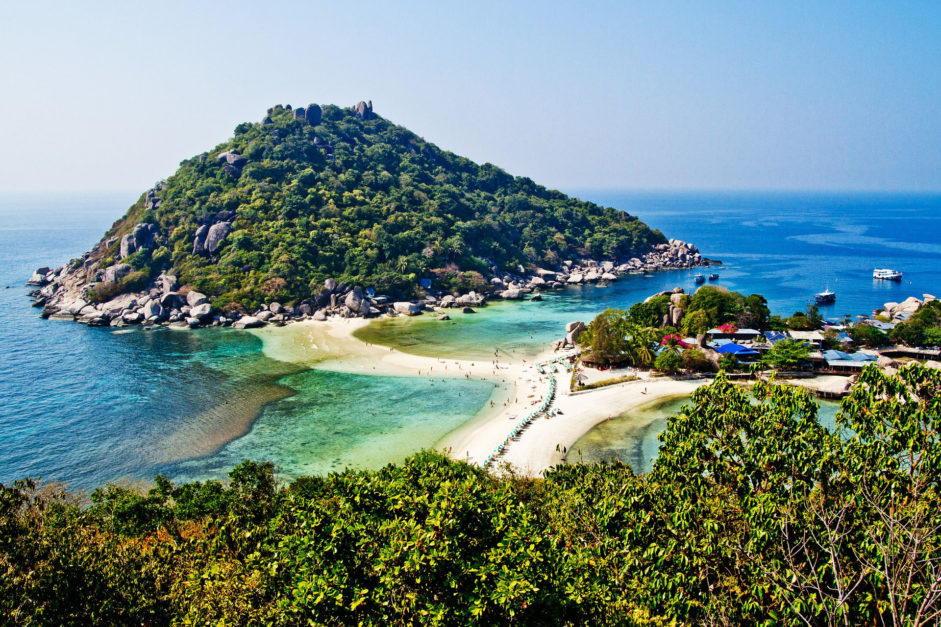 Sairee Beach is the most popular beach on Koh Tao where all the action happens. With a coral reef located just off its shore, Sairee Beach is a good spot for snorkeling. Koh Tao is popular with scuba divers and on Sairee Beach you'll find plenty of dive centers, restaurants, and bars. If you want to be in the action, (which we love) this is the place. Not only is it good for snorkeling, but the white sand is also easy on the feet when strolling its length of 1.85 km (1.1 miles)
Best Time to Visit Thailand's Beaches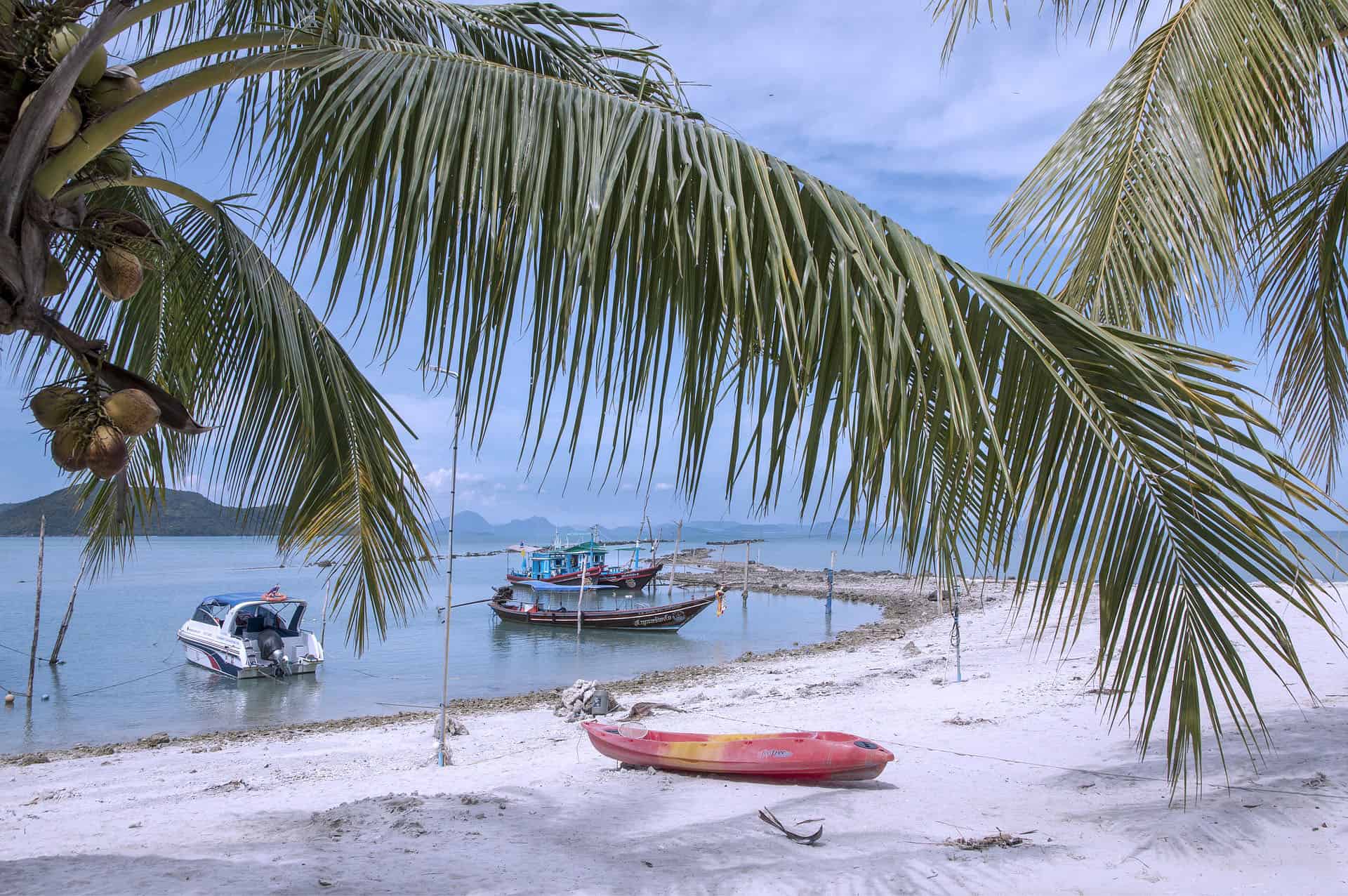 We have found visiting Southern Thailand anytime between late November to early March to be great.
December, January and February are high season and you can expect the best weather.
March to May are the hotter months, but you have a beach to cool down in, so go for it.
The rainy season happens from June to the end of October.
And these are some of the best Thailand beaches to visit. So when we can all travel again, make sure to put The Land of Smiles at the top of your list! It is an inspiring travel destination.
Read next: