Looking for things to do in Maui? From unique adventures to popular attractions, we share all our favorite activities on Maui to make the most of your Hawaiian vacation.
Everyone knows that surfing is the Big Kahuna in Hawaii, but you don't have to hit the waves to have an amazing time on the island. There are so many adventures to be had both on and off the water. These ideas will help you plan the most exciting Maui vacation you'll ever have.
Things to do in Maui
1. Drive the Hana Highway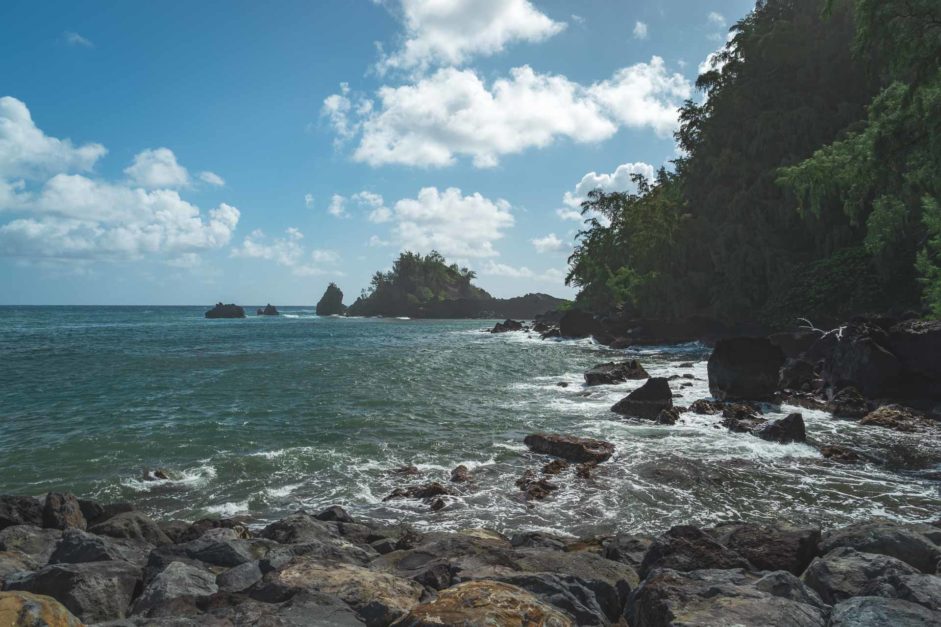 Certainly the one of the most famous of things to do in Maui is to drive the Hana Highway. Starting in the sleepy surf town of Paia, the Road to Hana takes you through 600 curves and 59 bridges. It is one the most famous scenic roads in the world. With waterfalls, hiking trails, scenic lookouts and a national park to explore, it is a must-do on any Hawaiian vacation. Check out our full guide to Driving the Hana Highway
2. Go Outrigger Canoeing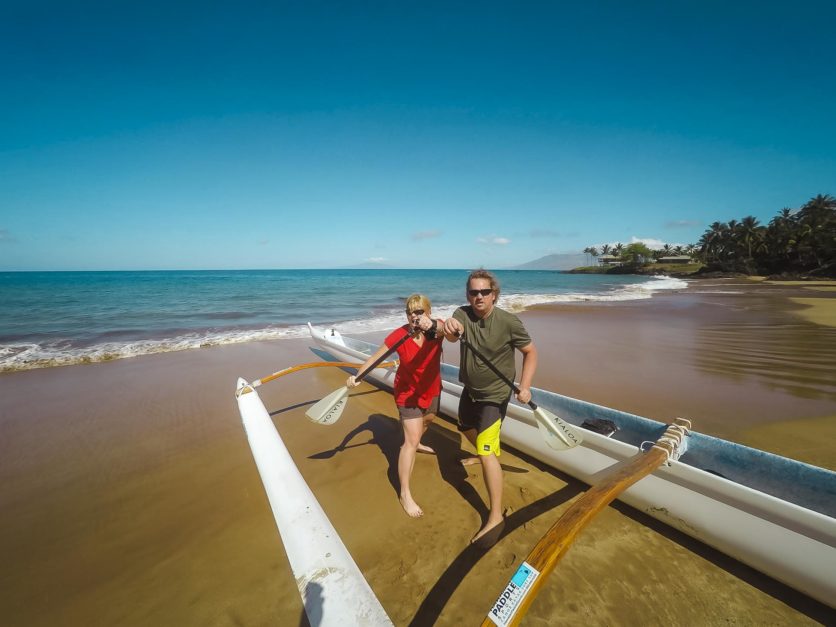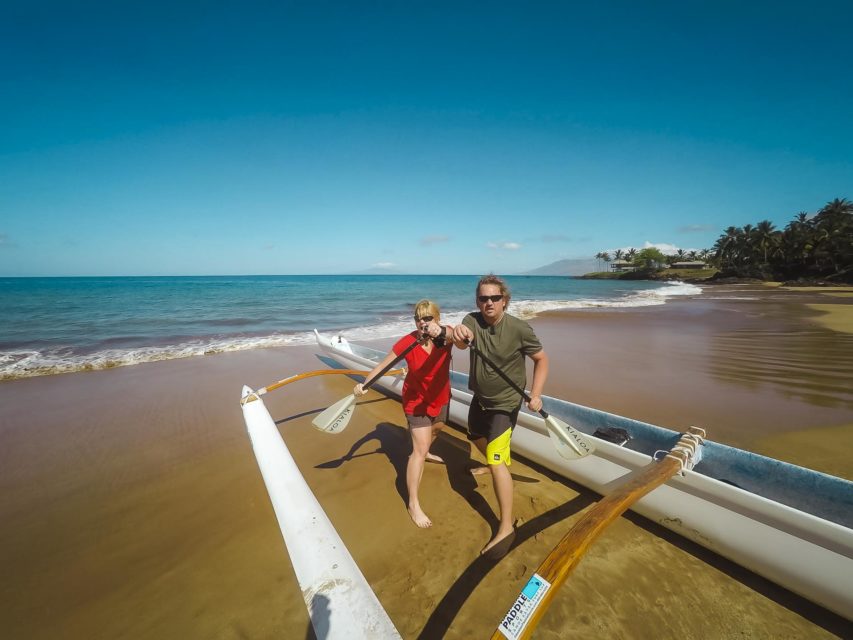 For a unique cultural experience on Maui, try your hand at outrigger canoeing. It not only is a great way to explore the coast, but it is also a way to learn about an ancient tradition on Maui. Early explorers crossed the seas navigating by stars on outrigger canoes. Learn how to paddle one of these and then get out and explore the marine life. Check out Hawaiian Paddle Sports for Outrigger Canoe tours.
3. Snorkel with Sea Turtles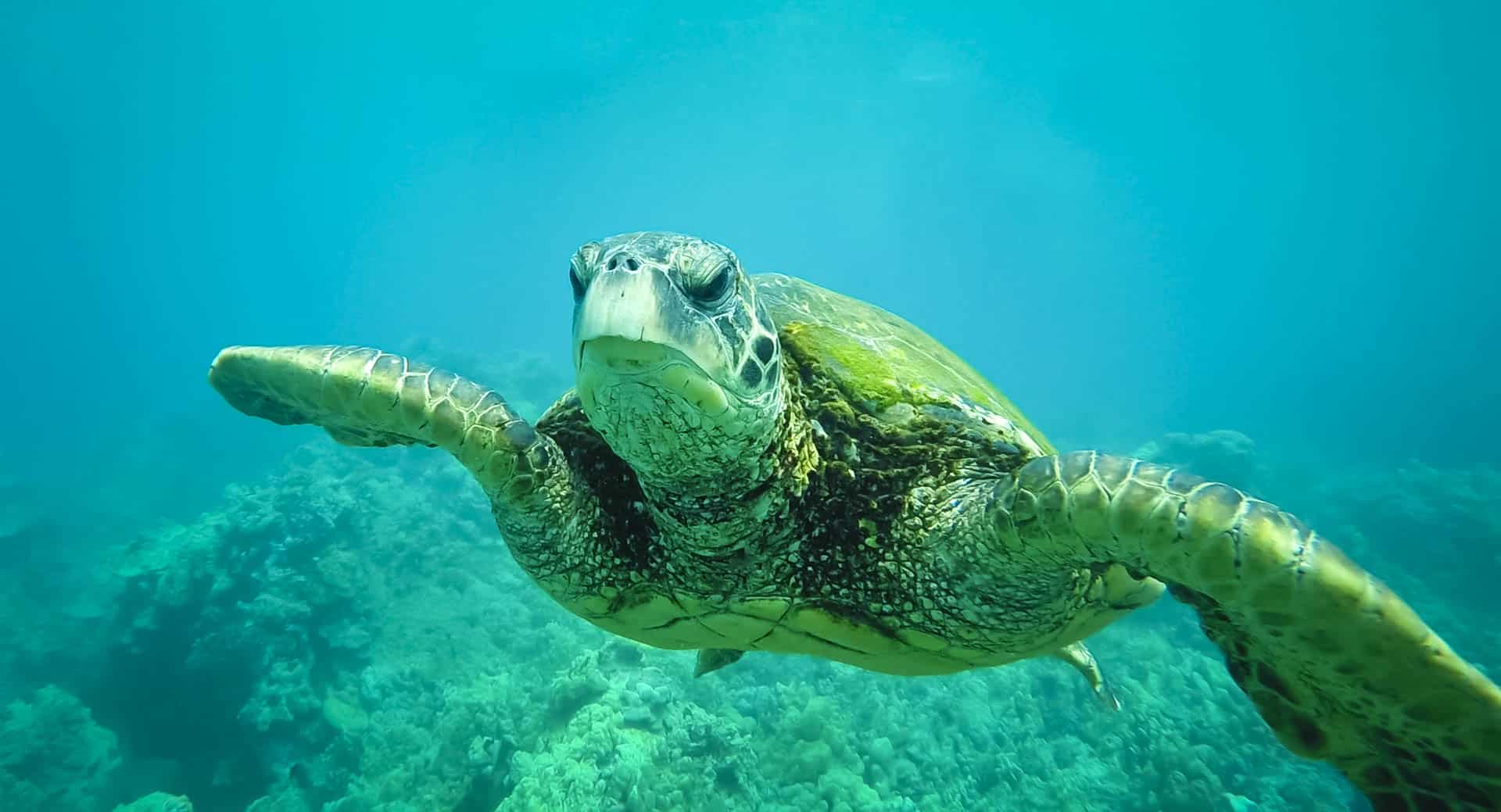 The best place we have ever snorkeled with sea turtles is on Maui. So many sea turtles call Maui home that sightings are almost guaranteed when you go snorkelling in Maui. The waters of Maui are crystal clear and warm. It is such a magical experience, it is up there as one of the top things to do in Maui.
4. Attend a Luau
It is the quintessential thing to do in Maui. We've all fantasized about attending a Luau since watching Brady Bunch reruns as kids. This traditional feast on the beach with dancing, tiki torches is a must for anyone going to Hawaii. On Maui, Old Lahaina and Wailea Luau are great choices. But there are Luau's all around the island. Just ask your resort where to go!
5. Kite Boarding
If you are looking for a different activity in Maui give kiteboarding a try. While staying in the town of Paia we had the opportunity to take a course with Kiteboarding School Maui. It ended up being the best time we've ever had in the surf. You can sign up for a taste of kiteboarding for a day or enroll to become a qualified weekend warrior. It only takes a few days to learn, and by the time you are halfway through your vacation, you'll be up and kite boarding all on your own!
6. Bamboo Forest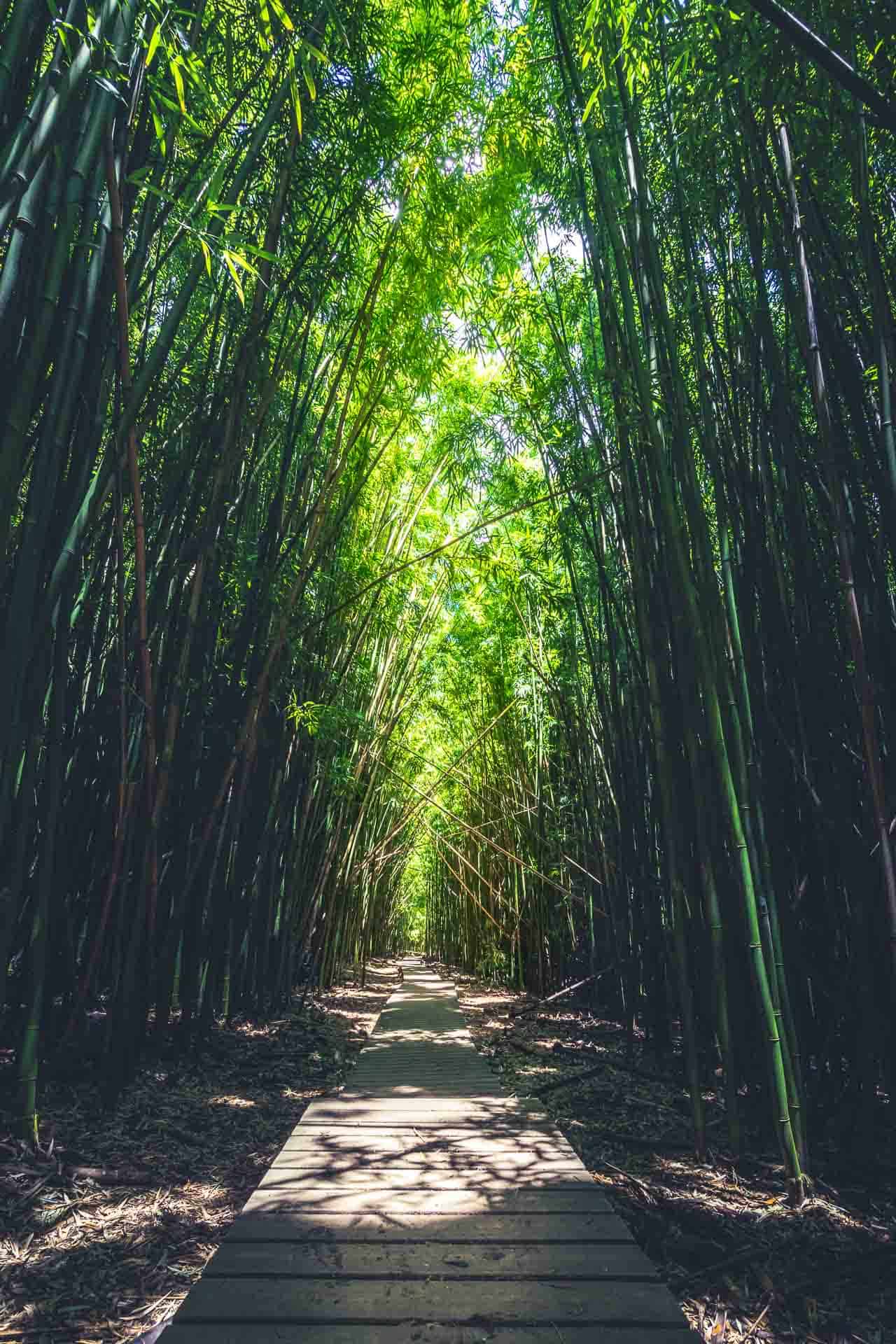 Hike through the best bamboo forest outside Japan. The Haleakala National Park is the most popular attraction in East Maui. It is filled with beautiful walking trails and waterfalls, but it is the bamboo forest that makes it truly unique. Taking the Pipiwai Trail, we found ourselves within a forest of high bamboo surrounding us at every turn. The sound of the sea gave way to a musical melody of bamboo wind chimes blowing in the breeze. It is one of the most magical things to do in Maui.
7. Seven Sacred Pools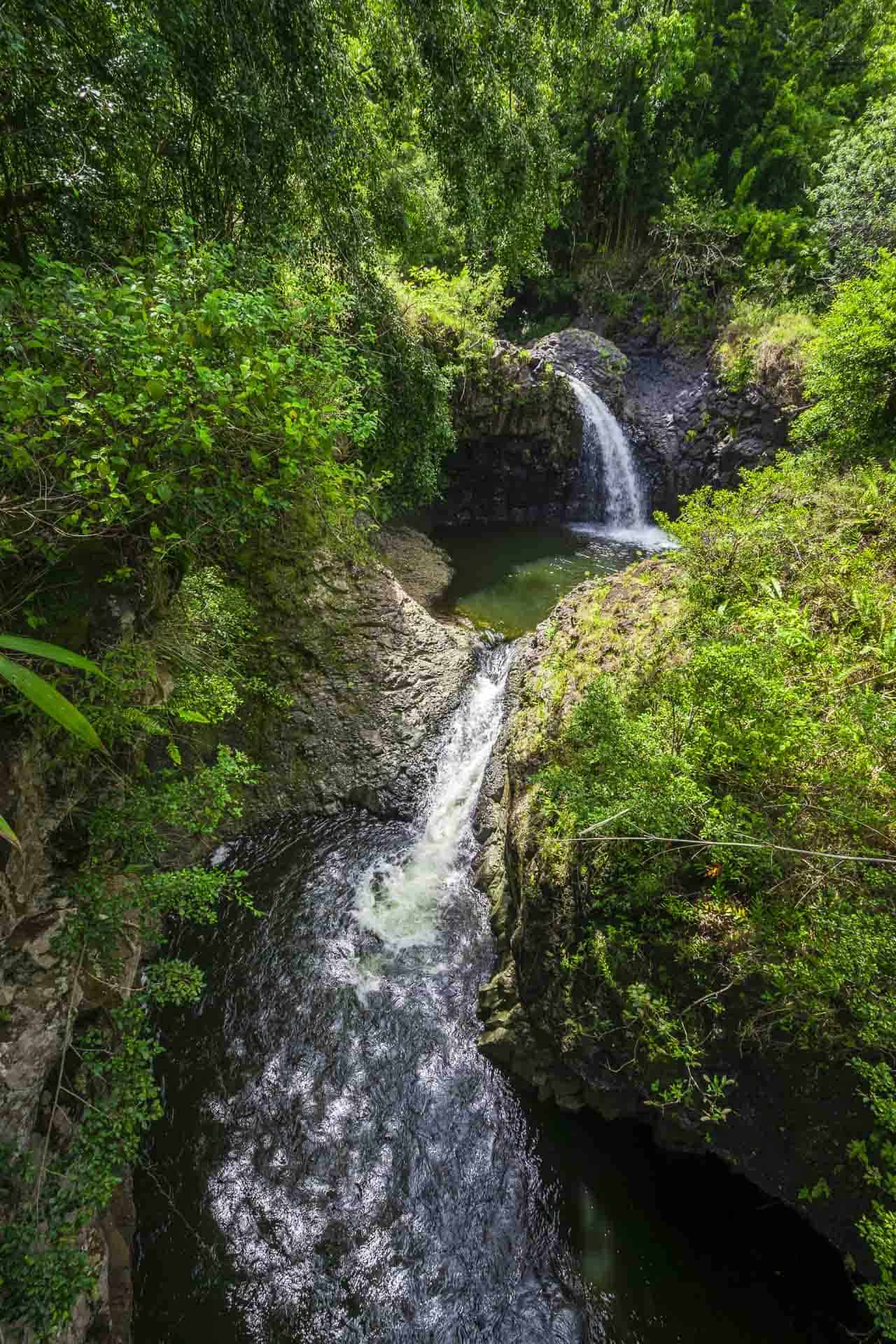 Located in The Haleakala National Park, the Seven Sacred Pools, The Pools at 'Ohe'o are one of the most popular attractions in the national park. They are located just a short in from the parking lot and many people only go as far as here a half mile in. A hike along the Pipiwae Trail is an amazing day trip, so we suggest you hike out to the end to truly take in everything.
8. Learn to Make Hawaiian Poke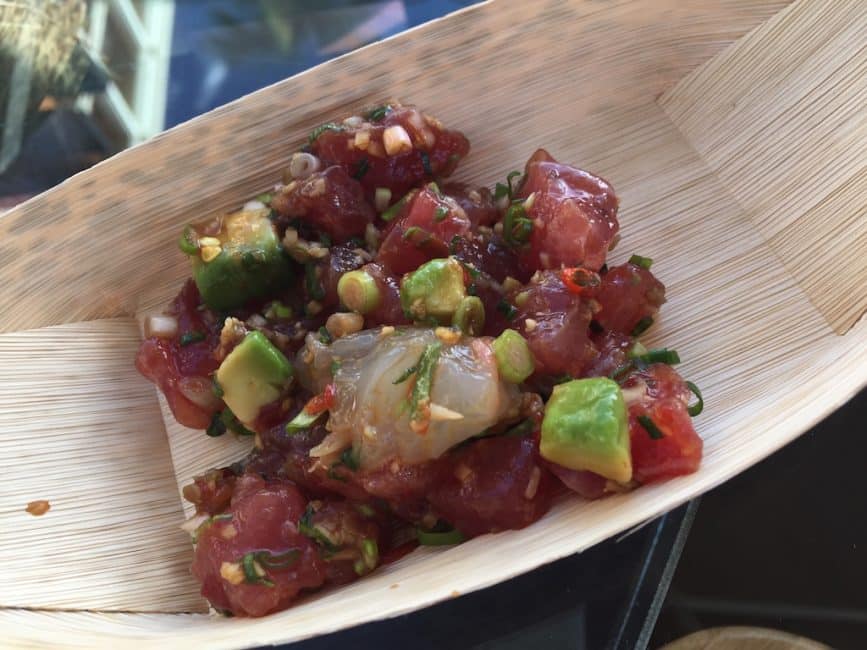 One of the funnest things to do in Maui is to learn how to make the local cuisine. We always love taking a cooking class, but we had never come away with a recipe so easy and delicious. Poke is a raw fish salad mixed with fresh herbs and spice. It is the most refreshing dish and you'll be able to impress your friends at home on a hot day. Watch our video: How to Make Hawaiian Poke
9. Go Surfing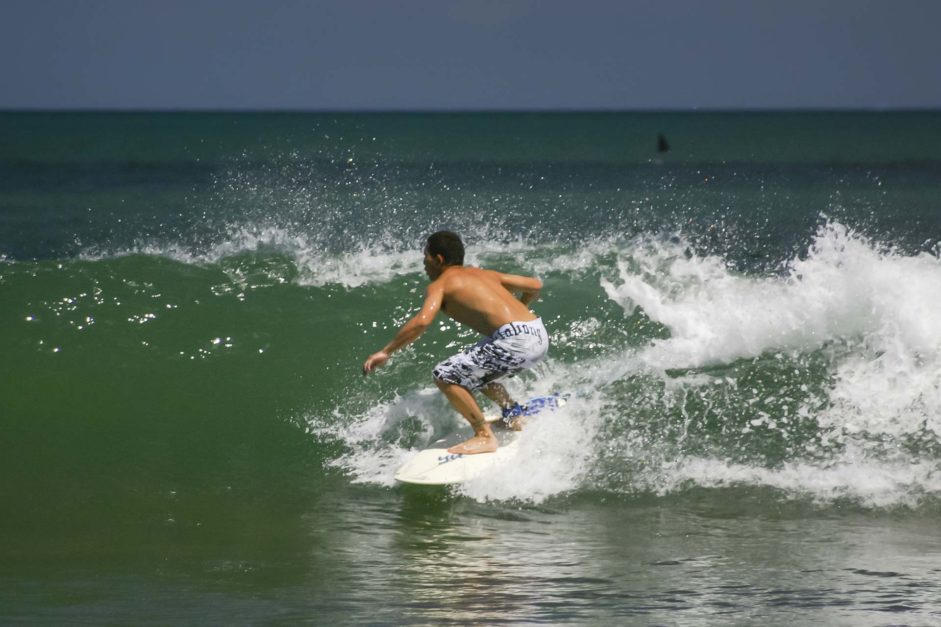 I know we said there are many things to do in Maui besides surfing but how can you come to Hawaii and not hit the waves? Even if you don't have experience you can take surfing lessons in Maui. Its known for its big breaks attractions professional surfers from around the world, but there are beginner breaks too. Check out Paia Bay, Kaanapali Beach or The Cove at Kalama Beach Park for beginner surf spots. Or just ask your hotel where to take surfing lessons.
10. Hike to Waterfalls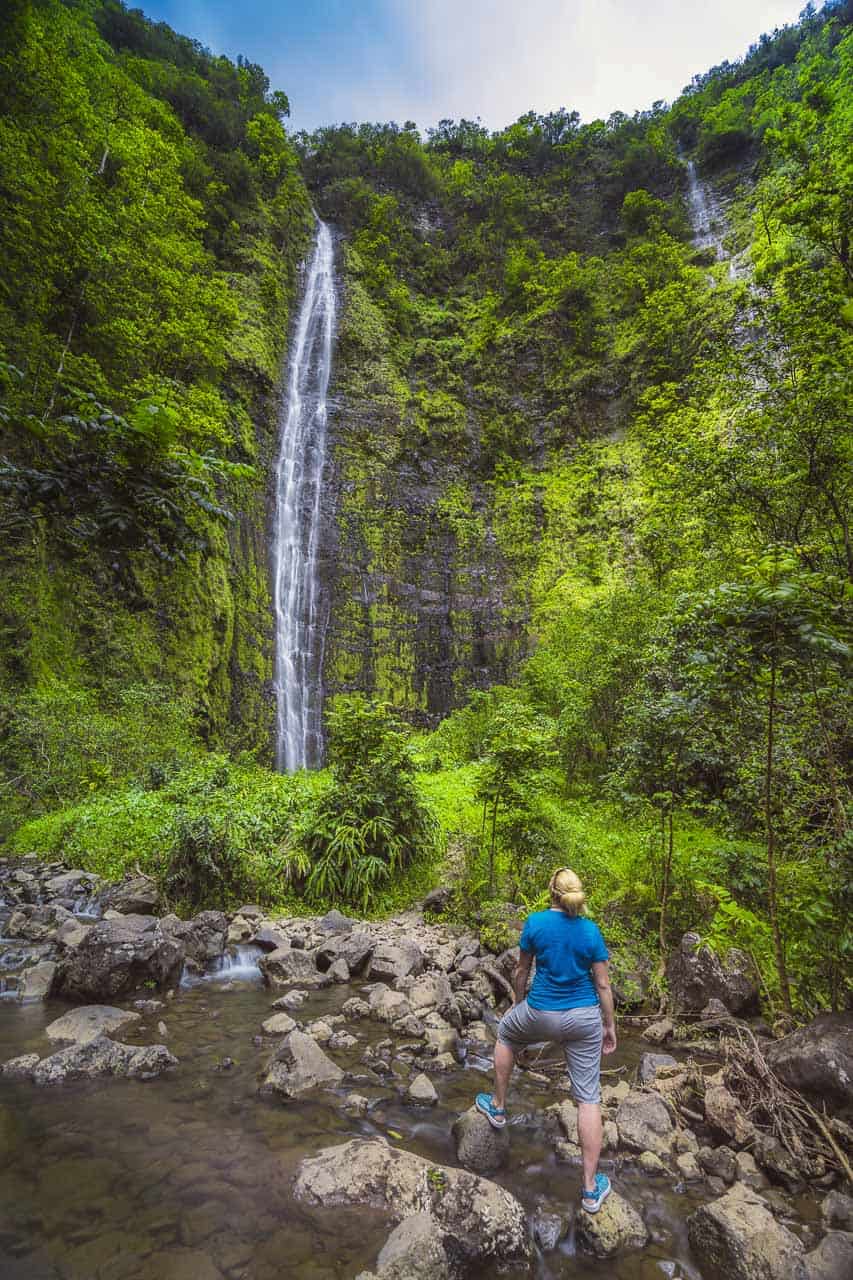 Maui has spectacular waterfalls and one of the best we saw was in Haleakala National Park when hiking pass the bamboo forest. But therea re other places to see waterfalls on Maui. Take a tour with Hike Maui to explore the rainforest and discover waterfalls reaching 40 feet up in the air where you can go swimming in the pools and even under the cascades. Hike Maui Tour.
11. Helicopter Tour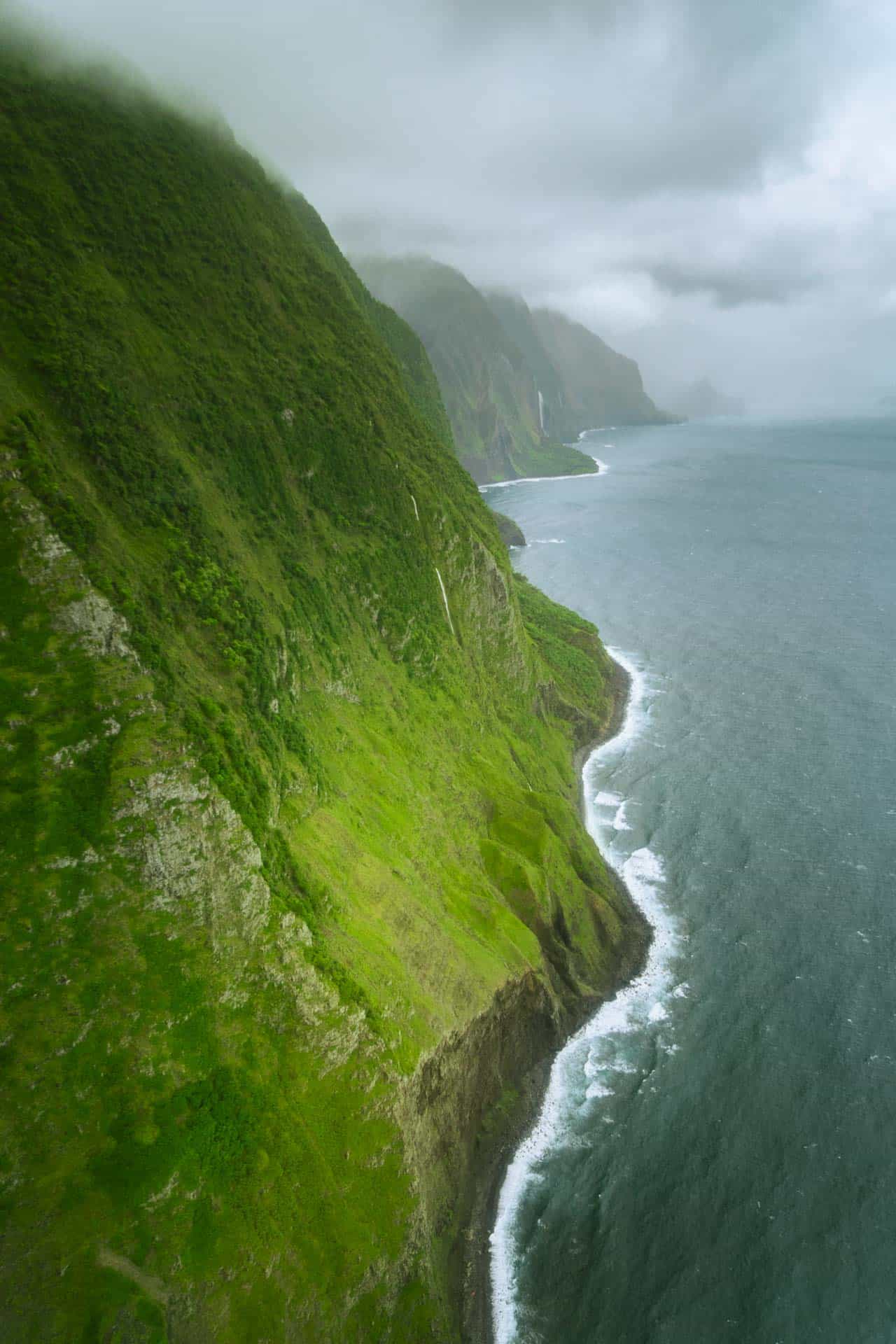 Nothing beats seeing Maui's high sea cliffs from the air. When you take a helicopter tour with Air Maui, you really get a sense of the wild beauty of the island. Air Maui took us all along the coast of Maui and into the interior where we saw waterfalls and the pineapple plantation. We even made our way out to see the coast of Molokai. Enjoy our video of this scenic tour of Maui – Maui Helicopter Tour
12. Whale Watching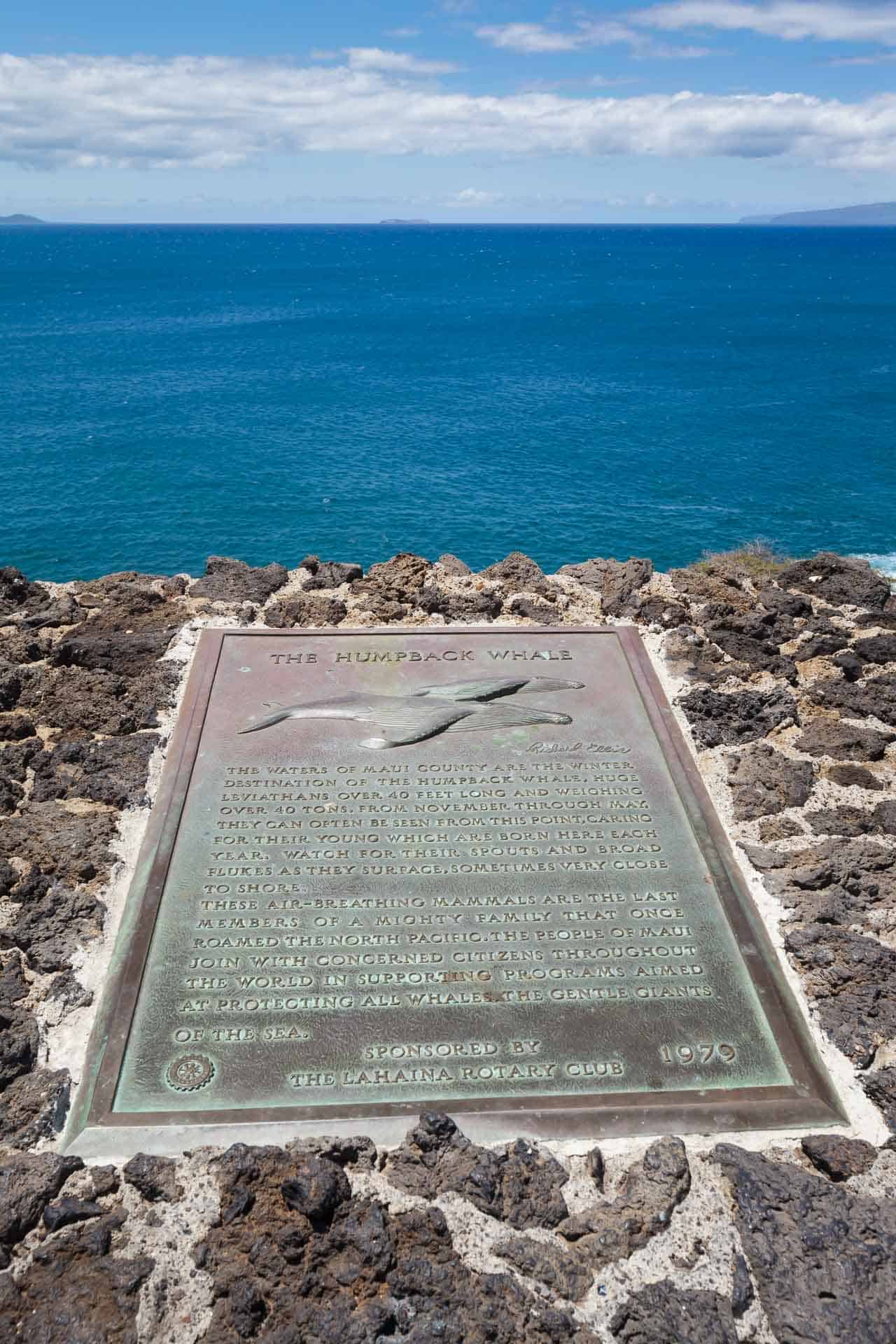 One of the best things to do in Maui is to go whale watching. Whales migrate through Maui from November to May as they make their way from Alaska. December to April is the humpback whale season and you are nearly guaranteed to spot them as Maui is home to the densest whale population on earth at this time 10,000 Humpbacks frolicking in it shallow warm waters.
13. SUP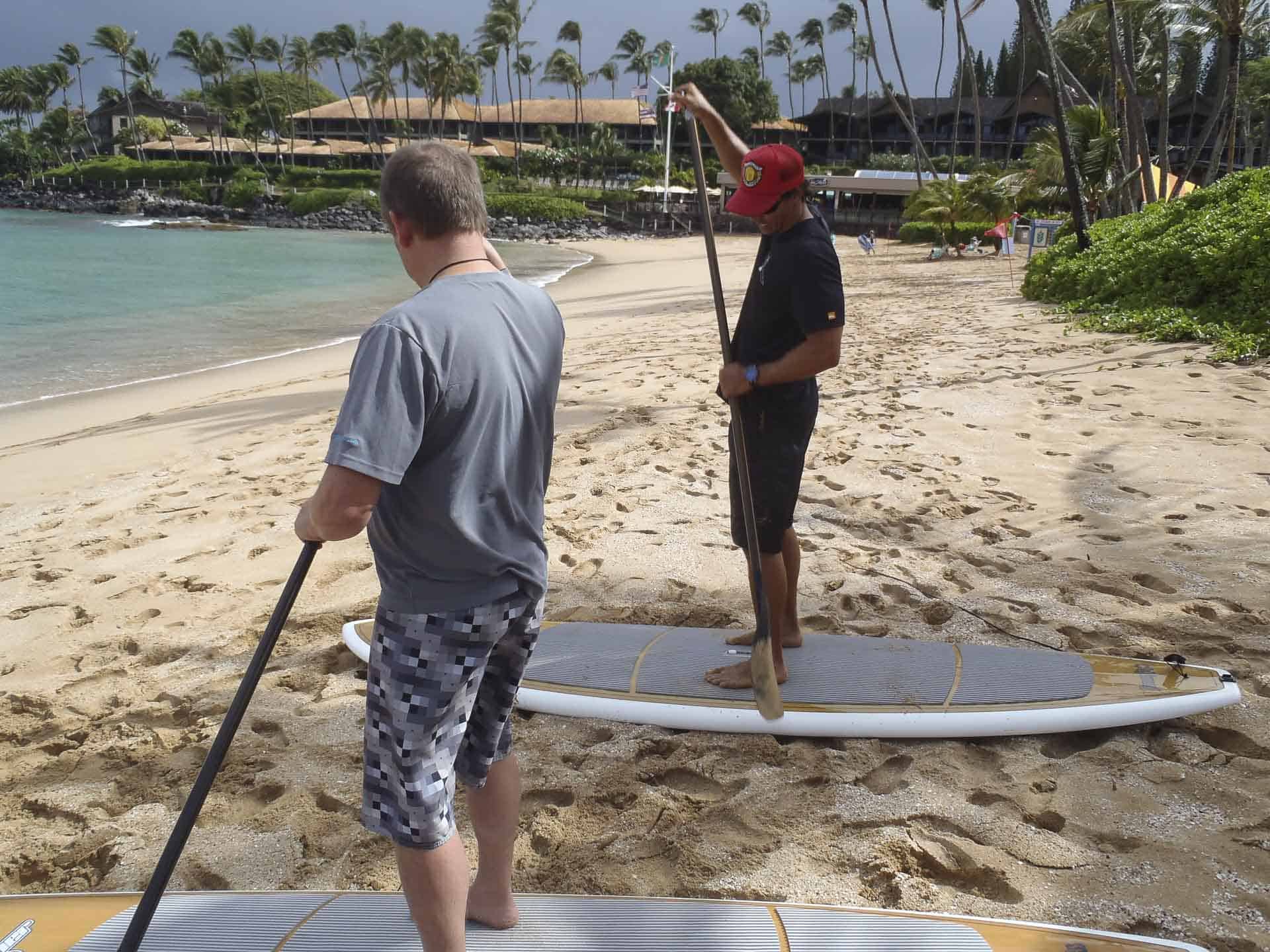 If you are looking for adventures in Maui that you also can try when you get home give stand-up paddleboarding (or "SUP," as it's known) a try. It seemed that every beach we went to on Maui had people SUPping. It's a bit like surfing mixed with a touch of canoeing. We learned to SUP in Maui in the calm waters of Napili Bay with Tikiman Stand Up Paddle. When you learn to paddle in Maui, you can paddle anywhere.
14. Canyoning
If you are looking for a bit of excitement, canyoning mixes a bit of rock climbing with hiking and swimming.  Maui Canyoning takes you rappelling over waterfalls and plunging into pools. Don't worry you don't need any climbing experience to go canyoning and once you've tried it, you'll want to do it again and again. Check out Maui Canyoning for details.
15. Paragliding
Imagine the feeling of flying in silence through the air as you take in the tropical views below. Paragliding is the perfect way to experience the thrill of skydiving without having to jump out of a plane. On Maui, Proflyght Paragliding takes adventurers off the slopes of Mount Haleakala for spectacular views. You fly in tandem with skilled instructors so you don't have to do anything but simply enjoy the ride.
16. Eat Shave Ice
No trip to Maui would be complete without trying the signature dessert, Shave Ice. Shave is has strong roots in Maui as Japanese plantation workers brought their tradition to the pineapple and sugar cane plantations. These giant desserts are created by blocks of ice shaved to create light snow and topped with delicious fruit flavours.
We loved Ululani's Shave Ice in Maui. They seven locations around the island including Lahaina, and Paia.
17. See the Rainbow Trees of Maui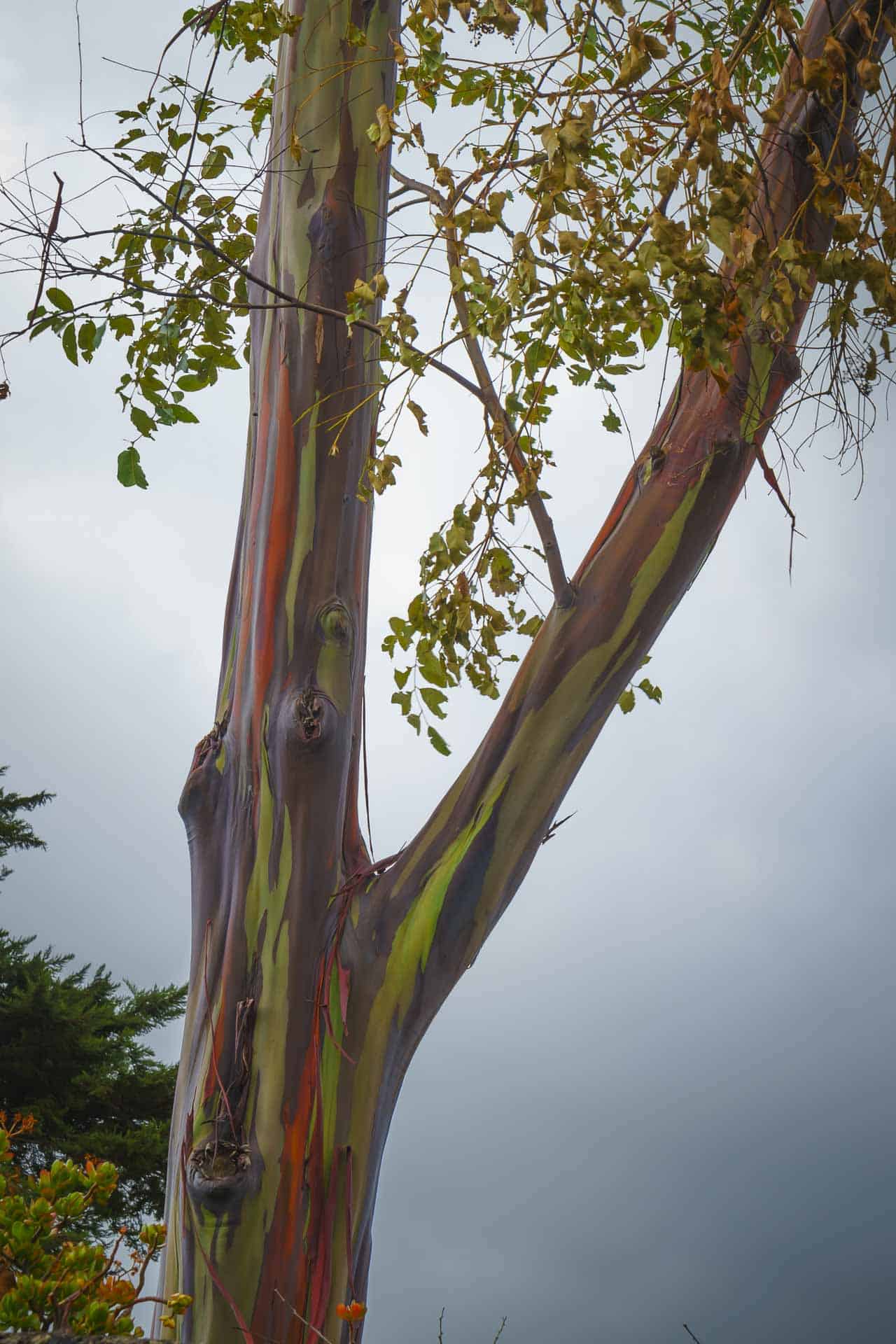 One of the most peculiar things to see in Maui are the Rainbow Eucalyptus Trees. These colorful trees look like paintings as the colors of the rainbow reach up their trunks. Also known as Mindanao Gum or the Rainbow Gum trees, these rainbow trees can be found on the Hana Highway.
18. Walk the Waterfront at Wailea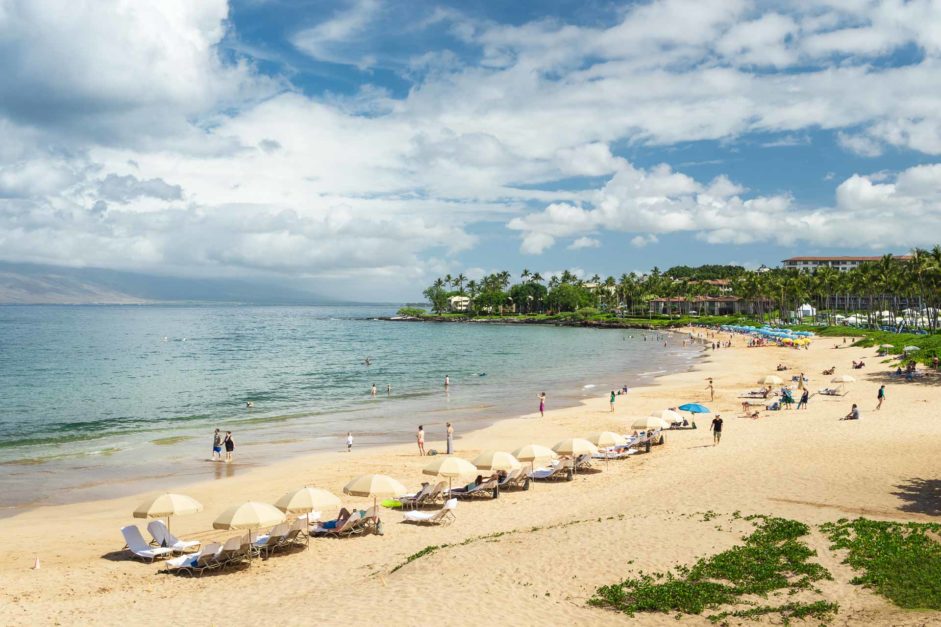 When staying at the Fairmont Kea Lani, we had access to the most beautiful waterfront on Maui. Connecting the Four Seasons, Wailea and Fairmont, this is one of the most prestigious stretches of waterfront on the island. There are plenty of watersports, shopping and dining along the beach. Be sure to pop into the shops of Wailea.
Check out the Fairmont Kea Lani
19. Go Sailing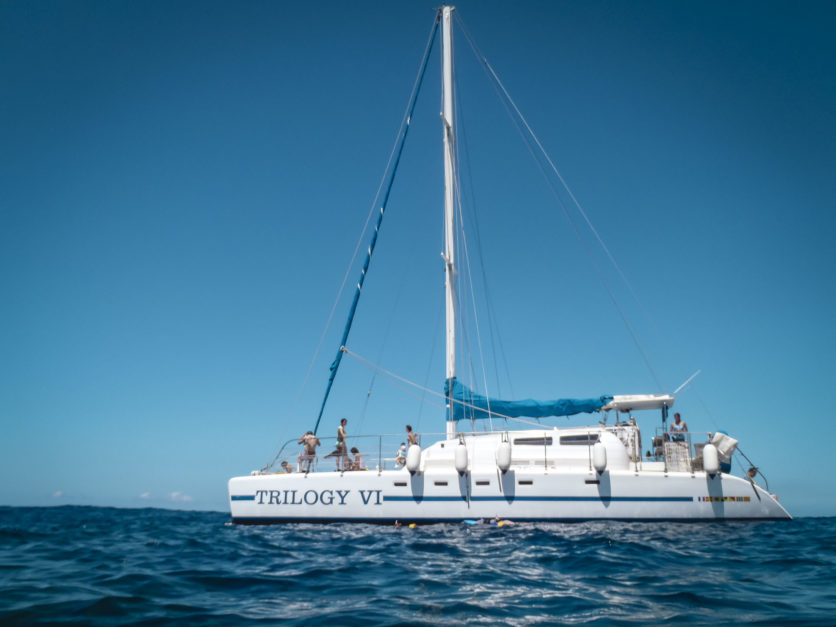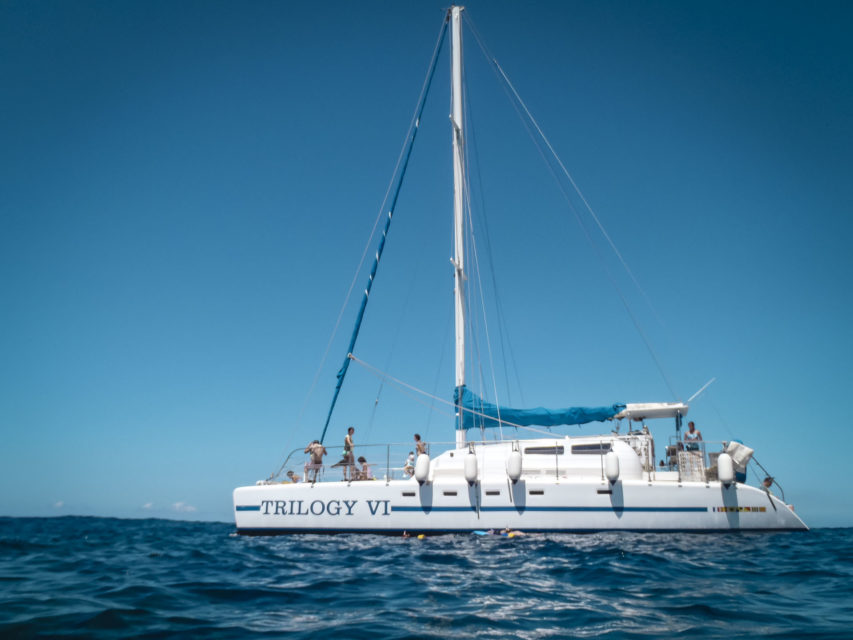 No trip to any island would be complete without going sailing. There are plenty of sailing adventures to be had in Maui. A Lahaina Sunset Sail is not to be missed. And there are even snorkeling tours that will take you to the neighboring island of Lanai.
20. Seafood at Mama's Fish House
Mama's fish house is world famous on Maui's north shore. Fresh catches are caught offshore daily and are served fresh within 24 hours of being caught.
21. Paia Fish Market
For fish on the run, Paia Fish Market is a great stop for lungh. Grab a plate of Mahi Mahi and sit shoulder to shoulder with island goers. Cool fact, we sat beside Luke Wilson when we were in Maui. It was so cool to see a celebrity enjoying life on Maui. Check out their website and stock up before hitting the Hana Highway.
22. Slack Key Show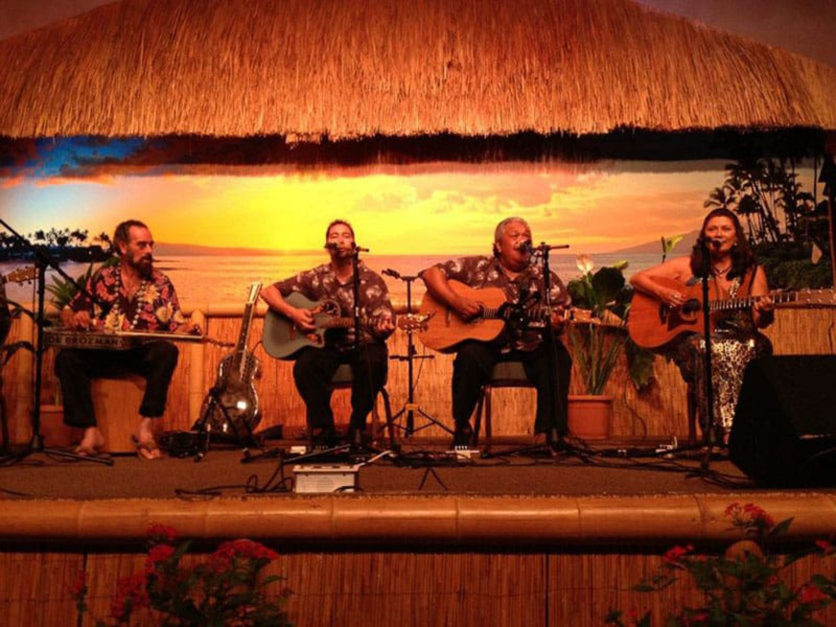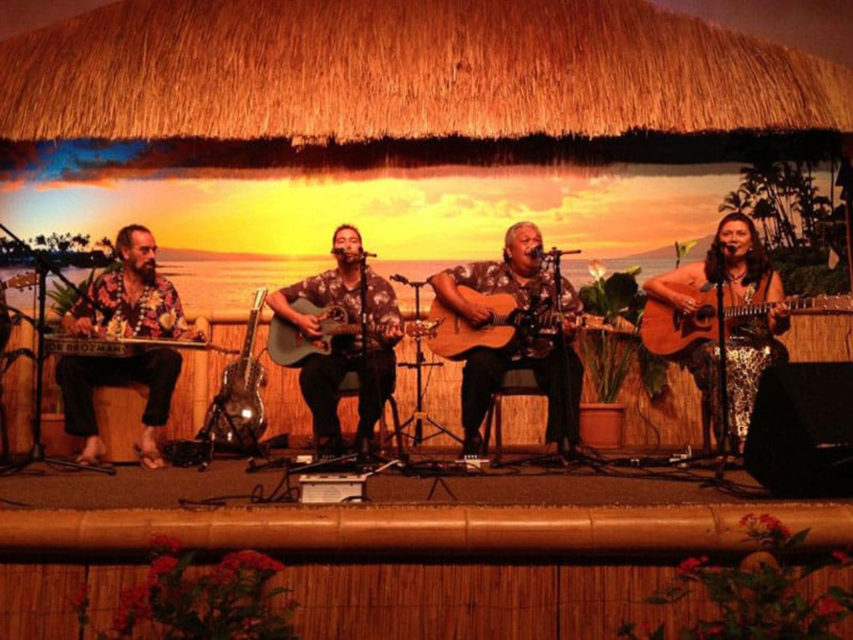 A unique tradition on Maui is to play the slack key guitar. One of our favourite shows on Maui was watching the fast fingers of the Slack Key Show at Napili Kai Beach Resort. Chances are your hotel on Maui will have a beach, but some of the best beaches on Maui to check out are Ho'okipa Beach Park, Ka'anapali Beach, Ho'okipa Lookout.
23. Watch the Sufers at Ho'okipa Lookout
This is not a place we recommend getting in the water, but it is the coolest place in Maui to sit and watch surfers ride the waves. It has beautiful views of the Pacific Ocean and it's a great places to watch the sun set on Maui.
24. Take in Sunrise at Haleakala Crater 
If a beautiful sunrise is on your list of things to do in Maui, and early morning wake up call to the top of Haleakala Volcano for a birds-eye view of the island. Be sure to pack a winter jacket, (it gets cold up there in the am) leave early (we're talking 3 am to be at the top parking lot) and pack water and snacks.
25. La Perouse Bay Coastal Hike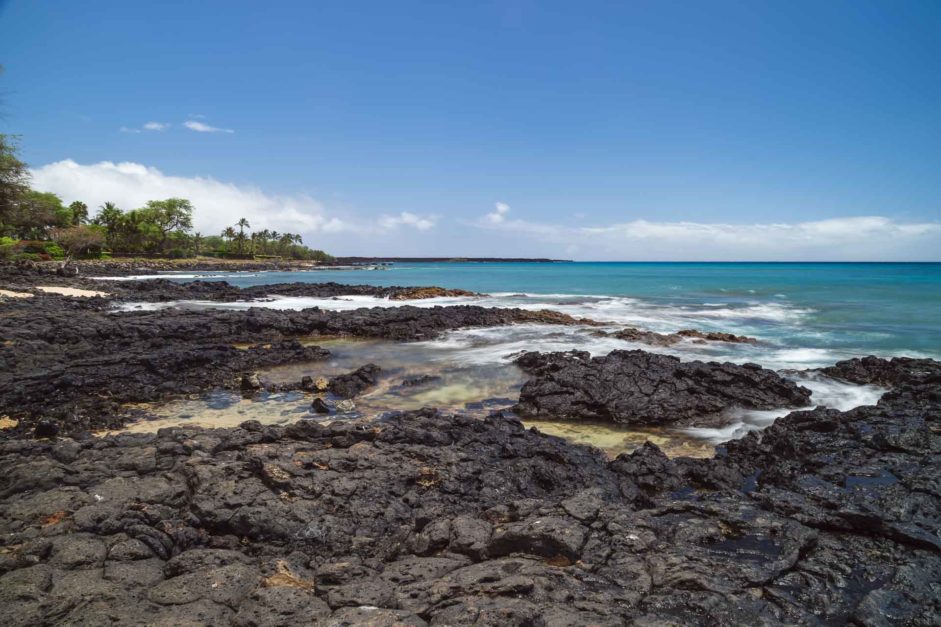 One of our favorite things to do anywhere is to walk along the coast. La Perouse Bay Coastal Hike at Makena offers beautiful views of Maui's lava flows. Located in the Ahihi-Kinau Natural Area Reserve, this wild coastal hike takes you past the wild waters of the coast, blow holes and lava rocks. It is truly beautiful.
26. Enjoy a Mai Tai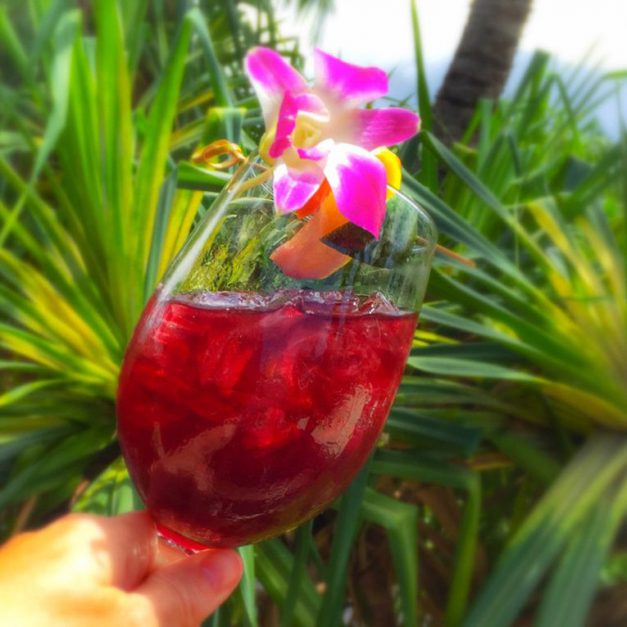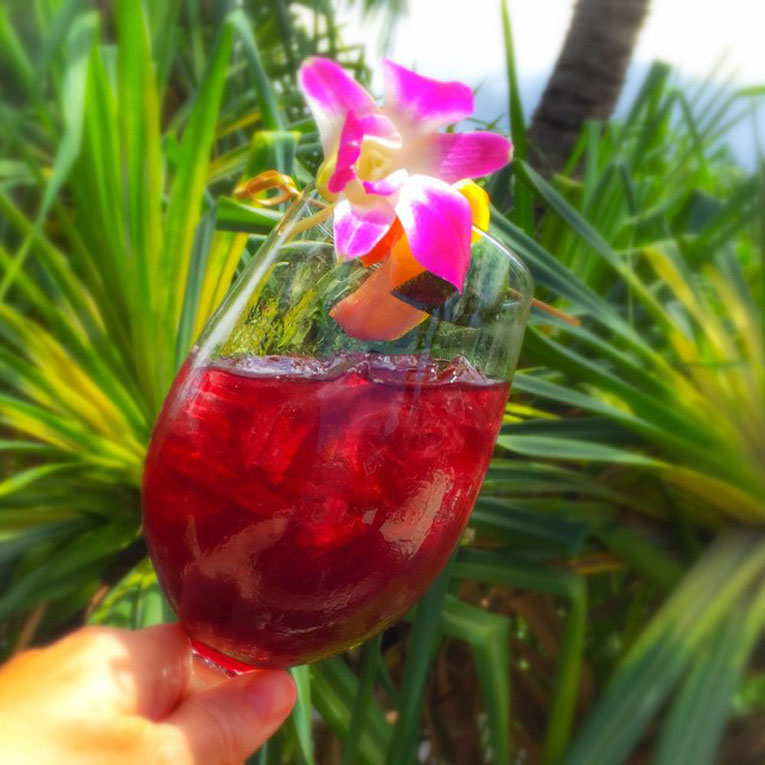 Mai Tai's are synonymous with the island and no visit to Maui would be complete with sipping this Tiki-themed cocktail while listening to soft Hawaiian music. Monkey Pod Kitchen in Wailea makes a found Mai Tai and Mama's Fish House on the North Shore serves up signature Mai Tais as well. But don't worry, you'll be able to try one no matter where you are on the island.
Where to stay in Maui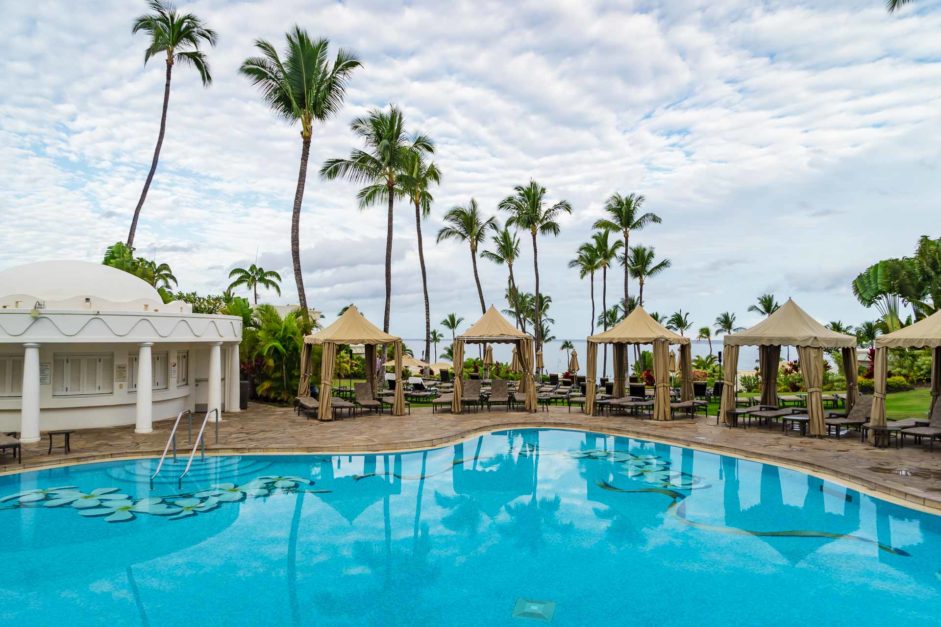 Luxury – Fairmont Kea Lani
Located on Maui's West Coast at Wailea's Polo Beach, this all suites luxury hotel was divine. Located in Wailea it is a central location close to shopping, dining and other five star resorts. See more of the Fairmont for rates and availability.
Authentic – Napali Kai Beach Resort
Old school Hawaiian Charm with luxury suites. This resort makes you feel like you are in the real Maui. Located on the beautiful Napali Bay in Lahaina, there are plenty of watersports and activities. Find Rates and Availability.
Laid Back – Paia Inn
Located on Maui's North Shore, Paia Inn is a places you can chill out, enjoy yoga classes on the beach and chic boutique hotel rooms located directly on the beach. Check out this hip boutique hotel on the North Shore of Maui.
Read More: