Looking for some easy day trips from Toronto to get you out of the city soon? Ontario is an outdoor lover's playground. Part of the charm of living in this province is to get in the car and look for farmer's markets, conservation areas, (there are 500 of them!), and beaches and parks along the Great Lakes.
We like to look for a section along the Bruce Trail that we haven't explored yet, pack a lunch and head outside! But if you want to have some more concrete plans for your day trip ideas in Ontario, we've got you covered!
The other day, we suggested the best weekend getaways from Toronto, well, today we want to share ideas for quick day trips from Toronto. Sometimes, you only have a day, and these trips will get you back to the city and have you tucked into your bed for a good night's sleep.
Easy Day Trips from Toronto
As we keep hearing good news about vaccine jabs getting into arms, I can't help but start dreaming about getting away from it all. I don't know about you, but I have COVID fatigue and while I am still staying home right now, it doesn't mean that I'm not planning for the future. It looks like Ontario is going to be my playground in the foreseeable future, and that is amazing, because there are so many things to do in Ontario from Toronto!
Note some places may be closed due to restrictions, be sure to check with Ontario Parks, The Conservation Authorities or Parks Canada for openings and bookings. Many trails require advanced bookings.
Milton (40 minutes from Toronto)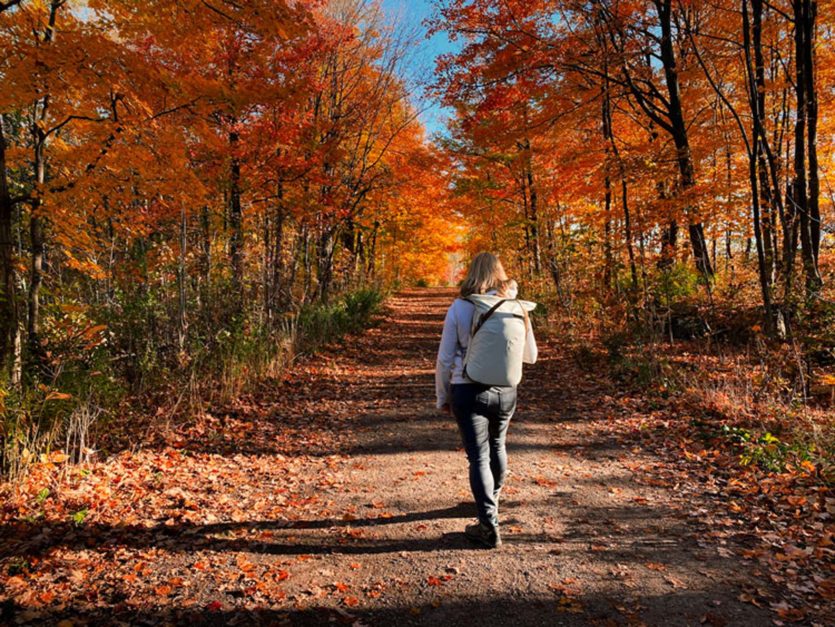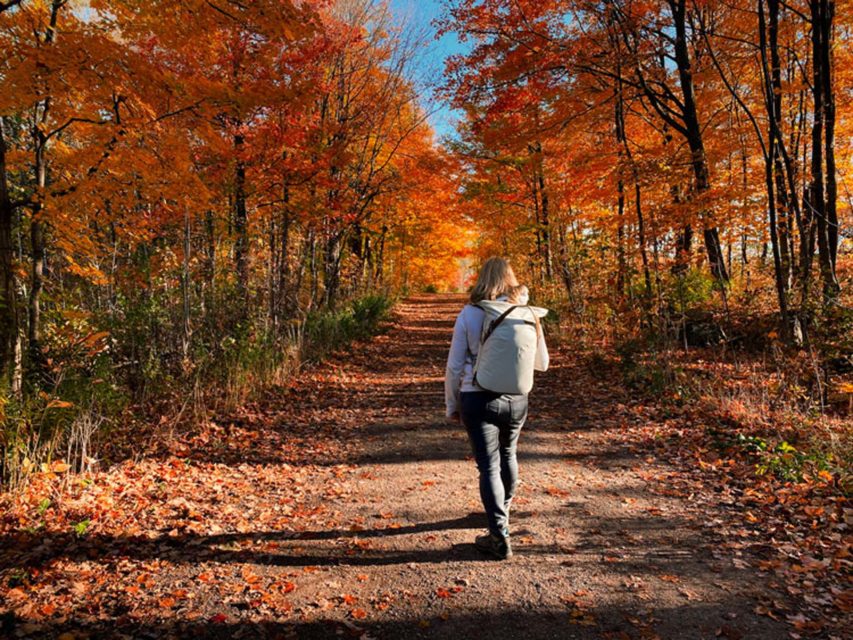 Our favorite day trip from Toronto is heading out to Milton. Located just 40 minutes from the city, it's an easy escape with so many things to do. The Kelso Conservation area takes you into the Niagara Escarpment where there's a great ski hill for snowboarding and snowshoeing in the winter months, and in the summer it turns into a fantastic place for mountain biking. You can park at the parking lot in the top so you don't have to climb the ski hill to get started. (we did that rookie mistake our first time biking here)
Located on the Bruce Trail, it has great hiking too. The Lime Kiln trail allows no mountain bikes, so it's a great choice. Check
Rattlesnake Point and Mount Nemo (45 minutes from Toronto)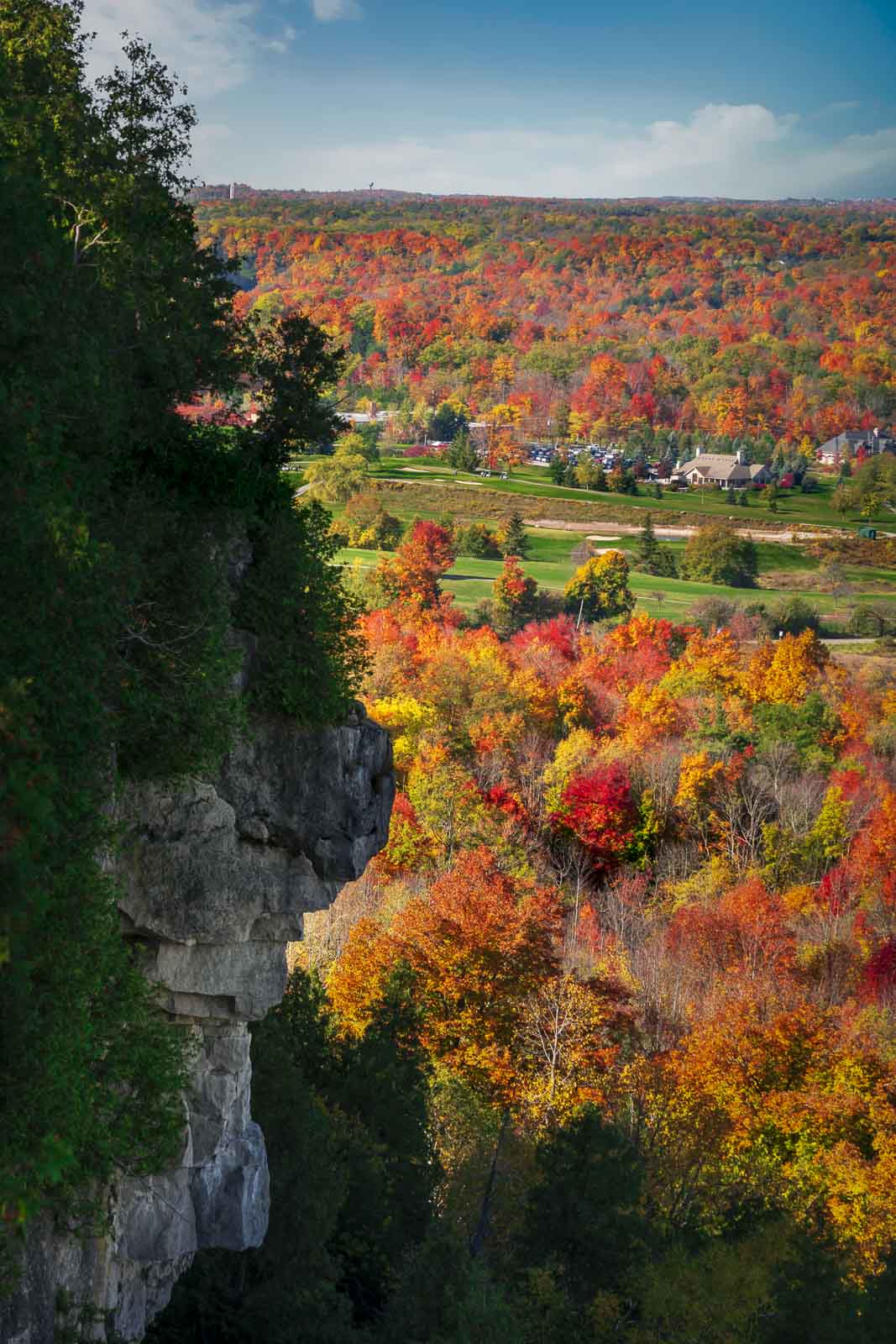 For rock climbers, nearby Rattlesnake Point Conservation Area and Mount Nemo have some of the best sport climbing routes near the city. Located just 10 minutes from each other, we have often checked out routes in Rattlesnake Point and moved on to Nemo after doing the ones that were within our limites. These are also very close to Milton.
If you don't have lead climbing experience, Book a course with On The Rocks. We used them back in the day to first learn how to rappel and top rope.
Hamilton Waterfalls (1 hour from Toronto)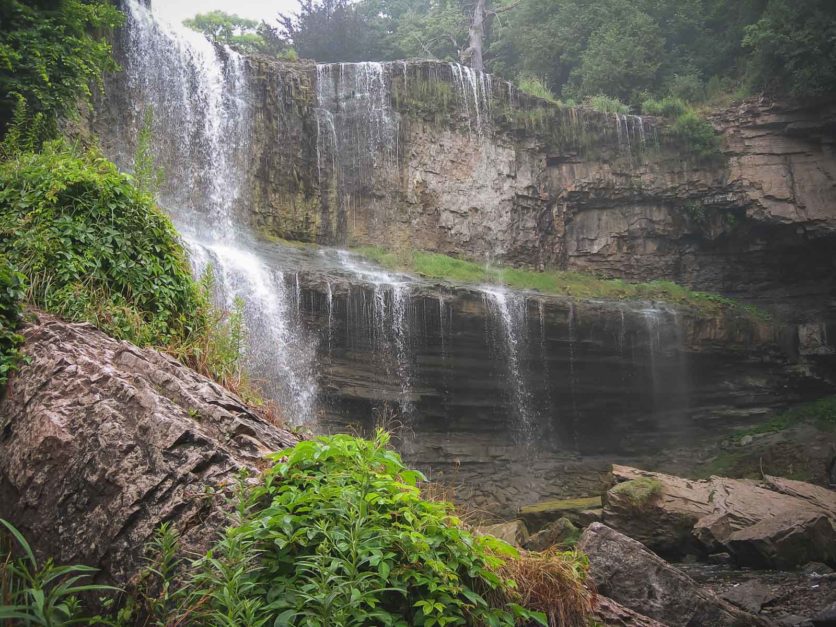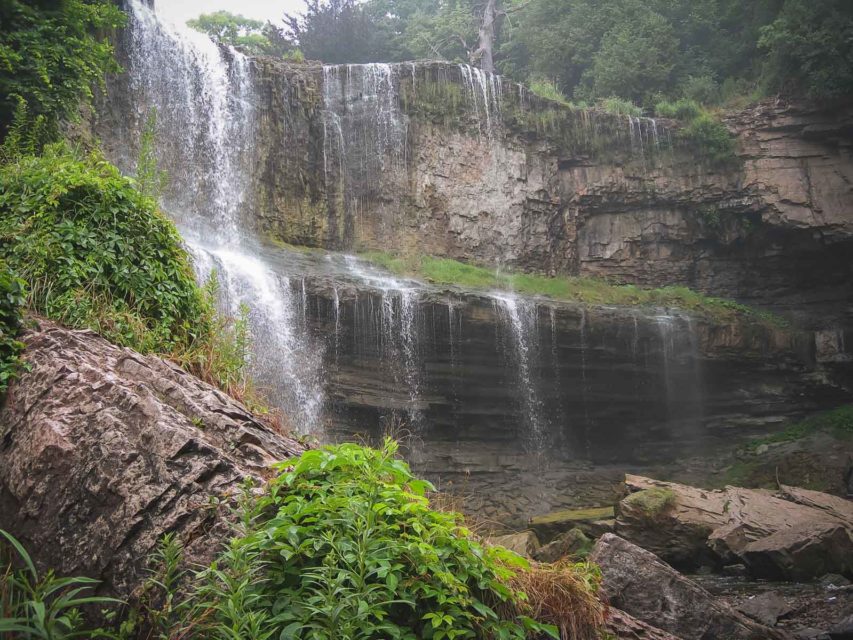 Who would have thought that Hamilton was so filled with beautiful waterfalls, but it is! And Hamilton has become one of the hottest day trips from Toronto for that reason. Take a day to hike out to some of its waterfalls. Some of the more beautiful waterfalls in Hamilton are Webster Falls, Albion Falls, Tews Falls. There are 100 waterfalls around the Hamilton area, so take the summer filled with day trips from Toronto to see them all!
Since this lovely pandemic ruined a lot of outdoor activities, you now need to book appointments to hit the Ontario trails. In a way this is a good thing, because in recent years the trails have been over crowded. So if you do want to explore the waterfalls of Hamilton, be sure to book ahead of time here.
Spencer Gorge Conservation Area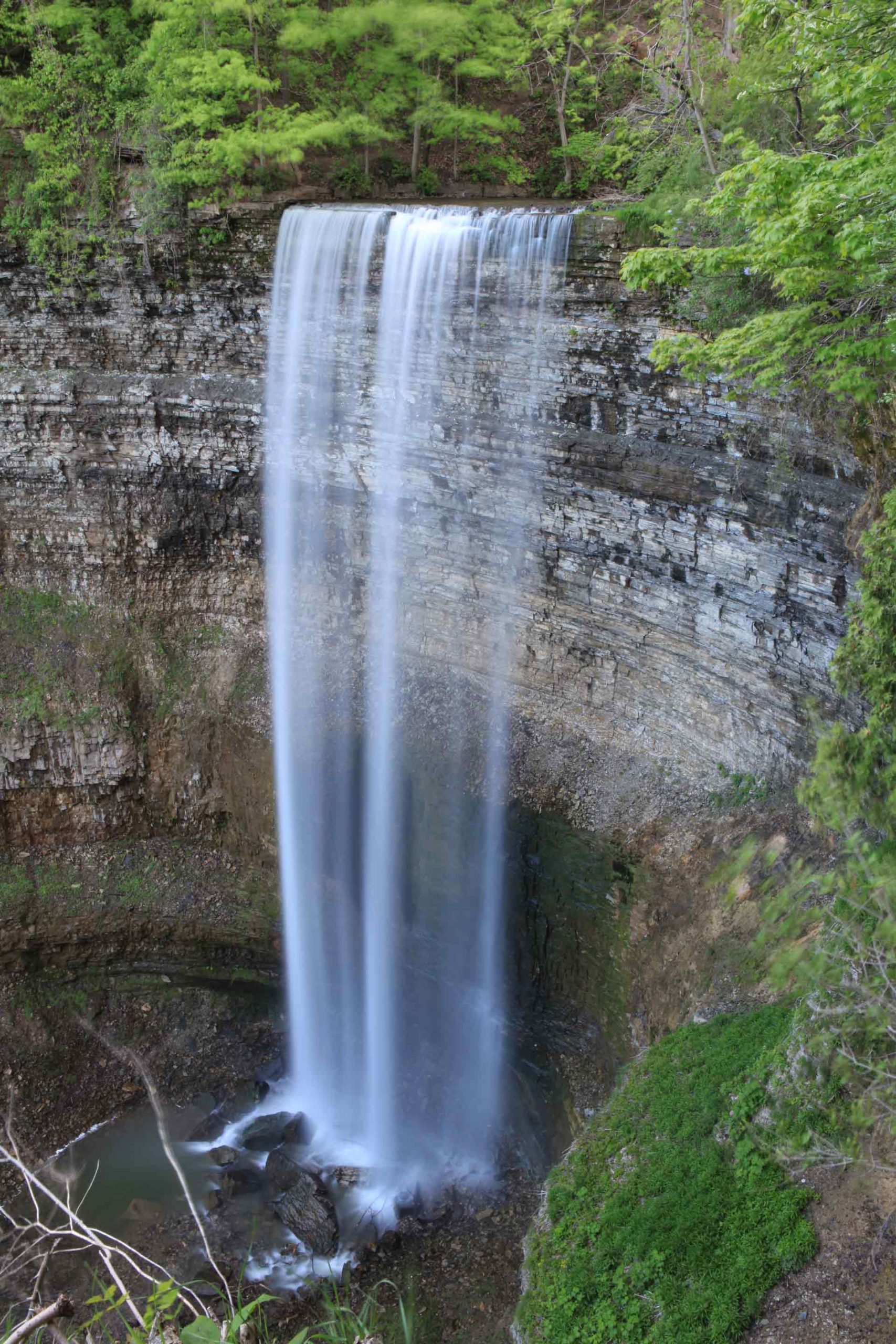 Staying in the Hamilton area, Spencer Gorge Conservation Area is one of the best places in Ontario for fall colors. And most people know it. It is busy! But there is a reason for that the hike to Dundas Peak offers the best view in the area.
I know it is part of the Hamilton Waterfalls list, but it does deserve its own slot on our list. The Tews Falls side trail takes you along the Niagara Escarpment to Tews Falls and then up to Dundas Peak for views of Hamilton and Dundas. After your hike, spend a bit of time exploring Dundas and Hamilton. there are plenty of things to do.
Blue Mountain (2 hours from Toronto)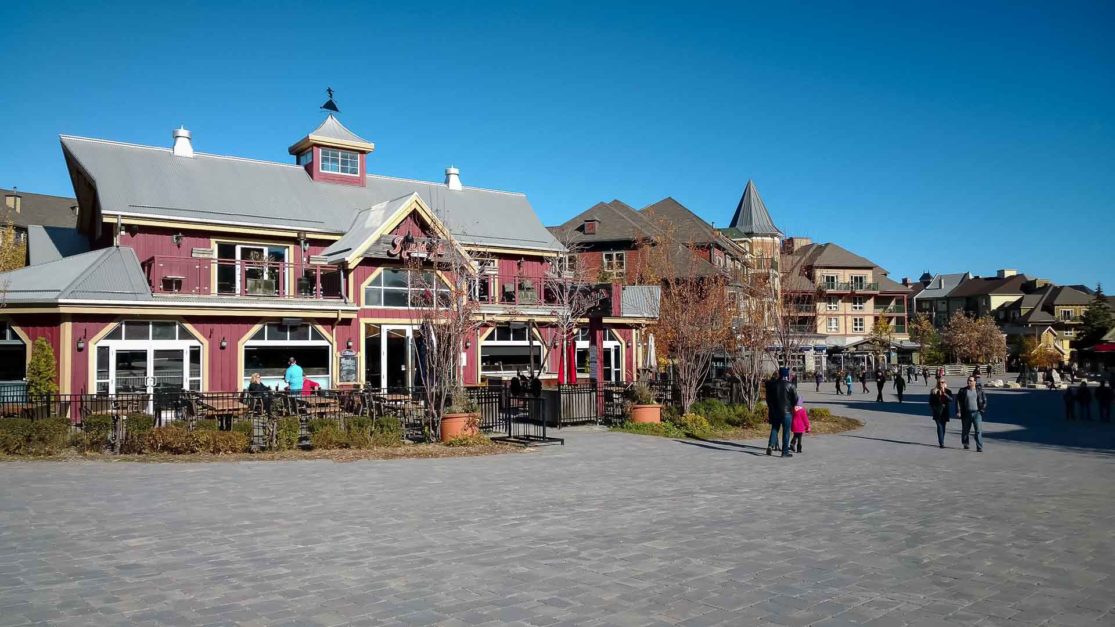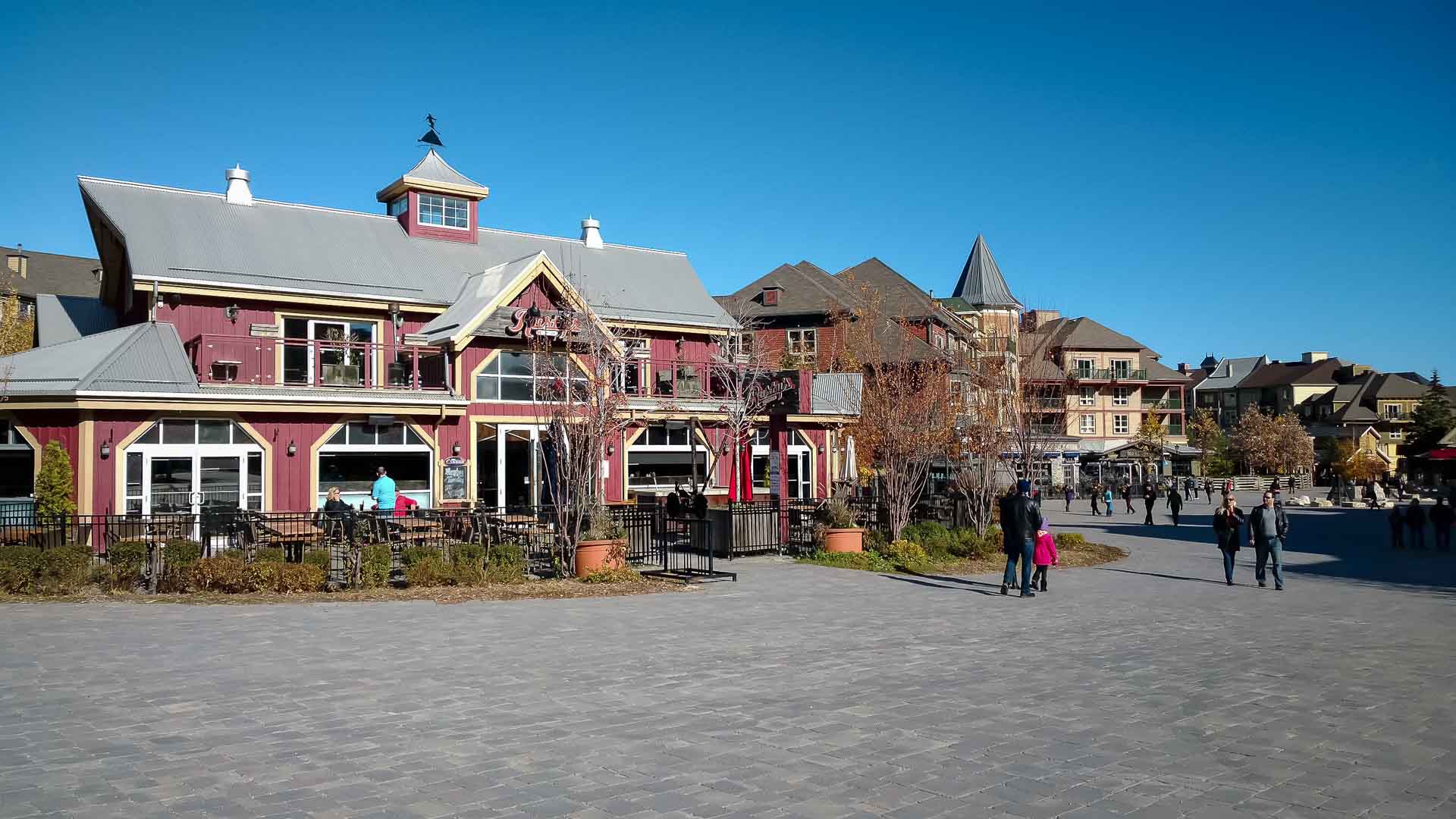 It's a bit of a drive at 2 hours from Toronto, but Dave and I have driven up to Blue Mountain for only a day many times. In the winter, we snowboard the hills at Blue Mountain, and in the summer, there's superb mountain biking and hiking. It's nice just to spend some time wandering Blue Mountain Village while enjoying an ice cream cone or some Rocky Mountain Chocolate Factory.
Blue Mountain has a lot to keep you busy during the day with the Ridge Runner Mountain Coaster, a Zipline and a golf course.
Scenic Caves Collingwood (2 Hours from Toronto)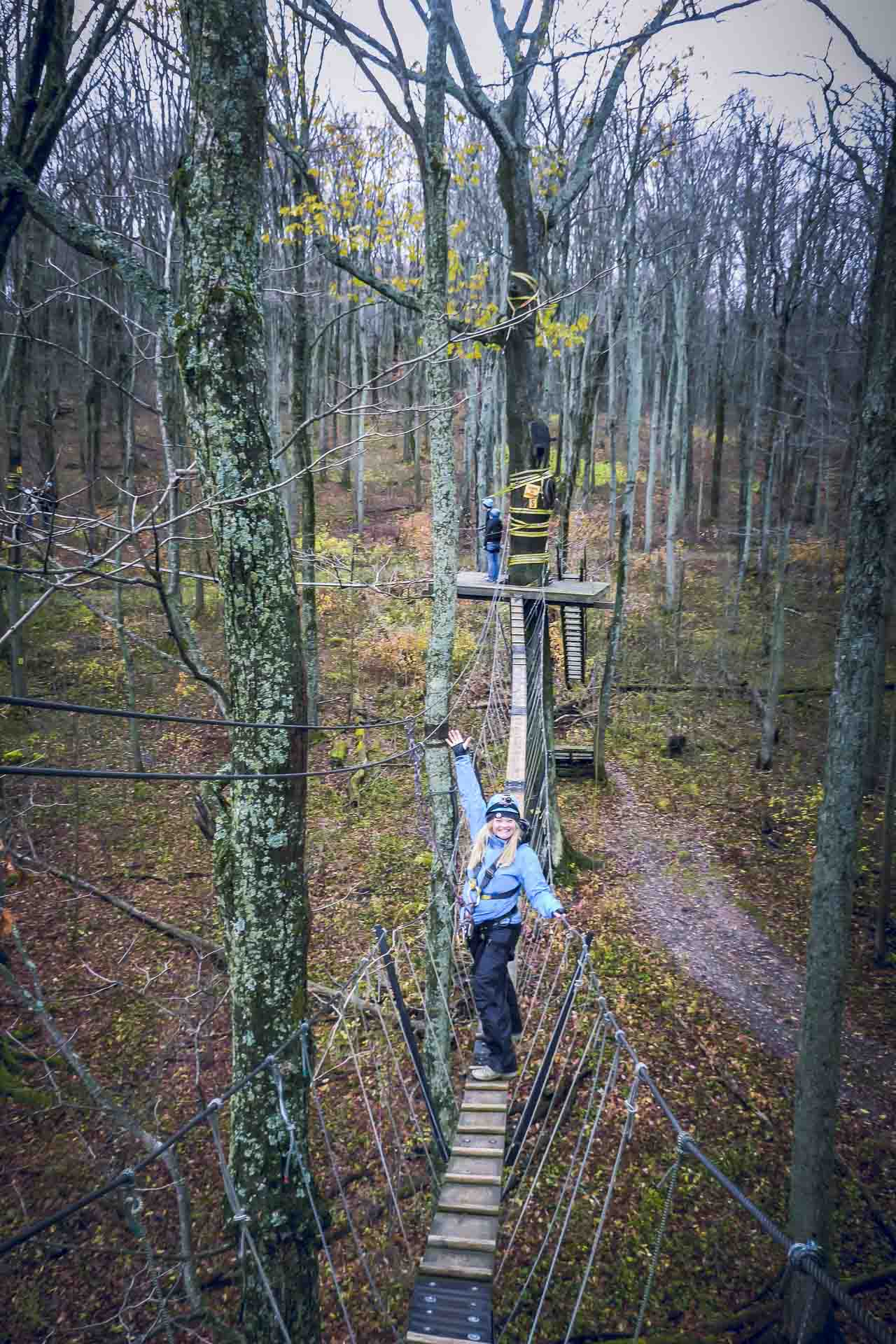 I think one of the first day trips we ever took from Toronto was to the Scenic Caves in Collingwood. You can do a self guided tour or book an adventure with …
Getting to the scenic caves is half the fun as you need to cross Ontario's longest suspension bridge. If you book an adventure, you will be doing some ziplining too!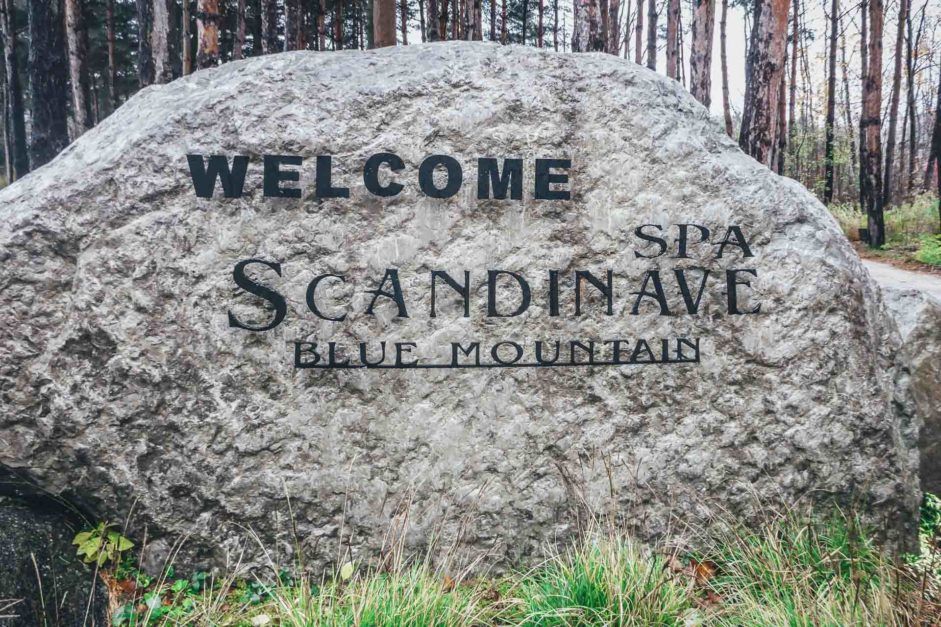 It's worth going up to Collingwood for the Scandinave Spa alone. If you want a relaxing escape from the city, The Scandinave Spa is an outdoor system of hot pools, saunas, steam rooms and waterfalls. Spend the day at a spa surrounded by the Niagara Escarpment.
Learn to Dirt Bike in Ganaraska Forest (1 hour and 10 minutes from Toronto)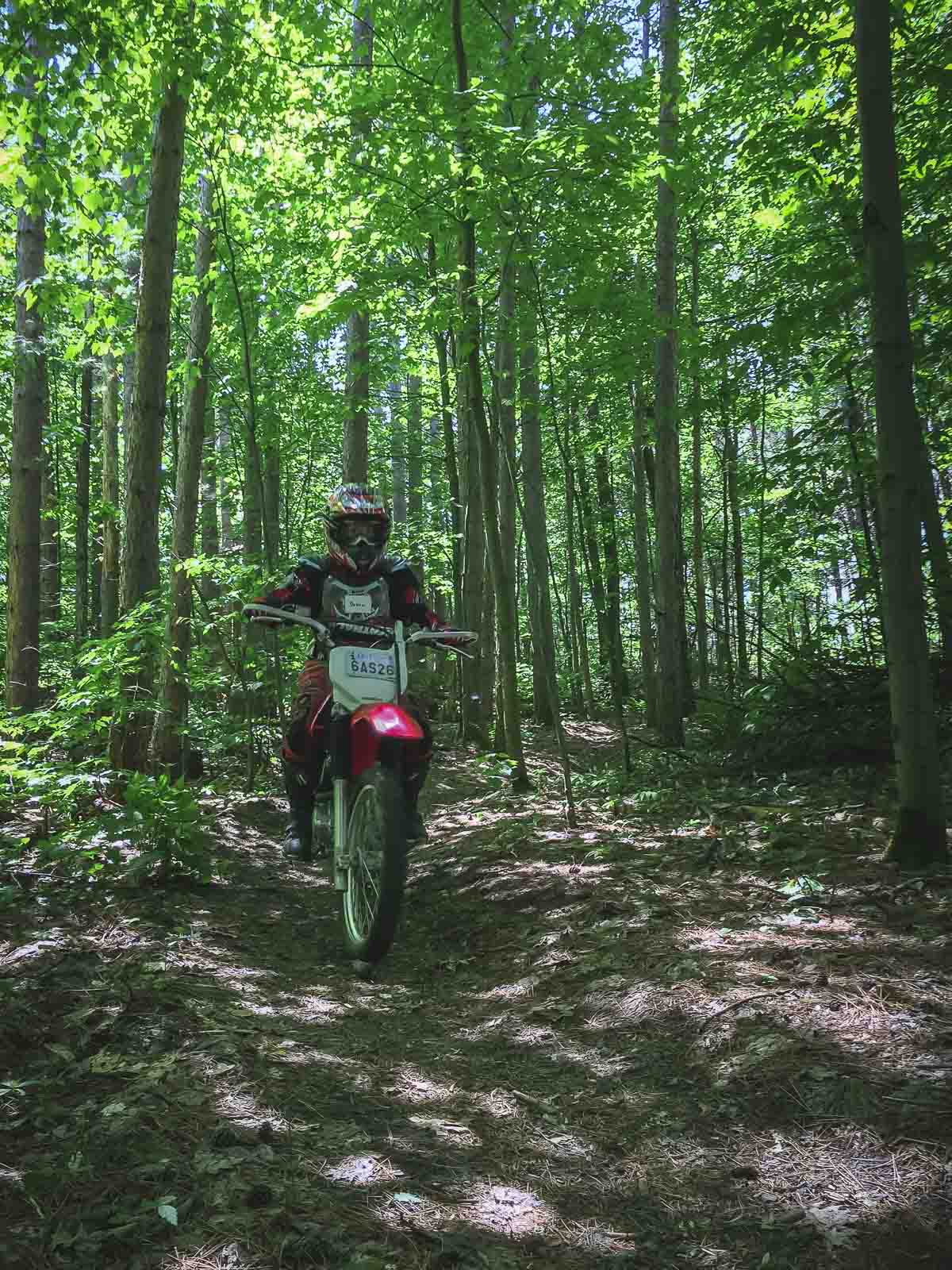 If you are looking for something different for a day trip from Toronto, head out to the Ganaraska Forest, to Trail Tours and take a dirt bike riding course. You don't have to have any experience dirt biking and by the end of the day, you'll be jumping over logs, and zipping through forests with ease.
Ferris Provincial Park (2 hours from Toronto)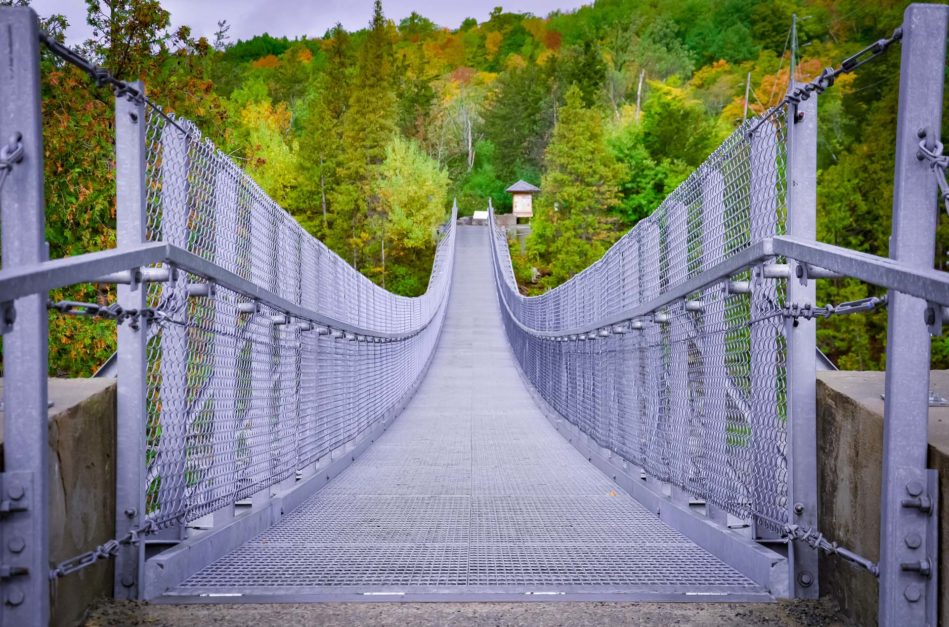 If you just want a suspension bridge experience, a visit to the Ranney Gorge Suspension Bridge in Ferris Provincial Park near Cambleford is a good choice. Spanning the Trent River this suspension bridge is part of a 10 km network of trails. So you can see this beauty with fantastic views while getting your day out in nature. But you can access it in less than 1km if you just want to see the bridge. Another trail lets you get on the bridge after an easy 3km hike.
Canada's Wonderland (30 minutes from Toronto)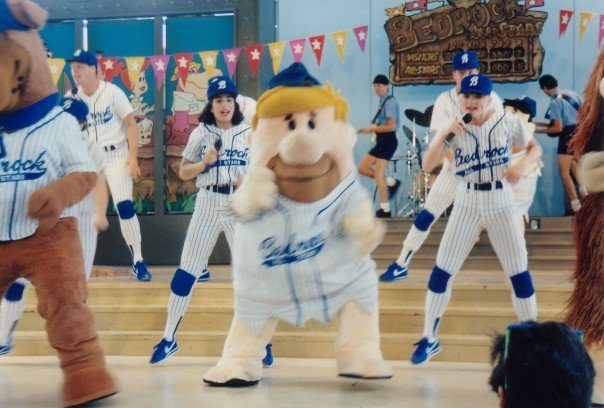 I worked as a singer at Canada's Wonderland for 3 seasons and it was the best summers of my life. If you love roller coasters, Wonderland is filled with them. I've had friends who live in Toronto purchase seasons passes to the waterpark for an easy escape from the city to relax by the pool or enjoy Canada's largest wave pool! It is a massive park and many people in Toronto get a season's pass to escape the city on a regular basis.
Stratford (1 hour and 40 minutes from Toronto)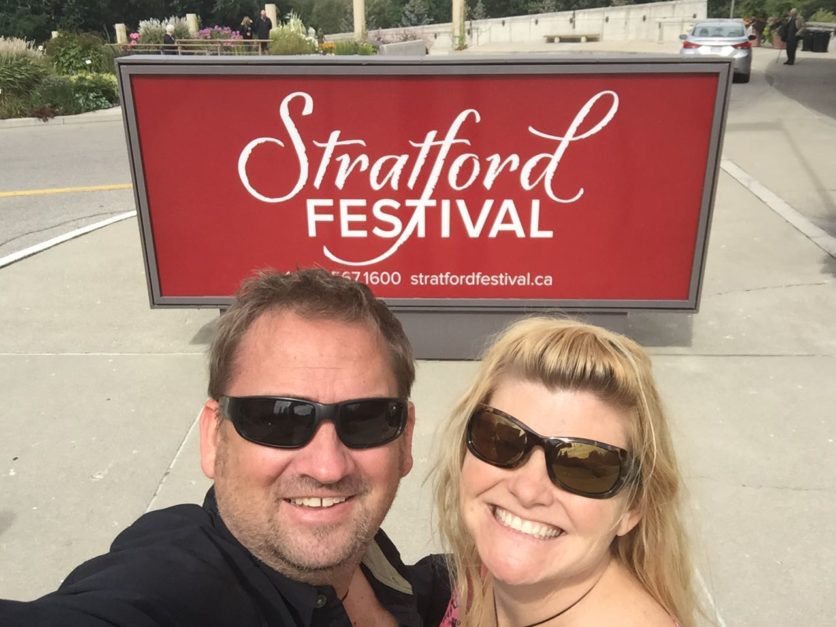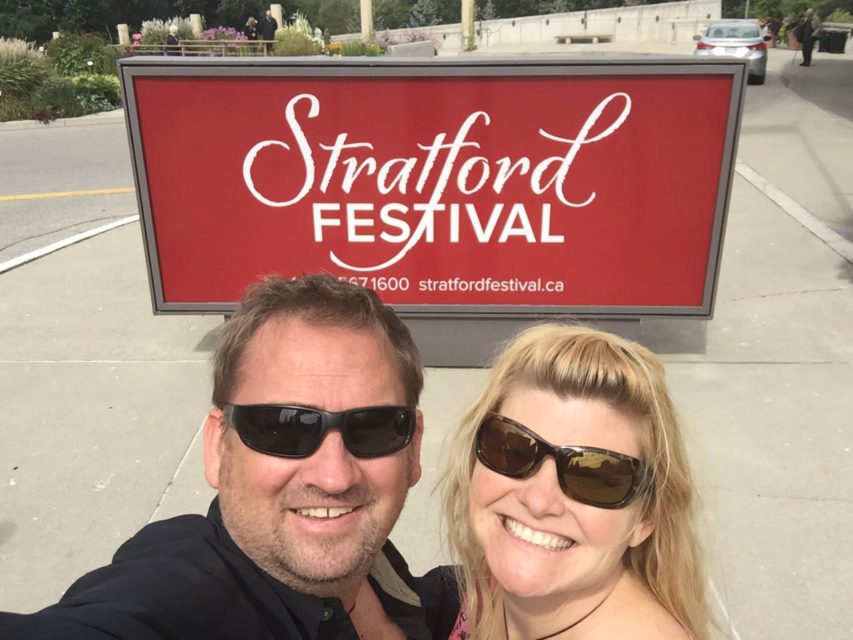 Stratford is home to the world famous Stratford Festival. With three theatres in town featuring the works of Shakespeare, it attracts the best actors from Canada and the United States. The festival has been runninng since 1953 and the town has taken advantage of the crowds and tour buses coming in. There are plenty of boutique shops, fine dining, hotels and museums to spend a day exploring along the picturesque Avon River.
Niagara Falls (1 hour and 20 minutes from Toronto)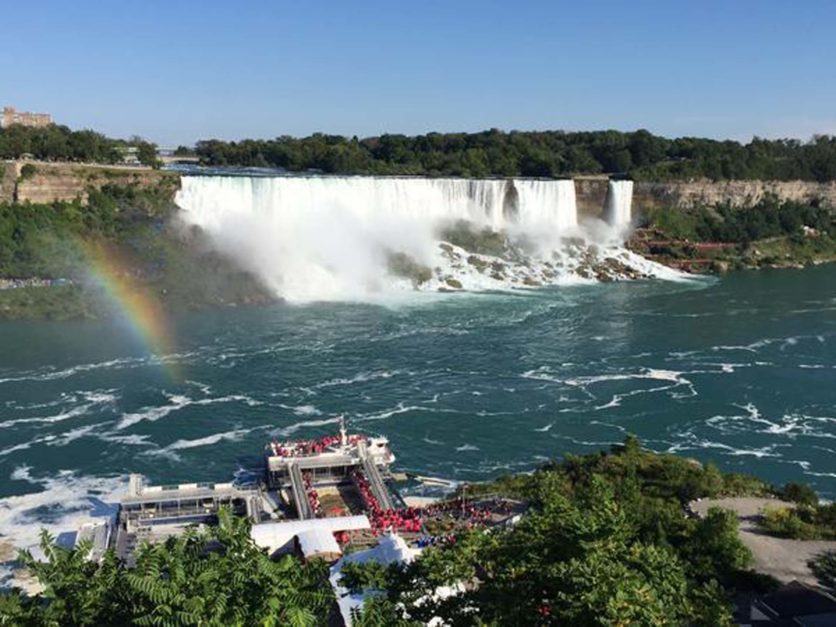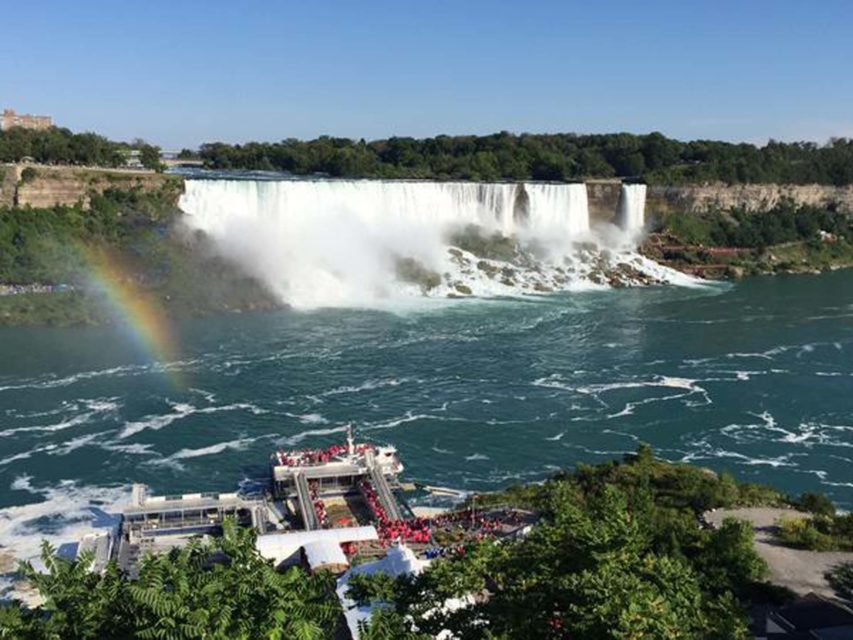 Okay so it is an obvious choice for a weekend getaway from Toronto, but Niagara Falls can easily be done in a day as well. Just 90 minutes from Toronto, you can be at the falls for sunrise and then with an adventure pass in hand, you can see the top attractions in a day! Seriously, we've done it. Journey behind the falls, The Hornblower (formerly Maid of the Mist), Whitewater Walk and Whirlpool Cable Car can be done in a day. We've even thrown in a couple of wax museums and Nightmares on Clifton Hill into our day trip.
Niagara on the Lake (1 hour and 20 minutes from Toronto)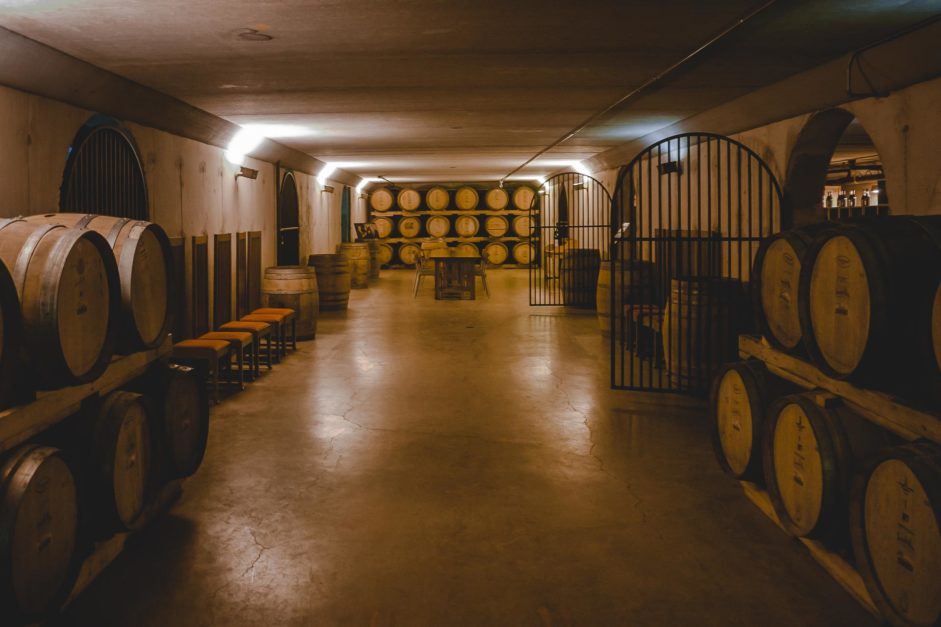 For a more laid back Toronto day trip, Niagara on the Lake is the perfect spot to stock up on your Ontario wines. If you want to add some excitement into yoru relaxing stroll around the heritage buildings of downtown, book a trip on the Whirlpool Jet Boat. After that, you can pop over to the historic Fort George for a bit of 1812 re-enactment fun.
Elora (1 hour and 20 minutes from Toronto)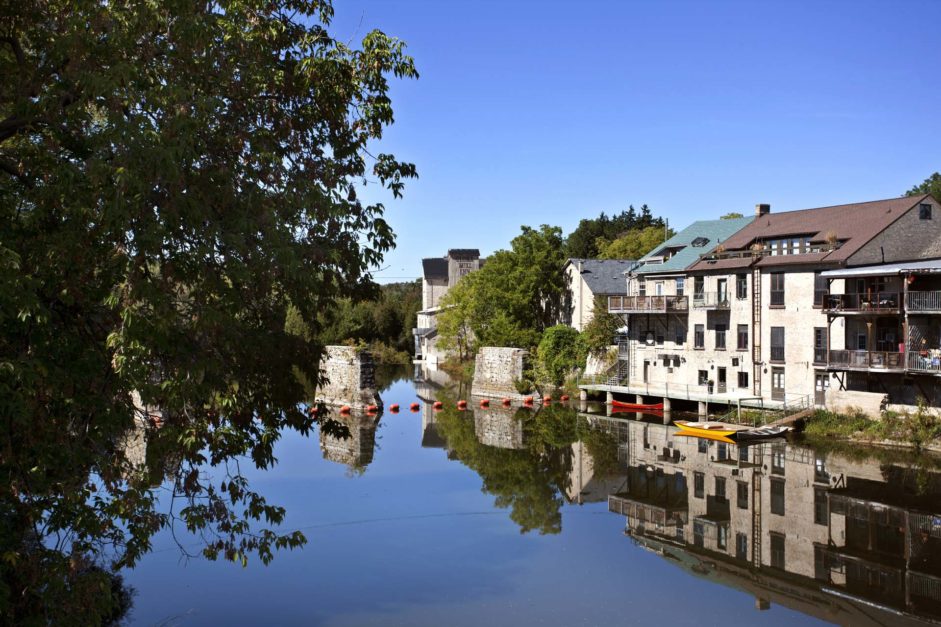 Elora is a great day trip from Toronto. In high school this was the popular spot to head to during a spare afternoon to chill out at the Elora quarry but today, it's turned into a picturesque town that has a charming pedestrian square the Elora Mews to do some shopping and grab a coffee to take with you as you stroll the streets.
The star attraction is the Elora Gorge. With hiking trails along the cliffs for scenic views of the Grand River. The Grand has become one of the premier places in Ontario for tubing and kayaking. The Elora Quarry has been featured in many Hollywood movies most notably Stephen King's IT.
Paris (1 hour and 10 minutes from Toronto)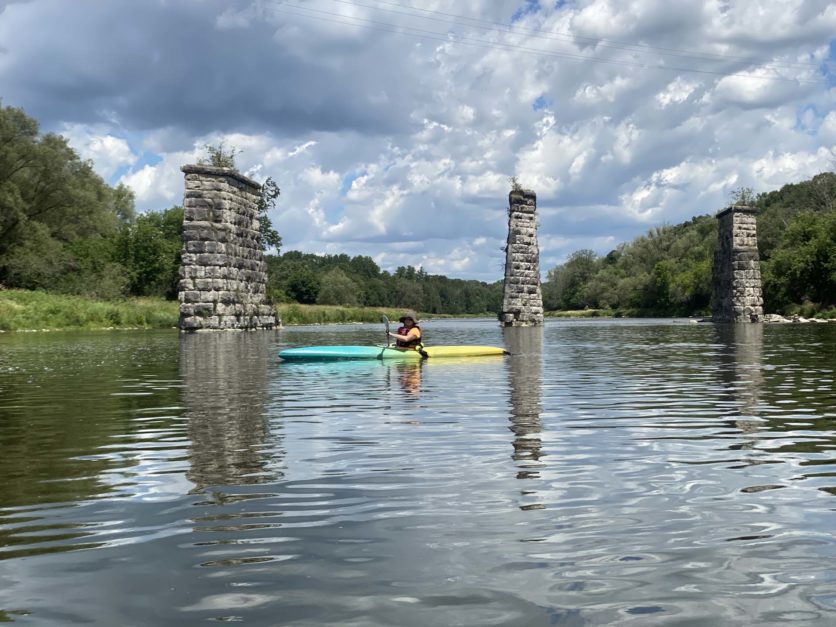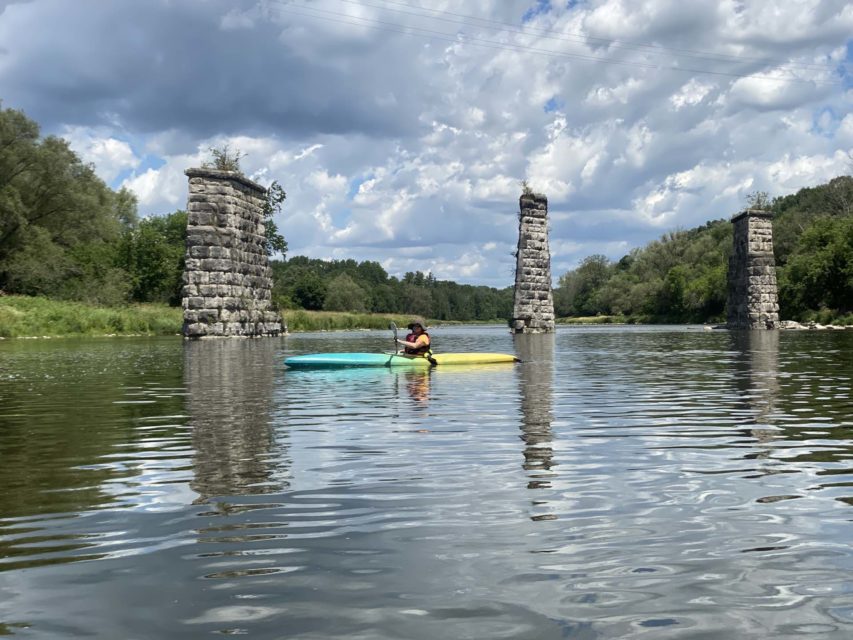 We recently moved to Paris and it wasn't until living here that we realized how much there is to do on a day trip from Toronto. Located on the Grand River, we regularly paddleboard and kayak along its shores. After a day of paddling, enjoy lunch at Stillwaters on the Grand and browse it's one street of shopping. You can pack up your bike too as the bike trails here are awesome. We can ride all the way to Ancaster along the bike trails through Brantord and the hubs of Ontario.
Be sure to visit the Quincy Mills Market to stock up on cheese and jams and from there, walk to Lion's Park for a lovely view over the Nith River.
Brantford (1 hour and 10 minutes to downtown)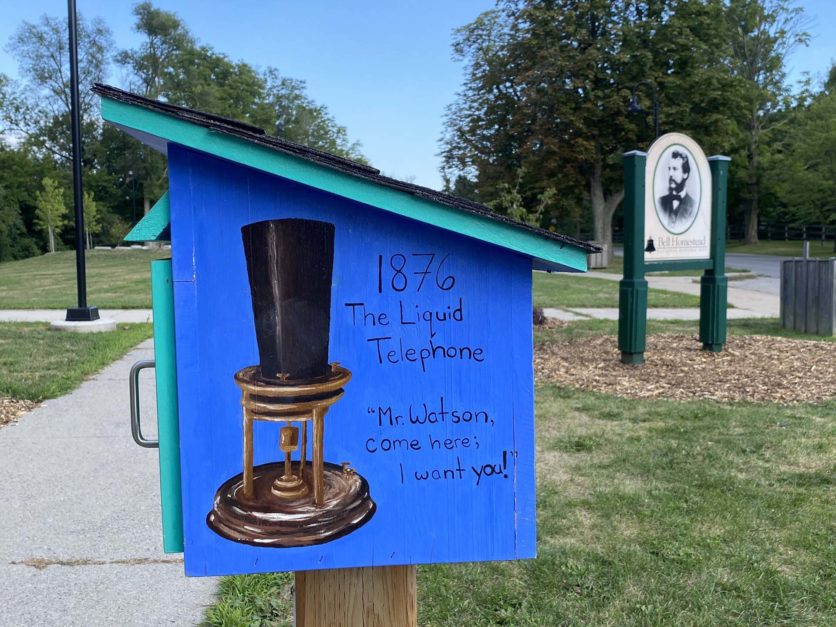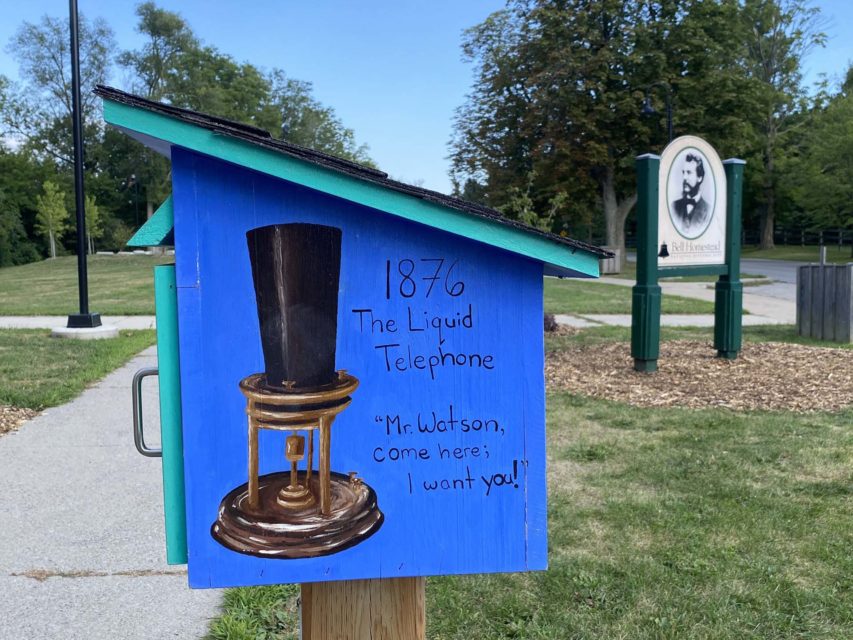 Speaking of Brantford, it's turning into a good little day trip from Toronto as well. Visit the Bell Homestead where Alexander Graham Bell made his first phone call. This historic site was home to the Bell family located on the Grand River. There's tubing and kayaking along the beautiful river, and Brantford has a Casino too! I recommend combining Paris and Brantfors in one trip.
Hardwood Hills (90 minutes from Toronto)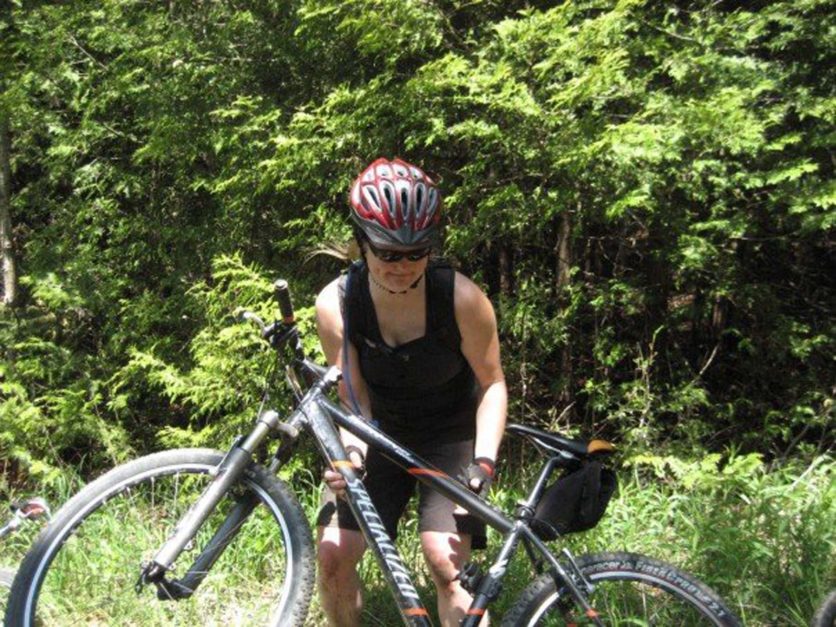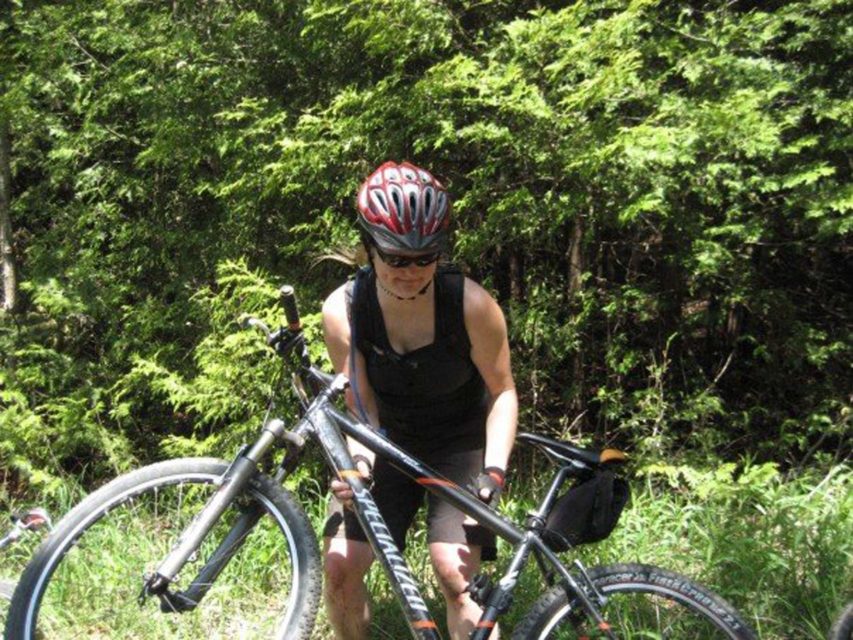 For an awesome mountain biking day trip from Toronto, make your way to Hardwood Hills. We spent many a day off at Hardwood Hills. It's the ultimate mountain biking destination in Ontario. You can spend the day here. We always start with an easy green run to warm up and then work our way to some of the single track black diamonds. They have a cafeteria to stock up on food, and they offer mountain bike rentals and lessons if you don't have experience.
Caledon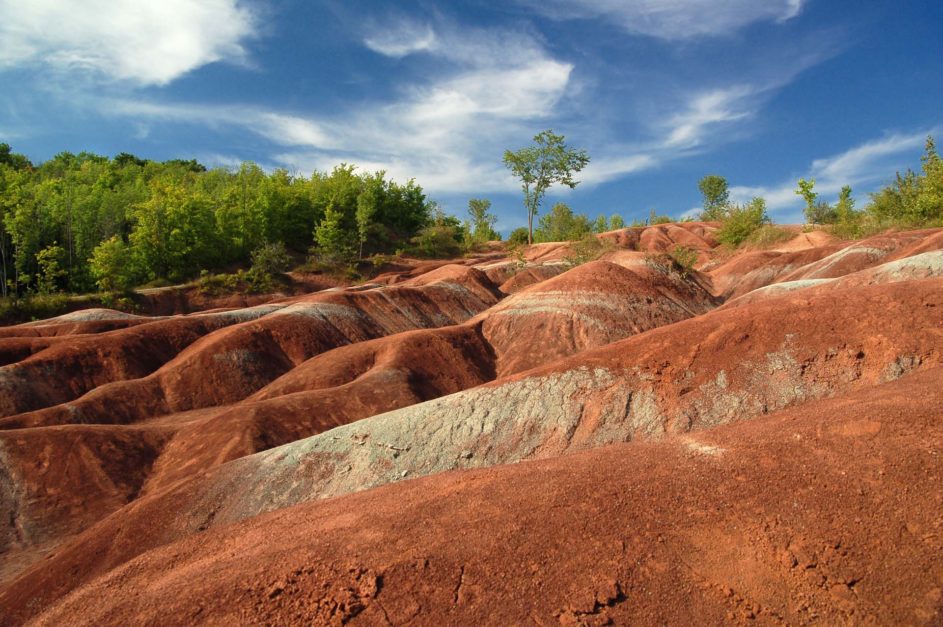 Caledon has become a super popular day trip from Toronto thanks to the Cheltenham Badlands. While you are out there, stock up on some cider at the Spirit Tree Cidery and get a bushel of apples for the seasons. (yes, I can scarf down a bushel of apples in a couple of weeks). There's cycling and mountain biking in the area too. Our favourite is Albion Hills Conservation about 15 minutes from Caledon. It has great trails for hiking and biking. And there's camping too if you don't want to go back to Toronto yet.
Kitchener Waterloo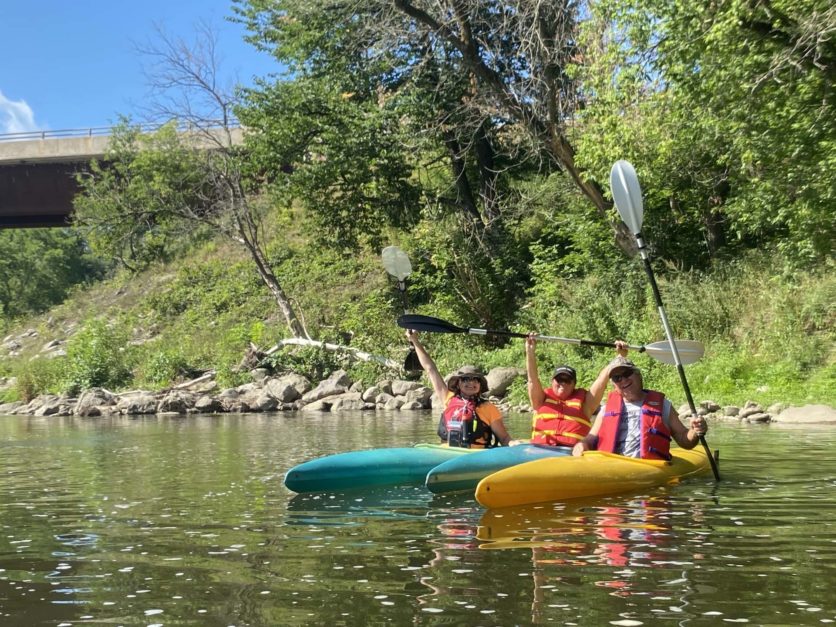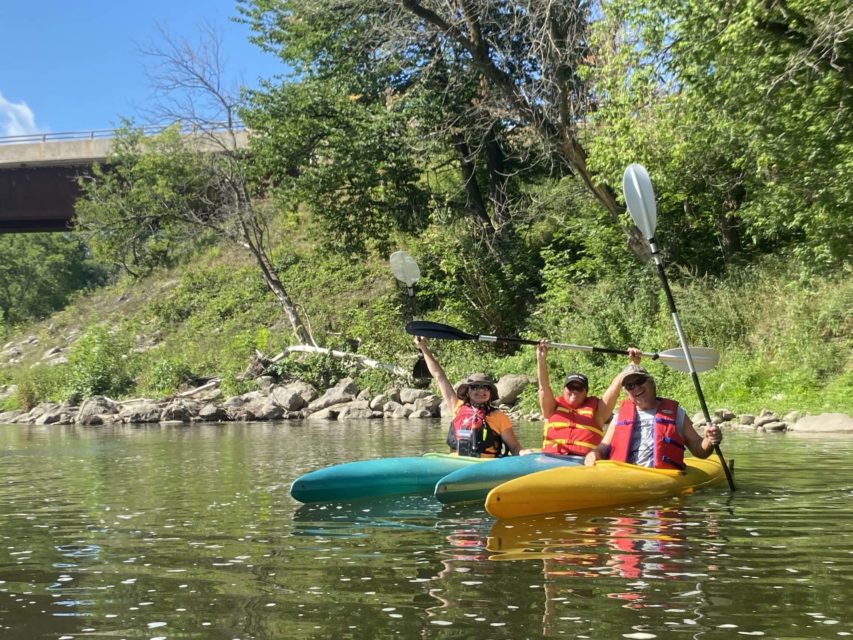 Another city located on the Grand River, Kitchener Waterloo is another easy day trip from Toronto. We've been frequenting Kitchener a lot these days, and it is worth leaving the city to see. Waterloo has fast become a major tech hub in Ontario with Google and Blackberry having offices there as well as 500 tech start-ups. Because of this, the Kitchener Waterloo cities have chic cafés, vegan restaurants, and farmers markets in the downtown core.
St. Jacob's Farmers Market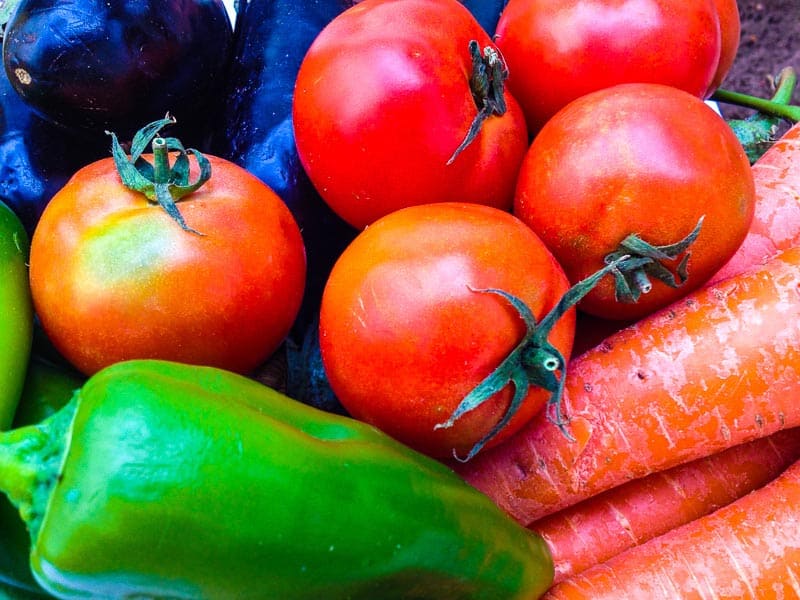 A main attraction to the region is St. Jacob's farmers market, the largest year-round farmer's market in Canada. The Cambridge Butterfly Conservatory is an indoor tropical garden filled with butterflies flitting around. There are great bike trails, we've actually cycled from Paris to Kitchener Waterloo along the Grand and you can do some paddling and tubing on the Grand River. Part of the Tri-Cities of Cambridge, Kitchener, and Waterloo, it's a great destination for a road trip. There's St. Jacobs Be sure to check out the picturesque town of Galt as well.
Wasaga Beach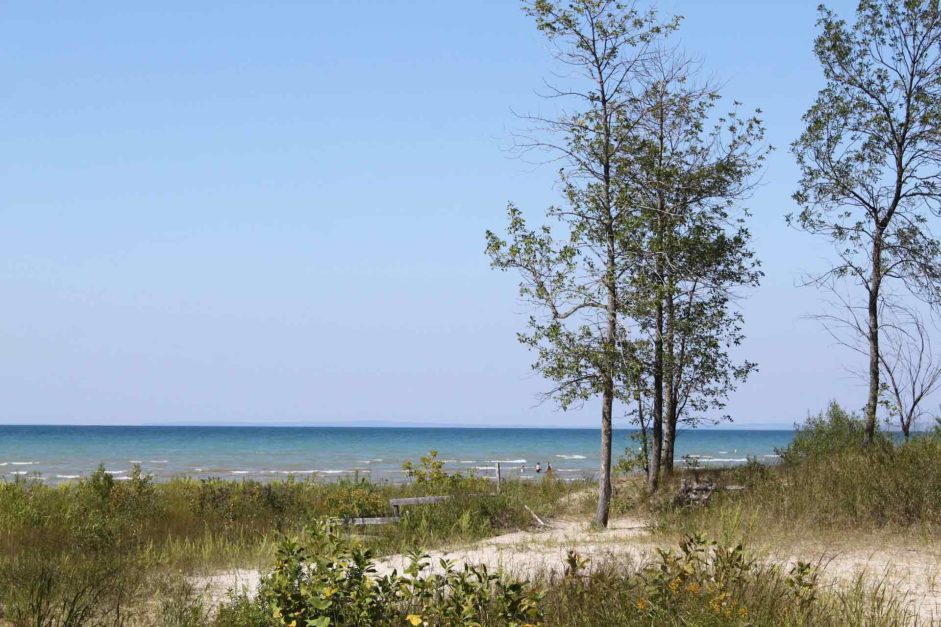 Toronto has some great beaches on Toronto Island, in the beachs and at the Scarborough Bluffs, but if you are looking for a day trip out of the city, check out Wasaga Beach. It has some of the warmest waters in the province and the 14 km stretch of beach is the longest freshwater beach in the world.
Port Dover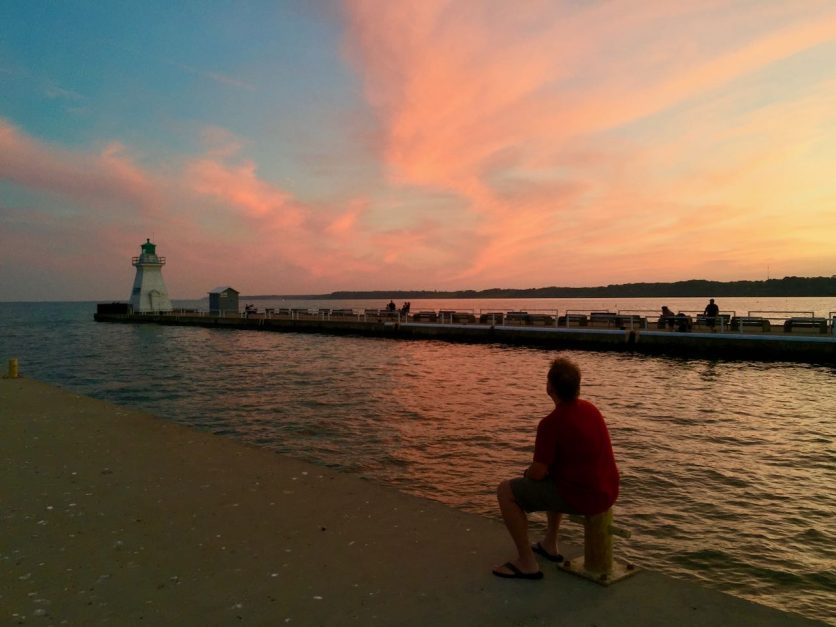 Dave and I used to take a drive from Toronto just to get a hot dog at the Arbor, but it is a lovely town to visit for a day away from Toronto. Take a nice stroll out to the lighthouse Pier, walk along the main street and do some shopping and enjoy a bit of sunshine on its sandy beach. We like starting here and then taking a drive along Lake Erie to Turkey Point and Port Burwell stopping at the wineries and brew pubs along the way to help fill our bar at home.
Peterborough and the Kawarthas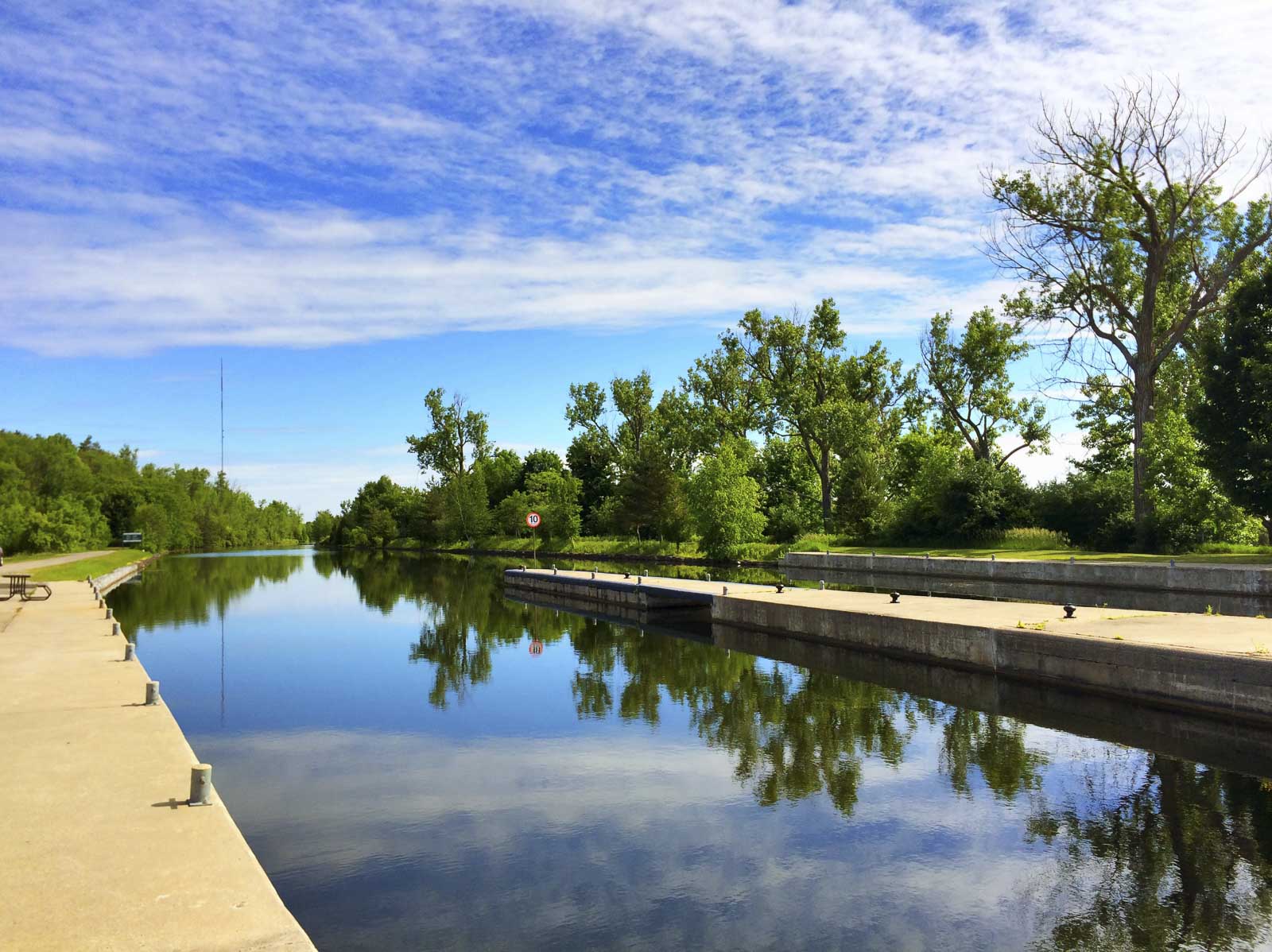 Heading out to cottage country is a good day any day! Peterborough is in the middle of cottage country and this town has a lot going on. Located on the Trent Severn Waterway, tourists can visit the National Historic Site on this day trip from Toronto. But there is a lot to do to keep you occupied for the day with a tour through our heritage at the Canadian Canoe Museum, the Whetung Ojibwa Arts and Crafts Center where you can support local artists, and the Reptile Museum. Finish it off with dinner at the Publian House Brewery.
For more information on Peterborough and the Kawartha Lakes visit The Kawartha's.ca
Prince Edward County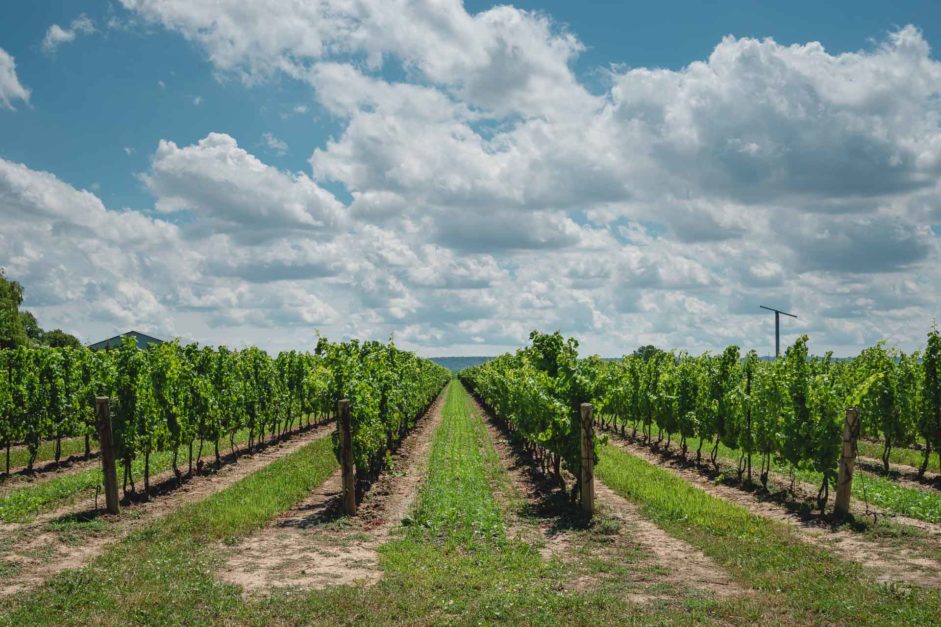 It's just a short jaunt from Toronto to get out of the city and into wine country. The flower fields of sunflower and lavender have been a top draw in recent years. But be respectful and take photos from afar. Don't go into the fields and ruin the crops! Presqu'ile and Sandbanks Provinical Park are popular for their sandy beaches and Sand dunes of Sandbanks Provincial Park. And vineyard hopping to explore the local wineries are a top thing to do! We always love touring Ontario wine country to fill our wine rack and discover new vineyards.
Algonquin Park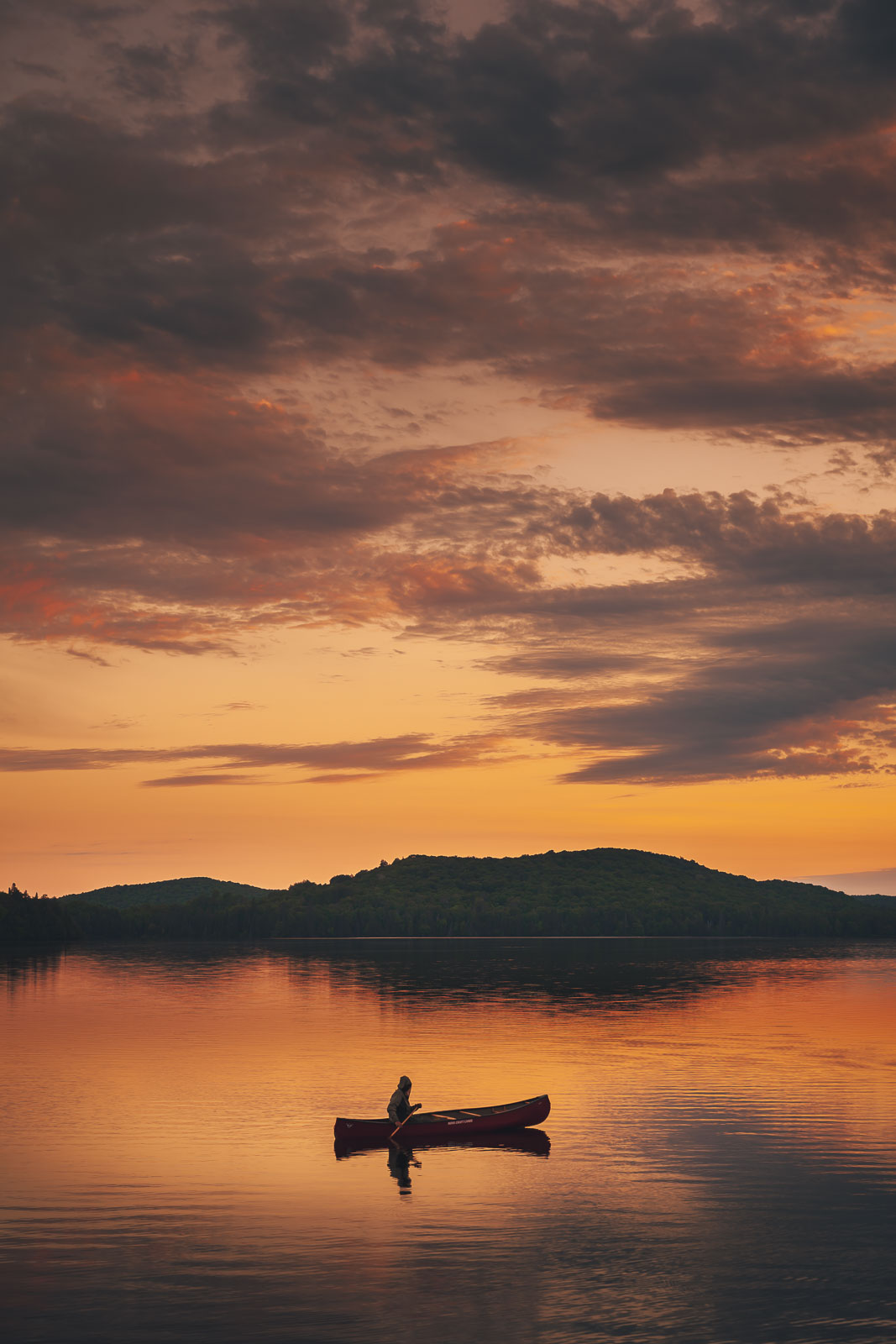 We are getting a little far away now for a day trip from Toronto, but if you are looking for a good long drive, Algonquin Park is quite beautiful. Algonquin Outfitters offers one-day guided tours of Oxtongue Lake to give you a sample of what a multiday trip through Algonquin Park would be like. Once you've been to Algonquin for a day, you'll find that you'll keep going back again and again for a longer weekend getaway.
No car? Book this Toronto to Algonquin Park private Tour.
And these are our favourite day trips from Toronto. But there are so many places to visit in Ontario that are just a couple of hours from the city. Where have you gone on a day trip that you love? Let us know, we're building our list for the summer!
Read More: